Forage Fish, Vital to Ecosystem and Economy, Would Gain Protections Under House Bill
Measure would improve conservation of small prey species and help coastal communities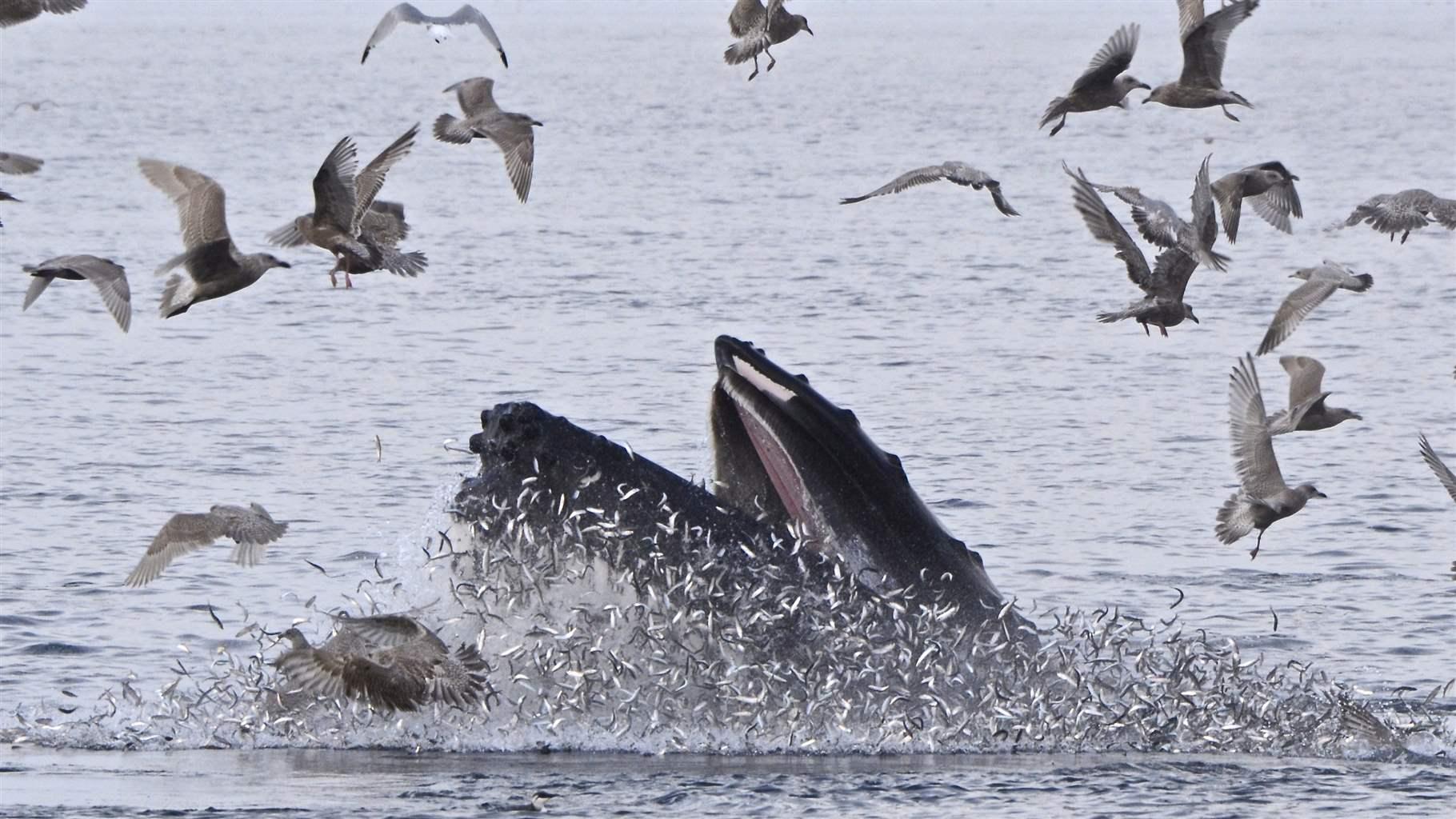 Forage fish don't always get the respect they deserve. These small, schooling, nutrient-rich fish—which include herring, shad, anchovies, and sardines—are a critical food source for a host of ocean wildlife, from larger fish to whales to seabirds. When forage fish are caught by fishermen, a few are destined for human consumption, but most end up in livestock feed, pet food, or fertilizer or are used as bait.
The nation's primary ocean fishing law, the Magnuson-Stevens Fishery Conservation and Management Act, does not direct fishery managers to conserve forage fish, and this inadequate management has a high cost: Many forage fish are swept up in nets by fishermen aiming for other fish, with negative consequences for the species and the wider marine environment.
Yesterday, Congress took a critical step toward fixing that with the bipartisan introduction of the Forage Fish Conservation Act (H.R. 2236). The Pew Charitable Trusts joins a diverse coalition of organizations—including American Sportfishing Association, National Audubon Society, National Wildlife Federation, and the Theodore Roosevelt Conservation Partnership—in supporting this important proposal to improve the Magnuson-Stevens Act.
Forage fish draw wildlife—and people
Forage fish serve as key prey for such prized catches as striped bass, bluefish, and tuna, and for wildlife like humpback whales, bald eagles, and ospreys. They even matter to migratory species that spend most of their time inland, such as the American white pelican and the common tern.
As anglers, boaters, bird-watchers, and other wildlife enthusiasts know, predators follow prey. Likewise, coastal business owners, from restaurateurs to charter boat captains and bait shop owners, know that abundant prey fish help their bottom lines.
Forage fish are the cornerstone of productive marine ecosystems. Conserving them would result in healthier wildlife populations and support coastal communities that rely on fishing, wildlife tourism, and seafood sales.
Scientists: Forage fish need careful management
Fishery biologists have long recognized that forage fish serve a critical role in the ecosystem by transferring energy from the bottom of the marine food web to the top. Shifts in ocean conditions— including temperature, currents, and salinity—affect forage species' food sources and habitat, which can cause populations to fluctuate widely from year to year. If forage fish are harvested too intensively during a low period, the damage to their population, and the numerous species that depend on them, could be considerable. For these reasons, scientists recommend cautious management of forage fish, including careful consideration of their interactions with other species.
Law leaves vital species at risk
The Magnuson-Stevens Act directs fishery managers to prevent overfishing and rebuild fish populations in U.S. waters but doesn't differentiate between forage fish and larger species. Many forage populations are not managed under the act at all, and even when they are, they are often handled as individual, isolated populations rather than essential prey that many other species in the broader ecosystem need. Under current policy, fishing for forage species could increase rapidly in many regions without understanding of the impacts on other fisheries, wildlife populations, and coastal communities.
This long-standing blind spot for forage fish in federal policy undercuts states' and communities' work to rebuild populations. For instance, along the East Coast, states curtailed fishing and spent millions of dollars removing dams and improving habitats, but river herring and shad are still struggling. Because they are not managed under the Magnuson-Stevens Act, there are no science-based catch limits for the species at sea, where overwhelming numbers are caught accidentally as bycatch.
Even forage fish that are managed under the Magnuson-Stevens Act's single-species approach to catch limits can face significant declines, as New England's Atlantic herring fishery illustrates. And with the lobster industry relying on Atlantic herring for bait, the effects of this policy could affect entire communities.
What the Forage Fish Conservation Act would do
The Forage Fish Conservation Act would amend the Magnuson-Stevens Act to fix the management gap for forage fish. It defines forage fish clearly: While all fish begin small and may be preyed upon in high numbers as juveniles, a forage species is a prey fish to higher-level predators throughout its life and generally consumes plankton. For forage species not currently managed, the bill would require that science inform appropriate catch limits before fishing can begin. For the species with management plans, the bill would require catch limits appropriate to the role they play in the ecosystem. The act also makes clear that river herring and shad should be managed under the Magnuson-Stevens Act.
The solid scientific and conservation principles in the Magnuson-Stevens Act make the U.S. ocean fish management system one of the best in the world. We continue to learn more about the important role of forage fish, and by integrating new science and building on progress made by some regional fishery management councils, including the North Pacific, Pacific, and Mid-Atlantic councils, the Forage Fish Conservation Act would improve our nation's fishery management system.
This common-sense bill has attracted bipartisan support because there is much to gain by protecting forage fish. The Pew Charitable Trusts appreciates the leadership of Representatives Debbie Dingell (D-MI) and Brian Mast (R-FL), who introduced the bill, and original co-sponsors Billy Long (R-MO), Matt Cartwright (D-PA), Fred Upton (R-MI) and Jared Huffman (D-CA). Pew encourages members of Congress to join these lawmakers in working to protect a resource that is vital to the future of America's marine ecosystem—and coastal communities nationwide.
Ted Morton directs The Pew Charitable Trusts' efforts to protect ocean life and coastal habitats at the federal level, and Joseph Gordon directs Pew's campaigns to protect marine life on the U.S. East Coast.