James L. Sherley, M.D., Ph.D.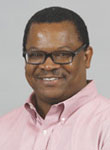 Title

Institution

Address

P.O. Box 301179

City, State, ZIP

Phone

(617) 990-6819

Email

Website

https://sites.google.com/site/adultstemcelltechnologycenter/

Research field

Award year
Research
Our laboratory pursues normal molecular and biochemical processes in adult stem cells that are involved in cancer initiation and that contribute to aging. Adult stem cells are rare tissue cells that continuously replace expired tissue cells. Investigations of their specialized properties will yield new therapies for injured, diseased, and aging tissue cells. We employ an integrated approach, incorporating both basic and applied research strategies, to elucidate novel mechanisms of adult stem cell-specific functions and apply the knowledge to improve methods for identifying adult stem cells and producing them in large number for therapeutic development.