Philadelphia 2023
The State of the City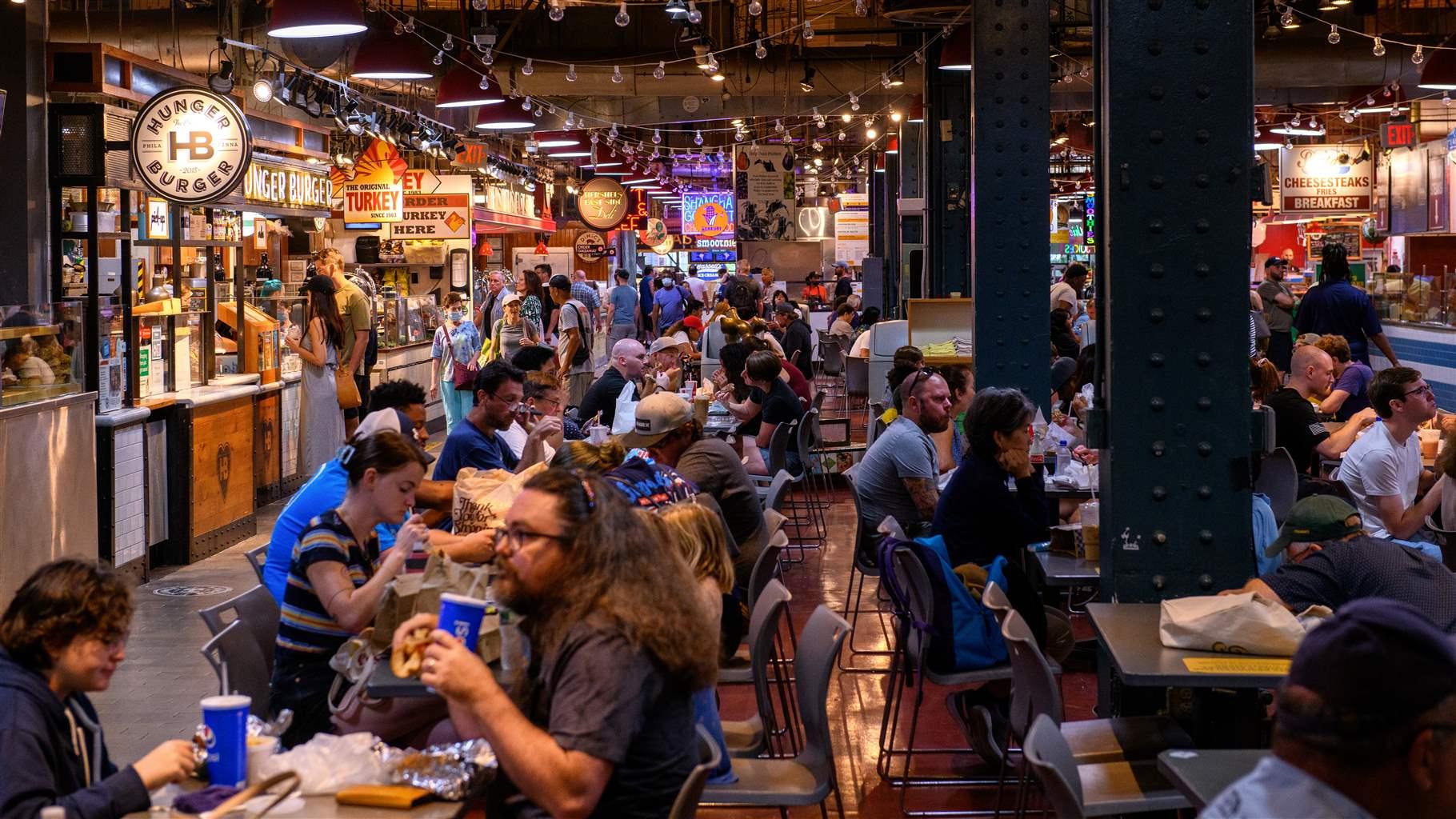 Editor's note: This report was updated on May 22, 2023, with a new photo on page 31.
The Big Picture
In 2022, increasing numbers of Philadelphians re-engaged in the more public aspects of urban life, commuting to their workplaces again, resuming indoor dining at area restaurants, and attending concerts and other events around town.
There were some promising signs in that re-emergence. As COVID-19 concerns largely faded, many of the jobs that had disappeared in the early days of the pandemic returned, although the city still had fewer jobs than it had before. The unemployment rate—which had been over 12% in 2020 and around 9% in 2021—fell to 5.9%. Median household income rose to $52,899 in 2021, the last year for which figures were available, up 11% from 2019, but with significant disparities by race and ethnicity.
Philadelphia's finances were in an unexpectedly strong position as well, ending fiscal year 2022 with a $775 million fund balance driven by higher-than-expected revenue and several thousand unfilled city government jobs. And for the first time, the percentage of city residents age 25 or older with a college degree matched the national rate, at 35%, promising a workforce with more schooling. Nonetheless, Philadelphians had any number of worries on their minds, including a slowing economy, increasing housing costs, lingering inflation, and a stubbornly high poverty rate. Most of all, they worried about the rampant gun violence and high level of crime in the city, a couple of the pandemic's disturbing legacies.
In a January 2023 poll by The Lenfest Institute for Journalism, 88% of residents said that gun violence had a negative impact on the quality of life in their neighborhood, including 78% of Black residents who said they had heard gunshots in their neighborhood over the past year. Sixty-five percent of Philadelphians thought the city was going in the wrong direction. These findings tracked with similar results from Pew's Philadelphia Poll in January 2022, and they highlighted a 26-point increase from 2019, effectively reversing residents' views of the city's trajectory.
Considering the crime statistics for the year, the Lenfest Institute poll results were hardly a surprise. In 2022, Philadelphia recorded 516 homicides, down marginally from the previous year but still among the city's highest totals on record. Additionally, 2,255 people were shot, and 2,910 robberies with a gun were reported.
More broadly, the city's count of major crimes, which includes both violent crimes and property crimes, rose to the highest level since 2006. In a single year, auto thefts increased by 30%, commercial burglaries by 40%, and retail thefts by 52%.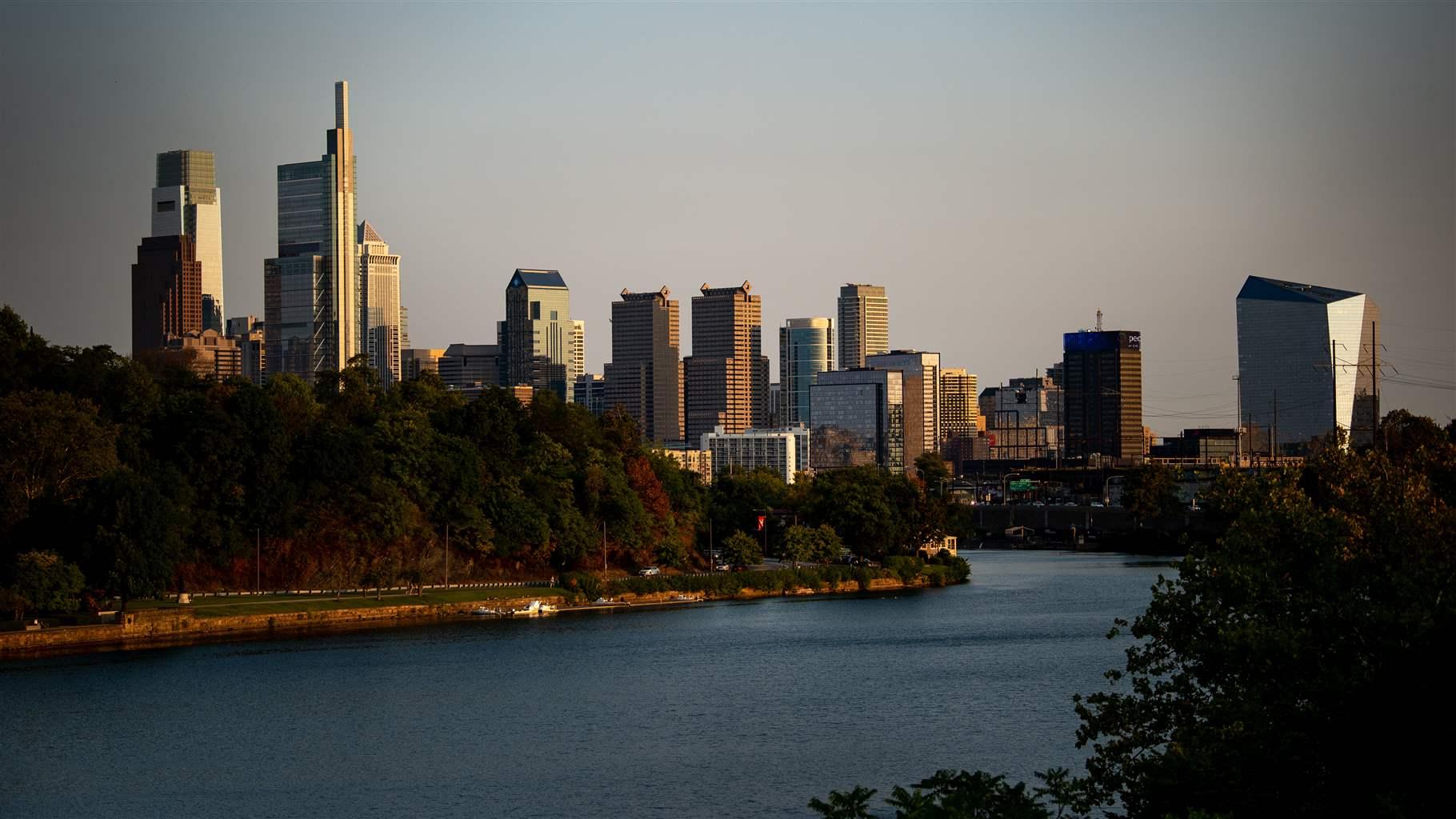 Throughout Philadelphia, many residents struggled to find suitable housing at an affordable price. Nearly 49% of the city's households were spending at least 30% of their income on rent, making them "cost burdened" according to the standard set by the U.S. Census Bureau. Although housing costs in Philadelphia remained relatively low compared with other large cities in the Northeast, they were high for the nearly 23% of residents living below the poverty line ($25,750 for a household of four) and the tens of thousands more living just above it. Households in parts of West and North Philadelphia had the highest share of cost-burdened renters.
Although city life returned to something akin to pre-2020 conditions in some respects, many office employees were still working from home at least part of the week throughout 2022. At the same time, many of the policies that helped support people and businesses during the pandemic were disappearing. City regulations that had allowed restaurants to operate "streeteries"—outdoor dining structures located in parking lanes—were changed in ways that eliminated many of them. The federal waiver allowing residents to receive Medicaid coverage without applying for it every year lapsed as well, meaning that all 136,000 newly enrolled Philadelphians who received it since 2020 have to reapply this year.
As 2023 began, the year had the feel of a pivot point, with many questions about Philadelphia's outlook yet to be answered. Among them:
Will the high level of homicides and gun violence drop? Concern about public safety dominated the public psyche, affecting the people directly involved in each deadly incident, their surrounding neighborhoods, and—increasingly—the city as a whole.
How will the city's economy continue to adjust to post-pandemic conditions, with labor shortages in some sectors, a marginally declining population, and fewer people in Center City each weekday as office workers continue to do their jobs from home? Will Philadelphia keep attracting new residents, particularly those born in other countries, helping to maintain the city's vibrancy? As Philadelphia's economy adjusts, will economic growth be shared equitably?
With COVID-19 still posing a threat, albeit a diminished one, how well prepared is the city to resolve its remaining major public health challenges? In particular, with the city's opioid epidemic as worrisome as ever, with an estimated 1,400 drug overdose deaths in 2022—the highest total recorded by the city—and with fentanyl and other dangerous substances permeating the drug supply, can Philadelphia's public health systems get a handle on the crisis?
Amid unprecedented turnover in City Hall and in many civic and educational institutions, Philadelphia residents will be turning to a new crop of leaders to answer these and many other looming questions about the shape of post-pandemic Philadelphia in the months to come.
Demographics
Philadelphia continues to attract new residents, primarily immigrants, bringing fresh vitality to the city; nevertheless, persistent challenges—such as poverty—remain.
Continuing a trend that predated the pandemic, the city's population is increasingly diverse, with nearly a quarter of residents speaking a language other than English at home—an increase of almost 2.5 percentage points since 2010. As of 2021, the percentage of Philadelphians identifying as Hispanic or Asian had nearly doubled over the previous 20 years, while the percentage of foreign-born residents increased to 15%, which was above the national average of 13.6%.
Poverty remained stubbornly high, at 22.8%, little changed from 2019 to 2021 despite the major influx of stimulus spending and the expanded federal child tax credit, which was discontinued after 2021.
Figure 2.6
Top 10 Countries of Origin for Philadelphians Born Outside the U.S., 2021
| Country | Number of residents |
| --- | --- |
| China, excluding Hong Kong and Taiwan | 23,893 |
| Dominican Republic | 19,662 |
| India | 12,529 |
| Vietnam | 11,719 |
| Jamaica | 11,091 |
| Haiti | 7,768 |
| Mexico | 7,544 |
| Ukraine | 6,473 |
| Brazil | 5,139 |
| Cambodia | 5,122 |
A table shows the top 10 countries of origin for foreign-born Philadelphia residents in 2021. China, excluding Hong Kong and Taiwan, had the greatest number of Philadelphians born outside the U.S.: 23,893. Cambodia was 10th, with 5,122. Fifteen percent of the city's population is foreign-born, and most immigrants have origins in Asia and the Americas.
Source: U.S. Census Bureau, American Community Survey, five-year estimates, 2017-21, Table B05006 (Place of Birth for the Foreign-Born Population in the United States), http://data.census.gov
Education
After two years of disrupted and mostly virtual learning, Philadelphia students returned to the classroom full time in fall 2022. The long-term impact of these pandemic-related learning interruptions remains to be seen.
But some preliminary data shows that preschool enrollment declined by 9 percentage points (or nearly 4,900 children), from 49.2% in 2019 to 40.1% in 2021. Enrollment in college, meanwhile, remained stable, with 48% of students who graduated from School District of Philadelphia-run high schools in 2021 enrolling in college that fall, a figure largely unchanged from 2020.
Census data for 2021 showed that 34.8% of Philadelphians age 25 or older held bachelor's degrees, essentially the same as the national rate of 35%. This is the highest percentage on record for the city and represents an increase of 11 percentage points since 2011.
Figure 3.6
Philadelphians' Top 5 Occupations, 2021
By educational attainment
Educational attainment
Top occupations
Less than high school (No diploma received) (Median income: $22,500)
Manicurist and pedicurist
Driver/sales workers and truck drivers
Laborers and freight, stock, and material movers
Home health aides
Janitors and building cleaners
High school or high school equivalent (Diploma received) (Median income: $29,700)
Nursing assistants
Laborers and freight, stock, and material movers
Retail salespeople
Home health aides
Driver/sales workers and truck drivers
Some college (No degree received) (Median income: $28,300)
Licensed practical and licensed vocational nurses
Personal care aides
Couriers and messengers
Customer service representatives
Cashiers
Associate degree (Degree received) (Median income: $39,000)
Fast food and counter workers
Janitors and building cleaners
Registered nurses
Retail salespeople
Customer service representatives
Bachelor's degree or higher (Degree received) (Median income: $59,500)
Lawyers and judges, magistrates, and other judicial workers
Elementary and middle school workers
Postsecondary teachers
Physicians
Registered nurses
A table shows the top five occupations for each of five different education levels in Philadelphia. For those without a high school diploma, the top jobs include manicurists, laborers, and janitors. For those with a bachelor's degree or higher, the top jobs include lawyers, postsecondary teachers, and physicians. Median income rises with educational level: It's $22,500 for those without a high school diploma or equivalent but $59,500 for those with a bachelor's degree or higher.
Note: Residents with an educational attainment and an occupation that did not have wages listed in the census microdata were excluded from the median income analysis.
Source: Pew analysis of U.S. Census Bureau, American Community Survey, Public Use Microdata Sample (2021 one- year estimates)
Government
In 2022, the number of people working in Philadelphia's city government dropped to the lowest level in more than a decade and was 8% lower than in 2019, the last full year before the pandemic. Because of the high number of vacancies, overtime spending reached 11.3% of the general fund, its highest level since 2008.
Thanks to all those unfilled positions, as well as better-than-expected revenue, Philadelphia's fiscal health was strong. Tax revenue—especially for the real estate transfer tax and the business income and receipts tax— came in much higher than anticipated. As a result of those combined factors, the city ended fiscal 2022 with a $775 million fund balance. Philadelphia's municipal pension fund balance was 57.6% funded, its highest level since 2004.
Health
As 2022 progressed, the pandemic stopped feeling like one of the major issues facing Philadelphia.
For the year, the city reported more than 150,000 cases of COVID-19 and 1,000 deaths from the virus—but most were recorded early on. By the fall, most mask mandates had been dropped, more workers were returning to their offices, and Philadelphians were experiencing a nearly post-pandemic life.
Other health-related data showed an estimated 1,400 drug overdose deaths in Philadelphia in 2022—the most recorded in a single year by the city, and the highest overdose death rate among the 10 cities compared in this report. Meanwhile, 21% more Philadelphians were enrolled in Medicaid last year than in 2019, and the percentage of residents lacking health insurance, 7.2%, was the lowest since 2017. Infant mortality rates and births to mothers ages 19 and younger also continued their decades-long decline.
Housing
After years of rapidly rising prices, the housing market cooled in 2022.
Although home sales increased by 33%, prices rose only 1.9% for the year as a whole and were declining in the second half of the year, according to a study from Drexel University's Lindy Institute for Urban Innovation. Additionally, the number of building permits fell by 88% because of several factors, including changes in the 10year tax abatement program and higher interest rates.
Meanwhile, for renters, affordability remained a concern. The share of renters who paid 30% or more of their income in rent was still slightly higher than the national average. To address affordability concerns, the Municipal Court's Eviction Diversion Program was extended into 2024, and the Philadelphia Housing Authority has cleared the waitlist for its Housing Choice Voucher Program to accept new applicants.
Jobs and the Economy
In a year of high inflation, Philadelphia's job market and the economy showed strong growth.
As of December 2022, Philadelphia had an estimated 753,900 jobs, an increase of about 30,000 from a year earlier. And in the final four months of 2022, Philadelphia had an unemployment rate below 5%, something that had not happened in at least a decade.
For the year, employment in every major sector of the local economy expanded, with the exception of government—whose number of occupied positions fell by 1%. The size of the leisure and hospitality sector continued its post-pandemic rebound, with 24% more jobs in 2022 than in 2021, although the numbers were still below pre-pandemic levels. And Philadelphians' median income increased to $52,899 in 2021, the latest year for which data was available, up 11% since 2019.
Public Safety
In 2022, violent crime and homicides declined slightly but remained at historically high levels.
For the year, Philadelphia recorded 516 homicides, down from 562 in 2021 but still among the highest totals in its history. Never before had the city experienced two consecutive years with at least 500 homicides and 2,000 shootings.
While polls, such as the 2023 Lenfest Institute for Journalism survey, have shown crime and public safety to be Philadelphians' top concerns, the city's police department has been grappling with a large number of vacancies, struggling to find qualified candidates to fill those positions.
Figure 8.7
Homicide Motives in Philadelphia, 2022
| | |
| --- | --- |
| Argument | 36.2% |
| Retaliation | 17.2% |
| Drugs | 15.1% |
| Domestic | 8.9% |
| Highway robbery | 6.8% |
| Other | 6.2% |
| Undetermined | 5.8% |
| Child abuse | 1.9% |
| Residential robbery | 1.2% |
| Commercial robbery | 0.4% |
| Sexual | 0.2% |
A table lists motives for homicides in 2022. An argument was cited as the cause in 36.2% of homicides, followed by retaliation (17.2%) and drugs (15.1%). In 2018, drugs were cited as the motive in 37% of homicides, making them the leading cause, but now drugs are the third-leading motive in killings, according to police.
Note: All figures are based on preliminary Philadelphia Police Department crime data and are subject to reclassification upon further investigation. The department changed its protocols in 2018 to classify fewer motives as "undetermined."
Source: Philadelphia Police Department
Transportation, Infrastructure and the Environment
Philadelphia's transportation sector continued to recover in 2022, although public transportation usage remained below pre-pandemic levels.
SEPTA ridership rose by 37% for the City Transit division and by 99% on Regional Rail from 2021 to 2022. Even so, for the last six months of 2022, ridership throughout the system was only 52% of 2019 levels. Philadelphia International Airport, meanwhile, had 113% more passengers in 2022 than in 2020. Yet last year's passenger total was still 7.7 million short of pre-pandemic levels.
Philadelphia did not experience a single day with unhealthy air in 2022, a vast improvement from a decade ago, when 28 days of unhealthy air were recorded. The previous low had been two days, reported in 2021. 9