States and School Districts Clear the Air With Electric School Buses
Interest high in federal funding to help buy vehicles that cut harmful emissions and improve health
States and School Districts Clear the Air With Electric School Buses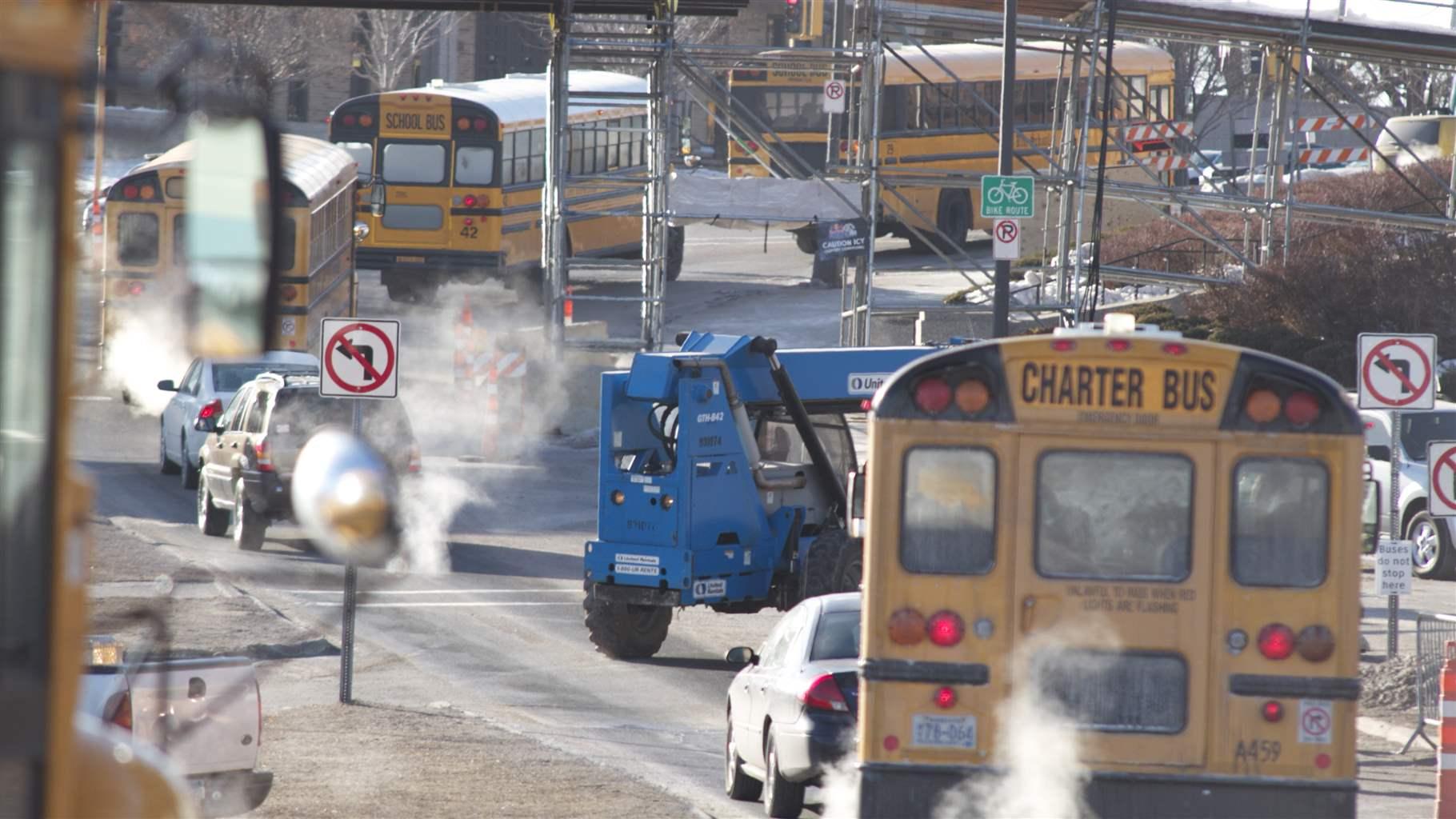 A trip on the iconic yellow school bus, with students waiting along the sidewalk before they jostle for a seat next to friends. It's a common rite of passage across the U.S. These buses have traditionally been powered by diesel fuel, with fumes that can pollute the air both inside the buses and throughout communities. But now, with the rollout of the Environmental Protection Agency's Clean School Bus Program (CSB), those negative impacts to air quality are being reduced.
Authorized by the 2021 Infrastructure Investment and Jobs Act, the EPA has $5 billion to award in rebates and grants that will help school districts replace their diesel buses with zero- and low-emission alternatives and install the necessary charging infrastructure. Since 2022, the EPA has made awards for one round of funding and is in the process of determining awards on a second. Awards to date are helping to put nearly 2,500 clean school buses on the road in school districts in 49 states, Guam, and Puerto Rico. Additional rounds of assistance are anticipated through 2026.
Nationwide, more than 90% of the school bus fleet relies on diesel fuel, exposing the over 20 million children who ride them to harmful exhaust. Diesel exhausts can contribute to lowered air quality along bus routes, near schools, and in the neighboring communities. In addition, research has shown that students and bus drivers inside the vehicles can be exposed to certain pollutants at even higher concentrations. Numerous studies have linked these diesel-related pollutants to negative health and academic performance outcomes such as higher rates of absenteeism and lowered test scores, a higher incidence of asthma attacks, and worsened problems with bronchitis and other respiratory illnesses.
Electric school buses, on the other hand, emit zero tailpipe pollution and have additional economic benefits for school districts. In addition to the significant savings in fuel costs, some school districts have reported as much as a 60% decrease in maintenance expenses, helping to offset the rapidly declining upfront price of these vehicles. Experts are also evaluating the potential for the batteries on electric buses to store energy while the vehicles are not in use and also to serve as backup generators during emergencies. With the new funding for clean school buses from Congress, states and school districts have been eager to invest in the well-being of their students and communities.
Copyright © 1996-2023 The Pew Charitable Trusts. All rights reserved.
The EPA's first CSB application period, which offered rebates only, was awarded on a lottery rather than a competitive basis. Interest was so strong—with $4 billion worth of applications received from school districts in every state—that the administration opted to roughly double the total amount available from the initially planned $500 million. Ultimately, nearly 400 school districts received more than $900 million in rebates for the purchase of 2,441 clean school buses and their eligible charging infrastructure.
A second application round for $400 million in available CSB funding closed in August 2023. That round provides grants—rather than rebates—on a competitive basis and also allows spending on related activities such as electric vehicle infrastructure installation and training programs. The EPA provided applicants with guidance on how submissions will be evaluated, including listing the scoring associated with attributes such as need, air quality impacts, and leveraging of external funds. Projects serving and engaging with certain high-need, rural, and Tribal school districts will receive additional points in the competition, as will projects in areas that have been formally identified as currently or recently out of compliance with certain air quality standards.
Another factor that can boost an applicant's score is a commitment to leveraging nonfederal funds. Although a local cost-share is not required, projects that can demonstrate an ability or credible plan to leverage other resources will have a scoring advantage. Those resources could come from private-public partnerships, issuance of school bonds, or other sources, including state assistance.
The map below, for example, highlights school districts in Utah that are likely to meet the EPA scoring criteria for air quality or high need or both. Under the CSB's scoring approach, those districts could be further advantaged by the availability of state, local, or private funding to supplement their proposals.
Thus, states that have already taken steps to boost the adoption of cleaner school buses and help school districts financially or that do so soon may then boost their schools' chances to win awards for the program, which is anticipated to continue through 2026.
For example, last year, the Colorado Legislature created a $65 million Electric School Bus Grant Program to enable school districts to purchase clean buses and their accompanying charging equipment; those dollars could also be leveraged as a match to the federal program. Connecticut passed similar legislation that created a matching grant program to allow municipalities to access supplemental funding to apply for and maximize federal assistance. And in June 2023, the Michigan Legislature dedicated $125 million in state funding to support school districts transitioning their bus fleets. Such dedicated state funds can give school districts a leg up as they apply for federal dollars to convert their bus fleets.
States and school districts that want to invest in their communities' health can look to accelerate these efforts through the CSB. The federal government has created a catalyst for this transition, but the sheer number of buses across the nation coupled with the growing interest among states requires more action and investment. As the EPA initiates subsequent rounds of funding, more states should dedicate resources to help transition to clean, modern transportation options to support schools and the students they serve.
Yaron Miller is a senior manager and Brian Watts is a principal associate for Pew's energy modernization project.