Methamphetamine Use, Overdose Deaths, and Arrests Soared From 2015 to 2019
Evidence-based approaches are needed to address growing public health problem
Methamphetamine Use, Overdose Deaths, and Arrests Soared From 2015 to 2019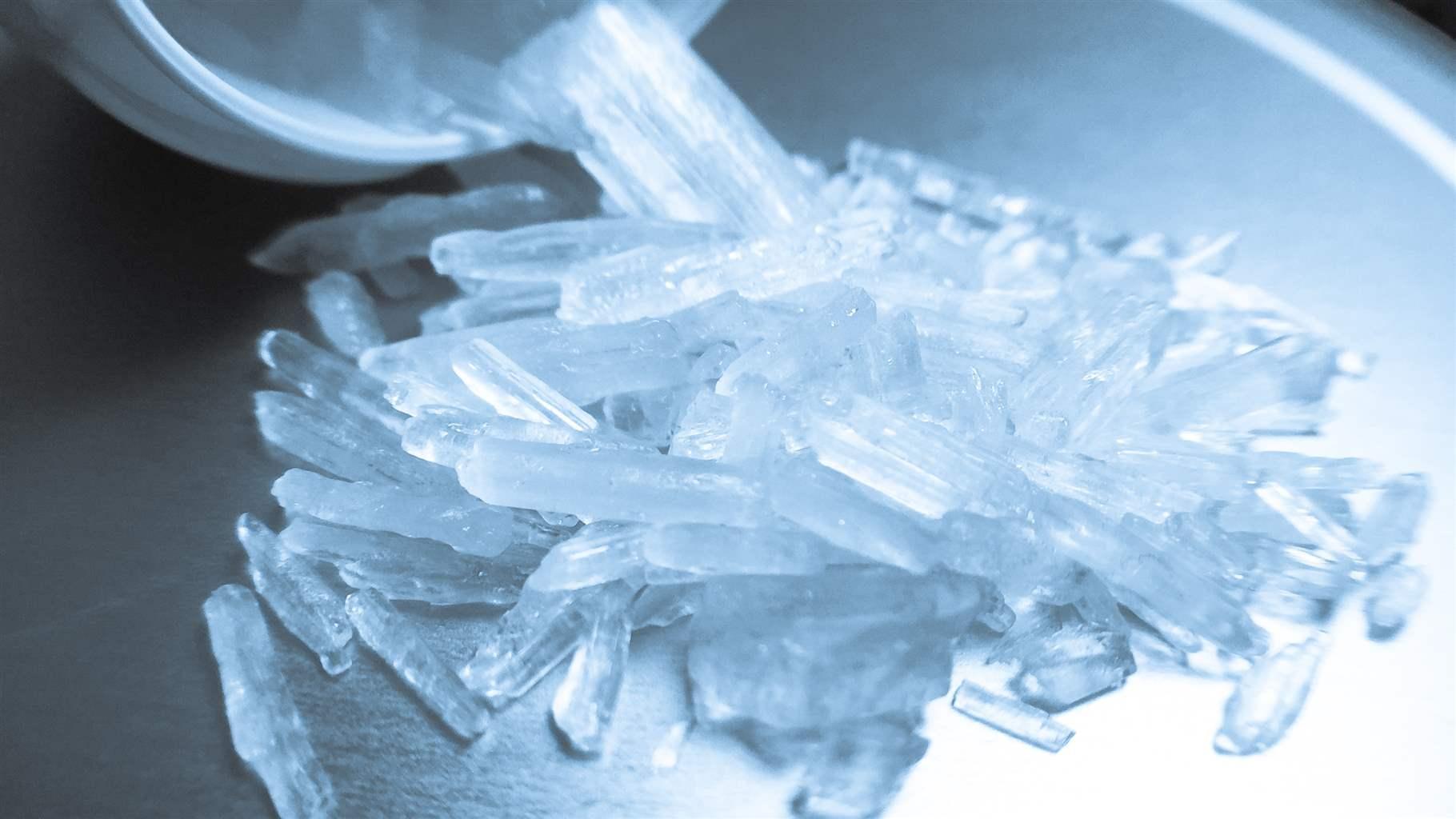 The use of the stimulant methamphetamine, as well as related overdose deaths and arrests, rose sharply from 2015 to 2019, with some states being particularly hit hard, according to Pew's analysis of federal and state statistics. This reality highlights the need for improved responses to a worsening public health problem.
A Pew report released earlier this year showed that increases in arrests for methamphetamine from 2009 to 2019 were responsible for propping up the number of drug possession arrests nationwide at a time when marijuana arrests were falling. New analyses by Pew found that from 2015 to 2019, arrests for meth possession increased 59%; during that same period, the number of people in the U.S. with a methamphetamine-related substance use disorder (SUD) jumped 37% and overdose deaths involving meth more than doubled. (See Figure 1.) 2019 is the most recent year with reliable data across all measures.
The general response to these trends highlights a reliance on the criminal legal system that has often proved costly and ineffective. Meaningful reductions in drug possession arrests and drug-related deaths may not be achieved without shifting to a public health response that prioritizes evidence-based approaches to treatment and harm reduction.
More people are using meth, but rates vary by state
These public health and arrests trends highlight rapidly growing use of methamphetamine. Pew analysis of the National Survey on Drug Use and Health (NSDUH), a large representative survey, found that self-reported use of meth in the past year increased by about 22%—from approximately 1.66 million adults (age 18 or older) in 2015 to more than 2 million in 2019.
State level data is not available on meth-related SUD. National data, however, shows that more than half (54%) of those using meth in the past year met the criteria for meth-related SUD, an indication that for many, meth use significantly impaired their health and ability to manage life's responsibilities.
Federal data shows that use of methamphetamines in 2019 was more widespread in some states than in others; the Substance Abuse and Mental Health Services Administration (SAMHSA) reported that in 16 states, at least 1 in 100 adults had used meth in the past year. (See Figure 2.)
Rapid growth in number of overdose deaths—with fentanyl often a factor
Deaths from methamphetamine overdoses more than doubled between 2015 and 2019—from 2.1 to 5.6 per 100,000—according to an analysis of Centers for Disease Control and Prevention data. Part of this spike can be attributed to methamphetamine increasingly being contaminated with fentanyl, which can be fatal in even small doses. The share of all meth-related overdose deaths involving fentanyl more than quadrupled during this period, from 7% to 31%.
All 43 states with data available for 2015 and 2019 reported increases in methamphetamine-related death rates; three-quarters (34) experienced at least a doubling of the death rate. (See Figure 3.) The eastern U.S.—parts of which recorded generally lower use rates in 2015—saw some of the largest increases during this period.
Preliminary data indicates that this trend has continued; 1 in 3 drug overdose deaths nationwide involved meth in 2021, compared with 1 in 4 in 2019. This translates into more than 34,000 people dying from an overdose involving meth last year. Fentanyl was present in more than half of the meth-related overdose deaths.
Arrests of those using meth on the rise
The number of possession arrests for meth more than doubled in nine states over the five-year period; in five, the rate at least tripled. These arrests rose in 40 of the 43 states with comparable data available for both 2015 and 2019. (See Figure 4.)
Analysis of NSDUH data shows that in 2019, more than two-fifths (42%) of those with meth SUD reported being arrested for any offense in the past year. By comparison, this is more than twice the share of people with an opioid SUD who reported being arrested (about 20%).
Stronger public health response needed
Policymakers have often turned to the criminal legal system to respond to various illegal drugs that have caused social and individual harm, and some are doing so again in the face of growing methamphetamine problems. Some states have passed laws increasing penalties for possessing, selling, or manufacturing methamphetamine. Another strategy has been to use felony murder laws to prosecute sellers of meth or other drugs when the sales result in overdoses, but that has not proved an effective deterrent and could discourage people from seeking help when an overdose has occurred for fear of criminal sanctions.
Considering the continued climb in rates of methamphetamine-related SUDs and overdose deaths—and that previous Pew research has shown no relationship between state drug imprisonment rates and drug use or overdose deaths—it is unclear that any of these enforcement-focused efforts will have a meaningful impact.
Compounding the issue, people with meth-related SUD rarely receive treatment and often have a co-occurring mental illness. Pew's analysis of NSDUH data showed that only 1 in 4 (27%) of those with a meth-related SUD reported receiving treatment in the past year for methamphetamine specifically; fewer than 1 in 3 (31%) received treatment for any type of substance use disorder. Almost 3 in 5 (57%) of those with meth-related SUD also had a co-occurring serious or moderate mental illness.
Given the cost of a criminal justice response and the evidence that increased incarceration is not associated with reduced drug problems, some jurisdictions have begun to shift strategies for addressing methamphetamine toward a public health approach.
In 2020, Oregon passed a measure decriminalizing possession of small amounts of drugs, including methamphetamine, and providing increased funding for treatment. Some of that funding is now being routed to contingency management programs, which SAMHSA recognizes as among the most evidence-based treatments for meth-related SUD.
To help prevent overdoses, some jurisdictions (including New York City) have introduced overdose prevention sites, where people can test drugs for fentanyl and take advantage of services to help prevent harm. Meanwhile, the federal government is re-evaluating the role of these sites after a federal court in 2021 blocked a Philadelphia plan for an overdose injection site. The U.S. Department of Justice is currently in talks with the provider about reopening.
New research indicates that some medication treatment options may be effective for methamphetamine-related SUD but, unlike treatment for opioid use disorders, there are currently no medications approved by the Food and Drug Administration. In May, the Office of National Drug Control Policy released a methamphetamine plan with a strong public health focus that emphasizes prevention, treatment, and harm reduction.
It is still too early to judge whether this shift will pay off. Still, faced with a growing problem, policymakers and practitioners should focus on research-informed approaches—and not just criminalization and incarceration—to address the methamphetamine crisis in the years ahead.
Tracy Velázquez is a senior manager and Lizzie Remrey is a senior associate with Pew's safety and justice research, strategy, and development team.