Prescription Drug Monitoring Programs
Evidence-based practices to optimize prescriber use
This report was updated December 2016 to reflect revised state data.
Overview
The prescription opioid epidemic poses major threats to the nation's health. According to the Centers for Disease Control and Prevention, approximately 19,000 people in the United States died from overdoses involving prescription opioids in 2014—a 16 percent increase from the previous year, and the highest number ever recorded. Emergency room visits by people using opioids for nonmedical reasons, such as taking a higher-than-prescribed dose or a prescription intended for another person, increased 117 percent between 2005 and 2011. Furthermore, people who are addicted to prescription opioids are 40 times more likely to become addicted to heroin. And the rate of deaths involving heroin increased nearly fivefold between 1999 and 2014, with more than 10,500 people dying of heroin-related overdoses in 2014.
Because increased prescribing of opioids has been a primary driver of the prescription opioid epidemic, reducing the overprescribing of these therapies is a primary focus of efforts to reverse these trends.
Prescription drug monitoring programs (PDMPs) are state-based electronic databases that contain information on controlled substance prescriptions dispensed by pharmacies and prescribers. These programs can help reduce the misuse and "diversion"—the redirection of drugs from legal, medically authorized uses to illegal uses—of controlled substances, including prescription opioids.
PDMPs allow prescribers and pharmacists, as well as other individuals and entities (such as researchers, health insurers, and medical licensing boards) that are authorized to access the data, to monitor controlled substance use by patients, the prescribing practices of medical practitioners, and population-level drug use trends. For example, a prescriber who is considering issuing a controlled substance prescription can check a patient's exposure to commonly misused drugs, such as opioid pain relievers and benzodiazepine anti-anxiety medications; licensing boards can use the data to identify aberrant prescribing patterns by practitioners; and state public health officials can use aggregated PDMP data to inform the development and implementation of targeted public health interventions, such as prescriber education campaigns. However, the type of access that is authorized varies by user. For instance, while prescribers have access to PDMPs and use them to examine controlled substance prescriptions on the individual patient level, state public health officials can access PDMP data only at the aggregate level. (Additional information on these and other PDMP uses is available in the Background section of this report.)
According to the Prescription Drug Monitoring Program Training and Technical Assistance Center—a partnership of the Bureau of Justice Assistance and the Heller School for Social Policy and Management at Brandeis University that helps stakeholders plan, implement, standardize, and enhance PDMPs—the number of PDMPs has grown rapidly in the past 15 years, with programs now operational in all states (with the exception of Missouri), Guam, and the District of Columbia. However, the number of prescribers utilizing PDMPs remains low, thus limiting the effectiveness of these databases.
The White House Office of National Drug Control Policy, which has said that PDMPs are critical to improving public health, has set a goal of doubling the number of health practitioners registered with PDMPs by 2017. Consequently, PDMP administrators, state and federal health officials, professional organizations, and legislators are examining ways to increase prescriber use of PDMPs.
This report, written by researchers from the Institute for Behavioral Health, Heller School for Social Policy and Management at Brandeis University in collaboration with The Pew Charitable Trusts, describes eight evidence-based practices aimed at increasing prescriber utilization of PDMPs: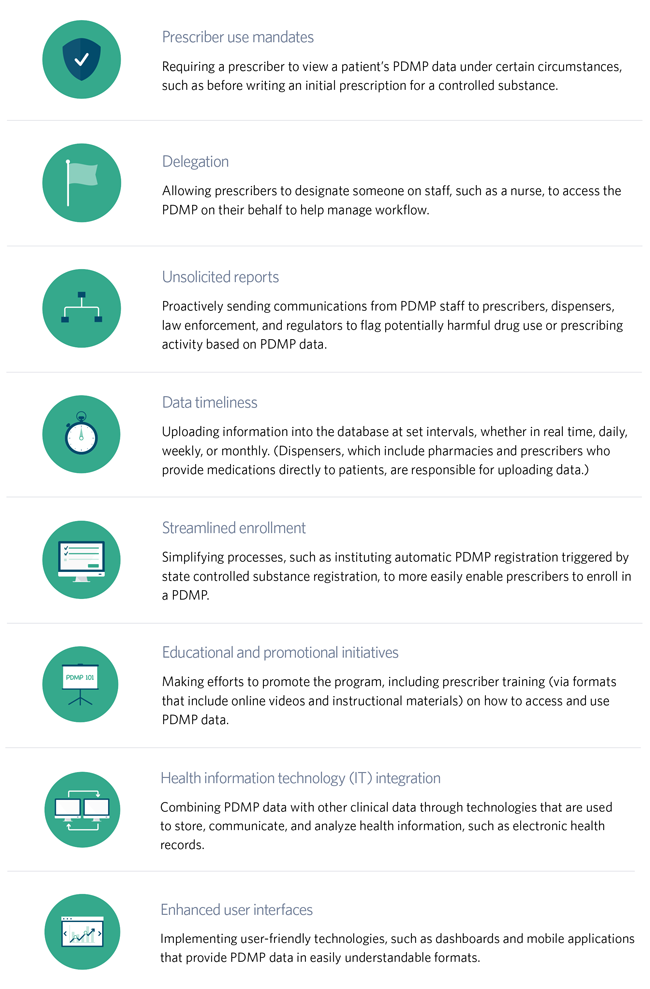 The extent and quality of evidence of these practices' effectiveness varies, but there is sufficient information to conclude that adopting one or more of them will increase prescriber utilization of PDMPs. The review of available evidence found that the practices can work in the following ways:
Prescriber use mandates can rapidly increase PDMP utilization, which can have an immediate impact on prescriber behavior, helping to reduce inappropriate prescribing of opioids and benzodiazepines and also multiple-provider episodes (when patients visit numerous prescribers and/or pharmacies to obtain the same or similar drugs in a short time span). Kentucky, New York, and Ohio are potential models for states looking to mandate PDMP use.
Delegate accounts, daily dispenser reporting (a common approach to improving data timeliness), and streamlined enrollment are practical solutions already adopted by nearly half of states and are feasible to implement based on state experience. Kentucky, Maine, and Oregon can offer lessons to states interested in delegate accounts, while Kentucky and Oklahoma can serve as examples for states interested in improving data timeliness. Experiences in Massachusetts, Minnesota, and Tennessee can also inform states hoping to streamline enrollment.
Unsolicited reporting and educational and promotional initiatives are effective mechanisms to encourage enrolled prescribers to use the database and also to inform unenrolled prescribers about the value of PDMPs, especially in states that lack a prescriber use mandate. States looking to send unsolicited reports can learn from experiences in Indiana, Maine, and Massachusetts; similarly, states looking to bolster educational and promotional initiatives can take cues from Florida, Maine, and New York.
Health IT integration and enhanced user interfaces can be effective in helping address barriers to using PDMPs, as demonstrated by pilot studies and state-based projects, but strategies for implementing these practices on a wide scale require further study. Indiana and Washington are potential models for states that wish to pursue health IT integration; states aiming to enhance user interfaces can look to California, Indiana, and New Jersey for guidance.
This report also includes case studies of states that have implemented one or more of these practices.