To Better Measure Climate Resilience Efforts, Federal Leaders Chart Collaborative Course
Pew-hosted event highlights need to work across agencies—and with state and local governments
To Better Measure Climate Resilience Efforts, Federal Leaders Chart Collaborative Course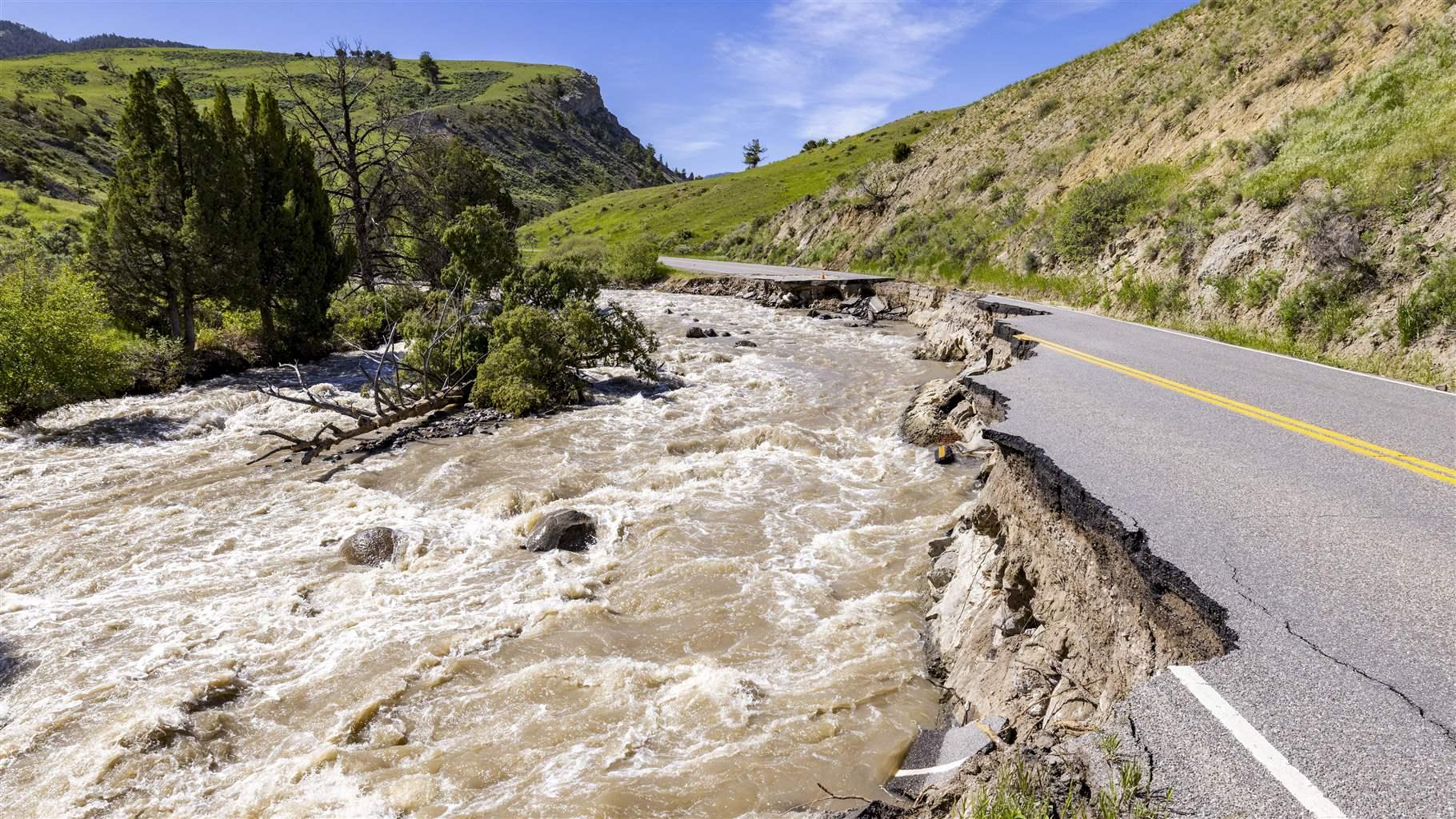 With natural disasters increasing in number and severity—from 2000 to 2021 a flood happened somewhere in the U.S. on eight out of every 10 days—federal, state, and local governments are working to both respond to emergency situations and craft forward-looking, measurable policies that better reflect the current and future climate reality.
Some states and localities are already acting, leveraging federal funding that includes billions of dollars from legislation such as the Infrastructure Investment and Jobs Act and Inflation Reduction Act, and others are poised to follow. But to know how well those investments are paying off, the federal government wants to measure the success of climate resilience policies and initiatives—which has thus far proved to be hard.
While the federal government has made strides working toward climate resilience—evidenced in part through its recently updated Climate Adaptation Plans—there's still room to grow. To help further the federal efforts on resilience, The Pew Charitable Trusts in February hosted the White House Council on Environmental Quality and representatives from federal agencies, ranging from the Department of Defense to the Environmental Protection Agency, to discuss how to best measure resilience efforts. The discussions were facilitated by Resilience Roadmap, a research initiative based out of Duke University's Nicholas Institute for Energy, Environment, and Sustainability. By the end of the event, participants had identified a set key of indicators for measuring resilience (detailed below).
Recognizing the complexity of developing resilience metrics across the vast federal landscape, participants determined that an effective approach would be to craft a set broad enough to be adjusted and applied at state and local levels. Here are some other key themes from the event:
1. Traditionally operating in dedicated lanes
With their distinct missions, budgets, timelines, and stakeholders, federal agencies often work in silos. Understanding the need for more innovative ways to address resilience, the federal government continues to make strides to determine the success of resilience efforts across agencies—for example, by measuring economic contributions, job growth, energy production, and land conservation. Agencies also recognize that nature-based solutions remain a pillar of resilience efforts, but there is still not consensus on the best way to quantify them.
2. Working toward more inclusive processes and workforce capacity
There is movement within the federal government to better account for how states and localities are approaching resilience and leveraging federal support in the process. By understanding this range of solutions, federal agencies are more likely to be able to replicate successful approaches. Agencies also recognize the need for training and educating the federal workforce to both understand the challenges that communities face and best meet those needs.
3. Adapting resilience plans to different communities
Participants identified the need to craft broad resilience measures that can be adapted to each agency and further refined to meet state and local challenges. Participants also recognized the need to engage with local communities throughout the life cycle of a proposed project to help ensure that resilience efforts are effective for the long term.
4. Building on a dialogue
Agency representatives recognize the need for reliable, standardized resilience metrics but noted that developing them—and the guiding principles to apply those metrics—will take time. So the group members started to lay out the challenges, ongoing efforts, and goals of their agencies in hopes of establishing common ground. Pew is excited to see that this is a growing priority for the administration.
The key performance indicators that participants agreed on for measuring resilience include:
Incorporating climate resilience objectives and performance measures in planning and budgeting.
Evaluating assets for resilience to known and projected impacts of climate change and related stressors.
Developing climate adaptation plans that address the cumulative and compounding effects of and relationship between multiple stressors and hazards.
Training staff in climate adaptation and resilience matters, procedures, and measures and incorporating climate resilience objectives and performance measures in implementation of programs.
Breaking down silos to build a more cohesive approach to crafting metrics and guiding principles that address climate change is challenging. But the Pew-hosted event helped federal agencies collaborate on a critical mission—working across all levels of government to improve climate resilience nationwide.
Representatives from the White House Council on Environmental Quality and these 11 federal agencies attended the event: Army Corps of Engineers, Department of Agriculture, Department of Defense, Department of the Interior, Department of Justice, Department of Labor, Department of State, Department of Transportation, Environmental Protection Agency, General Services Administration, and Office of Management and Budget.
Brian Watts works on federal pre-disaster mitigation and resilient infrastructure policy for The Pew Charitable Trusts' flood-prepared communities project.