Along South Carolina's Oyster-Loving Coast, Shell Recycling Offers a Glimpse of the Future
Hilton Head Island program shows promise for long-term fishery sustainability—and shoreline protection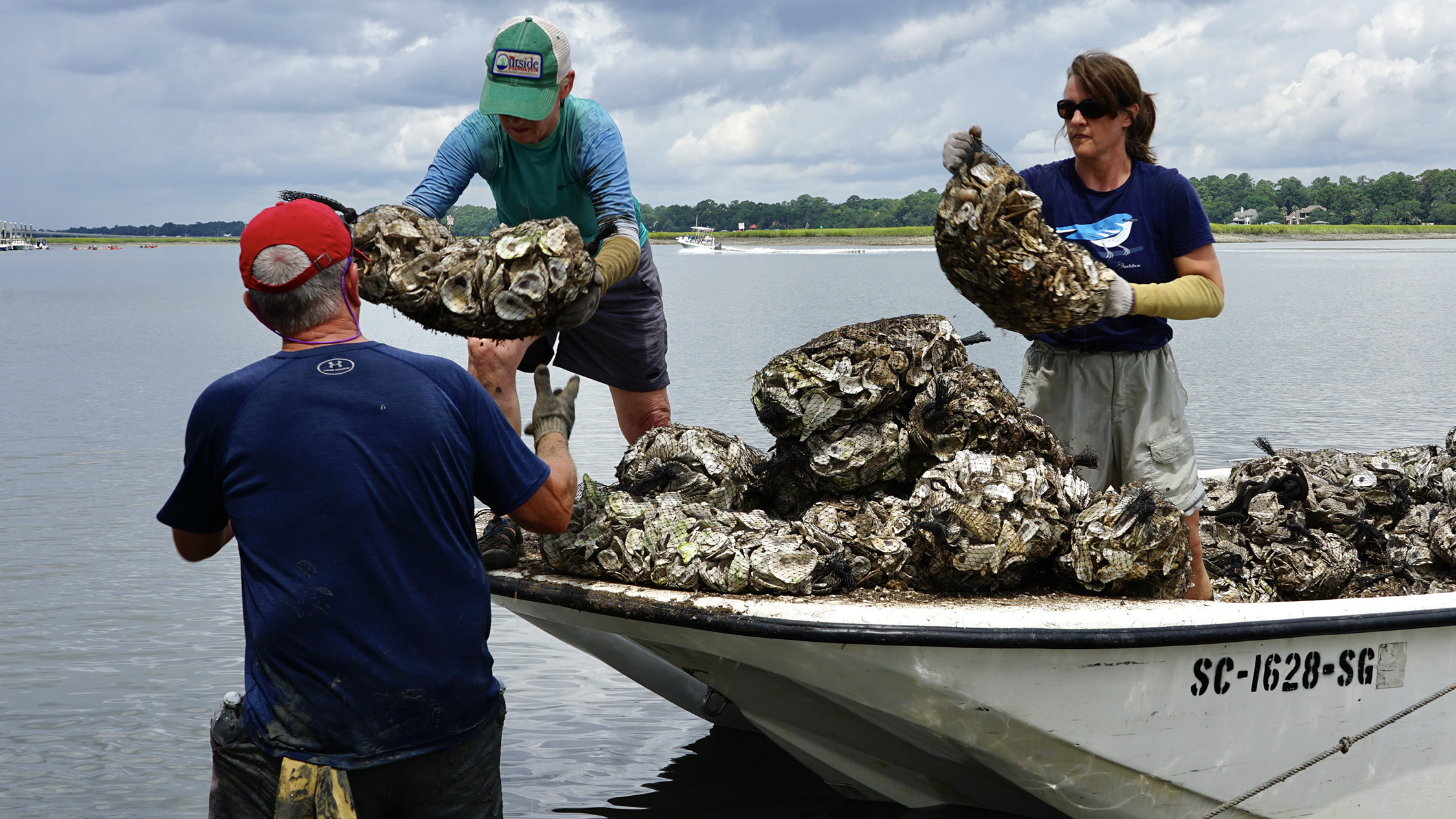 The next time you eat an oyster, spare a thought for its shell. Whether your oyster was wild caught or raised in a farm, that shell grew for years in the water. And if returned there—instead of being discarded on land—it can keep contributing to the species' cycle of life.
That's why shell recycling programs have gained traction in many coastal communities around the U.S. For example, in 2020, the Outside Foundation's shell recycling program on Hilton Head Island, South Carolina—which The Pew Charitable Trusts supported—collected 15.4 tons of recycled shells from 15 restaurants and a handful of festivals, all of which will be placed back into local waterways to create new oyster reefs.
Last month, foundation volunteers teamed up with reef-builders from South Carolina's Department of Natural Resources (SCDNR) to build the first reef, which stretches 60 feet in Broad Creek and is made up of 10,500 pounds of oyster shells. Several more reefs are being built in the area this summer. In addition to providing a home for oysters, reefs serve as habitat and food sources for other wildlife and can help limit shoreline erosion and storm damage.
In fact, the Broad Creek site was chosen in part because the wakes of passing boats have eroded the shoreline. The reef is also near the Shelter Cove community—a popular public area—and can be used as an educational site as well.
Although the new reef won't be open to harvest, the offspring of its inhabitants will disperse to other sites, including reefs that are fished recreationally and commercially.
Because South Carolina's oyster population is limited mostly by the amount of shell in the water, shell recycling is key to a sustainable oyster fishery. Historically, the state has bought shells from as far away as Florida to build reefs. But this year, because of the effect of the COVID-19 pandemic on the oyster industry, there wasn't enough shell to buy to construct the reefs as planned.
SCDNR constructs the reefs and welcomes volunteers. As Michael Hodges, manager of SCDNR's South Carolina Oyster Recycling and Enhancement (SCORE) program, explains: "Our work to plant recycled oyster shells to create new reefs and enhance existing reefs along the coast supports our state's oyster resources and industry and, literally, our coastline. And there is plenty of room to do more—if we had more shell."
To help, consumers in South Carolina should ask seafood sellers whether they recycle shells and encourage them to do so if they don't. Consumers dining at home can use the more than 30 recycling locations across the state, a number that's expected to grow.
But take note: Simply tossing shells into the water won't do the trick. Oyster shells need to be cleaned by SCDNR to ensure that they are free of disease and will form a functioning reef only when they are placed on the right substrate to support a new reef. Individual shells will probably be buried by sediment and almost certainly won't be found by baby oysters looking for a home.
Jean Fruh, executive director of the Outside Foundation, is hopeful that growing awareness will lead to more recycling. "Ideally, those who serve oysters and those who enjoy them will take pride in seeing them recycled, knowing that they are part of a positive cycle that helps South Carolina in so many ways."
Joseph Gordon is a project director and Lora Clarke is an officer with The Pew Charitable Trusts' campaign to protect marine life on the U.S. East Coast. Clarke is based in South Carolina.