Expanding the Dental Team
Increasing Access to Care in Public Settings
Building on an earlier report that examined how two private practices used dental therapists, Expanding the Dental Team: Increasing Access to Care in Public Settings looks at three examples of midlevel dental providers working to expand care to underserved populations in nonprofit, public settings.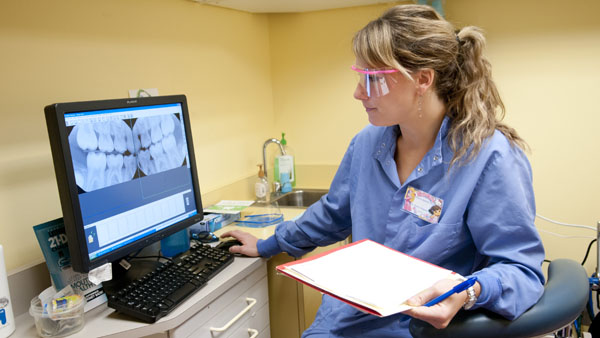 © The Pew Charitable Trusts
For decades, disparities in oral health have existed between low-income children and their higher-income peers. Two factors in the dental care delivery system help fuel these differences: Most dentists do not accept Medicaid, and millions of people live in areas with shortage of dentists.
Innovative methods for delivering dental care are emerging to reach traditionally underserved populations. More than 50 nations, for example, authorize midlevel dental providers—often called dental therapists—to provide routine preventive and restorative care. Compared to dentists, dental therapists perform fewer procedures, require less training, and command lower salaries. Research has confirmed that they provide high-quality, cost-effective routine care and improve access to treatment in parts of the country where dentists are scarce. Midlevel providers currently practice in Alaska and Minnesota, and will be doing so in Maine. Licensing is under consideration in 15 states.
Another strategy that expands access to care places existing providers—dental hygienists and dental assistants—in community settings (e.g., public schools and nursing homes) to provide routine care and use telehealth technology to communicate with dentists in a hub practice as needed. This tactic allows dentists to offer screening and preventive care from an off-site location, and to also treat patients directly when more advanced procedures are necessary.
KEY FINDINGS
The Pew Charitable Trusts looked at three dental practices in nonprofit public settings working to expand care to underserved populations. These clinics needed to address as much of the unmet need in their areas as possible with the dollars they have available. The core issue examined in the resulting report, Expanding the Dental Team: Increasing Access to Care in Public Settings, is whether the practices could serve more people in a cost-efficient way by using additional types of providers on the dental team.
Much variation existed among these practices, but a review of the case studies yields the following findings:
Underserved populations had increased access to care. All three of these approaches made it possible to care for more people in underserved populations.
Nonprofit practices could stretch their dollars to reach more underserved people. In the Alaska and Minnesota case studies, using providers other than dentists to deliver routine restorative care resulted in cost efficiencies.
REFERENCES
Medicaid-CHIP State Dental Association, "National Profile of State Medicaid and CHIP Oral Health Programs," accessed Jan. 8, 2014, http://www.msdanationalprofile.com. In 2011, only 32 percent of 193,300 dentists practicing in the United States reported accepting Medicaid.
U.S. Department of Health and Human Services, Health Resources and Services Administration, Find Shortage Areas: HPSA by State and County, accessed April 8, 2014, http://hpsafind.hrsa.gov.
David A. Nash et al., "Dental Therapists: A Global Perspective," International Dental Journal 58 (2008): 61–70.
W.K. Kellogg Foundation, "Dental Health Now: State Updates" (June 2012), http://www.wkkf.org/static/dentaltherapy/may/state-update/index.html.