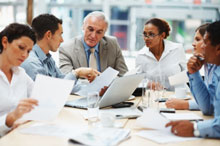 The Vermont Department of Health conducted an HIA of a proposed sick leave policy that would provide paid health care time for every 30 hours worked, up to 56 hours annually. This leave could be used to recover from an illness; seek preventive care; care for a family member; and coordinate social or legal services and receive care or counseling after sexual assault, domestic violence, or stalking. Legislation was introduced as H.208 in the 2013 session of the Vermont Legislature but did not pass. It was reintroduced as H.187 in February 2015 after completion of this HIA.
The HIA found that the legislation would increase access to paid sick leave, particularly for low-wage, part-time workers and employees of small businesses, which would, in turn, decrease the spread of infectious disease in the state, particularly in the child care and food service industries. Paid sick leave would also increase the ability of domestic violence victims to access essential health and social services while maintaining employment. The HIA found limited data to link paid sick leave to preventable hospitalizations but predicted that a 10 percent reduction in hospitalizations would save $6.8 million in health expenditures annually.
The HIA recommended passing and implementing paid sick leave in Vermont with several key modifications to increase the positive health and equity impacts. To maximize health effects for Vermont's most vulnerable workers, the HIA recommended that any legislation about paid sick leave should include all employees and provide coverage for those seeking services for domestic or interpersonal violence. The HIA also recommended that the Vermont Department of Health, Division of Health Surveillance start tracking avoidable hospitalizations and add a question about paid sick leave to the Behavioral Risk Factor Surveillance System—a telephone survey of adults 18 and older conducted annually by the Vermont Department of Health in collaboration with the Centers for Disease Control and Prevention. The HIA further recommended providing technical assistance to businesses to create workplace systems and cultures to support sick leave.
Outcome
The HIA focused on a proposed sick leave policy for Vermont. It urged that part-time workers or specific sectors not be exempted from the policy and suggested conducting an education campaign to ensure that workers take paid sick leave. The HIA also recommended providing technical assistance for small businesses to help with needed adaptations for payroll systems. The HIA was completed the year before the Legislature adopted the proposed sick leave policy. The Health Department was invited to testify on the bill, which likely would not have happened without the HIA report. Ultimately, the law exempted temporary employees, against the HIA's recommendations, which has lessened its impact in achieving greater health equity.