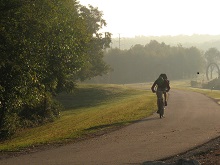 The University of North Carolina, Chapel Hill, in partnership with the Blue Ridge Road Corridor Work Group and Project Advisory Board, conducted a health impact assessment (HIA) to inform decisions affecting the small area plan in the 32-mile Blue Ridge Road Corridor (BRRC) in Raleigh, NC. Raleigh is among the 10 fastest-growing national urban centers and the Blue Ridge Road hosts major commercial, industrial, and institutional land uses, but pedestrian and bicycle connectivity among BRRC facilities and from neighboring residential areas is poor. Although the BRRC records the state's highest pedestrian traffic counts, the availability of sidewalks and public transit is among the sparsest in North Carolina.
The HIA provided evidence on how population health would likely be affected by adding sidewalks and bicycle paths.
Outcome
The HIA helped to galvanize public support for adding sidewalks and bicycle paths to the corridor design work. The HIA recommendation that the potential for economic return should be considered for improvements that promote health was incorporated into the North Carolina Department of Transportation Statewide Pedestrian and Bicycle Plan. The HIA also highlighted opportunities for cross-sector collaboration and spurred the creation of a Population Health Task Force by the Wake County Board of Commissioners, with the goal of incorporating health considerations into all policies. As of November 2016, the Small Area Plan was still in progress, but construction of some of the infrastructure it recommends—including a new bike path—was underway.