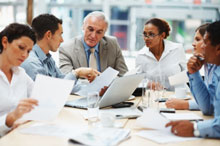 Human Impact Partners conducted an HIA of the federal Healthy Families Act of 2009 and a companion rapid assessment to review existing health data relevant to paid sick day legislation (H.B. 662) under consideration in New Hampshire. The HIA found that between 2004 and 2008, 89 percent of foodborne disease outbreaks in the state occurred in public places where food was prepared or served by workers. New Hampshire Administrative Rules already bar food workers with contagious illnesses from the workplace, and paid sick days would probably facilitate compliance with policies designed to prevent such outbreaks.
State-legislated paid sick days would also reduce the exposure of nursing home residents, a particularly vulnerable group, to communicable diseases, preventing illness and probably reducing mortality among seniors.
The HIA found considerable variation in accruals for employees who already receive paid sick days: In general, industries that pay less provide fewer paid sick days. As a result, the proposed legislation would probably reduce health disparities for lower-income workers.