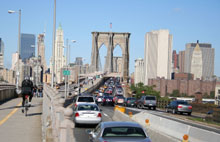 This HIA considered the impacts of proposed legislature in Massachusetts to lower the default speed limit on local roads from 30 miles per hour (mph) to 25 mph. The HIA examined potential impacts to injuries, air pollution, safety, and physical activity from a reduction in speed. The HIA determined that the proposed legislation could have both positive and negative impacts. Positive impacts of the speed reduction could include a decrease in automobile crashes, fatalities and injuries; and a cost saving of $180 million in medical payments and missed work from preventing injuries. Conversely, the speed limit bill has the potential to cost $21 million in additional fuel burned, and $127 million in time spent in traffic. Overall the HIA concluded that the bill would positively impact health, primarily through the prevention of injury, but also through enhanced walking and biking environments that may encourage physical activity. The HIA offered recommendations to the Massachusetts legislature to enhance health outcomes, such as implementing traffic calming measures and speed enforcement campaigns.
This HIA was conducted with support from the Massachusetts Department of Public Health through the Centers for Disease Control Healthy Community Design Initiative.
Outcome
This HIA considered the impact of proposed legislation to lower the default speed limit from 30 to 25 mph on local Massachusetts roads. The HIA supported the bill's recommended speed limit reductions and suggested that other measures be put in place to lower speeds on these roads, such as raised intersections, traffic circles, road narrowing, curves, and speed humps. The HIA influenced the statewide conversation regarding municipalities' ability to set speed limits on local roads. Governor Charlie Baker introduced the bill in December 2015 to update municipal laws, which included the amendment to give local traffic officials the authority to impose a 25-mph speed limit in business districts or any area with a high population density and a speed limit of 20 mph in a designated "safety zone," as recommended by the HIA. The Massachusetts House and Senate both passed the bill unanimously in July 2016.