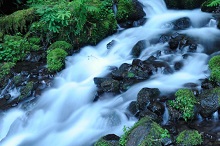 The Leadership Counsel for Justice and Accountability will conduct an HIA to inform decisions about wastewater infrastructure in Fresno and Riverside counties, California.
Neighborhoods in both counties lack access to municipal wastewater services and instead rely on modified cesspools for disposing of wastewater from their homes. Antiquated and inadequate water systems can harm health in multiple ways. Acute health problems can result from exposure to potentially harmful bacteria in water run-off, including gastrointestinal complications and Hepatitis A. Land developers are investing in infrastructure for new homes and businesses in the area, but historic communities have not benefited from updated systems or investments. A lack of infrastructure can also lower property values, hindering development and the creation of health-promoting goods and services, such as grocery stores. The HIA seeks to engage a broad set of stakeholders, including the state water resources control board and research institutions.
Through screening and stakeholder engagement, the Leadership Counsel will identify a decision to evaluate for the HIA.