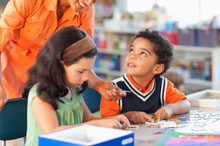 This health impact assessment evaluated the potential academic, health, and economic impacts of subsidizing the costs of student bus passes in Los Angeles County. The Los Angeles County School Attendance Task Force, or SATF, is interested in developing a program to further subsidize the cost of bus passes for low-income students in order to increase school attendance. During town hall meetings hosted by the SATF, transportation was cited by students as a major barrier to school attendance, and they suggested developing a free or subsidized bus pass program. Providing access to free or affordable transportation options can impact student school attendance, the financial stability of their families, arrests and court referrals (for fare evasion), and their ability to access community resources. These factors are likely to have a short-term impact on student educational attainment, on their likelihood to engage in criminal activities, and on their and their families' stress. Student educational attainment has the potential to influence a variety of intermediate and long-term health determinants including incarceration, teen pregnancy, substance abuse, and mental health. In addition, increasing financial resources for families can allow them to spend money on health-promoting goods and services, including healthy food and preventive services.
This health impact assessment found that providing free transit passes to all students in Los Angeles County could potentially decrease fare evasion and criminalization of students, as well as provide financial savings to school districts and families. The proposed transit pass program would result in increased costs for regional transit agencies. The HIA made several recommendations, including exploring revenue sharing, bulk purchasing plans for school districts, and potentially restricting the program by age group or school grade, income level, or distance from school. Because the HIA found insufficient data to quantify the impact of free transit passes on school attendance, the HIA also recommended pilot projects to collect more specific data to estimate the potential impacts on school attendance.
This is part of a Health Impact Project HIA program grant. As a component of this project, the Los Angeles County Department of Public Health will work across agencies to identify policies important to health for students and their families. The program will respond to emerging policy issues and conduct full HIAs when possible, but will also develop methods for conducting rapid HIAs for an upcoming decision on a short timeline. The department is also working on a HIA of Policies and Programs to Process Truancy Citations in Los Angeles County and has previously conducted HIAs on menu labeling and a local policy proposal to reduce sodium content.
This is supported through funding from The California Endowment.