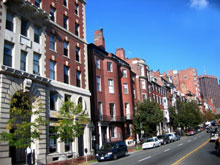 As part of ongoing efforts to reduce the incidence of asthma episodes in San Francisco, the San Francisco Department of Public Health (SFDPH) conducted an HIA to inform the San Francisco Housing Authority's policy on flooring for public housing. In 2002, Asthma Relief for Kids, the American Lung Association and SFDPH successfully lobbied the Board of Supervisors of the City and County of San Francisco to adopt Resolution 457-02. The resolution established SFDPH as a partner with the San Francisco Housing Authority (SFHA) to develop and implement a new flooring policy in public housing. The HIA focused on the planned carpet flooring in SFHA projects that are part of the HOPE VI developments, since older SFHA properties do not have carpeting. The HIA found that carpet was the industrial standard required by the funders of HOPE VI developments, since housing without carpets was considered sub-standard.
Outcome
Participants in the HIA process agreed on two flooring policies to be presented to the director of SFHA: a reasonable proportion of new units in HOPE VI developments will be built without carpeting and that SFHA will work to increase staff and tenant awareness of the availability and use of the reasonable accommodation policy for removing carpeting in existing units. These policies are inclusive of all HOPE VI units-those already built with carpeting and those that are not yet constructed.
Participants in the HIA process-property managers, development and maintenance staff, support staff and tenants-were all educated on the potential health impacts of carpeting. Tenants learned about the complexities surrounding removal of the carpeting, as well as the potential impacts of not installing carpeting in new units.
Resolution 457-02 also established that SFHA would prepare an annual progress report to the Board of Supervisors to maintain accountability for implementing the flooring policy recommendations.