Chesapeake Bay Oyster Restoration Progresses in Maryland and Virginia
States are working to re-establish reefs in the country's largest estuary
Chesapeake Bay Oyster Restoration Progresses in Maryland and Virginia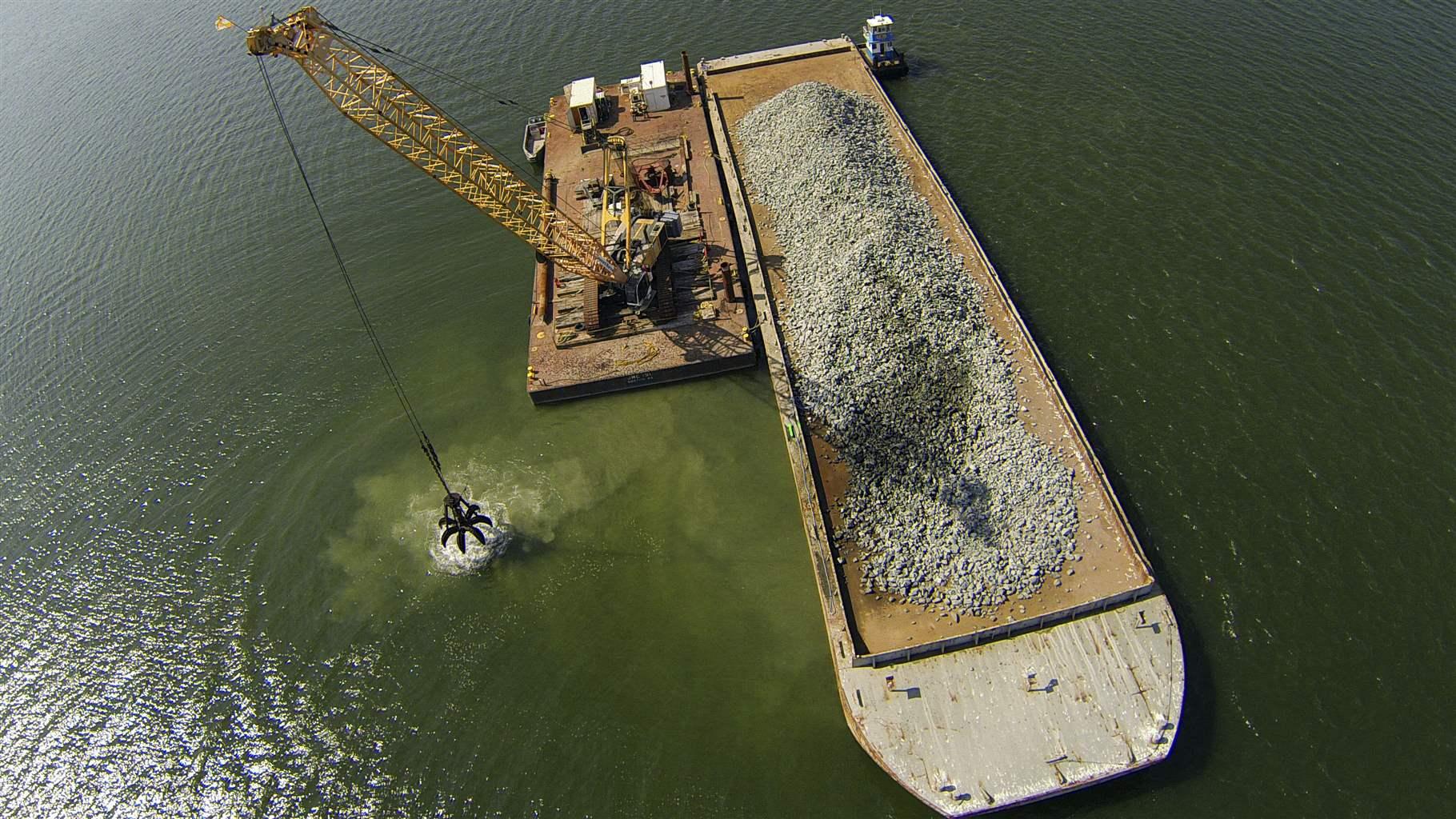 Overview
In 2014, the six states that are part of the Chesapeake Bay watershed—along with Washington, D.C., the U.S. Environmental Protection Agency, and the Chesapeake Bay Commission—signed the Chesapeake Bay Watershed Agreement, which included among its goals restoring oyster populations in 10 bay tributaries by 2025.1 The parties are on track to meet that target, with six tributaries restored as of the end of 2021 and the remaining four expected to be completed on schedule. The project is the largest oyster restoration and recovery effort in the world.
Oyster restoration benefits ecosystems and coastal communities. Oysters filter water, making estuaries cleaner and clearer, and their beds and reefs offer refuge and habitat for wildlife. And under the right conditions, they can also absorb wave energy, increasing the coast's resilience to storms. Restoration can increase the scale of these benefits, making projects such as the Chesapeake Bay effort a worthwhile investment of public funds.2
In Maryland and Virginia, the goal of restoring oyster habitat in 10 tributaries is advancing thanks to robust partnerships involving the two states, industry, nonprofit organizations, and academic institutions, in coordination with federal efforts. As the 2025 target approaches, the partners should build on this foundation to set new goals for restoring vital oyster reefs and other coastal habitats.
Restoration blueprints are complete for all 10 identified tributaries, and projects remain on target despite the COVID-19 pandemic.
Partners even restored 23.7 acres of reefs in a "bonus" 11th tributary: the Eastern Branch of the Elizabeth River in Virginia.
Monitoring indicates that projects are meeting or exceeding metrics for success outlined by the parties to the agreement.3
Before the agreement, Chesapeake Bay oyster restoration took place on a smaller scale; but by 2025, the partners will have restored nearly 2,000 acres of reefs.
Table 1
Chesapeake Bay Agreement Partners Have Restored Oyster Beds in
6 Rivers and Creeks Projects by state, tributary, size, and completion status
| State | Tributary | Planned restoration area in acres | Status |
| --- | --- | --- | --- |
| MD | Harris Creek | 348 | Complete |
| MD | Little Choptank River | 358 | Complete |
| MD | Manokin River | 421 | In progress |
| MD | St. Mary's River | 25 | In progress |
| MD | Tred Avon River | 130 | Complete |
| VA | Great Wicomico River | 24 | Complete |
| VA | Lafayette River | 12 | Complete |
| VA | Lynnhaven River | 63 | In progress |
| VA | Piankatank River | 241 | Complete |
| VA | Lower York River | 198 | In progress |
Source: Maryland and Virginia Oyster Restoration Interagency Workgroups, "2021 Chesapeake Bay Oyster Restoration Update: Summary of Progress Toward the Chesapeake Bay Watershed Agreement's 'Ten Tributaries by 2025' Oyster Outcome" (2022), https://www.chesapeakebay.net/documents/2021_Chesapeake_Bay_Oyster_Restoration_Update_FINAL. pdf
© 2022 The Pew Charitable Trusts
Endnotes
Chesapeake Bay Program, "Governance and Management Framework for the Chesapeake Bay Program Version 4.0" (2021), https://www. chesapeakebay.net/documents/CBP_GDOC_Version_4.0.pdf.
D.G. Bruce et al., "A Synopsis of Research on the Ecosystem Services Provided by Large-Scale Oyster Restoration in the Chesapeake Bay" (National Oceanic and Atmospheric Administration, 2021), https://spo.nmfs.noaa.gov/sites/default/files/TMOHC8.pdf.
Maryland Oyster Restoration Interagency Workgroup, "2020 Maryland Oyster Monitoring Report: Analysis of Data From the '10 Tributaries' Sanctuary Oyster Restoration Initiative in Maryland" (Chesapeake Bay Program, 2021), https://www.chesapeakebay.net/ documents/2020_Maryland_Oyster_Monitoring_Report_%282%29.pdf.