Outback Conservation Case Studies: Hope for Australia's Heartland
New report "My Country, Our Outback" showcases successful land, marine management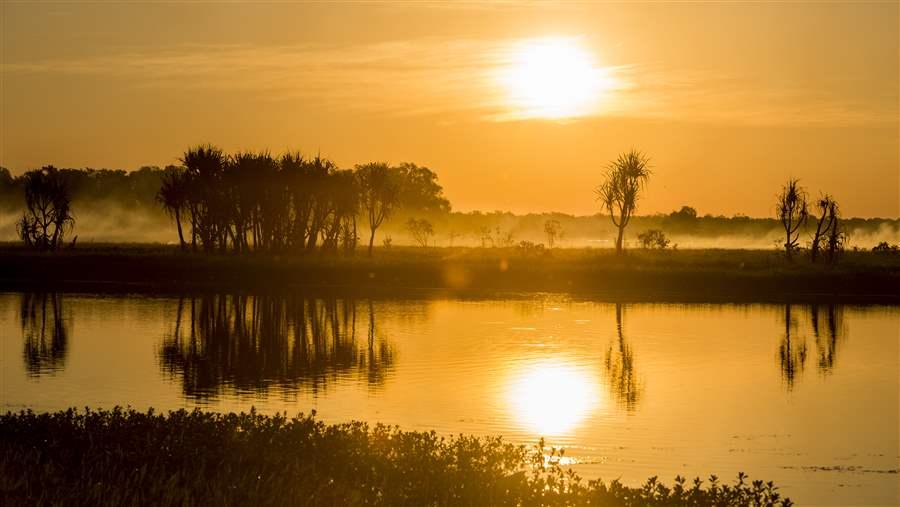 The sun sets over a wetland in Kakadu National Park in Australia's Northern Territory. Kakadu's wetlands are of global importance for water birds, and the park is one of a dozen case studies featured in Pew's latest report on the health of Australia's Outback.
© Kerry Trapnell
Only a small number of vast natural landscapes—wild regions where ecological processes and the movement of wildlife function normally—remain on Earth. The Australian Outback is one of them.
Recently, The Pew Charitable Trusts launched a major report on the health of Australia's Outback, featuring the latest peer-reviewed science and a dozen case studies of successful land management approaches across this vast area.
"My Country, Our Outback: Voices From the Land on Hope and Change in Australia's Heartland" includes over 200 photographs and 14 original maps. The following blog posts spotlight the report's key takeaways.
Part One: These 3 Steps Could Save the Australian Outback
Countering threats to nature in remote areas will require policy reforms, greater Indigenous involvement and an influx of people in the Australian Outback, one of the world's greatest remaining natural regions.
Part Two: As Extinctions Mount in Australia's Outback, a Sanctuary Offers Hope
Some of Australia's most threatened species are rebuilding behind "feral free" fencing, which separates some privately owned parts of the Outback from populations of introduced predators.
Part Three: 'Give It a Go!' With Help, Outback Rangelands Can Recover
A pastoralist in the remote Western Australian Outback shows how he's returning worn-out farming lands to health through careful land management practices.
Part Four: To Save Outback, Traditional Owners Draw on Past and Present
One Arnhem Land leader is calling for Australian policymakers to back a hybrid "both ways" approach to conservation that combines traditional knowledge with modern science.
Barry Traill directs The Pew Charitable Trusts' Outback to oceans program.