More Than $1 Million in Fellowships Awarded to 12 BIPOC Artists Through Philadelphia's Cultural Treasures Program
Recipients include artists and practitioners working in disciplines such as performance, film, visual arts, literature, and community-based art forms
Over $1 Million in Fellowships Awarded to 12 BIPOC Artists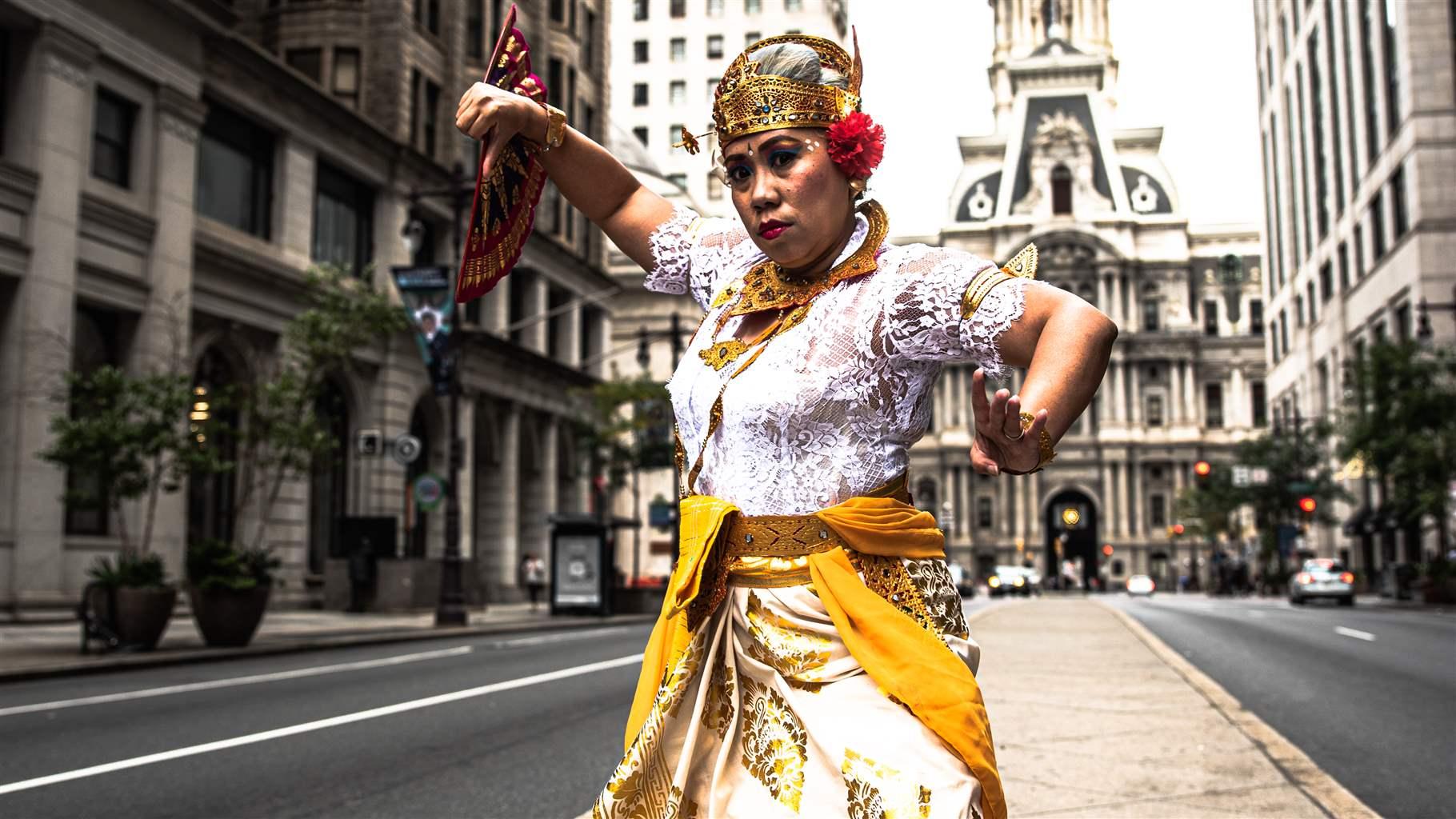 PHILADELPHIA (Dec. 6, 2022) — The Pew Center for Arts & Heritage in collaboration with The Barra Foundation, Neubauer Family Foundation, William Penn Foundation, and Wyncote Foundation announced today $1,170,000 in fellowships to 12 Philadelphia-area artists and cultural practitioners of color through the Philadelphia's Cultural Treasures(PCT)funding initiative.
The recipients are artists working in music, performance, film, visual arts, literature, and multidisciplinary and community-based art forms: Daryl Kwasi Burgee, Vashti Dubois, Maori Karmael Holmes, Homer Jackson, Wit López, Roberto Lugo, Louis Massiah, Pepón Osorio, Ursula Rucker, Sinta Penyami Storms, Andrea Walls, and Yolanda Wisher. Further information on the artists follows below.
These fellowships are awarded as part of the regional component of America's Cultural Treasures, an initiative created by the Ford Foundation. The PCT efforts specifically support Black, Indigenous, and People of Color (BIPOC) cultural groups, artists, and organizations with exceptional significance to Greater Philadelphia.
The PCT artist fellowships recognize and reward the efforts of remarkably talented, Philadelphia-based BIPOC artists and cultural workers who make a material difference in their communities over and above the already challenging work of sustaining their own careers. The awards range from $75,000 to $120,000 in unrestricted funds, with the higher amounts awarded to artists whose contributions have made an impact on the region for 20 years or more. Additionally, $15,000 in retirement savings will be awarded to each fellow along with professional development opportunities to promote their well-being and assist with advancing their work.
"The 2022 Philadelphia's Cultural Treasures fellows represent extraordinary artistic practices and exemplary community-driven work by artists of color that are critical to the city's cultural landscape," said Paula Marincola, executive director of The Pew Center for Arts & Heritage. "We are honored and delighted to be a part of the collaborative effort with our regional partners to support these artists' creative activities and to steward this aspect of the Cultural Treasures funding initiative in Philadelphia."
The 2022 Philadelphia's Cultural Treasures fellows are:
Daryl Kwasi Burgee: musician and educator in traditional West African music and culture; founder and artistic director of Spoken Hand Percussion Orchestra and Jaasu Ballet African Dance
Vashti Dubois: social practice artist and multidisciplinary cultural producer; founder and executive director of The Colored Girls Museum
Maori Karmael Holmes: curator, filmmaker, and writer; founder and chief executive & artistic officer of BlackStar Projects
Homer Jackson: interdisciplinary artist, curator, and community-based teaching artist; executive director of the Philadelphia Jazz Project
Wit López: multidisciplinary visual artist, performance artist, and essayist; founder and artistic director of Till Arts Project
Roberto Lugo: ceramist and visual artist, social activist, poet, and educator
Louis Massiah: documentary filmmaker, community-based media organizer and teacher; founder and director of Scribe Video Center
Pepón Osorio: multimedia visual artist, socially engaged practitioner, and educator
Ursula Rucker: poet, performer, recording artist, social activist, and teaching artist
Sinta Penyami Storms: traditional Indonesian dance artist and community organizer; founder of Modero & Company dance group
Andrea Walls: multidisciplinary artist, poet, and curator; creator of the online Museum of Black Joy
Yolanda Wisher: poet, singer, educator, and curator; past Poet Laureate of Philadelphia and of Montgomery County
The nomination and award process: As a collaborator in this regional initiative, The Pew Center for Arts & Heritage administered the fellowships nomination and panel review process, which was designed based on a research and community listening effort led by Risë Wilson, an artist, community organizer, activist, strategic planner, and nonprofit consultant. 37 nominators with expertise in a range of artistic disciplines each named an artist or a collaborative of artists. Those nominations were then reviewed by a selection panel representing a broad range of backgrounds—artistically, culturally, generationally, and geographically. The list of nominators and panelists can be found at philadelphiasculturaltreasures.org/artist-fellowships.
More on the funding initiative: In August of this year, Philadelphia's Cultural Treasuresawarded over $6 million in multi-year general operating support for 16 cultural organizations. It will award project grants in 2023, and a second round of fellowships will be given in 2024. More information on the local initiative can be found at philadelphiasculturaltreasures.org.
America's Cultural Treasures is a national initiative created by the Ford Foundation to acknowledge and honor the diversity of artistic expression and excellence in America. It has generated more than $276 million in critical funding to more than 100 organizations across the country led by and/or serving communities of color that have made a significant impact on America's cultural landscape, despite historically limited resources.
About The Barra Foundation
The Barra Foundation invests in innovation to inspire change that strengthens communities in the Greater Philadelphia region. With four primary areas of interest—Arts & Culture, Education, Health and Human Services—The Barra Foundation funds organizations in these areas through either core support or risk capital to test and advance new ideas and approaches. www.barrafoundation.org
About the Ford Foundation
The Ford Foundation is an independent organization working to address inequality and build a future grounded in justice. For more than 85 years, it has supported visionaries on the frontlines of social change worldwide, guided by its mission to strengthen democratic values, reduce poverty and injustice, promote international cooperation, and advance human achievement. Today, with an endowment of $16 billion, the foundation has headquarters in New York and 10 regional offices across Africa, Asia, Latin America, and the Middle East. www.fordfoundation.org
About The Neubauer Family Foundation
The Neubauer Family Foundation invests in people and data-driven, evidence-based initiatives intended to achieve transformational impact. Philanthropic initiatives include strategic investments in Philadelphia's school system, violent crime prevention, innovative leadership of arts & cultural organizations, institutions of higher learning, and advancing new opportunities for Israeli-Arabs to participate in Israel's high prestige, high income scientific revolution.
About The Pew Center for Arts & Heritage
The Pew Center for Arts & Heritage is a multidisciplinary grant maker and hub for knowledge-sharing, funded by The Pew Charitable Trusts and dedicated to fostering a vibrant and diverse cultural community in Greater Philadelphia. The Center invests in ambitious, imaginative, and catalytic work that showcases the region's cultural vitality and enhances public life, and it engages in an exchange of ideas concerning artistic and interpretive practice with a broad network of cultural practitioners and leaders. www.pewcenterarts.org.
About the William Penn Foundation
The William Penn Foundation, founded in 1945 by Otto and Phoebe Haas, is dedicated to improving the quality of life in the Greater Philadelphia region through efforts that increase educational opportunities for children from low-income families, ensure a sustainable environment, provide inclusive and equitable public spaces and arts and culture experiences, and advance philanthropy in the Philadelphia region. www.williampennfoundation.org.
About the Wyncote Foundation
The Wyncote Foundation was founded in 2009 and supports efforts that strengthen and enrich culture, community, and the natural environment. In particular, Wyncote Foundation makes grants in the areas of arts & culture, education, the environment, health & human services, and preservation. Particular areas of interest include Historic Organ Preservation, the Northwest region, Performance Arts, and Public Media & Journalism. www.wyncotefoundation.org