Stateline
As Protests Spread, States Tread Carefully to Avoid Inflaming Extremists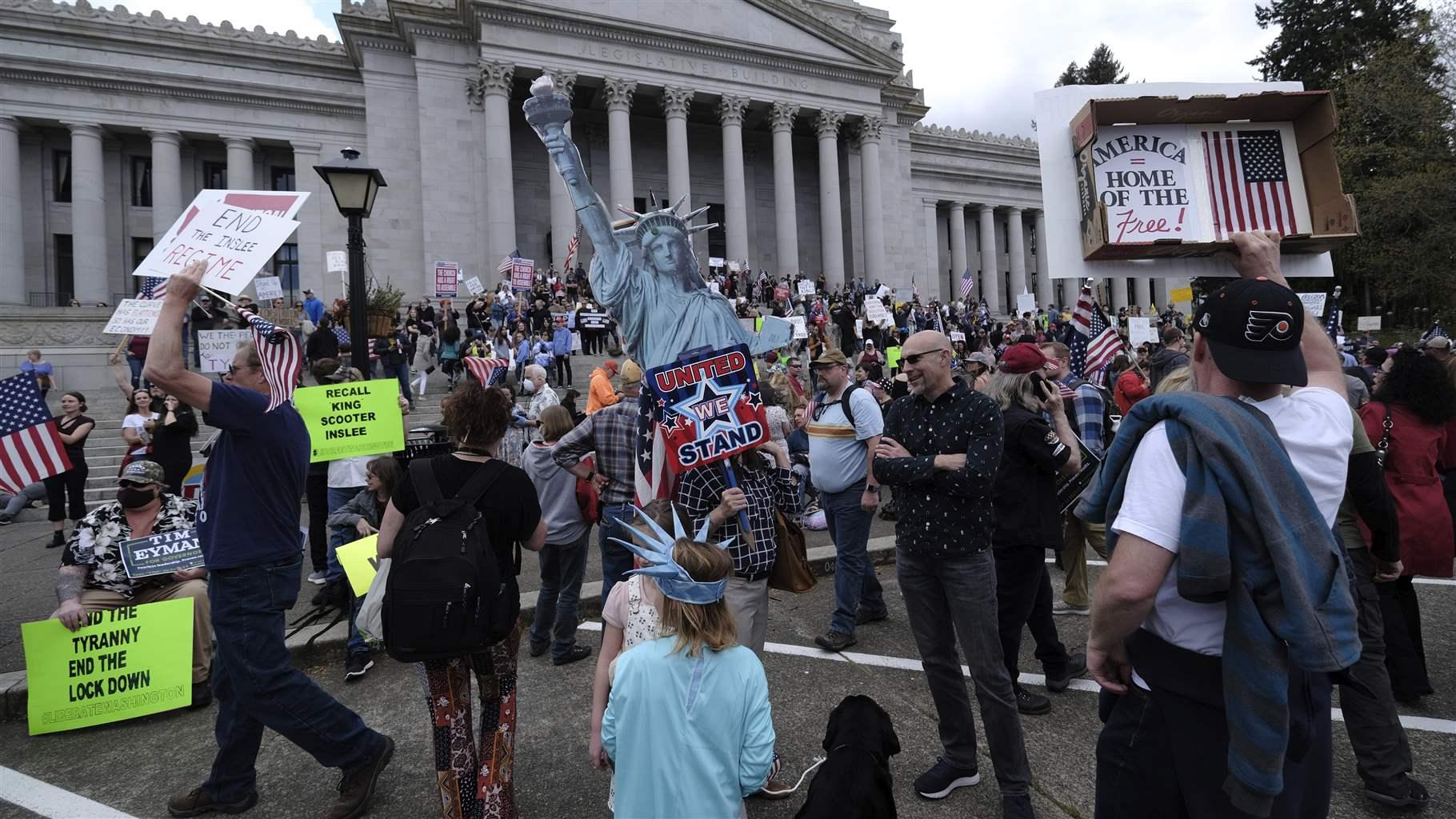 Read Stateline coverage of the latest state action on coronavirus.
SEATTLE — As enraged protesters swarm state capitols and prominent militia leaders boast about gathering in large numbers, states are doing little to crack down on the anti-government groups that are defying stay-at-home orders.
Trackers say extremist groups of all types are using the pandemic to foment misinformation, stoke anger against the government or prepare to take advantage of breakdowns in society. Many of the protesters don't belong to such groups. Nevertheless, state and local officials fear that any action to stop the demonstrations on public health grounds could inflame radicals who have a broader anti-government agenda.
"That sure is a delicate (or volatile) topic," Mike Faulk, a spokesman for Washington Gov. Jay Inslee, wrote in an email.
Faulk directed specific questions about suspected violators to law enforcement agencies, but he added that Inslee, a Democrat, "has said it isn't really the powers of government that will slow the spread as much as the choices of each individual." Faulk added that an already dysfunctional political climate has hampered the response to the pandemic, and called on President Donald Trump to "tamp down" misinformation.
Trump has tweeted calls to "liberate" some states that are under stay-at-home orders.
Chris Loftis, communications director for the Washington State Patrol, said last week that the agency prefers education to active enforcement when possible and said he hoped protesters would follow the guidelines of public health experts. News reports indicate Sunday's 2,000-strong crowd in Olympia, many of them armed, mostly disregarded safety measures such as masks and social distancing, but state troopers did not intervene.
"It is a tightrope that has to be walked," said Randy Blazak, an extremist group researcher who is chairman of the Oregon Coalition Against Hate Crime. "It's Waco all over again, but with an added viral component."
The 1993 siege of the Branch Davidians compound in Waco, Texas, resulted in the deaths of four federal agents and 82 members of the religious sect.
The online talk already has turned to action in some places. Last month, the FBI said, a white supremacist in Missouri was killed in a confrontation with law enforcement after plotting to attack a hospital that was treating COVID-19 patients. A train engineer at the Port of Los Angeles intentionally derailed his locomotive earlier this month in an unsuccessful attempt to crash into the U.S. Navy Hospital Ship Mercy, which, police said, he believed was deployed to help with a government takeover.
Defiance in the Northwest
In the Northwest, where anti-government militia groups have long had a presence, states have largely ignored the boasts of those who are openly defying stay-at-home orders.
Ammon Bundy, who led the armed takeover of Oregon's Malheur National Wildlife Refuge in 2016, has continued to gather with followers — numbering more than 100 on Easter Sunday — and pledged to "physically stand in defense" of businesses that resist the stay-at-home order issued by Idaho Gov. Brad Little, a Republican.
Despite the open antagonism and violations, Idaho leaders have not moved to stop — or even comment on — Bundy's actions. Neither Little's office nor the state attorney general's office responded to requests for comment.
"That's because of Ruby Ridge and how easily these things can go south and become a showdown that reinforces their narrative," Blazak said.
The 11-day Ruby Ridge siege in 1992 was prompted when white supremacist Randy Weaver resisted federal agents at his Idaho cabin, a showdown that resulted in the deaths of a U.S. marshal and Weaver's wife and son.
Washington state Rep. Matt Shea, a Republican who helped Bundy plan his standoff and was accused by an independent state House investigation last year of having engaged in domestic terrorist activities, claims the COVID-19 pandemic is a "Chinese Communist Party Bioweapon." Shea has called on Washingtonians to march on their county courthouse, recently sharing a flyer that said "starting May 1st we return the power to the people."
Shea and Bundy aren't the only ones opposing their states' restrictions, and other outspoken voices include several Idaho state representatives, an Idaho sheriff and a police chief in Washington. Gun store owners and pastors in the region also have boasted that they won't close, despite state orders to do so.
Carrying a holstered pistol at Sunday's protest in Olympia, Washington state Rep. Robert Sutherland, a Republican, sent a warning to wildlife officials about enforcing the state's recreational fishing ban.
"You send your goons with guns, we will defend ourselves," he said, according to the Seattle Times.
Cassie Miller, a senior research analyst with the Southern Poverty Law Center, which tracks hate groups, said anti-government factions are trying to goad states into cracking down, further inflaming their followers.
"They're trying to invite the government to make a move ... that is going to look to these people like tyranny," Miller said. "There's a real danger of pushing them too far and pushing toward a reaction."
'Cracks in Society'
Pushback against government stay-at-home orders has come from many factions of the right. To be sure, not all of them are extremists, and they include people who have earnest concerns about constitutional rights.
But attempts to curtail violations anywhere could provoke reactions from militia groups, conspiracy factions or white nationalists who want to hasten the downfall of society and install their own order. Experts say such groups could seize on any example they view as state overreach to justify insurrection or stoke larger protests.
Two-thirds of Americans are more concerned about restrictions being lifted too soon, a Pew Research Center poll found this month. But Republicans are about evenly divided on the question, and anti-government leaders in some regions are seizing on the frustration caused by the orders to mobilize more backlash. (The Pew Charitable Trusts supports both the Center and Stateline.)
That's a particular concern in the West, home to the American Redoubt movement, a plan to create a safe haven for Christians and Jews. The Redoubt plan calls on members to create their own nation in the states of Idaho, Montana, Wyoming and parts of Washington and Oregon, in the wake of social collapse.
The offices of governors and attorneys general in those states did not respond to requests for comment or declined to comment, aside from Washington's Faulk.
The Western States Center, a progressive nonprofit based in Portland, Oregon, said it tracked eight events last week from far-right groups opposing state restrictions, mostly in the Northwest and Midwest.
"These are conditions that are creating a ton of fear and anxiety and social and economic disruptions, which are dangerous conditions for extremist violence," said Lindsay Schubiner, a spokeswoman for the center.
One of those factions is known as the accelerationist movement, which seeks to hasten the downfall of society and install a new order.
"They're basically obsessed with talking about the virus; it is all-consuming," said the Southern Poverty Law Center's Miller, who tracks the movement. "When they see something that's creating cracks in society, they usually cheer it on."
Miller said she is worried that the protests at state capitols could radicalize some attendees who show up with legitimate grievances and are exposed to nefarious ideologies. Protests at the Michigan Capitol last week included members of militias and of the extremist group Proud Boys.
Loftis, with the Washington State Patrol, said the officers are "aware of the rise in anti-government rhetoric and unique stressors on public order and are regularly working with other law enforcement agencies to monitor and assess any changes in threats to public safety."
He added that police "can be neither naive or authoritarian in our approach."
A spokesman for the FBI's field office in Seattle said the agency is not aware of a credible threat by extremist groups related to COVID-19. The Department of Justice's Western District of Washington office likewise had no information about threats.
While enforcing stay-at-home orders may trigger radical groups, giving violators carte blanche seems to have emboldened them.
"Ammon Bundy's efforts in Idaho have provided some leadership, sadly, that we're now seeing replicated," said the Western States Center's Schubiner. "There was definitely a turning point [in mid-April]."
Josh Glasstetter, who does communications work with the Western States Center and formerly worked for the Southern Poverty Law Center, said extremists have faced few consequences for taking on authorities.
"One of the lasting effects of the Bundy ranch standoff and subsequent standoffs has been to send the message that you can start an armed standoff with federal officials and steal public lands and get away with it," he said. "If there are enough of them and they're sufficiently armed, they seem to get to play by different rules. It does set a very concerning precedent and could put us on a path to more of that happening."
States have few good options for dealing with such groups, and the pandemic has clearly provided fuel for extremist movements, hate-group watchers said. Social unrest, misinformation and anger toward government are assets for extremists, they added.
"With the virus, they have things working in their favor without having to do anything," Miller said.