Stateline
Coronavirus and the States: Medicaid Waivers Offer Flexibility; Top Officials Clash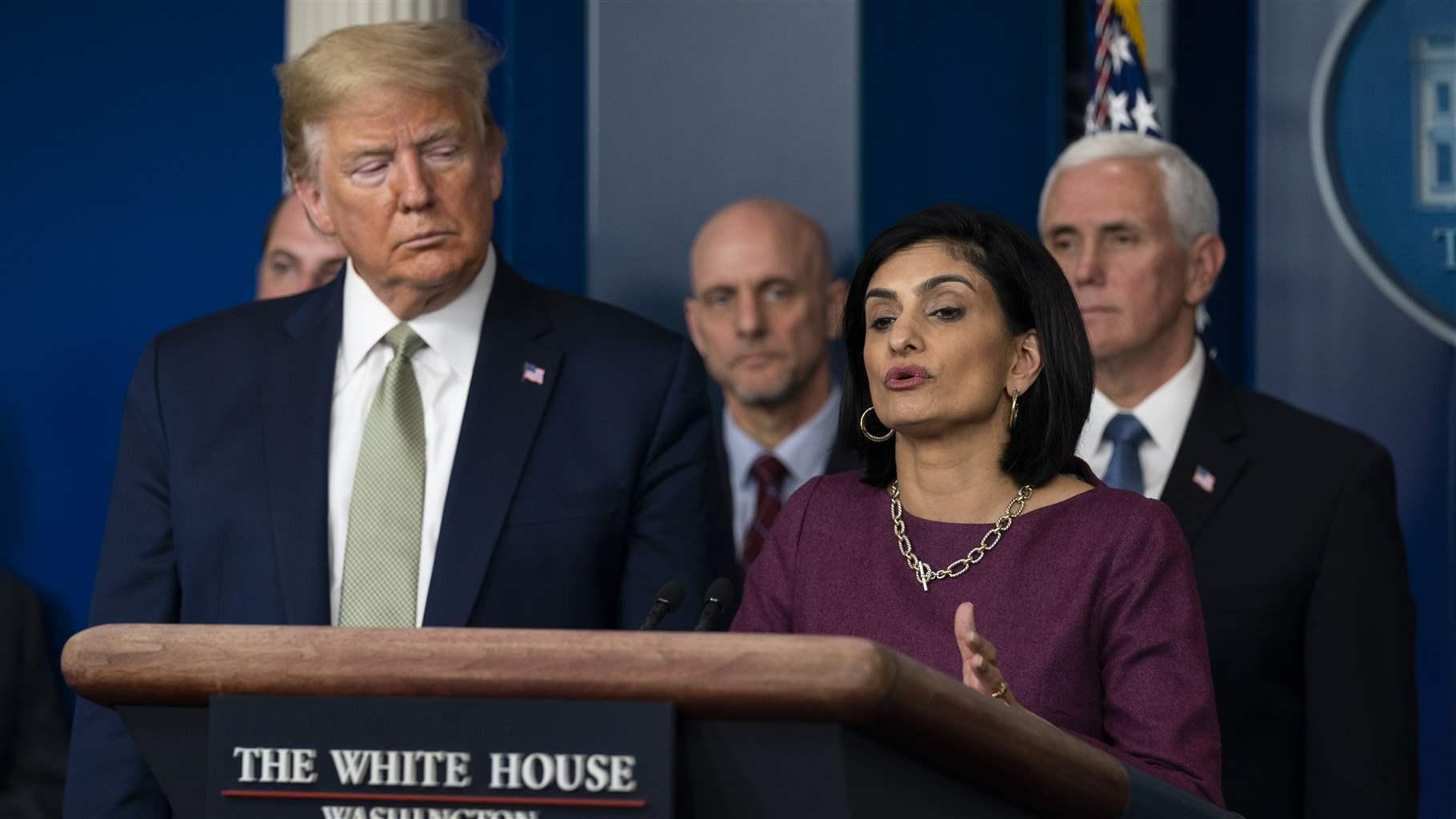 Read Stateline coverage of the latest state action on coronavirus.
The federal agency overseeing Medicaid has moved quickly to grant applications from 34 states to exempt them from several Medicaid rules in order to respond to the coronavirus outbreak.
The states received exemptions from some or all of the same handful of rules. The federal Centers for Medicare and Medicaid Services gave the states permission to:
Provide Medicaid reimbursement to medical providers who are licensed in other states.
Eliminate normal requirements for prior authorization for certain medical treatments or prescriptions. Providers are often required to get specific permission from Medicaid for some treatments and medications in order to qualify for reimbursement. The CMS waivers removes that requirement.
Suspend some of the typical assessments required before approving admission of patients into nursing homes and long-term care facilities for those with mental illness or developmental disabilities. Those assessments can now be done retroactively.
Reimburse long-term facilities that, as a result of the crisis, are forced to house some patients in unlicensed facilities.
Suspend normal time limits for considering appeals from Medicaid beneficiaries.
President Donald Trump's March 13 emergency declaration authorized states to apply for CMS permission to depart from some of the normal rules their Medicaid agencies must observe to qualify for federal matching funds.
Medicaid is the public health plan for the poor that is jointly administered by the federal and state governments. It covers more than 70 million people. The federal government matches dollars the states put up for the program.
Separate from the president's declaration, in emergency legislation passed earlier this month, Congress increased its Medicaid match rate to the states by 6.2%. Before that, the federal government had provided states between 50% and 78% of their Medicaid revenue depending on state per capita income.
Lieutenant Governors Clash With Governors
In many states, lieutenant governors have had a prominent role in responding to the pandemic — with some even clashing publicly with their governors. Alabama Lt. Gov. Will Ainsworth, a Republican, has called out GOP Gov. Kay Ivey's task force, on which he serves, saying it has not done enough to prepare for the "tsunami of hospital patients."

Ivey responded forcefully, according to AL.com: "What is not helpful is raising challenges and criticism and issues we are aware of and [then] offering no solutions and showing no willingness to work with the task force."
A similar clash unfolded in Hawaii, where Gov. David Ige and Lt. Gov. Josh Green, both Democrats, met recently to patch things up. Ige had banned Green, a former emergency room doctor, from participating in the state's response, Civil Beat reported, after Green repeatedly called on the state to be more aggressive in battling the coronavirus.
Meanwhile, North Carolina Lt. Gov. Dan Forest, a Republican, two weeks ago questioned the validity of Democratic Gov. Roy Cooper's closure of restaurants in the state, saying it would devastate the economy. Forest is running to unseat Cooper this year.
And in Texas, Gov. Greg Abbott dismissed the calls of fellow Republican Lt. Gov. Dan Patrick to put the country back to work even if older people had to sacrifice themselves, saying that it won't be possible to restart the economy until the virus is defeated.
In Minnesota, Lt. Gov. Peggy Flanagan has been absent from the state's pandemic response, but that's by design. Flanagan, who lost her brother to the virus, is keeping her distance from Gov. Tim Walz, a fellow Democrat, to ensure the state's continuity of operations.
Testing Shortfalls Continue
While efforts to expand testing continue, widespread availability remains a challenge. According to NPR, most testing nationwide is still reserved for "sick people, symptomatic first responders and people in nursing homes."
Washington state, where the virus found a foothold in the country, is still short on testing supplies, Democratic Gov. Jay Inslee said. A Seattle man, days after being told he had tested negative, received news the diagnosis was incorrect and he was infected.
Florida has its own testing challenges. Jacksonville has put a daily limit on the testing it offers, reaching just 250 people a day. Palm Beach County, which still lags the state in testing, was set to open a new drive-thru site Tuesday. Some people were forced to return to a testing site in Miami-Dade County after results proved inconclusive.
In New York, a new drive-thru site was opening in the Bronx, offering more capacity for the beleaguered region. Professional sports stadiums are increasingly being put into use as testing sites, including FedEx Field, home of the NFL's Washington Redskins, near Washington, D.C.
Officials continue to work on improving the process. The Food and Drug Administration issued emergency approval for a five-minute test that can deliver results on-site, which former FDA Commissioner Scott Gottlieb called a "game changer." And a less intrusive nasal swab test is set to debut next week in New York, Democratic Gov. Andrew Cuomo announced.
Lawmakers Extend a Governor's Powers, Vote From Afar
In Alaska, the legislature approved a relief package that would extend Republican Gov. Mike Dunleavy's state of emergency through Nov. 15 and reserve about $88 million to deal with the pandemic.
The money would be used to shore up emergency medical and trauma systems, help veterans and the homeless, and provide other services.
It also would temporarily prevent utilities from disconnecting residents' services as well as prohibit evictions and foreclosures because of financial hardship. It would allow doctors, nurses and other health care workers licensed in other states to get a temporary license in Alaska.
And it would beef up rules against price gouging, barring stores from raising prices more than 10% over what they normally charged before the emergency. It exempts fuel.
In Arkansas, House members voted in a college basketball arena, spaced at least 6 feet from one another in the stands. The state Senate met at the Capitol but restricted how many members were allowed on the floor.
Both chambers unanimously approved a measure that would create a $173 million rainy-day fund that Republican Gov. Asa Hutchinson can use to respond to the outbreak. He signed the bill into law in the Capitol rotunda just before 1 a.m. Saturday.
"Unanimous votes in both chambers are rare and this morning's votes underscore how important this measure was to the legislature," Republican House Speaker Matthew Shepherd tweeted.
In New York, the state Senate adopted a resolution that would allow lawmakers to vote remotely during states of emergency. The legislature is expected to vote on the state budget this week.
In Minnesota, Democratic Gov. Tim Walz signed a $330 million response package into law. While a large chunk goes to state agencies, it also provides money for food banks, veterans, the homeless and small businesses, and extends disaster assistance to farmers.
And in Arizona, Republican Gov. Doug Ducey signed an emergency bipartisan budget agreement that appropriates $50 million for the state's coronavirus response, including money for small businesses, food banks and the homeless.
Stateline staff writers Jenni Bergal and Alex Brown contributed to this report.