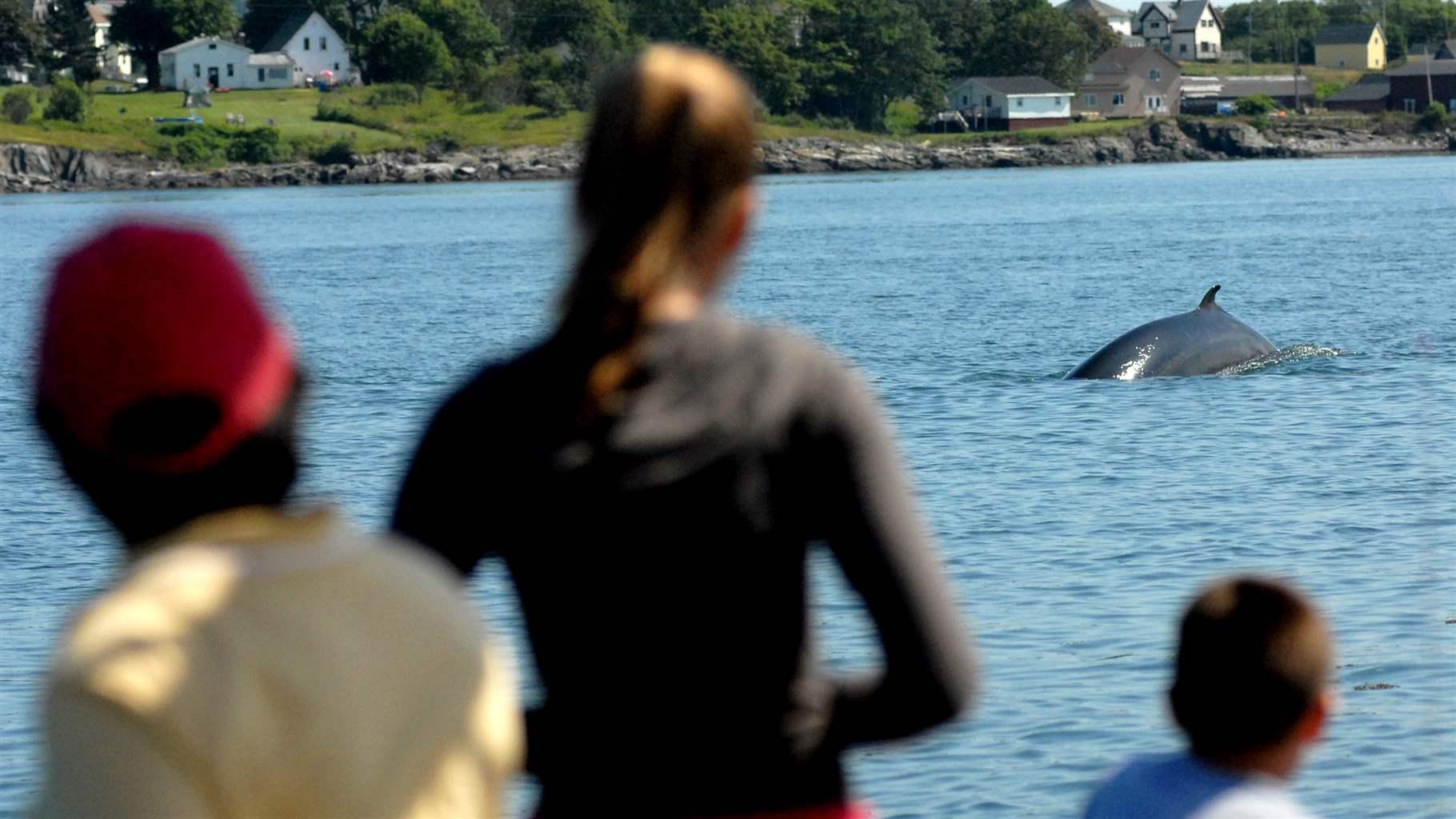 The Eastern Seaboard is the United States' most populated coastal area, home to millions of people and a destination for tourists from around the world. But along this vibrant coastline, marine life and habitats, such as right whales, wild oysters, seagrass, and estuaries, face critical dangers that also threaten the future of those who live, work, and visit along the nearly 2,000-mile Atlantic Coast.
To help meet these challenges and as a part of Pew's longstanding work to support effective marine conservation, we are partnering with local communities, scientists, and other stakeholders to protect coastal habitats, restore oyster populations, and promote the recovery of key species.
Among the most urgent crises is the plight of endangered North Atlantic right whales. Once hunted nearly to extinction, the population had been rebuilding for decades. But in recent years, the trend reversed, with entanglement in lobster and crab trap ropes and ship strikes identified as primary reasons. With only an estimated 400 right whales left, immediate solutions are needed to save this species while sustaining the economically and culturally important fisheries involved.
Closer to shore, states have an opportunity to dramatically improve water quality, increase storm protection, create habitat, and grow a stronger seafood industry by restoring native oyster populations. Despite overharvesting, habitat destruction, and water pollution, which have reduced the numbers of wild oysters by about 90 percent along the East Coast, recovery is possible with careful planning.
Beneath the waves, seagrass—another essential habitat—has been declining for decades and needs urgent protection. Seagrass serves as nursery grounds for most marine species, improves water quality, and prevents erosion. States can act to conserve and even expand what seagrass remains.
Finally, forage fish still need stronger protection. These small fish, which serve as prey for larger marine species, are at risk of over-exploitation. The latest science calls for precautionary management to safeguard the health and productivity of the marine food web.
OUR WORK