Outpatient Antibiotic Use in the United States
This data visualization was updated on October 19, 2017 with outpatient antibiotic prescribing data from 2015.
The use of antibiotics is an important factor in the development of antibiotic resistance. Prescriptions written for these drugs in outpatient health care settings—such as doctor's offices and emergency rooms—account for a significant proportion of total antibiotic use in health care settings across the United States. To improve judicious antibiotic use in these facilities, it is important to understand how these drugs are prescribed. Presented below are results of an analysis of outpatient antibiotic prescribing practices in the United States in 2015 using IMS Health Xponent data.1
Regional variation
Rates of antibiotic prescribing vary dramatically across the U.S., with individuals in the Southern states receiving more of these drugs than patients in other parts of the country.2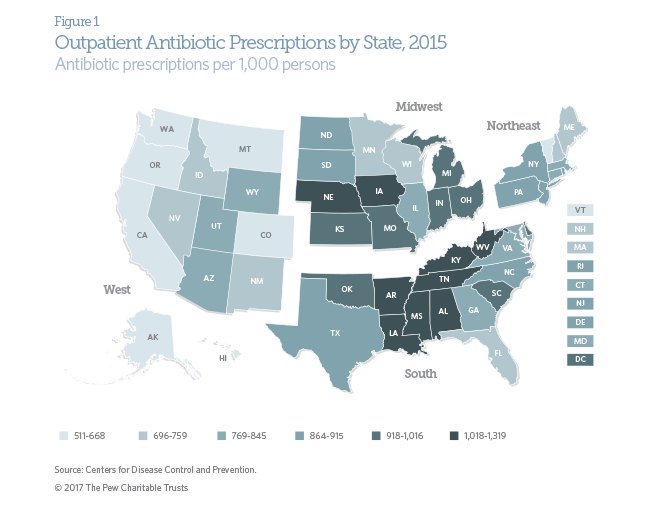 Provider-type variation—examples by provider specialties
Primary care providers, including family practice doctors, pediatricians, and internal medicine physicians, account for the largest proportion of outpatient antibiotic prescribing in the U.S.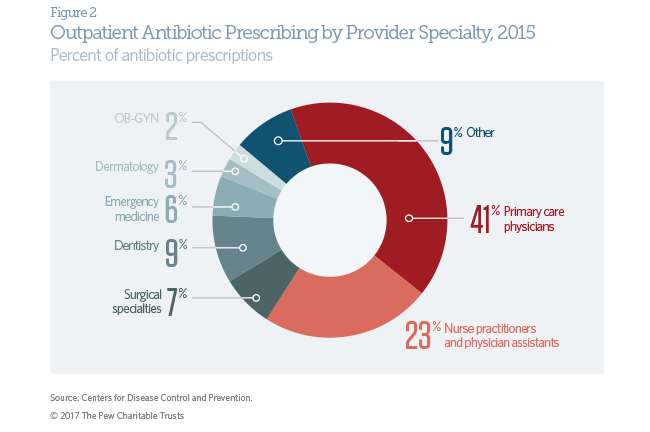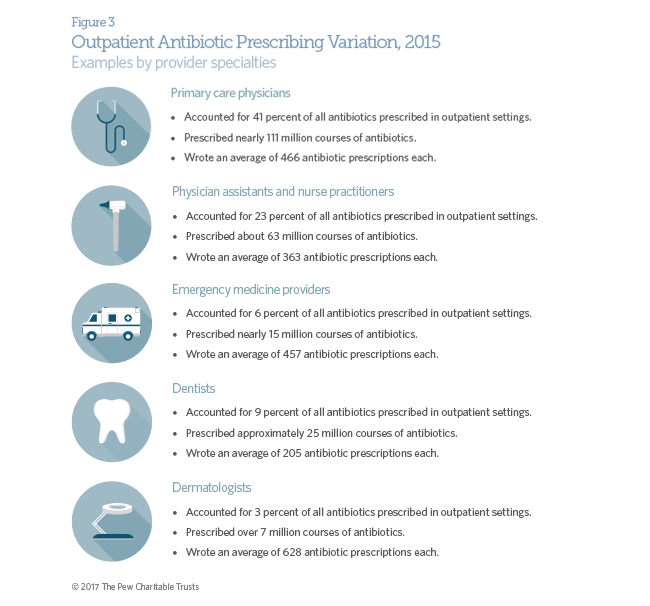 Endnotes
Centers for Disease Control and Prevention, "Measuring Outpatient Antibiotic Prescribing – Outpatient Antibiotic Prescription Report by Year," accessed Oct. 18, 2017, https://www.cdc.gov/antibiotic-use/community/programs-measurement/measuring-antibiotic-prescribing.html.
For this analysis, the four U.S. regions—Northeast, South, Midwest, and West—were based on U.S. census regions: http://www2.census.gov/geo/pdfs/maps-data/maps/reference/us_regdiv.pdf.