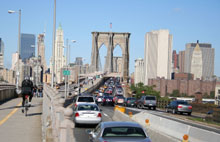 The San Francisco Department of Public Health conducted an HIA to assess the costs and benefits of transportation design alternatives along a segment of Geary Boulevard. The analysis identified a range of potential safety investments along the corridor. Data on previous crashes provided important information that led to recommendations for two street-level and two countywide solutions: pedestrian engineering improvements and automated enforcement, and child pedestrian education programs and check points to detect intoxicated drivers.
The HIA also emphasized that successfully implementing changes to improve safety and encourage walking will require cooperation among multiple local government agencies across sectors.
Outcome
In support of its Vision Zero policy to eliminate traffic deaths by 2024, San Francisco, is pursuing statewide legalization of automated speed enforcement before implementing a pilot in the city. The HIA analysis was one of many factors that helped prioritize this policy.