Stateline
CDC Urges Docs to Puncture Vaccine Vial—Even for Just One Person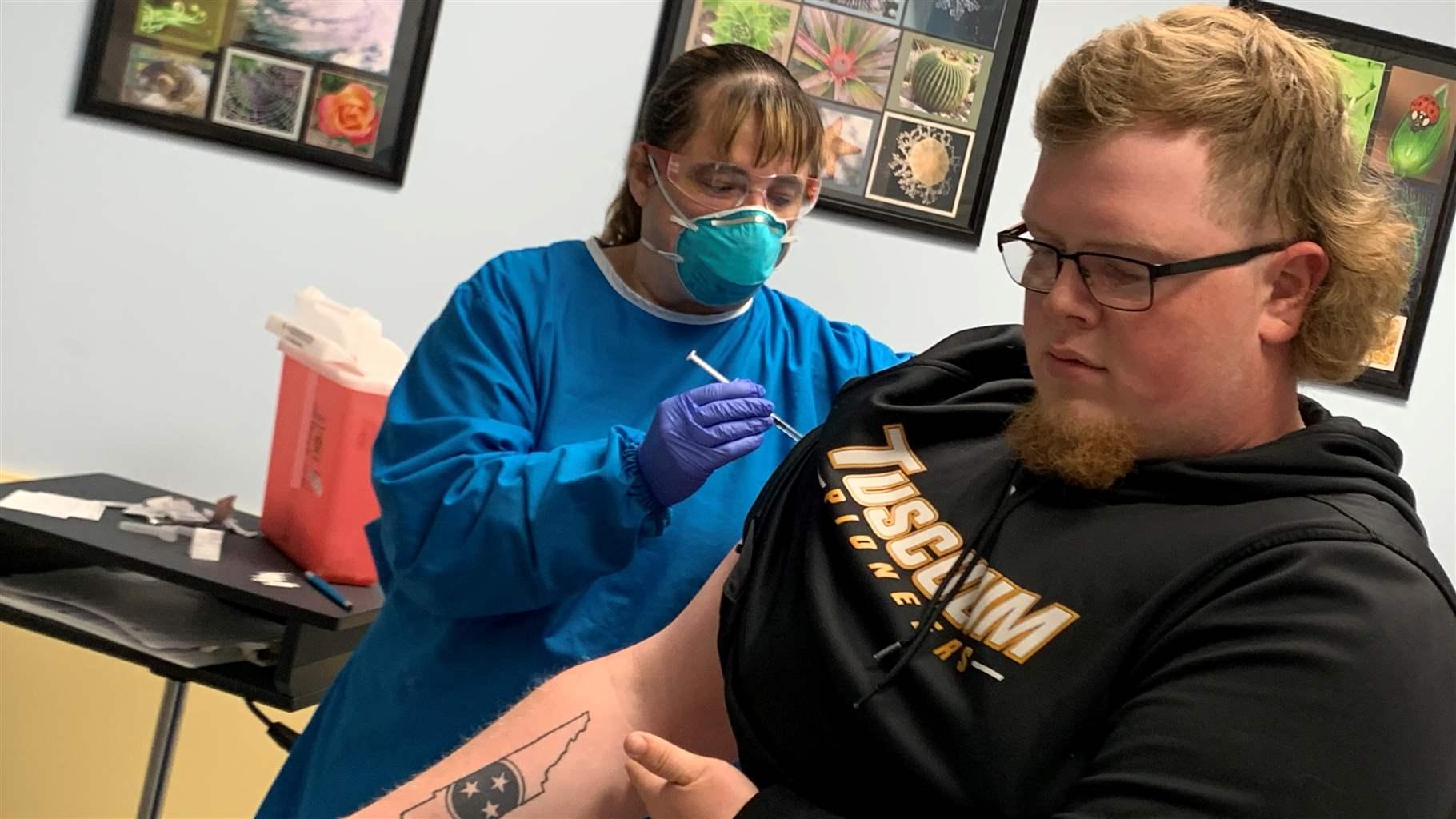 Now that the Pfizer COVID-19 vaccine has been approved for adolescents, hundreds of thousands of parents likely are searching for a place to get their kids vaccinated.
Many are expected to call their pediatricians only to find they don't have vaccines in stock, partly because doctors have been worried about wasting doses.
But new guidance from the federal Centers for Disease Control and Prevention aims to persuade more doctors to stock the vaccine by assuring them that wasting some doses is an acceptable price to pay for inoculating their patients as quickly as possible.
The guidance on vaccine waste is a major policy shift for the agency.
More than 15,000 pharmacies will be ready to vaccinate 12- to 15-year-olds, according to President Joe Biden. And schools will host vaccine drives to inoculate as many adolescents as possible to get them ready for in-person classes in the fall.
But so far, only a small minority of pediatricians have Pfizer's COVID-19 shots in their refrigerators.
Largely playing a supporting role in the vaccine rollout until now, private practice doctors have been encouraging patients to get vaccinated, answering their concerns about side effects and pointing them to nearby sites to get shots.
That may soon change.
In an advisory memo sent to state immunization managers to share with vaccine providers and obtained by Stateline, the CDC urged physicians to "take every opportunity to vaccinate every eligible person," adding that "vaccine wastage may increase as the vaccine rollout continues."
"We recognize that as we continue to create more opportunities to vaccinate more people, it may increase the likelihood of leaving unused doses in a vial," the CDC wrote. "While we want to continue to follow best practices to use every dose possible, we do not want that to be at the expense of missing an opportunity to vaccinate every eligible person when they are ready to get vaccinated."
That's a major shift for the CDC, said Dr. William Schaffner, a professor of preventive medicine at the Vanderbilt University School of Medicine. The new directive, he said, is likely the result of physicians "pushing the wastage issue right to the top of the agenda."
Since the largest vaccine campaign in American history began in December, the biggest barrier to private doctors offering shots in their offices has been a profound fear of wasting the life-saving vaccines, Schaffner said.
If doctors' own ethics weren't enough of a deterrent, the CDC and some state health departments consistently emphasized the need to preserve the vaccines. New York, for example, threatened a $100,000 fine for doctors who failed to use all their doses within a week. That penalty has since been lifted.
The CDC's new advisory is an about-face. It urges doctors to take every precaution to avoid wasting vaccines. But it emphasizes that, "Providers should not miss any opportunities to vaccinate every eligible person who presents at a vaccination site, even if it means puncturing a multidose vial to administer vaccine without having enough people available to receive each dose."
For the pediatricians who already have been vaccinating older children and their parents and grandparents, efforts to prevent wastage meant turning away individual patients and waiting until at least three or four people showed up at one time before administering shots, said Dr. Suzanne Berman, who operates Plateau Pediatrics in rural Crossville, Tennessee.
"We would never puncture a vial for just one person," she said, explaining that the vaccines expire within a few hours after the first shot is drawn.
Medical Ethics
"We always knew that at a certain time there would be a transition to doctors as supply allowed for shipping vaccines to individual offices for patients who weren't willing to wait in long lines," said American Medical Association President Dr. Susan Bailey.
"We have an ethical obligation to do everything we can to take care of our patients," Bailey said. "But we also have a moral obligation to protect scarce medical resources. Physicians are very concerned about wastage."
In another announcement that could ease doctors' worries, Pfizer said in late April that it would begin shipping smaller packages of its COVID-19 vaccine by the end of May. Currently, its vaccine shipments come in one size—195 vials, each of which contains six doses of vaccine, for a total of 1,170 doses. The new smaller shipments will contain 75 vials for a total of 450 doses. The size of the vials will remain the same.
The drugmaker also asked the Food and Drug Administration to approve less stringent cold storage requirements for its vaccine, according to two immunization officials. This would allow providers to keep the vials in a refrigerator for 30 days, instead of the previous five-day limit.
That shift would be a big boost for doctors who are worried about squandering doses, said Tennessee's State Immunization Program medical director, Dr. Michelle Fiscus. "I don't know of any state that has had an easy time getting pediatricians to sign up and actually order vaccines," she said.
Once Pfizer shipments are pared down to 450 doses, Fiscus explained, it would mean physicians would have to vaccinate only 225 of their patients and family members within two-and-a-half months. "That's not as big of a challenge," she said.
'Family Packs'
Before the FDA and CDC approved the Pfizer vaccine for adolescents, roughly 60% of pediatricians had signed up to administer COVID-19 vaccines, and about 20% had ordered shots and given them to older patients and their family members, according to an informal poll conducted by the American Academy of Pediatrics earlier this month.
"Many of us pediatricians know from experience that the only way children will get the vaccine is if they get it from their own doctor," said Berman, the Tennessee pediatrician. She signed up with the state health department to administer shots at the beginning of the vaccine campaign and started receiving doses in March.
"Pediatricians are uniquely positioned to distribute COVID-19 vaccines to everyone," Berman explained. "That's because we know vaccines and we have staff who give shots to small and large humans and everyone else in between. Usually a child is accompanied by the mom or dad, grandparents or adult siblings. We've been vaccinating everyone who comes in. We call that a family pack."
According to a May survey by the Kaiser Family Foundation, a San Francisco-based nonprofit health care research organization, 3 in 10 parents of children ages 12-15 say they'll get their child vaccinated as soon as a vaccine is available. A fourth of the respondents say they'll wait to see how the vaccine is working, 18% say they'll get their child vaccinated only if their school requires it, and nearly a quarter say they won't get their child vaccinated, the survey found.
An earlier Kaiser survey showed that "people's personal health care providers are the most trusted source for information on COVID-19 vaccines."
While many adults are accustomed to going to pharmacies or health clinics for vaccines for flu, tetanus, pneumonia or shingles, most parents exclusively rely on pediatricians for vaccinations, said Adrianne Casalotti, chief of government and public affairs at the National Association of County and City Health Officials.
Now that the Pfizer vaccine has been approved for adolescents, state health officials are poised to make COVID-19 shots available to private doctors, said Dr. Marcus Plescia, chief medical officer at the Association of State and Territorial Health Officials. Whether states prioritized getting shots into doctor's offices previously varies widely, he said.
Still, states have been planning and preparing for the FDA's approval of the shots for adolescents, according to Dr. Nirav Shah, the Maine CDC director who led a national media briefing on the topic last week.
"There's an urgency right now to taking advantage of the unifying framework that the academic school year provides," Shah said. Maine is trying to vaccinate as many kids as possible "before they fly to the wind over the summer," he said in the briefing.
Shifting to Doctor's Offices
At the same briefing, Washington state Secretary of Health Dr. Umair Shah said more than 700 private physicians have signed up to offer shots in his state, and about half are pediatricians. Like other states, Washington initially focused on health care workers and long-term care residents and then moved to mass vaccination sites.
"Now it's more about pharmacies, community clinics and doctor's offices. It's about boots-on-the-ground closer to where people work, live, play and worship," Shah said.
Tens of thousands of doctors, including pediatricians, have registered with their state health departments and the CDC to administer the vaccines, according to Claire Hannan, executive director of the Association of Immunization Managers. But only a small percentage of those doctors have followed up and ordered shots.
Since December, the federal government has been shipping vaccines to community health clinics and retail drug stores, leaving it up to states to allocate vaccines to private doctors. Biden said in a May 4 briefing that the federal government would ship vaccines directly to pediatricians in the weeks ahead.
In the meantime, most state and local health departments say they're preparing to shift more vaccines away from large venues such as hospitals and mass vaccination sites, where demand has plummeted, to the pediatricians and other doctors it's expected many Americans will contact this week to get COVID-19 shots for their teens and preteens.
But if pediatric practices and other doctor's offices aren't already giving their patients shots, it may take some time for them to gear up, said Casalotti of the county and city health association. That's why many state and local health agencies are relying on existing vaccine venues such as pharmacies and schools that already are vaccinating older children and adults, she said.
Tennessee's immunization manager Fiscus, who is a pediatrician, said many more private physicians in her state are likely to order and administer COVID-19 vaccines once they understand that wastage isn't as big a problem as they may have thought.
So far, 60 pediatric practices are receiving shipments of COVID-19 vaccines in Tennessee. But she said the state, which has one of the highest rates of COVID-19 cases among children, needs more.
"We started sending vaccines to private providers back in late January because not everyone in rural Tennessee can get to a hospital or health department," Fiscus said. "Pediatricians were among the first to sign up, long before the vaccine was approved for children.
"That's because vaccinating is what we do."