Stateline
Texas Democratic Losses Reflect Broader Statehouse Trend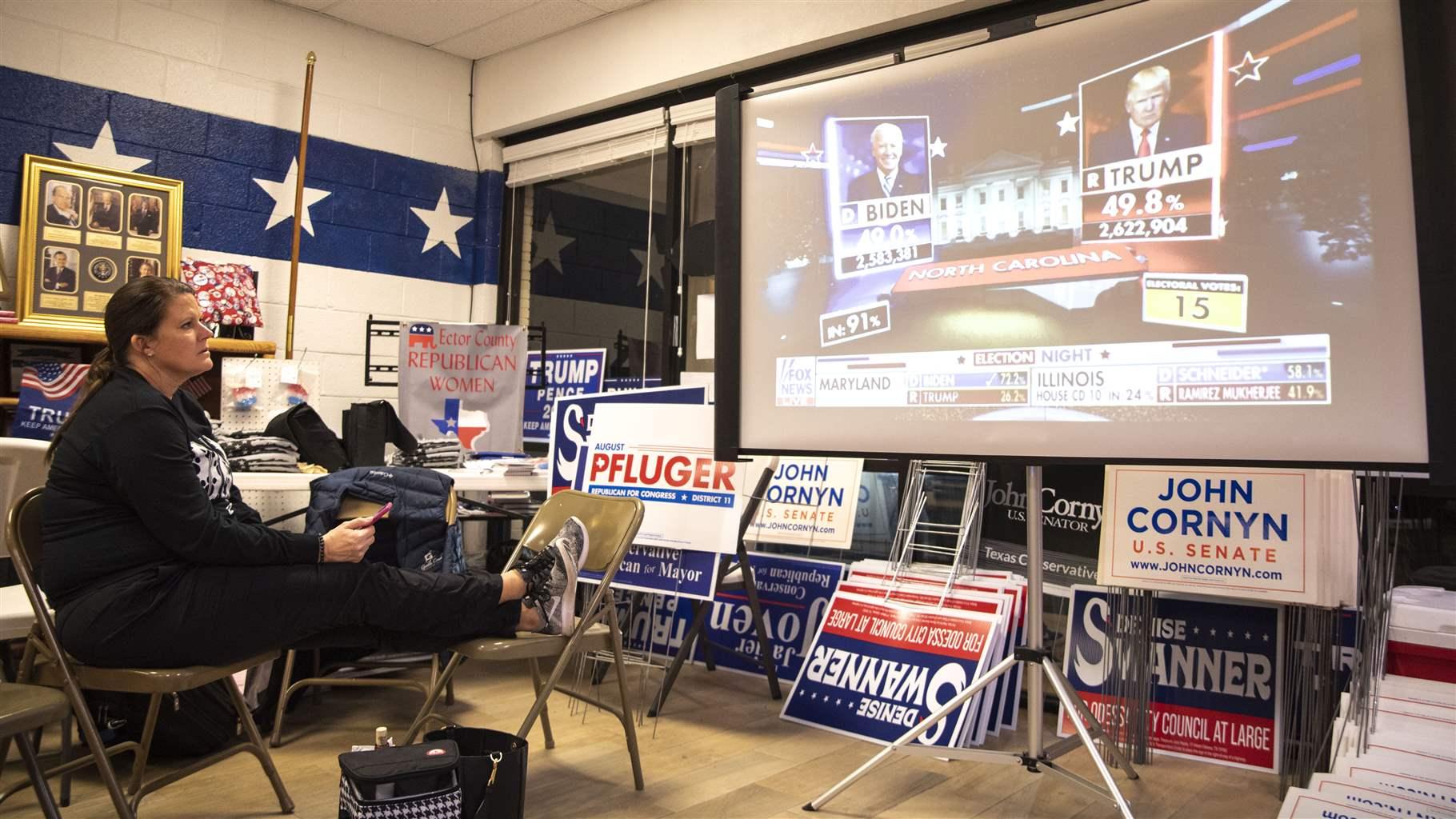 AUSTIN, Texas — In her first bid for public office two years ago, Democrat Joanna Cattanach challenged an incumbent Republican state representative in Dallas County and finished just 220 votes short.
So Democrats had reason to be optimistic when Cattanach, a journalist and educator, signed up for a rematch against three-term Rep. Morgan Meyer. Many predicted that demographic changes in Texas, coupled with animus against President Donald Trump, would make 2020 the year Democrats rode a long-anticipated "blue wave" back into power in the Texas House of Representatives.
It didn't turn out that way.
Meyer supporters staged campaign yard parties and knocked on doors, while Cattanach relied heavily on virtual campaigning because of the pandemic. Moreover, Cattanach said she was unable to overcome highly effective Republican messaging portraying Democratic candidates as weak on law and order and supportive of proposals to "defund" the police.
"He definitely saw me coming this time," Cattanach, 40, said of the 46-year-old Meyer. "It wasn't just him. It was the whole Republican Party."
Cattanach, who lost this time by 1,600 votes, was one of many Democratic casualties in a dreams-to-dust political saga that consumed tens of millions of dollars and engaged top national strategists from both parties, but again forced Texas Democrats to put their years-long comeback hopes on hold.
Texas, the nation's second most populous state and the biggest in which Republicans control all the levers of power in state government, was supposed to be the crown jewel in a massively funded Democratic effort to flip Republican-led legislatures across the country. But that campaign, tied to census-driven legislative redistricting that will shape political power for the next 10 years, ignited an equally fierce pushback from Republicans.
Although Democrats won the White House in the Nov. 3 election, they conspicuously faltered in their attempts to gain control of legislative chambers in Arizona, Florida, Georgia, Iowa, Michigan, North Carolina, Pennsylvania, Wisconsin, and the biggest bounty of all, Texas.
Republicans anticipated the Democratic offensive and were well-prepared and well-funded, according to Steve Munisteri, chairman of the Texas Republican Party from 2010 to 2015. Munisteri, who left that post to serve in the Trump White House, was a top adviser to Texas U.S. Sen. John Cornyn in his successful reelection campaign this year.
Munisteri said the GOP began planning for the election two years ago, with a focus on fundamentals such as voter identification, registration, coordination among the candidates and messaging. One core goal, which they achieved, was to counter a likely expansion of Democratic turnout by boosting the Republican vote by more than a million.
"It's like a fighter who knows the punch is coming," Munisteri said. "We counter-punched before their punch landed. Democrats almost pulled it off, but they were prevented from pulling it off because we knew what it is they needed to do."
More than two weeks after the election, Texas Democrats are still assessing what went wrong in their bid to win the nine seats they needed to seize the state House for the first time in nearly two decades. But a variety of factors seemed to contribute to their losses, according to postmortems by analysts and political leaders.
Among them: Democrats overestimated how much new minority voters, young voters and out-of-state transplants would expand their base, and underestimated Trump's ability to drive Republicans to the polls. They also failed to respond adequately to the conservative backlash against anti-racism protests and calls to cut police budgets. And they were hamstrung by their decision to curb in-person campaigning and door-knocking in response to the pandemic, while Republicans visited voters in person.
"We turned out at the level that we thought we need to win, but they were able to turn out as well," said Texas Democratic strategist Matt Angle. "There's no question that things are better for Democrats in Texas, but, as I tell my staff and everybody else, better is not good enough. We were trying to win."
Democratic candidates and strategists said Republicans made "law and order" an overriding theme in this year's Texas races. To drive it home, GOP Gov. Greg Abbott in September unveiled a pro-police "Back-the-Blue" pledge and called for punitive legislative measures against Democratic-leaning cities that cut police budgets.
Cattanach and other Democratic candidates also complained that Republicans frequently denounced them as socialists on placards, in campaign literature and sometimes to their faces.
"Trump was really hard-selling 'socialists,'" said prominent Democrat Garry Mauro, who ran for Texas governor in 1998 and is a close confidant of Bill and Hillary Clinton. "He was really hard-selling, 'They're going to burn our cities down if we let the socialists get into office.'"
National Stalemate
In the end, Democrats failed to make even a dent in the Republicans' 83-67 majority in the Texas House. It was a similar story across the country, as the only legislative turnover was in New Hampshire, where Republicans ousted Democrats to take control of the state Senate.
In most states, legislators next year will use the census results to draw the lines for state and congressional districts. As a result, both parties were intensely focused on statehouse elections.
Former U.S. Attorney General Eric Holder Jr., supported by former President Barack Obama, chaired the National Democratic Redistricting Committee, which targeted 13 states and endorsed and contributed to 263 Democratic legislative candidates, including 29 in Texas. Republican strategist Karl Rove, who helped build Republican dominance in Texas and served as a top White House adviser to President George W. Bush, was a key architect in the GOP effort.
Texas, with 29 million people and soaring economic and population growth, easily topped every priority list. The founder and CEO of Forward Majority, one of the leading organizations engaged in building Democratic legislative strength, described capturing the Lone Star State as a "once-in-a-generation opportunity" for Democrats.
"Flipping the Texas House would have tremendous implications for the future of the Democratic Party and the future of American politics," Vicky Hausman wrote in an opinion piece in Fortune magazine shortly before the election.
Forward Majority poured $12 million into Texas legislative races, doubling its investment from earlier in the cycle as Republican organizations increased their funding. The Republican State Leadership Committee spent more than $5.3 million between July and September. Abbott tapped his political fund to support Republican state House candidates and campaigned alongside them.
In addition to spending from outside committees, House incumbents and candidates in Texas raised a record $117 million over the 2019-2020 election cycle, according to the Montana-based National Institute on Money and Politics, a nonpartisan group.
Republicans have controlled the Texas governor's office since Bush defeated Democratic Gov. Ann Richards in 1994. In the 31-member state Senate, GOP members have held the majority since 1997. The party's ruling trifecta fell into place in 2003, when Republicans gained control of the 150-member House of Representatives.
Republicans Were Ready
Josh Blank, research director for the nonpartisan Texas Politics Project at the University of Texas, said Democrats may have been caught off guard by the size of the Republican turnout.
"I don't think they took Republicans as seriously as they should have," Blank said. "They've been saying for years that high turnout would be their salvation, not realizing that, in addition to turning out a lot of Democrats, a lot of Republicans also turned out."
Republicans said their person-to-person approach to campaigning also gave them an advantage over Democrats. "We were knocking on doors, talking to voters where they were—safely of course with masks and social distancing—and Democrats were staying home phone-calling and texting," said William Busby, communications director for the Dallas County Republican Party. "People were happy to have somebody come to their door, talk to them and earn their vote."
Democrats also overestimated the reliability of predominantly Hispanic voters in South Texas border counties. Although many Hispanics are traditionally aligned with Democrats, Trump did surprisingly well in several border counties and stunned Democratic leaders by flipping Zapata County into Republican hands by 5 percentage points. In 2016, Clinton, the Democratic candidate, carried the county by 33 points.
Residents and local political leaders said Trump received robust support from members of the National Border Patrol Council, the union that represents Border Control officers. The president's backers, citing Biden's positions on energy and the environment, also gained traction with warnings that he would endanger the oil and gas jobs that provide employment throughout the high-poverty area.
"The prime factor was a lot of instilled fear," said Cynthia Villarreal, a 63-year-old educator and counselor who has lived in Zapata County all her life.
Sylvia Bruni of Laredo, who chairs the Webb County Democratic Party, agreed. "They were going around telling the welders and oil-field workers, 'If you vote for Biden, you're going to be homeless,'" Bruni said.
Democrats also fell short in the Dallas-Fort Worth area. Encouraged by narrower victory margins for Republican incumbents in 2018, Texas Democrats and the allied Texas House Democratic Campaign Committee chose five Republican seats in Tarrant County, which includes Fort Worth, as takeover targets. They came away empty-handed.
One of the targeted incumbents, Republican state Rep. Craig Goldman of Fort Worth, said the battle for his seat consumed more than $4 million, split equally between Republicans and Democrats, before he ultimately prevailed over his Democratic challenger by 8 points. The soon-to-be five-term House member also drew help from Abbott, who campaigned with Goldman door-to-door less than two weeks before Election Day.
Goldman said he tied Texas' economic success to its "business-friendly" climate and low taxes. "You spend all the money you want, but when it comes down to it, it's about issues," Goldman said. "We don't have a record number of people moving to Texas because we're bad for business."
Regrouping for 2022
As they discuss what went wrong in 2020, Texas Democrats already are focused on regrouping for 2022, when the governor's office and other statewide posts will be in play. Abbott is presumed to be an overwhelming favorite for a third term, and Democrats haven't won a statewide election since 1994.
Mauro, a former Texas Land Commissioner, said the 2020 results weren't all bad for Democrats. He noted that Biden lost the state by 6 points, down from Clinton's 9-point loss in 2016 and Obama's 16-point defeat in 2012. Biden also carried once solidly Republican Tarrant County, a feat no Democratic presidential candidate had managed since native son Lyndon Johnson won it in 1964.
Cattanach sounded a similar theme. "We have identified a slew of new candidates who are now the Democratic bench that we didn't have," said the two-time candidate.
The consensus among many experts is that as Texas continues to evolve, Democrats eventually will catch that elusive blue wave—the question is when.
"Like Charlie Brown and Lucy and the football, we got into this narrative of, 'Texas is going to go blue,' which we got in 2008 with Obama and with Beto O'Rourke and Ted Cruz," said Bill Whalen, a research fellow at the Hoover Institution, a conservative think tank at Stanford University. In 2018, former Democratic U.S. Rep. Beto O'Rourke spooked Republican U.S. Sen. Ted Cruz in the state's closest U.S. Senate race in four decades.
"The national media just loved this narrative of Texas flipping," Whalen said. "Now there's inevitability in Texas because of the youth vote, transplants coming in and the rise of the Latino voters in Texas, [all of which] speak to the eventual Democratic takeover. But how soon? I don't know."