Stateline
Medicaid Rolls Surge, Adding to Budget Woes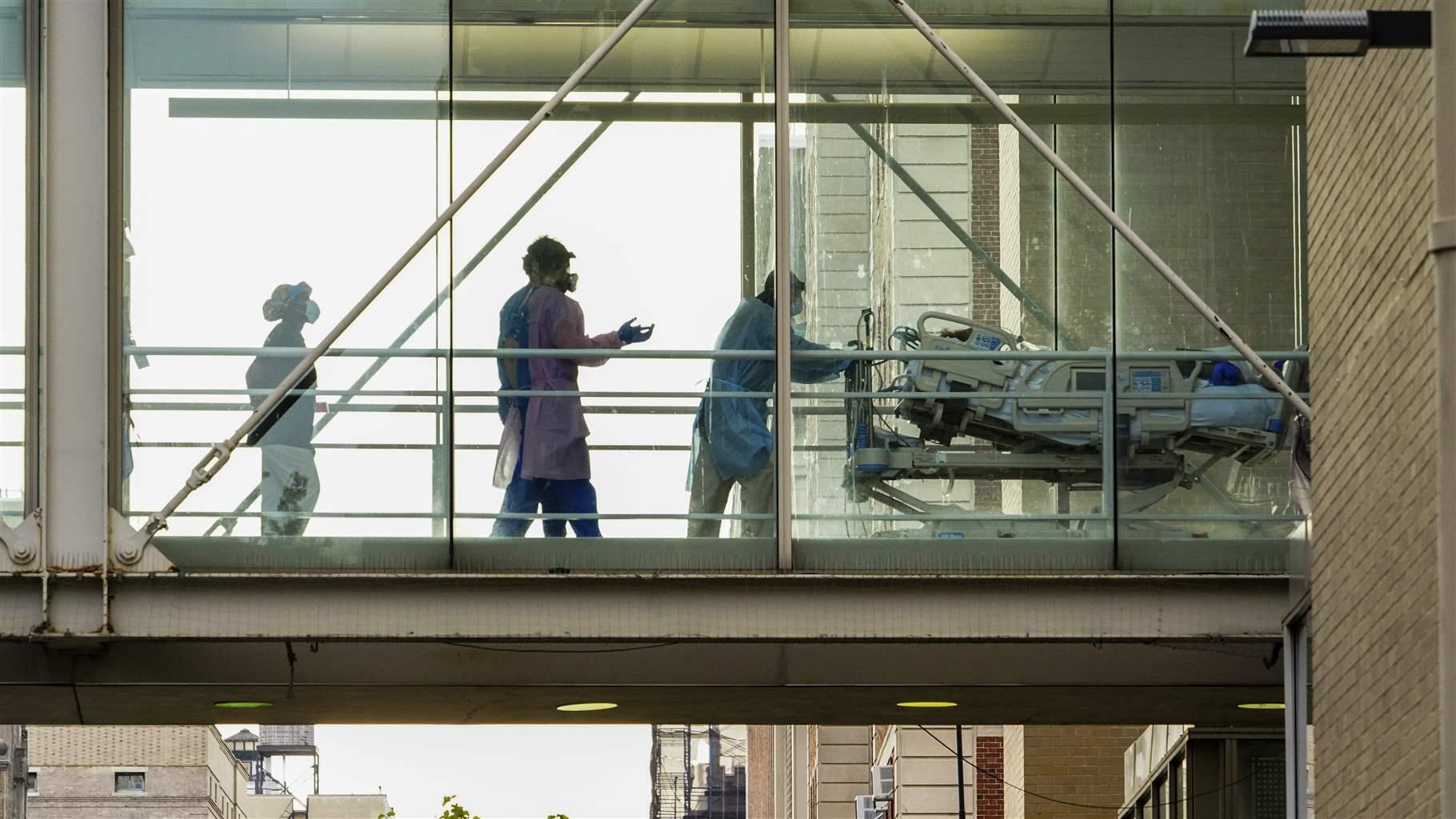 Read Stateline coverage of the latest state action on coronavirus.
Many of the tens of millions of Americans who have lost their health insurance along with their jobs are enrolling in Medicaid — and with state budgets decimated by the pandemic, state officials worry they won't have the money to pay for their health care.
Nearly 27 million Americans could lose their employer-sponsored health insurance over the course of the pandemic, the Kaiser Family Foundation projected last month. Medicaid, the joint federal-state health plan for low-income Americans, already consumes more than a fifth of state budgets.
"When the economy goes down, people need Medicaid and other supports more than ever," said Matt Anderson, assistant commissioner of Minnesota's Health Care Administration and the state's Medicaid director. "But for Minnesota and all other states, that is happening at the exact moment our budgets are suffering."
At the same time, officials worry that if people delay or decline treatment because they aren't covered by Medicaid or other insurance, the coronavirus will spread.
States are pushing for more federal money so they can avoid an array of measures to cut Medicaid costs, from eliminating some of the optional benefits they now provide to reducing the already low reimbursement rates paid to Medicaid providers.
Enrollment Increase
Georgetown University's Center for Children and Families late last month published an analysis of public data on Medicaid enrollment in 21 states from February through April. It found a 2.8% overall increase in enrollment.
The center was able to get May totals for three states, all of which showed a continued upward trend. Minnesota's four-month increase was 8.4%, Kentucky's 8.1% and North Carolina's 3.4%. (The federal Centers for Disease Control and Prevention publishes monthly Medicaid enrollment data, but it lags a few months. The most recent numbers are from January, prior to the impact of the pandemic.)
Story continues after map
Those increases are substantial, but likely to be dwarfed by what is coming, said Joan Alker, executive director of the Georgetown center. "We haven't seen the real surge yet."
That prediction is in line with modeling by researchers. An unemployment rate of 15% would increase the Medicaid rolls (excluding those over 65) from 50.3 million before the pandemic to 58.5 million, according to Urban Institute projections last month, a 16.3% increase.
Coincidentally the U.S. unemployment rate last month was 16.3%, once a misclassification error in federal data is taken into account.
If unemployment reaches 20%, the Urban Institute forecasts Medicaid enrollment could reach as high as 62 million.
Just last week, Colorado Medicaid officials said in a news briefing they expect to add more than half a million people to the rolls by the end of the year at an additional state cost of $47 million. In April, 1.2 million Coloradans were enrolled in Medicaid.
Economic downturns usually lead to upticks in Medicaid numbers. Enrollment increased by 7.6% in 2008 during the Great Recession.
With the pandemic, Medicaid is even more vital than usual as a gateway to health services, experts say. That is particularly the case for African Americans, who are at much higher risk of contracting and dying from the coronavirus. Black people account for 1 in 5 Medicaid enrollees.
Seeking Federal Help
Medicaid costs rise or ebb depending on enrollment.
The state share of Medicaid depends largely on the per capita income in each state. State contributions range from about 22% for Mississippi to 50% for California, New York and 11 other states. The federal government pays the rest.
For the 36 states and Washington, D.C., that expanded Medicaid under the Affordable Care Act to make single adults eligible, the match rate is different for that population. The federal government pays 90% of the health care costs for those beneficiaries, and the states contribute 10%.
The pandemic has squeezed state budgets. The left-leaning Center on Budget and Policy Priorities estimated state revenue this year would be 10% lower than projected before the pandemic and 25% lower next year.
It estimates state revenue shortfalls of $615 billion through fiscal 2022. The Great Recession resulted in $690 billion in shortfalls over a four-year period, from 2009 to 2013.
Dave Richard, a deputy health secretary in North Carolina and head of its Medicaid agency, said that although the federal government helped states at the start of the Great Recession in 2007, officials had to go back to the legislature to cover Medicaid shortfalls that persisted until joblessness recovered.
To help states during the pandemic, the federal government has raised its share of the Medicaid match by 6.2 percentage points until the administration lifts the health emergency. But that bump does not apply to costs associated with the expansion populations.
The National Governors Association called that increase inadequate and asked that it be increased to 12 percentage points. The House approved a stimulus bill that would make it 14. The Senate has not taken up that bill, and Republican senators have downplayed the possibility of another stimulus bill before July.
Some advocates say that the increase should not be tied to the length of the health emergency. "I think it's fair to say that the economic downturn will be longer," said Lindsey Browning, program director for Medicaid operations for the National Association of Medicaid Directors.
Cut Doctors' Pay?
States don't have a lot of leeway to curb Medicaid expenses. In providing the enhanced Medicaid match during the pandemic, Congress barred states from dropping beneficiaries from the rolls or tightening eligibility requirements. They also have to maintain most services and can't introduce or raise premiums.
States often review beneficiary eligibility, typically by checking for changes in income, which frequently results in people losing coverage. That cannot happen during the pandemic.
Minnesota estimates that retaining enrollees who might otherwise have been dropped will account for 1.2% of the 10.1% increase in Medicaid enrollment officials forecast in the coming year.
States could save money by eliminating some of the optional benefits they now provide under Medicaid, including adult dental care, some behavioral health services, prescription drugs, and physical, occupational and speech therapies.
States are reluctant to push their most potent cost-reduction lever: reducing the reimbursement rates paid to Medicaid providers. A Kaiser Family Foundation analysis in 2016 found that nationwide, reimbursements for primary care services in Medicaid were more than a third lower than in Medicare, the public health plan for seniors. Commercial insurers generally pay more than either public plan.
Organizations representing health care providers and advocating for low-income populations have long argued that low Medicaid reimbursement rates discourage doctors from seeing Medicaid beneficiaries, limiting the options available to enrollees.
Further cuts would be disastrous for Medicaid providers, said Shawn Martin, incoming CEO of the Academy of Family Physicians. "We're really, really worried without being all-out panicked."
Although Congress in March authorized $100 billion to keep health care providers afloat during the crisis, most of it has gone to hospitals, doctors and other medical providers with high volumes of Medicare patients.
That's left out many Medicaid providers, even as many are seeing fewer patients, who fear becoming infected while seeking medical care. Last week, CMS announced it would direct $15 billion of that money to providers in Medicaid and its sister program, the Children's Health Insurance Program.
Dr. William Cooke, a family practice doctor in rural southern Indiana, said lower Medicaid reimbursement rates would cause more doctors to limit the number of Medicaid patients they see or stop seeing them altogether. Already, too few providers accept Medicaid patients, he said.
But reductions in reimbursements are exactly what some doctors are expecting. "We know that as we add enrollees, there will be cuts," said Dr. Beverly Jordan, a family practice doctor in Enterprise, Alabama, who cares for Medicaid patients. "There are some limits in what they can cut but we are not one of those limitations."
Melanie Cleveland, spokesperson for the Alabama Medicaid agency, said last week, "At this time we are not planning to reduce reimbursement rates; however, the agency will continue to monitor the full impact of COVID-19 on the state's Medicaid program."
Reducing reimbursements is not something North Carolina is considering right now, said Richard of that state's Medicaid agency. "To pile on with a rate reduction now would just be bad policy at a time when the health system is already fragile."
Like other states, he said, North Carolina is banking on additional federal help.