Stateline
COVID-19 Forces Tough Decisions in Housing Assistance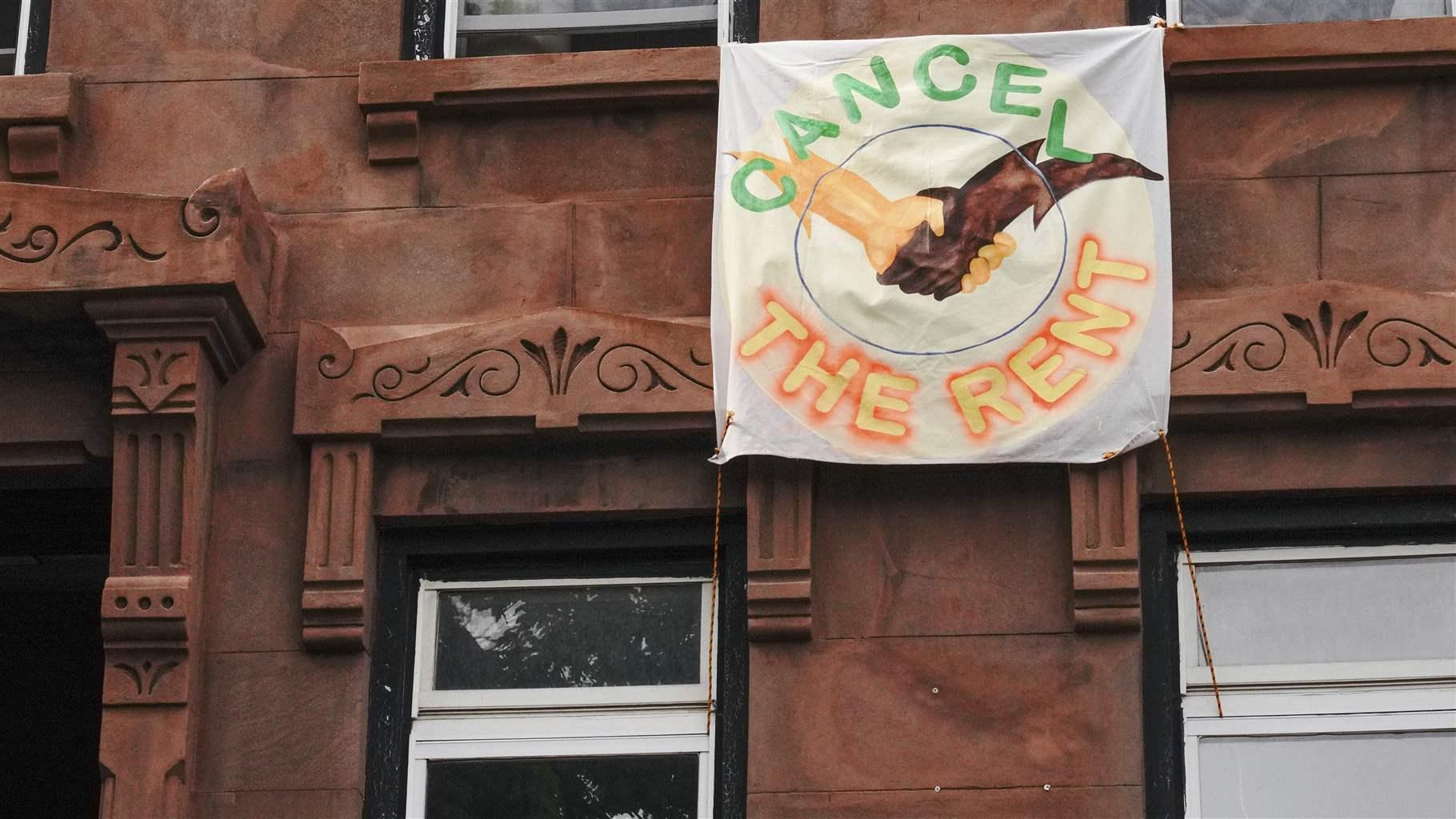 Read Stateline coverage of the latest state action on coronavirus.
After distributing hundreds of millions of dollars in the past three months, states and cities don't have much money left to help struggling renters, leaving officials with an uncomfortable question: Who gets prioritized for help?
COVID-19 is forcing local governments to make tough decisions about rental assistance: Some programs are relying on lotteries to ensure all applicants have a fair shot, while others are focusing on specific populations, such as workers ineligible for federal relief.
Most of the housing aid Americans get is federal. Federal housing dollars are distributed through local housing authorities and community development agencies, either through housing vouchers, public housing, other rental assistance programs or affordable housing units built with federal tax credits.
In response to the pandemic, the federal government has sent an additional $3 billion to cities and states to help with housing issues — in addition to other federal pandemic aid such as stimulus checks and expanded unemployment benefits to help individuals get through the downturn.
Even before the pandemic, many cities and states paid for additional housing help with their own money, and some have ratcheted up those efforts. But the crisis has created unprecedented demand.
The ongoing need for housing assistance will exceed whatever money cities and states have, said Gary Painter, a professor in the Sol Price School of Public Policy at the University of Southern California, in an interview with Stateline.
"At some point, you're going to ration resources."
One way to do that is to prioritize certain populations, such as very-low-income renters; those who are at risk of homelessness; or renters not eligible for other public assistance, Painter said. Another option is to base the amount of assistance on a tenant's income and rent.
Story continues after map
Some are calling for rent forgiveness programs, but that leaves landlords in the lurch. As an alternative, Painter points to an unusual bill that California Senate Democrats are drafting.
In exchange for temporary rent forgiveness, the tenant would agree to pay back-owed rent over 10 years, Painter said, possibly with interest, which also should be subsidized.
Meanwhile, landlords would agree to take 10-year tax credits in the amount of the missed rent, which they could sell for immediate cash. Creditors also would work with property owners to ensure that they don't default on their mortgages.
Some cities and states are trying to stretch out available funds by paying out small rental assistance grants designed to cover part of the rent. Local officials also are collaborating with the private sector, soliciting help from corporations, family foundations and other charities, according to Samantha Batko, a researcher at the Urban Institute.
Lift to Rise, a Coachella Valley nonprofit, runs a public-private partnership program in California. The program relied on money from private donors and Riverside County to provide quick $200 grants to 3,500 renters for everything from food to utilities, said Heather Vaikona, the nonprofit's president and CEO, in an interview.
She said the organization is planning to launch another, larger rental assistance program this month.
After Chicago's rental assistance fund was depleted in five days in March, city officials began raising money through private foundations and individual donations, Housing Commissioner Marisa Novara told Stateline in an interview.
"Our hope was that there would be additional sources of funding down the road," Novara said. "But we didn't want to wait."
Not Enough Money
At the start of the coronavirus outbreak, when Oakland, California, went on lockdown, Merika Reagan said she saw a dramatic drop-off in clients for her dog-walking business.
"My income has dropped like a stone," Reagan said last month in a webinar hosted by the Action Center on Race and the Economy, a grassroots organization calling for a national rent strike.
"It's a super stressful time," said Reagan, who helped organize a local #CancelRent strike in her city. "There's no way I can pay rent. And there's no way I can pay back rent."
A May report by Amherst, a data and analytics firm, found that 39% of households eligible for COVID-19 housing assistance received it.
The nation's low-income renters could need a staggering $9.9 billion in assistance each month, according to the National Low Income Housing Coalition, which reviewed census data and Congressional Budget Office projections to come up with its estimate, published as part of a May report on the pandemic's effects on housing costs.
In May, the Democratic-led House passed a COVID-19 relief bill that many housing advocates and landlords supported. Its fate in the Republican-controlled Senate is uncertain.
And though the Congressional Budget Office predicts that need will lessen as the economy improves, the coalition reported, the price tag still could be as high as $7 billion a month a year from now.
Cities and states don't have it.
According to a new report by the National League of Cities, city revenue will decline by 22% or $134 billion compared with last year.
State revenue will decline from 9% in Connecticut to 40% in Pennsylvania, the report found.
"It's quite desperate out there," said James Brooks, the group's director of housing and community development.
In Nevada, a $2 million state assistance program ran out of money. Kyle Rahn, president and CEO of the United Way of Southern Nevada, which helped distribute the money, said 80% of the calls to the United Way still are about rental assistance.
"I can't even tell you how dire it is," Rahn said. "It keeps me up at night, to know my fellow citizens are facing a lack of food and housing and not having protection from this disease."
In the beginning, cities such as Chicago and counties such as Los Angeles County used a lottery: Residents in need applied over several weeks, and on a specific date, names were chosen at random to determine who would receive help.
Lotteries are an effective way to ensure fairness with rental assistance programs, Painter said. Rental assistance programs that are first come, first serve create obstacles for low-income people who might not have internet access, he said.
Boston, a city in which 60% of residents are renters, used a lottery system while also targeting certain needs, said Taylor Cain, director of the city's Housing Innovation Lab, in a phone interview.
The city prioritized low-income households and those ineligible for unemployment assistance, according to Cain. The city plans to use demographic information from applications to track racial disparities, to see which populations demonstrate the greatest need, she said.
Other jurisdictions focused their efforts on communities that they targeted for help in the past.
In Charlotte, North Carolina, where 1 in 4 tenants missed rent payments in April, according to the Charlotte Observer, the city and a local nonprofit set up a housing fund for affordable housing properties that the city has invested in, said Warren Wooten, housing services operations manager for the city, in a phone interview.
Some states already are looking toward longer-term solutions.
In Montana, renters and homeowners in need must pay 30% of their gross monthly income toward housing costs as a condition for getting help; the state covers the balance of up to $2,000 a month, said Cheryl Cohen, the operations manager for Montana's Housing Division, in an interview with Stateline.
The Emergency Housing Assistance Program is being funded by $50 million of the more than $1.2 billion in federal CARES Act money allocated to Montana.
Nearly a thousand have applied so far, and officials expect to help another 16,000 families, Cohen said. Peers from Illinois, New Mexico, Pennsylvania and Wyoming have called for guidance.
Landlords Need Help Too
Some localities are looking to help landlords, especially independent property owners who might have just a few tenants.
If renters can't pay their rent, then property owners can't pay their mortgages, utility bills, employees, taxes and the extra building cleaning costs associated with COVID-19, Cindy Vosper Chetti, senior vice president of government affairs for the National Multifamily Housing Council, said in a phone interview.
What's needed is a federally funded program for housing aid, so that both renters and landlords can be made whole, said Chetti, whose organization supports pending congressional legislation that would allocate $100 billion in emergency rental assistance.
"It's important to have something up and running," said Chetti, who herself had to work out payment arrangements for tenants of her rental house. "We need to not have a health crisis and economic crisis turn into a housing crisis."