Stateline
Arrests, Tear Gas May Be Bigger COVID-19 Worry Than Protests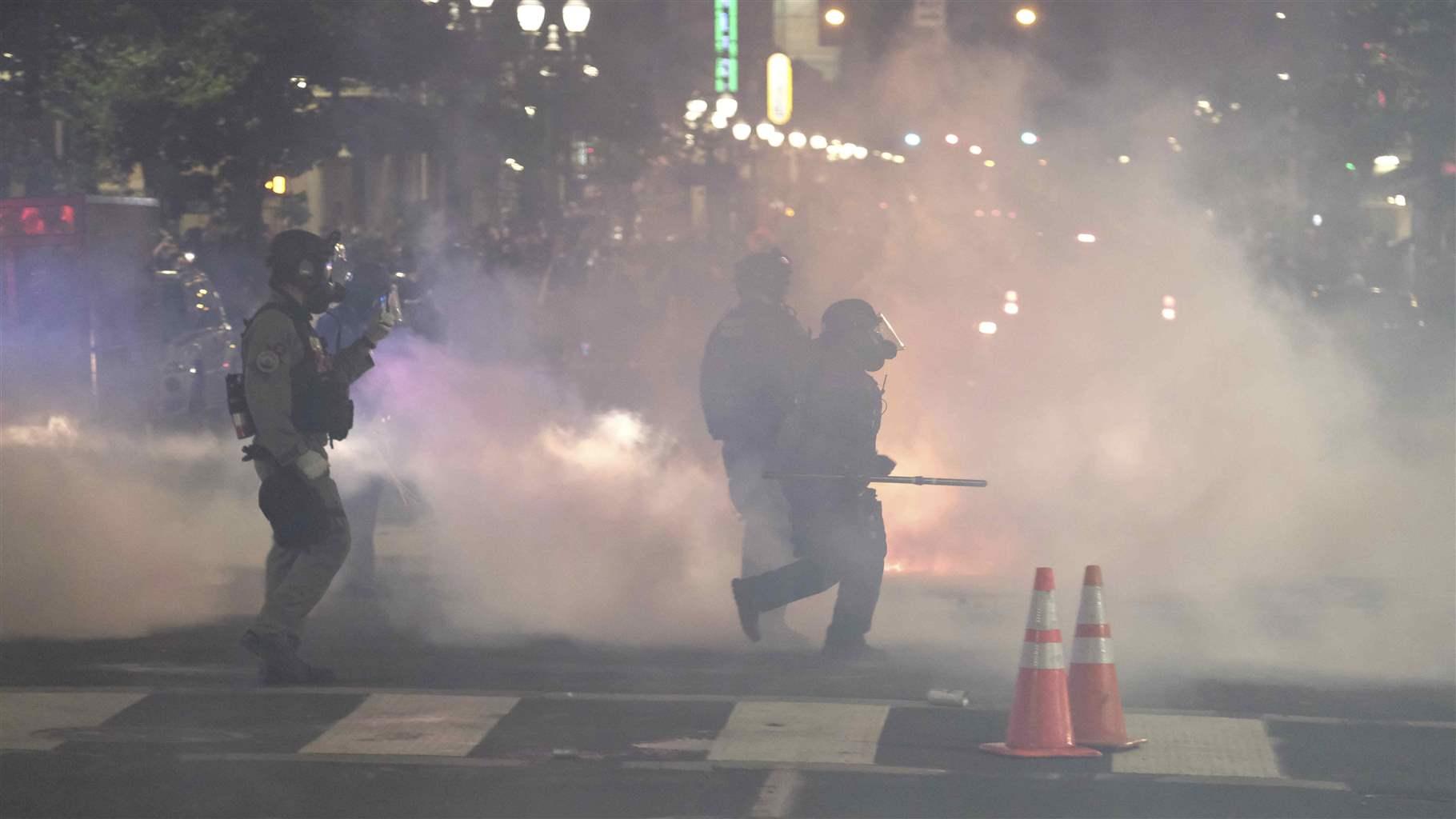 Read Stateline coverage of the latest state action on coronavirus.
SEATTLE — As demonstrators turn out en masse to protest police brutality against black people in cities across the country, many observers have worried about a resurgence of COVID-19. But some public health experts say the actions of police — tear-gassing protesters, arresting thousands and boxing protests into confined areas — may do more to contribute to the spread of the virus.
"The biggest concern for transmission at these protests is coming from the actions of the police," said Dr. Eleanor Murray, an assistant professor of epidemiology at Boston University School of Public Health, in an email to Stateline. "Arresting people, packing them into transport vans and buses, and crowding them into cells are all very harmful from a transmission perspective."
According to Buzzfeed, which surveyed 30 local police departments across the country, authorities have arrested at least 11,000 protesters in just over a week, a partial count of the nationwide total. Jails had become outbreak centers for COVID-19 even before the death of George Floyd under the knee of a Minneapolis police officer, and the processing of thousands of protesters has health experts concerned.
"Another thing not safe — jails," tweeted Andy Slavitt, a former health care adviser to President Barack Obama and acting administrator of the Centers for Medicare and Medicaid Services. "Non-violent protesters should be going nowhere near a jail."
Dr. Bill Schaffner, an infectious disease specialist at the Vanderbilt University Medical Center, was surprised to hear the Buzzfeed tally.
"I had no idea it was anywhere close to that," he said in an interview. "It has concerned me that some of these people were being put into buses and then undoubtedly placed for some period of time in holding cells. We know that jails and prisons have been the focus of the spread of the virus.
"When so many people are taken into custody over a short period of time, even if the local jails and the night courts and such had attempted some form of social distancing," he said, "it's likely that in many cases they would have been swamped."
The four largest outbreaks tracked by The New York Times are in correctional facilities.
Anna Flagg, a senior data reporter with The Marshall Project, a journalism nonprofit, studies the criminal justice system, including during the pandemic. She said there's not yet enough data on COVID-19 to compare the relative risks of mass protests and arrests.
"From a common-sense point of view, it's much more dangerous to bring people into jails than it is for people to be out in the streets protesting," Flagg said in an interview. "[Transmission] is about being close to people in enclosed spaces with dense populations and being in a place where you can't wash your hands."
According to a May report from the Prison Policy Initiative, a research nonprofit, the typical jail has reduced its population by 31% to reduce the risk of COVID-19 transmission.
Prisons have seen much smaller release numbers, typically 5%. Some jurisdictions are seeking to avoid incarcerating people who don't pose a threat to others. While some in the protest crowds have become destructive, arresting others simply on charges of violating curfew counteracts efforts to reduce the risk of infection in jails, Flagg added.
"These are people who are trying to engage in protest," she said. "It seems like a clear-cut situation where these people don't need to be brought into jail."
Story continues after map
Research also has shown that jails — which have a high rate of inflow and outflow — contribute heavily to the spread of disease in surrounding communities. Flagg said there's concern that protesters held in unsanitary jail conditions could become highly contagious superspreaders once they're released and return to the marches.
Aaron Horowitz, chief data scientist with the American Civil Liberties Union, worked with epidemiologists earlier this year to conduct a model of COVID-19 spread in jails and prisons. Much of the disease danger in jails, he said, comes during the intake process. He suggested that, rather than bringing suspects through the jail system, police instead issue desk appearance tickets — orders to appear in criminal court at a future date.

"Police are choosing to arrest people when they already have the ability to ask for a desk appearance," he said. "Our concern is more about police not using good discretion in choosing to avoid sending people to jail and less about what's going on at the protests themselves."
Reporters say police in some cases have removed the masks of protesters crammed into holding cells, moved some into cells with no water and failed to provide medical attention or masks to detainees in crowded cells. A video from Richmond, Virginia, purports to show officers spitting on a protest detainee, a claim police have denied. Protesters facing felony charges may be held for days at highly infectious prisons such as Rikers Island in New York City.
On Thursday, Black Lives Matter organizers said that they were tracking a shipment of masks through the U.S. Postal Service tracking system when it alerted them the masks were "Seized by Law Enforcement." Although the U.S. Postal Service did not say which agency confiscated the masks, the seizure came as Centers for Disease Control and Prevention Director Robert Redfield warned that the protests could spread the virus and advised demonstrators to get tested.
Meanwhile, police nationwide have tear-gassed protesters, many of whom were demonstrating peacefully, retreating, trapped by police or even sheltering in residential homes. For several reasons, health experts think that also could contribute to the pandemic.
"[Tear gas] inflames the mucus membranes," Schaffner said. "[Victims] might be susceptible to a lower dose of the virus being able to initiate the infection."
Research conducted in 2012 by the U.S. Army found that recruits exposed to tear gas were at a much higher risk for respiratory infection.
And tear gas induces violent coughing, an infection risk for others.
"There is strong concern among public health experts that the use of respiratory irritants like tear gas will increase transmission," Murray said in her email.
Many protesters are wearing masks and taking precautions to avoid spreading the virus. At a protest this week in Seattle, nearly every protester wore a mask, and volunteers gave out hand sanitizer, masks and gloves.
"To be honest, the concerns I have with the protests are how they're managed and less about the protests themselves," said Dr. Monik Jiménez, an epidemiologist at Harvard Medical School. "Things turn to mayhem when you have police brutality, when you have people being gassed and pepper-sprayed. It's just insanity."
Slavitt, the former Obama official, called on police in his tweets to set the example by wearing masks themselves.
He also called on cities to provide free universal COVID-19 testing to protesters. Slavitt could not be reached for comment by publication time.
It's still unclear what the fallout from the protests will be in the ongoing pandemic, and Schaffner noted that some elected officials might consider pausing their phased reopening plans until that can be determined.
Jiménez noted that black Americans and other minorities have felt disproportionate effects of COVID-19. She called on local health officials to be more involved in the management of protests, so that the demonstrations don't further exacerbate the toll on the most affected communities. The marches, she said, should go on, with measures taken to keep protesters safe.
"People who are calling for the protests to end because of COVID are shortsighted," she said. "The protests are about structural racism, which is also why black and brown people are getting sick and dying more than the white majority. Maintaining solidarity while maintaining safety is totally possible."