Stateline
COVID-19 Could Be End of Line for Some Regional Colleges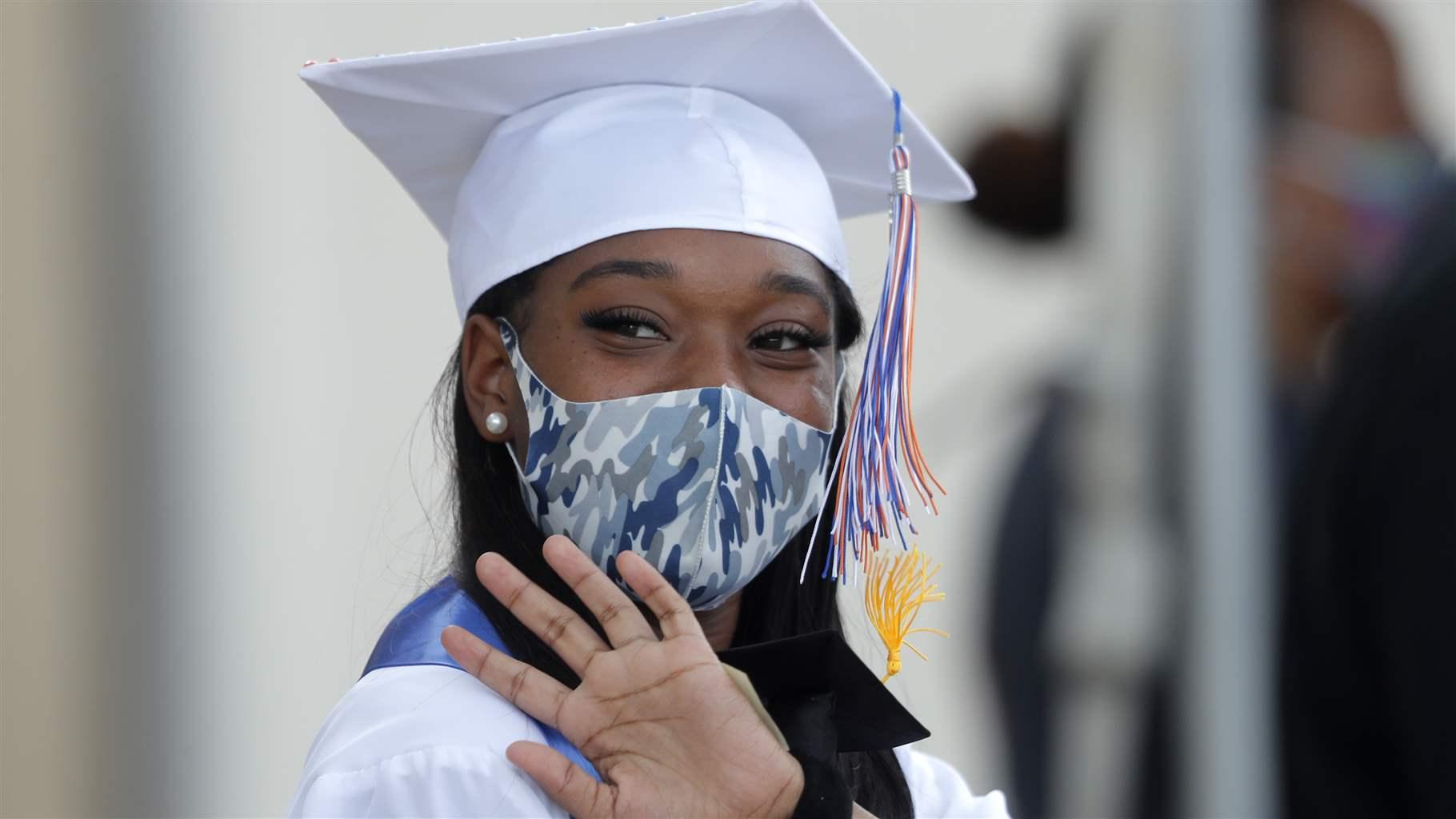 Read Stateline coverage of the latest state action on coronavirus.
The Vermont State Colleges System, which includes three four-year colleges and a community college, had been in financial trouble for years before the coronavirus pandemic hit.
Now system leaders are bracing for an enrollment drop that could hit 20% at residential campuses and a budget deficit as high as $12 million for fiscal 2021. In April, then-Chancellor Jeb Spaulding proposed a radical solution: shutting down Northern Vermont University's campuses and a Vermont Technical College campus for good.
While Vermont's situation is extreme, Spaulding's proposal shows that the pandemic could have a devastating impact on colleges and universities already struggling to pay the bills — particularly so-called regional institutions that aren't nationally known or highly selective, focus on teaching rather than research and serve mostly local students.
Yet plans to reduce offerings or close campuses have met with significant opposition as state legislatures begin to discuss setting school budgets for next fall.
"The reaction in opposition to some of those ideas is swift, because people can read between the lines and see that they're not talking about a big infusion of cash to solve this problem," said Brian Prescott, vice president at the National Center for Higher Education Management Systems, a Boulder, Colorado-based nonprofit that helps higher education institutions with strategic planning.
Spaulding's plan met with such strong opposition from faculty, students, alumni and lawmakers that he had to resign.
The Lyndon campus of Northern Vermont University, which educates about 1,200 students, is a major employer and cultural center in Republican state Sen. Joe Benning's rural district. Benning graduated from the Lyndon campus — then known as Lyndon State College — in 1979 and lives nearby.
"If we lose that as an institution," he said of the college, "the impact on this town would be tremendous."
So far, federal aid has helped institutions defray the cost of sending students home this spring and refunding room and board charges. Colleges won't be sure of enrollment changes until classes begin in the fall.
Lawmakers in many states, including Vermont, have yet to pass budgets for next fiscal year or to adjust existing budgets to account for lower-than-expected tax collections. And congressional Democrats are pushing a new coronavirus aid package, including $500 billion to help states fill budget holes.
Yet already scores of public universities — from flagships such as the University of Colorado at Boulder to regional institutions such as Eastern Michigan University — have furloughed administrators, faculty or other staff, according to a Chronicle of Higher Education tally. Some universities, such as Bowling Green State University in Ohio, have announced layoffs.
Story continues after map
The pandemic has thrown every college revenue source into question, from student tuition payments to endowment earnings, football ticket sales and university hospital revenue. It's also landed colleges and universities with unexpected extra costs, such as paying to launch online versions of in-person classes.
If state higher education funding and enrollments take a dive in the months to come, layoffs likely will accelerate, higher education experts say. A collapse in enrollment and employment could, in turn, hurt college towns that rely on students, faculty and other workers to shop and eat local.
"The math is pretty straightforward that most college and university budgets are in salaries and benefits," said Tom Harnisch, vice president for government relations at the State Higher Education Executive Officers Association, a Boulder-based group that represents state college system leaders.
It's up to Congress to help colleges, Harnisch said. "At this moment, the real help needs to come from Washington, and Congress needs to step up and pass a stimulus package that provides help to states."
Some experts question whether struggling regional colleges should be kept afloat. Nationally 62% of first-year students at public four-year colleges graduate within six years, and the rates are lower for colleges that aren't selective.
It's also unclear, said Rick Hess, director of education policy studies at the American Enterprise Institute, a free market think tank in Washington, D.C., whether traditional college lectures are the best or most cost-effective way for students to learn skills.
"An important question here is: What are students getting for their dollar? What are taxpayers getting for their dollar?" Hess said. "And for a lot of these institutions, the answer is uncertain."
A Long-standing Squeeze
State lawmakers nationwide slashed higher education funding to balance their budgets during the Great Recession and the slow recovery. While funding has risen nationally in recent years, it remains almost 9% below pre-recession levels at $8,196 per student, according to last year's finance report from the State Higher Education Executive Officers Association.
In Alabama, Arizona, Delaware, Louisiana, Mississippi, Oklahoma and Pennsylvania, state funding per student remains more than 30% below pre-recession levels, the group found.
Public colleges and universities have raised tuition or sought high-paying international students to replace state money. But some regional colleges may be hitting the limit of what they can charge the mostly in-state, low- and middle-income families they serve.
"It is increasingly common to hear from Vermont families that it is less expensive for their children to go to college out of state, at private or public institutions, than to go to their own public colleges," said a Vermont State Colleges System white paper published last summer.
A year attending Northern Vermont University's main campus can cost more than $26,000 for an in-state student living on campus, according to the National Center for Education Statistics. Half of full-time students enrolling in college for the first time at the university qualify for a federal Pell Grant.
Enrollment also has been dropping at some regional colleges, particularly in rural parts of the Northeast and Midwest, as demographics change and fewer students graduate from high school.
Between 1991 and 2014, colleges and universities could count on a larger pool of high school graduates to recruit from every year, said Prescott of the higher education management nonprofit.
"Now there's fewer of those, or there will be very soon," he said of high school graduates, "and we have major financial problems that are only compounded by the changes from the recessions we've survived so far."
The full impact of the pandemic hasn't hit colleges and universities yet.
West Virginia schools are reporting mostly normal fall registration numbers and room deposits, although first-year class sizes appear to be down 5% or 6%, said Corley Dennison, vice chancellor for academic affairs at the West Virginia Higher Education Policy Commission, which oversees public colleges and universities.
"All of our public institutions are planning for some version of in-person classes," Dennison said, and enrollments could depend on how the virus spreads this summer. "If we have a big spike in late July or August, before school starts, that could affect students' decision to return."
West Virginia Gov. Jim Justice, a Republican, isn't calling for higher education cuts, Dennison said.
It's too early to say what state funding or fall enrollment will look like for the University of Northern Iowa, said university President Mark Nook. State budget discussions begin when the legislature reconvenes this week.
Iowa state Sen. Tim Kraayenbrink, the Republican chair of the Senate Education Appropriations Subcommittee, said in an email to Stateline that he's waiting for legislative leaders to share final budget numbers with him and to hear how Gov. Kim Reynolds, a Republican, plans to spend remaining federal aid money.
The University of Northern Iowa received $3.8 million in federal coronavirus aid that it can put toward covering its losses and an additional $3.8 million to spend on emergency financial aid for students.
The aid so far doesn't come close to covering the $18.5 million in net losses from lower-than-expected revenue and unforeseen expenses the university expects from March through the end of the summer, Nook said. The university's general operating budget is $185 million, not including auxiliary enterprises like the athletic department.
Regardless of enrollment, Nook said, when the university reopens for in-person classes this fall it will face increased costs, from paying for coronavirus testing to setting up protective shields and screens in some places to ensuring staff disinfect public areas regularly.
"Even opening face to face, we have a lot to do to prepare for that," Nook said, "so we can protect the health and safety of our students."
Fresh Urgency
The pandemic also has lent fresh urgency to contentious plans to redesign struggling colleges in Pennsylvania, Wisconsin and Vermont.
The chancellor of the Pennsylvania higher education system has asked the network of 14 public universities (which doesn't include Penn State) to turn their five-year fiscal sustainability plans into three-year plans and to push harder to find savings, such as by closing programs with low enrollment, said system spokesman David Pidgeon.
Outgoing University of Wisconsin President Ray Cross in May announced a blueprint he said would give the system's regional universities stronger individual missions and identities, including by cutting programs. He also proposed cutting administrative costs and improving online education.
"If we want the UW System to survive on the other side of this pandemic," Cross said in a statement announcing the plans, "then we must act now."
Faculty blasted the proposal, however, and Cross backed away from his initial plan to eliminate some programs by fall 2021, according to the Wisconsin State Journal.
Efforts to consolidate programs in Wisconsin have foundered in the past. A 2018 University of Wisconsin-Stevens Point plan to expand career-focused programs, such as chemical engineering and marketing, and cut 13 liberal arts programs including English, history and philosophy, was revised after an outcry and eventually dropped.
In Vermont, the threatened closures have led to a fresh round of committee discussions within the college system and grabbed the legislature's attention.
"We now have the attention of the Statehouse in a way that we've never really had before," said Sophie Zdatny, interim chancellor of the Vermont system. "They have really stepped up."
The legislature has approved $12.2 million in federal coronavirus relief money for the system, Zdatny said, which will allow it to end fiscal 2020 with a more or less balanced budget.
The system is now counting on the legislature to approve more funding for next year. "We agreed not to close the campuses that were slated for closure based on the understanding that there'd be bridge funding coming to help us maintain the current footprint," Zdatny said.
Vermont's budget outlook is grim, however. The state legislature's budget analysts predict that tax collections will drop $146 million this fiscal year and $433 million next year. Vermont lawmakers are not constitutionally required to pass a balanced budget.
Lawmakers have not yet decided on future funding levels or proposed other changes, said Benning, the state senator. "The mechanics of that are being developed as we speak."
The state treasurer and an independent consultant hired by the legislature's Joint Fiscal Office are reviewing the Vermont system's finances, and the House Education Committee has proposed convening a high-level task force to assess the future of public higher education in the state.
The state college system also has convened a task force to consider changes that could cut costs and make the colleges more desirable and competitive, such as by ending programs that aren't attracting students. "I think the reality is that we won't look the same in the future," Zdatny said.
Faculty members want more state funding for higher education, said Linda Olson, interim president for the faculty union for the Vermont system.
"We're really pushing the legislature to fund the colleges adequately, which they haven't done since 1980," Olson said. "We're all in favor of reconfiguring our college system, but we've already been doing that for years. We're down to the bone, in terms of faculty and staff."
For Benning, the college system's survival is personal. He moved from New Jersey to Vermont to go to Lyndon State College in the 1970s and never left. "This institution has not only given me my head start on life — I walked from there into law school, I met my then-fiancee, now wife of 26 years, there," he said.
"This is an anchor point in our community that needs to be maintained."