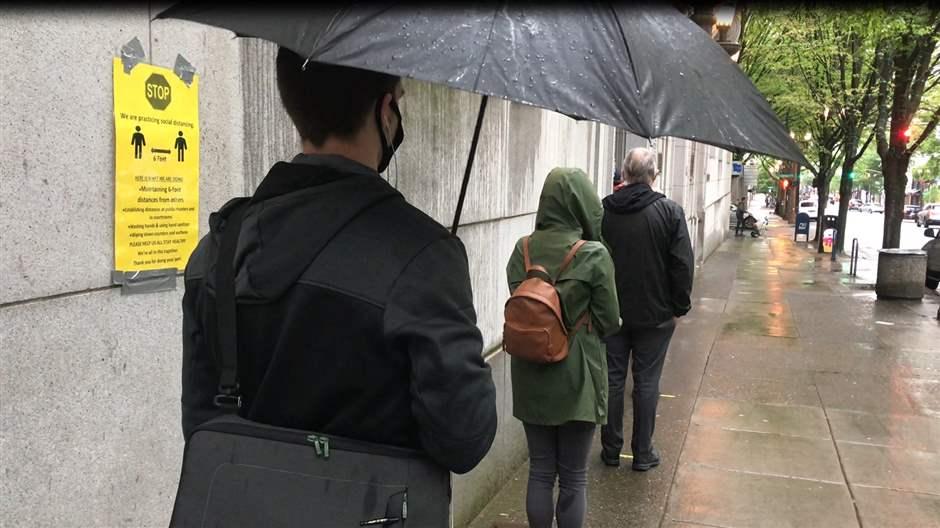 Read Stateline coverage of the latest state action on coronavirus.
PORTLAND, Ore. — On a drizzly spring day in mid-May, potential grand jurors lined up 6 feet apart outside the Multnomah County Courthouse.
Raincoats and umbrellas dripping, they filed one by one into the courthouse and through a metal detector, all the while maintaining appropriate social distance from court employees. Most visitors wore masks, which the court encouraged and made available for free but did not require. Nearly all court employees wore face coverings.
Oregon Gov. Kate Brown, a Democrat, had issued a stay-at-home order to slow the spread of COVID-19 nearly two months before, and it applied to all but the most urgent of judicial proceedings. But Multnomah County, home to Portland, like many places requires grand juries to hear all felony criminal cases.
That meant the county's docket of pending cases was "bursting at the seams," said Circuit Judge Cheryl Albrecht, the county's chief criminal judge, in an interview.
Oregon requires that defendants in custody go to trial within 60 days, with an extension to no more than 180 days from their detention. So criminal judges in Multnomah County needed not only to begin holding jury trials, but to convene at least one new grand jury to begin weighing criminal charges in pending felony investigations.
"Crime doesn't stop in a pandemic," Albrecht said.
Neither does the business of the courts. Over the next several weeks and months, courts around the country must figure out how to resume operations in a way that keeps employees and visitors safe, yet also safeguards the constitutional guarantee to a jury trial.
Even the U.S. Supreme Court has had to adjust to the pandemic, with justices hearing oral arguments over the telephone and, for the first time, streaming the proceedings to the public live.
But jury trials are especially fraught, because they require assembling a pool of potentially hundreds of people at a time in enclosed spaces, where it can be difficult to follow the social distancing and crowd control guidelines issued by the federal Centers for Disease Control and Prevention.
"The courts are trying to be very, very cautious and thoughtful about how they do it, in a way that is responsible to their communities, responsible to the jurors, responsible to everybody else in the courthouse," said Paula Hannaford-Agor, director of the Center for Juries Studies at the National Center for State Courts in Virginia.
Some courts see in the pandemic an opportunity to test virtual technology that could stay in place after the crisis. But that raises questions about fairness and jurors who lack internet access.
Story continues after map.
Because of its speedy trial requirements, Oregon's early experiments with jury trials are something of an outlier, Hannaford-Agor said. So far, only a handful of states have begun holding in-person jury trials, even in places that have otherwise been faster than Oregon about reopening businesses, parks and other public places. Some, including courts in Minnesota and Arizona, are scheduled to resume jury trials in June.
Many courts, however, don't plan to resume full operations for some time. In Massachusetts, for example, the court system is hiring an epidemiologist to guide its reopening, and jury trials won't resume until officials can figure out how to do so safely, said Pamela Wood, the state's jury commissioner, during an online meeting of court officials organized by the National Center for State Courts.
Criminal defendants and their lawyers don't have much of a choice about showing up, and technically neither do potential jurors. Nonetheless, many courts are carving out generous exceptions to jury summons requirements. Judges know that many potential jurors are apprehensive about sitting in a confined space with strangers, especially after they've been told for two months that staying home saves lives.
"It's daunting to be in that position of saying, 'Hey, citizens, the governor may be telling you to stay home, but here I am telling you that you have to be here,'" said Albrecht, the criminal judge in Oregon. "So it's, it's a conflicting message from governmental authorities. It's a big ask."
In Miami-Dade County in Florida, the court polled 600 jurors who had served on a previous jury about when they'd feel safe serving again. The results were overwhelming, according to the National Center for State Courts: Most jurors said they wouldn't be comfortable returning to a courtroom until the fall at the earliest. Many said they would have qualms about responding to a jury summons even in July.
The best course, court officials say, is to proceed very carefully and to consider other venues to hold trials. Low-slung courthouses that don't require the use of elevators are ideal, as are large assembly rooms that are otherwise going unused, such as at schools.
Massachusetts is even considering using empty former retail establishments, like big box stores, that have ample walk-up parking so jurors don't have to rely on public transit or pay for expensive parking at a time of economic uncertainty.
In Multnomah County, since many other court operations have slowed, officials use empty courtrooms as waiting rooms for potential grand jurors. For their first grand jury of the pandemic, clerks summoned 801 potential jurors; 141 showed up. Normally they would get 200 people. Clerks excused 70 people immediately because they ran out of room to keep them 6 feet apart in various courtrooms.
Jurors sat, separated, in the area generally reserved for the public. Both jury trials in Multnomah County held during the pandemic were streamed to an additional courtroom where the public, media and family could watch.
In one trial, Albrecht said, the defendant asked jurors to remove their masks when lawyers were asking them questions during jury selection, known as voir dire. The defendant wanted to see the jurors' full facial expressions.
Meanwhile, some courts are using the pandemic as an opportunity for cautious experimentation, especially with virtual proceedings. In Missouri, a previously empaneled grand jury agreed to continue its work via videoconference. It required some flexibility, said Jackson County Circuit Judge David Byrn.
"Obviously the grand jury proceedings are private and confidential," Byrn said, "and so we just emphasize to them that even though they were meeting in a virtual fashion, it was as if they were together in a grand jury room."
Arizona's Maricopa County, which includes Phoenix, is using its existing online juror registration system to ask potential jurors whether they might be able to serve via videoconference, said Maricopa Superior Court Judge Pamela Gates.
"Our juror questionnaire asks the jurors, 'Can you serve as a juror from home?'" she said. "Do you have a quiet and private space? Do you have reliable broadband access? Are you able to have a videoconference capability to participate in either jury selection or virtual trials?" The answers to those questions will determine how they proceed.
In Oregon, some witnesses have appeared in front of the Multnomah County grand jury via videoconferencing. Many status hearings that once required parties in a criminal or civil case to show up in the courtroom are being held over the phone, Albrecht said, a change she and many other judges around the country hope will remain long after the coronavirus is gone.
So far, the most innovative use of technology has emerged in Texas, where a judge in Collin County conducted a civil jury trial via Zoom earlier this month. The public could watch it live on YouTube. Court officials in Texas think the trial, which centered on an insurance dispute, was one of the first virtual jury trials during the U.S. pandemic.
One thing they realized was that they need a "technology bailiff" to troubleshoot connectivity issues and other administrative tasks, said District Judge Emily Miskel, who assisted but did not oversee the trial.
Collin County, which is north of Dallas, used the trial as an experiment to see how it might conduct criminal trials or more complex cases online. Officials were surprised and pleased by the feedback, Miskel said.
Jurors who had served on previous juries told the court after the trial that they could better see and hear witnesses and see evidence via a Zoom screen, rather than having to crane their necks. And lawyers reported that jurors were much more relaxed about their answers during jury selection.
As useful as technology may be, it also can be a barrier to participation, Miskel said. Questions of access to technology can make it more difficult for criminal defendants to face a jury of their peers, a concern long before the pandemic.
"We want to make sure we get a fair cross section of the community for the voir dire process," Miskel said. "If they're rural, if they're older, if they don't have access to Wi-Fi, we don't want to exclude those people."
In Oregon, Albrecht has revised the standard orientation speech she gives potential grand jurors. Instead of addressing the pool all at once in the jury assembly room, she popped in and out of several courtrooms the day of jury selection, repeating her message to each socially distanced group one at a time. Albrecht told potential jurors that she had "extra heartfelt appreciation" for their service at a time of social distancing.
"Rights don't stop during a pandemic," she said. "All the rights we have, during a pandemic they keep on keeping on."