Stateline
Rural Destinations 'Ready to Reopen' But Fear Virus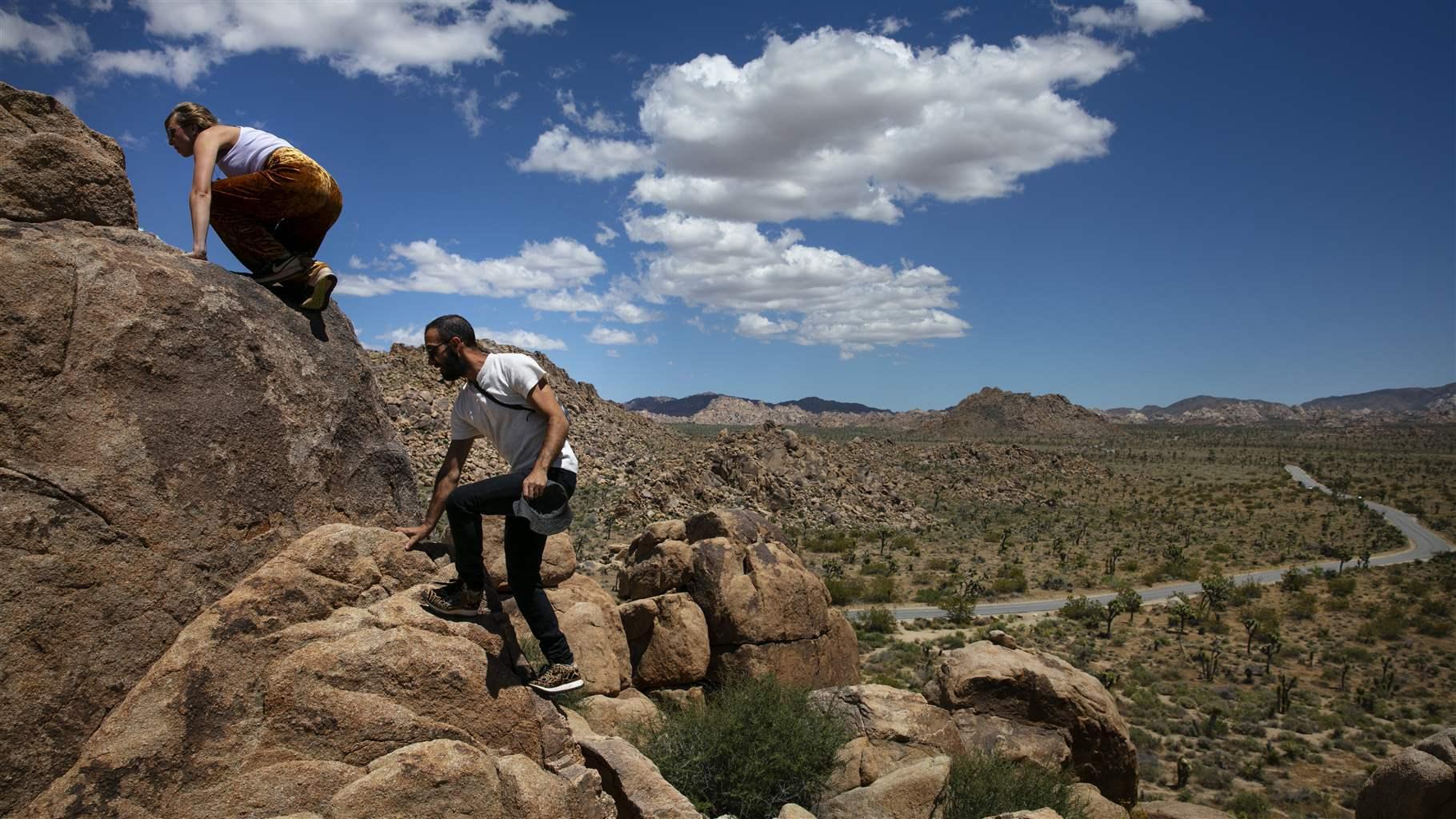 Read Stateline coverage of the latest state action on coronavirus.
When the first coronavirus shutdowns were announced in March, hoteliers in the Appalachian town of Gadsden, Alabama, said they did not want to host visitors from other states.
So, Hugh Stump, executive director of Greater Gadsden Area Tourism, told them that as private businesses, they could deny lodging to people for reasons other than age, race, religion and other protected categories.
"If somebody's coming from New York, and you're worried about New York, you don't have to allow them in your hotel," Stump advised.
Rural destinations like Gadsden shunned out-of-towners at the outset of the pandemic, but now they're eager for visitors as states lift some stay-at-home restrictions ahead of Memorial Day. At the same time, communities are weighing their economic needs against their infection fears.
Rural areas typically have a weaker health care infrastructure, with far-flung hospitals and fewer doctors. Nationwide, rural residents tend to be poorer, sicker and more vulnerable to infection than city dwellers and suburbanites.
Ready or not, the influx of visitors is coming.
"There's no question about it; the great outdoors, the rural regions are where people are going to go" for Memorial Day weekend, said Roger Dow, president and CEO of the U.S. Travel Association. "I expect that Mount Rushmore, the Dakotas, are going to get massive amounts of travelers."
The Gadsden area is just what travelers will be looking for, Stump said. It has the amenities of a larger town without the concentration of people (Gadsden's population is about 35,000). A hotel room runs about $100 a night.
People can kayak and fish along the Coosa River or bike up local mountain trails. Stump expects interest in Gadsden's small-town amenities to persist throughout the year.
Story continues after map
"Do you want to fly to New York City and go to a play in six months? Probably not," Stump said.
Go Small
Memorial Day weekend typically launches the summer travel season, and Americans are sick of being cooped up, according to travel industry analysts. But expect travel to be spotty depending on a state's status for lifting business restrictions, Dow said.
For the first time in 20 years, AAA did not issue its annual Memorial Day travel forecast because the pandemic has undermined the accuracy of its economic data.
Dow expects moderate travel in states like California, whose stay-at-home order remains in place. People will likely travel to parts of the Midwest and states that never had stay-at-home orders in place, such as the Dakotas and Wyoming.
Americans also will travel to vacation spots in states that lifted orders prior to the holiday, such as the Florida beaches and parts of Texas and Georgia, Dow said. And people will be drawn to national parks, which are coordinating with local and state officials to reopen in phases.
Since the beginning of March, the pandemic has resulted in more than $157 billion in losses for the U.S. travel industry, according to an analysis by Tourism Economics.
In the week ending May 9, most states and territories experienced at least an 80% decline in year-over-year weekly travel spending, with Puerto Rico (95%) and Washington, D.C., and Hawaii (both 96%) tracking the greatest losses.
On a recent Thursday evening, travelers could zip through check-in and security in Southwest Terminal A at Reagan National Airport in Washington, D.C. Cheerful airport workers greeted lone travelers.
Besides a few women seated together at a once-bustling bar, people sat scattered outside their gates prior to departure and avoided eye contact.
In the background, a CNN broadcast on several large flat screen TVs warned the pandemic will result in the "darkest winter in modern history," referring to coverage of a former top health official's congressional testimony on what to expect later this year without a stronger federal response to the pandemic.
A direct flight to Dallas Love Field Airport had about 20 passengers. Solo passengers had whole aisles to themselves and sat several rows apart.
People are more likely to take road trips this year than travel by air, according to travel industry research. Over the next six months, 25% of travelers will change their destination so they can drive instead of fly, according to a weekly survey by Longwoods International, a travel market research consultant.
People are more interested in smaller venues. Boutique hotels and motels are doing better than big-box hotels with name recognition, Dow said.
"You know who's going to do well with this? The RV people," Dow said.
However, others aren't convinced tourism, rural or otherwise, will take place in droves this weekend. Nonstop media coverage of the pandemic isn't helping business, said J. Thomas Chesnutt, coordinator of the annual Alabama-Tennessee-Mississippi Rural Tourism Conference.
Chesnutt recalled the Deepwater Horizon oil spill in the Gulf of Mexico and the images of oil shooting out of an underwater leak.
"It just devastated beach tourism three weeks before the first drop of oil hit the shore because people were seeing it," Chesnutt said.
Agritourism destinations such as U-pick strawberry crops once drew large crowds over holiday weekends, but this year, that'll depend on local and state governments, said Chesnutt, formerly an extension tourism specialist with Auburn University. Small businesses, which are at the heart of rural tourism, could be devastated.
"Either they're open or they're likely to go out of business," Chesnutt said.
Travelers Welcome?
In Eagle County, Colorado, people fall into two camps on easing restrictions and welcoming back visitors.
On one side, people fear tourists will reintroduce the coronavirus into the rural mountain community. In March, Eagle County (population 55,000) had the highest infection rate in the state. However, because of widespread testing, the county's 0.15% death rate is among the lowest in the nation, according to Vail Health.
The recent gains have shored up confidence among those on the other side, the businessowners, said Chris Romer, president and CEO of the Vail Valley Partnership. His organization functions as a regional chamber of commerce and promotes Vail as a year-round destination for domestic and international travelers.
"We're ready to reopen," Romer said.
People want to be outside, where there is a lower risk of contracting the virus and because there is "an inherent desire for people to feel freedom," said Lise Aangeenbrug, executive director of the Outdoor Industry Association, a trade organization based in Boulder, Colorado.
Absent a blanket federal restriction, national parks in each state are working with state and local officials to reopen. Will Shafroth, president and CEO of the National Parks Foundation, encourages travelers to visit lesser-known parks where social distancing is easier to practice.
Twenty-seven of the nation's 419 national parks draw 50% of annual visits. So, the remaining 392 parks in the system have substantial capacity to welcome more visitors, Shafroth said.
For example, Colorado's Rocky Mountain National Park, about 90 minutes north of Denver, is among the state's five most visited national parks. The drive to Great Sand Dunes National Park and Preserve is four times longer, but Shafroth said it's hardly ever crowded.
"There's plenty of capacity for these types of places to receive you," Shafroth said.