Stateline
Rural, Intercity Bus Companies Hit Hard by Pandemic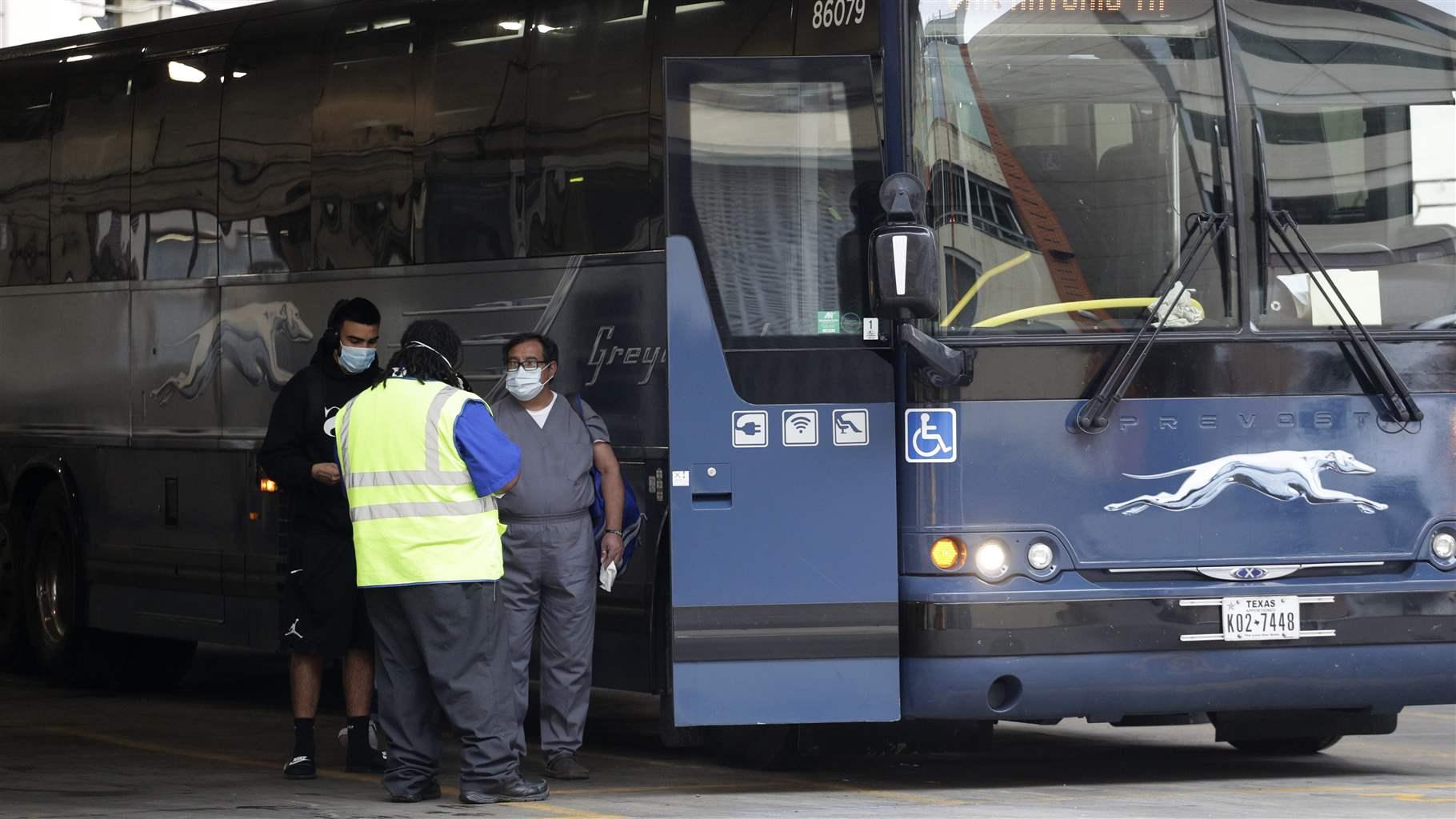 Read Stateline coverage of the latest state action on coronavirus.
Ron Moore has been in the bus business for decades. He's proud of his family-owned West Burlington, Iowa, company, Burlington Trailways, which connects rural towns with big cities, spans six states and carries more than 200,000 passengers a year.
While the multigenerational company has been through its ups and downs over the years, Moore said, it is now facing its biggest challenge ever: trying to keep running routes and staying afloat while the COVID-19 pandemic is practically wiping out bus travel.
"This could just end it all," Moore said. "If we go out, these states are going to lose their rural transportation. It will mean passengers will have no way of moving on the ground."
Other private intercity bus companies across the nation are facing a similar financial crisis, whether they run scheduled routes, transport commuters or provide charters and tours. They provide about 525 million passenger trips a year.
"Ninety percent of these small, family-owned businesses have just shut down, at least for now. There is no business. Nobody's riding," said Peter Pantuso, president of the American Bus Association, a trade group for the intercity bus industry. The group represents companies ranging from big players such as Greyhound and Megabus to mom and pops with fewer than 10 buses.
Intercity bus company services are considered essential — part of the infrastructure that moves people across the country. Often, they operate in areas where there may be no alternative transportation. But Pantuso said the industry has been forgotten by Congress, which did little to help when it passed its $2 trillion CARES Act, the coronavirus relief bill that President Donald Trump signed into law in late March.
"They funded virtually every form of transportation except the private bus industry. They poured a billion into Amtrak, they gave public transit $25 billion, the airlines got $50 billion," Pantuso said. "We are providing transportation to and from a destination and service in and out of cities. We got no dedicated grants or loans."
Like many in the transportation industry, intercity bus companies have seen a huge drop in customers because of the pandemic. It affected ridership not only on scheduled routes; demand also dried up for the charters and tours many of the companies also run.
Those still running have slashed service and reduced routes. Greyhound suspended service in dozens of cities. Many companies are operating at about 15% capacity, according to Pantuso, and Greyhound is at about 20% or 25%.
"It's been truly devastating. It's hitting small companies that have razor-thin profit margins from the start," said Joseph Schwieterman, a professor at the School of Public Service at DePaul University in Chicago who directs an urban transportation think tank.
The private intercity bus industry, which includes about 175 companies with scheduled service in the United States, typically receives little or no public aid and is much less visible to lawmakers than the airlines, Schwieterman said.
Since the pandemic, many of those companies have parked their buses and canceled insurance to save money, Schwieterman said.
Nearly 100,000 employees for intercity bus companies, including drivers, cleaners and maintenance workers, are now unemployed, according to Pantuso.
"I have companies telling me they're thinking about declaring bankruptcy and shutting down until next spring," Pantuso said. "Others are saying they're just shutting down. It's not a pretty picture."
Ridership Plummets
Unlike public transit, private intercity bus companies run from city to city, often linking people in small towns to bigger cities, airports and train stations.
Some riders are students or young urban professionals who live without cars and rely on buses. Others include people with limited means who can't afford a car and those who don't drive.
Many intercity bus companies that run scheduled routes also offer charters and tours, from school trips to church retreats to sightseeing packages. They rely on that income to keep the business running, Pantuso said.
"Those two systems are integral. When one falls apart, it affects the whole system," he said. "If travel and tourism is down and the company can't make additional funds on the weekend, that affects their daily business as well."
Other intercity bus companies specialize in passengers commuting from smaller cities and towns to bigger cities for work.
That business has dried up for a Bethlehem, Pennsylvania, operation, Trans-Bridge Lines, that runs routes from Pennsylvania and New Jersey into New York City. It suspended operations in late March and has laid off 121 of its 165 employees, President Tom JeBran said.
"Our passenger counts were just tumbling. We were running buses with 25% capacity," said JeBran, whose family has owned the company for 79 years. "We couldn't do it anymore, financially."
Trans-Bridge regulars included white-collar workers headed to the Financial District, Broadway theater lighting crews, construction workers, and doctors and nurses going to hospitals. The company also provided transfers to cruise ships and took mid-day riders into the city for meetings and shows.
Trans-Bridge applied for a small business loan program created under the CARES Act to provide a lifeline to companies with fewer than 500 workers and keep employees on the payroll, at least temporarily. JeBran said the loan was approved and he received the money last week. He didn't want to disclose the amount.
He's laid off 86 drivers and doesn't know when he can restart service to New York City.
"It would depend on the state and the city to lift the restrictions and then the businesses need to start to recall their employees," he said.
In the meantime, the company must continue paying utility bills, rent for parking lots in New York, New Jersey and Pennsylvania and gate fees at Port Authority, JeBran said. The federal small business loan can offset a part, but not all of it.
The bus association is asking Congress in its next coronavirus appropriation to authorize $10 billion in grants and $5 billion in long-term loans for intercity bus companies "to keep the industry alive," Pantuso said.
"In a lot of places, we are the only form of intercity transportation," he said.
Rural Transit Loans
The CARES Act did provide some assistance for intercity bus companies that operate in rural areas.
It put about $2 billion into an existing federal grant program that gives states money for intercity rural transportation in areas with populations under 50,000. Private bus companies that connect rural areas can apply for a grant, but it's up to the governor and state to decide whether to give them the money or use it for other purposes, such as paratransit or ride-share services.
Pantuso's group wants Congress in its next COVID-19 go-round to appropriate an additional $1 billion for the transportation grant program and require the U.S. Transportation Department secretary to distribute money to bus companies for rural and urban scheduled services, rather than going through states.
Iowa's Burlington Trailways is getting CARES grant money, and that's important, Moore said. Five of the six states in which the company operates have agreed to give it some of the money, including Iowa, which has approved up to $4.1 million for Burlington.
"This is critically important to help these companies," said Brent Paulsen, the Iowa Department of Transportation's transit programs administrator. "They provide an important service in our state, connecting rural areas to metro areas and rural areas to other rural areas."
While he appreciates the assistance, Moore said that even if all six states passed along the maximum CARES grant money, there wouldn't be enough to see the company through. It still needs direct help for the charter and tour side of the business, which is used not only for school trips and college athletic team travel but also to transport troops and evacuate people in emergencies.
The charter and tour business has "zero" money coming in, he said. That represents about 30% of the company's revenue, and it has lost at least $2 million.
Burlington has taken 21 of 37 buses off insurance and parked them to save money, Moore said. It also has laid off 22 of its 145 employees. Eight others have taken a voluntary leave of absence and 10 are working reduced hours. It has cut scheduled routes but hasn't eliminated service to any towns.
"We're getting a little bit of income from the passengers we're carrying. But we're in a losing position," said Moore, whose company has been in Iowa for 38 years. "We exhausted money set aside for emergencies already. We borrowed $800,000 from the bank to get us through before this funding was talked about. We have to pay all that back. How do you do that when you have no revenue coming in?"