Stateline
Your Unemployment Call Could be Answered by the National Guard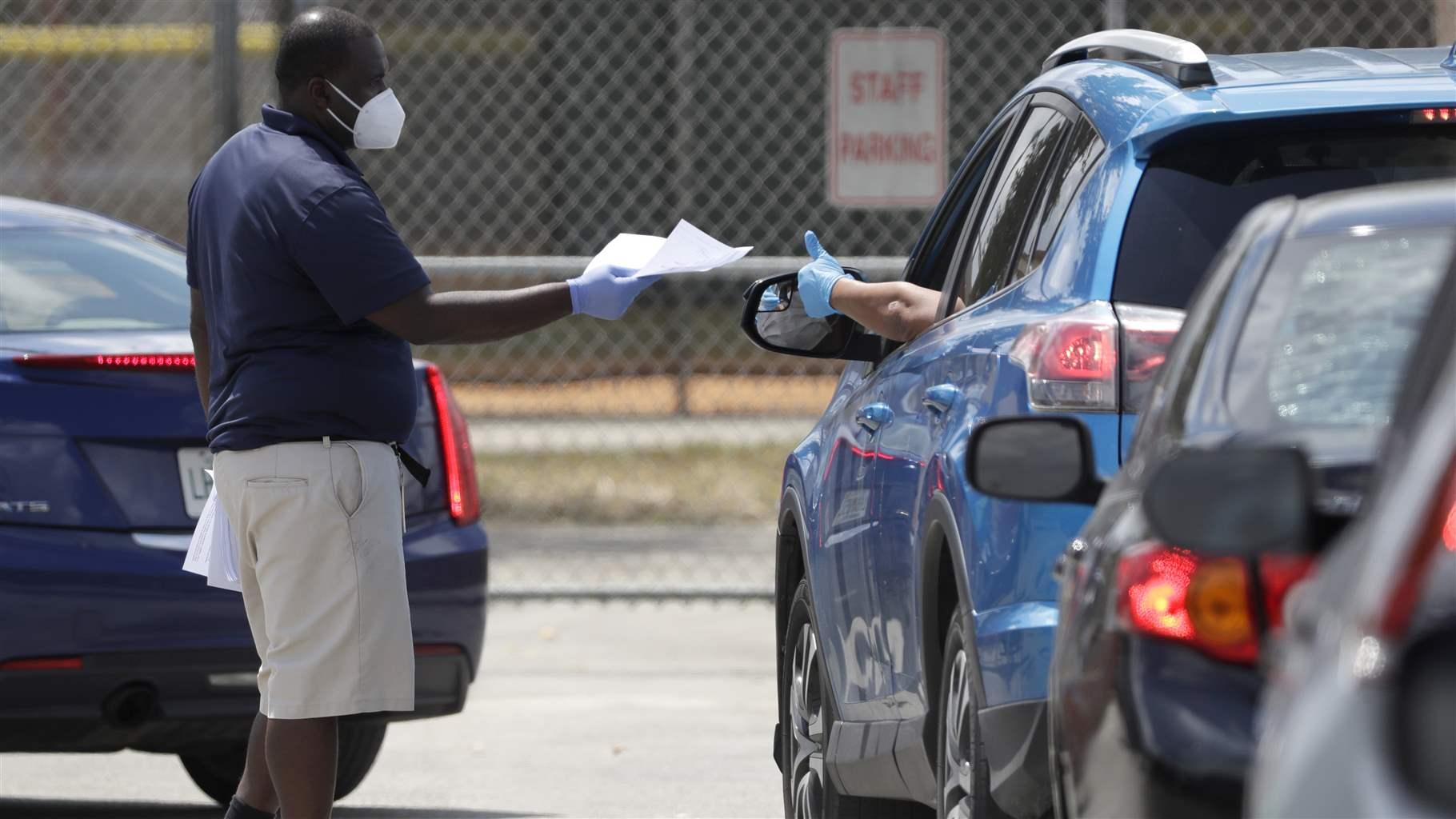 This story was updated April 16 to include a map based on newly released data from the U.S. Department of Labor.
Read Stateline coverage of the latest state action on coronavirus.
As stay-at-home orders spread to once-resistant states in the South, unemployment numbers are surging and state systems to handle the jobless claims are overwhelmed, keeping desperately needed checks out of the hands of sidelined workers.
In Florida, state Sen. Annette Taddeo said, "$275 a week may not be a lot, but for the people who need it, it means food on the table, medicine, paying the rent." Hundreds of her jobless constituents in the Miami suburbs lined up for six hours last week at a Kendall megachurch for emergency food packages.
Many have been waiting a month or longer for checks they need now.
"[Tuesday] was the first day I started hearing that some of my constituents got checks after starting to apply in the middle of March and it's not all of them," said another Miami-area Democratic state senator, Jose Javier Rodriguez.
There's plenty of blame to go around as an unprecedented tide of claims in the past month hit outdated systems from coast to coast and states try everything from pleading for volunteer computer programmers to calling out the National Guard to answer phones.
Taddeo was one of 17 Democratic state senators protesting in a letter the slow rate of processing unemployment claims in Florida, asking for retroactive benefits for those who can't get through and an end to the requirement to check in every two weeks to maintain benefits.
The protest was taken up by some of the 43,000 Disney World employees furloughed April 12, who used everything from sidewalk chalk to window signs in their homes to express frustration at being unable to file claims.
States that shut down businesses earlier have had the same problems. Illinois Republicans called on Democratic Gov. J.B. Pritzker this week to reassign staff and outsource more claims processing, saying in a statement their constituents are "desperate and distraught," unable to log on to the state's website and get through phone lines.
Florida, like other states, has transferred staff, hired outsourced call centers and added dozens of internet servers to little avail.
Texas waited until March 31 to issue a statewide stay-at-home order and is buried under new claims. Some 450 transfers from other agencies and 100 new hires are answering calls that come in at a rate of up to 3 million a day. An artificial intelligence bot already has answered a half-million questions.
"We understand our internet system and our phone lines are overwhelmed," said Cisco Gamez, a spokesman for the Texas Workforce Commission. The state was searching for a vendor to improve its systems this year when the crisis hit.
Getting a handle on processing the claims has taken weeks, even in states such as Illinois and Connecticut with some of the first stay-at-home orders.
Connecticut has a 40-year-old system for claims that's backed up for six weeks, and workers have processed only 174,000 of 350,000 claims since the crisis struck, said Nancy Steffens, a spokeswoman for the state Department of Labor.
Connecticut hopes to shorten wait times to one week with new software to replace some of the mainframe-era computer system and automate some of the claims that now have to be reviewed by hand, Steffens said.
Around the country, states are hobbled by outdated software, known as COBOL, intended for a small number of claims. New York, New Jersey and Maine have struggled with the same issues. New Jersey Gov. Phil Murphy, a Democrat, has pleaded for retired COBOL programmers to volunteer.
In Florida, anger over the delays is spreading, with some lawmakers calling for the resignation of the director of the state's Department of Economic Opportunity, Ken Lawson. Others blame intentional roadblocks to getting benefits set up under former Gov. Rick Scott, a Republican who sought to minimize unemployment taxes for businesses.
That system required online applications and time-consuming tests, causing critics to accuse the state of discouraging people from seeking benefits. But current Florida GOP Gov. Ron DeSantis also has resisted retroactive benefits for those unable to get through, though he has recently promised to do so.
"If you're looking for the author of the Scrooge-like character of the state system, it's definitely Rick Scott," said Javier Rodriguez. "At the same time, you don't get the sense that the current administration understands this is a crisis for our constituents. You don't get that sense of urgency."
Texas also could see political repercussions, as the Republican establishment must either defend more spending to beef up its system or risk seeing the wrath of unemployed people sometimes facing busy signals hundreds of times before getting through to file a claim for benefits.
New York has asked for volunteers in other state agencies to help with claims, and the state has shortened forms, but it still faces hundreds of thousands of unprocessed claims.
West Virginia and New Hampshire were among states that called out the National Guard to answer phones in the crisis. Oklahoma went from 11 to 217 staffers last week to cut six-to-eight-hour wait times to 15 to 30 minutes, and hoped to have 500 trained for the job this week.
In Hawaii, where a third of the state's workforce has filed for unemployment, some have been waiting weeks as they live on savings and stored food.
DeSantis said this week he was considering automatic benefits for furloughed workers at Disney and other theme parks such as SeaWorld, which has let go 90% of its workforce.
Georgia, like Florida, waited until April to issue a stay-at-home order. The state asked retirees to return to work to help with the tide of claims — above 380,000 last week. Only California had more, about 925,000.
Florida, like Hawaii and other states, has even turned to outmoded paper forms, handed out in drive-through settings or curbside boxes to workers unable to get through otherwise.
"I just got off the phone with one person who doesn't have a car, doesn't have internet, doesn't have a smartphone. We're trying to deliver him a FedEx label and a form," said Taddeo, the state senator. "That's typical of people here who worked in hotels, restaurants, cruises — they have nothing left."