Stateline
Echoing Trump, More GOP State Legislators Call for Easing Closures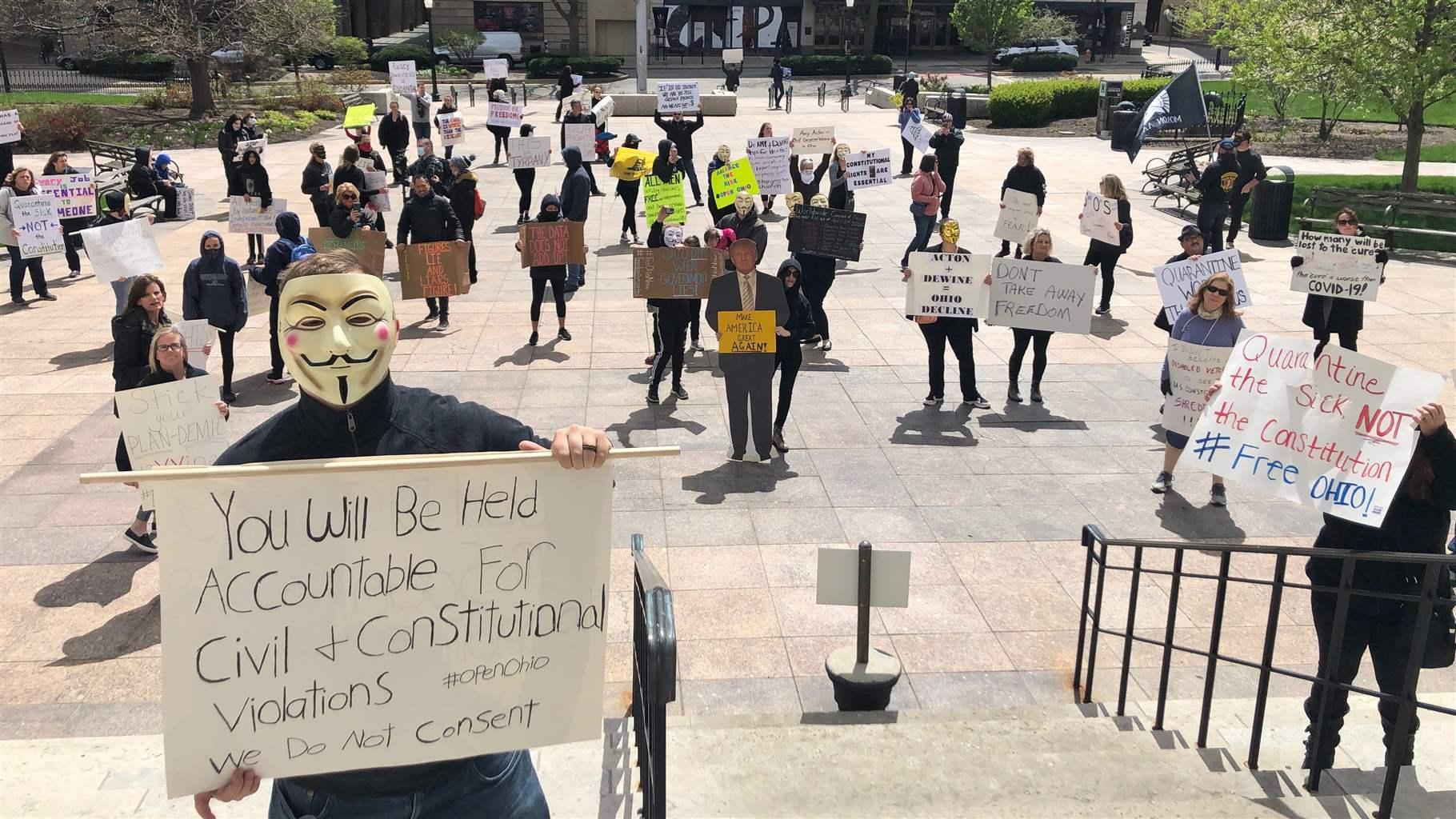 Read Stateline coverage of the latest state action on coronavirus.
Ohio state Rep. J. Todd Smith, a Republican, thinks it's about time to get his state back to work.
It's not that he's overly displeased with what Gov. Mike DeWine, a fellow member of the GOP, has done thus far to prevent the spread of the coronavirus. It's just that his constituents are telling him it's time to ease up. And he says dire predictions of thousands of deaths in Ohio have not proven to be true.
"Due to the fact that the data is not matching up to what we were told would happen, I think there should be some thought to rescinding some of these restrictions," he said in a phone interview. "What's happening to our economy is actually more harmful than the lives that are being lost."
At one point, models in Ohio forecasted 10,000 new cases a day, but recent models put that number closer to 1,600 at the peak later this month.
Still, more than 28,000 people have died of COVID-19 in the United States. Nearly 350 Ohioans had died as of Wednesday afternoon — 50 of them Tuesday alone.
Smith is one of a growing number of state lawmakers — nearly all Republicans — who are beginning to push for a loosening of restrictions, sooner rather than later. Some are chafing at the unilateral power governors of both parties have wielded in issuing stay-at-home orders and closing schools and businesses. But the partisan divide on the issue suggests that, like nearly everything else in American politics, the movement has a lot to do with President Donald Trump.
"I imagine that those who are most critical of aggressive state action [are] people who tend to be very supportive of whatever position President Trump is taking," said John Weingart, associate director of the Eagleton Institute of Politics at Rutgers University.
Weingart noted that some GOP legislators may be motivated by their animus toward big government, but added, "I don't see a consistent political philosophy as much as responding to the party that controls the White House."
Trump has been agitating to reopen the country by May 1, insisting several days ago that he, not governors, had the power to do so. But that brought pushback from governors of both parties who said that power belongs to the states. "We don't have a king — we have a president," said New York Gov. Andrew Cuomo, a Democrat. Trump later backed off, saying he would work with governors.
Dr. Anthony Fauci, the government's top infectious disease expert, has cautioned that the country does not yet have the testing and tracing procedures needed to begin reopening the nation's economy. Fauci told the Associated Press that a May 1 target is "a bit overly optimistic" for many areas of the country.
Meanwhile, in many states the pressure on governors to reopen the economy is growing.
In Michigan, about 300,000 Facebook users joined a group calling for the state to reopen. Michigan Republicans including Senate Majority Leader Mike Shirkey and House Speaker Lee Chatfield also took issue with some of the businesses closed by Gov. Gretchen Whitmer, a Democrat. Why, they asked, are marijuana dispensaries open while lawn care businesses must remain closed?
Pennsylvania state Sen. Scott Martin, a Republican, called for all three branches of the state government to work together on the recovery plan. He insisted he was not motivated by partisan politics or a desire to undermine Democratic Gov. Tom Wolf.
"If we wanted that, we could just as easily create our own task force headed entirely by Republican leaders to criticize every decision the governor makes," he said in a statement. "Instead, we are seeking a cooperative, bipartisan approach … to get our state back to work."
Martin also said he and other lawmakers are closer to Pennsylvanians and the governor could benefit from their knowledge. The state Senate will soon consider legislation calling for a task force on reopening made up of lawmakers from the state House and Senate.
"It's frustrating that he's able to work with other states but not willing to work cooperatively with all three branches of government in focusing on recovery for Pennsylvania," Martin said, referring to Wolf's participation in a group of Northeast governors who are coordinating on loosening restrictions.
Late Wednesday, the Republican-controlled Pennsylvania Senate approved a House-passed bill that would redefine "essential businesses," allowing a significant number of them to reopen as long as they adhere to social distancing guidelines and other safety precautions recommended by the U.S. Centers for Disease Control and Prevention. Wolf has not said whether he will sign it, but told local reporters "if we don't do this right, the economy is going to be in worse shape than it is now." Republicans do not have enough votes to override a veto without Democratic support.
In Kansas, Democratic Gov. Laura Kelly ended up suing the Republican-controlled legislative council after it revoked her executive order to limit Easter gatherings. The state Supreme Court ruled in her favor, saying the council overstepped.
And in Minnesota, the top-ranking Republican in the state Senate has spoken out against Democratic Gov. Tim Walz's decision to extend the state's stay-at-home order.
"I do not approve of the Governor's unilateral decision to continue the order to shelter at home until May 4th," Senate Majority Leader Paul Gazelka tweeted. "We have to get on with our lives."
Sen. Jim Abeler, another Republican, piled on. "Many should have never been closed in the first place," he tweeted. "Tragically some of those are gone for good. Unnecessary collateral damage in the Covid War."
Ohio Gov. DeWine said he's also frustrated with the economic toll of the crisis. But he noted that it wouldn't help the economy if the state opened up businesses and people were still too afraid to go out.
"We have to be as deliberate and careful about getting out of this as we were when we had to make the decision to close things down. This is frankly much more difficult," he said at a news conference this week. He expressed relief that the cases, hospitalizations and deaths were less than initially predicted and attributed that to social distancing.
"Thank God the numbers are better than the modeling," DeWine said. "The scariest numbers were based on … basically doing nothing."
JoyAnna Hopper, a politics professor at Sewanee, the University of the South, said she isn't surprised that state lawmakers are beginning to push for the closures to end, since many of them are hearing complaints from their constituents. The risk, she said, is that the opposition will undermine the effectiveness of the steps that governors have taken.
"When you have a state legislator saying, 'It's time to be over now,' and governors still trying to contain the situation, it leads to a legitimacy problem," she said in a phone interview. "As we know from health officials, people have to be taking these recommendations seriously. I see the incentive and why you are seeing the conflict between governors and legislators, but I do think it's problematic."
It's not just politicians who are protesting the shutdowns. People demonstrating outside the Ohio Capitol building during one of DeWine's news conferences last week could be heard shouting "Open Ohio" and "O-H-I-O, Acton's got to go!" over the official comments of health department director Dr. Amy Acton and DeWine.
And in Massachusetts, a group of recreational marijuana dealers sued Gov. Charlie Baker, a Republican, saying the forced closure of their businesses would drive potential customers to the illegal market. Baker was unsympathetic, telling reporters he was more interested in keeping out Bay State visitors in search of marijuana than he was in reopening the business. He called the idea a "nonstarter."
Jennifer Nicoll Victor, a political science professor at George Mason University in Virginia, said the emergency powers wielded by governors have a basis in history if not in codified law. The problem, she said, is that Americans really don't like to be told what to do.
"What governors and mayors are trying to do right now is side with security in the name of public health," she said. "Americans do not give up freedoms easily, nicely or politely most of the time. That's what most of the pushback is about."