Stateline
Coronavirus and the States: Governors Coalesce to Reopen on Their Terms; Budgets Look Increasingly Bleak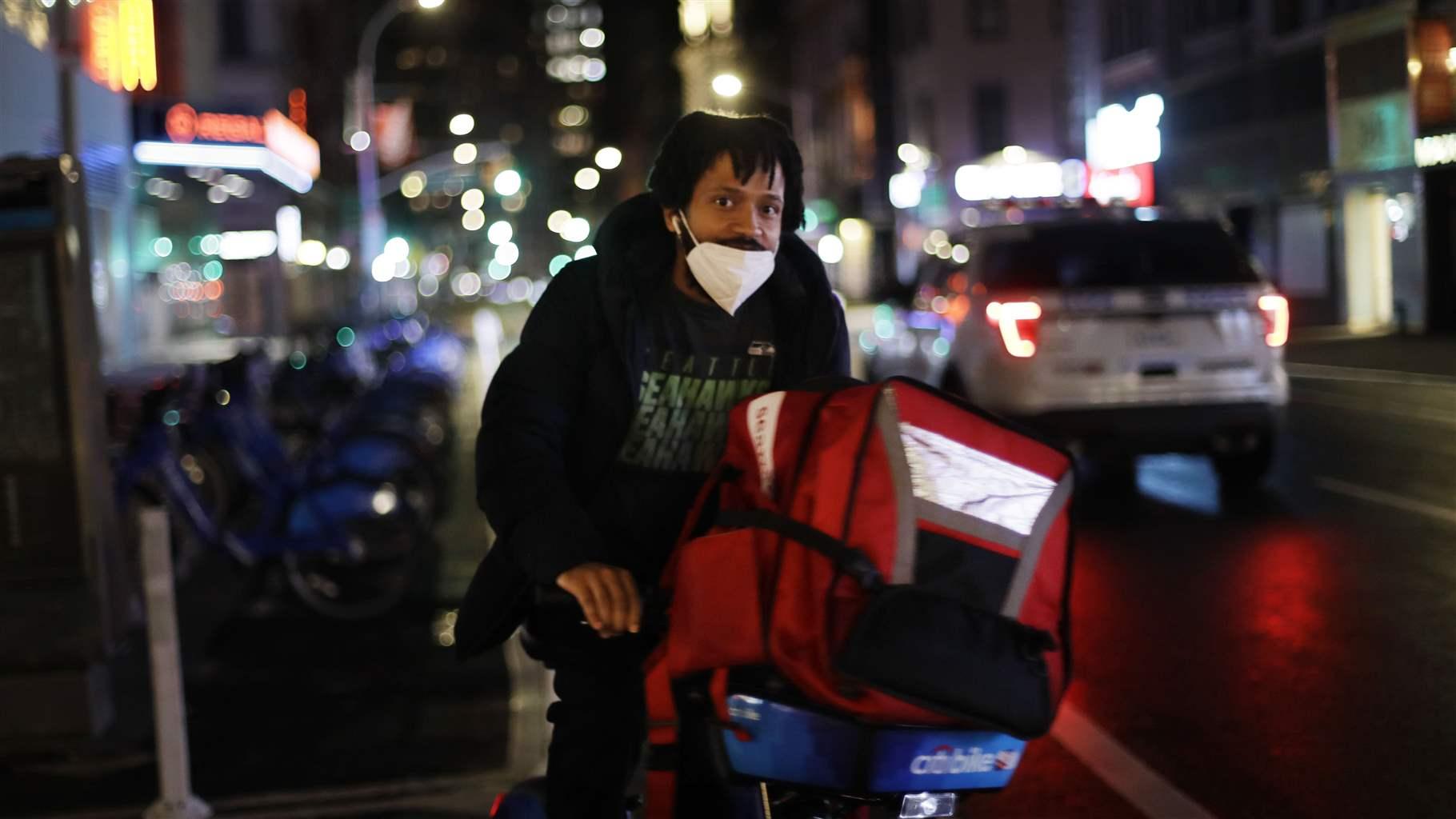 Read Stateline coverage of the latest state action on coronavirus.
Absent a coherent U.S. plan, governors in at least two regions of the country — the Northeast and the Pacific West — this week formed multistate consortiums to coordinate their economic reopening and continuing response to the coronavirus epidemic.
The governors of Connecticut, Delaware, Massachusetts, New Jersey, New York, Pennsylvania and Rhode Island — all Democrats except Massachusetts Gov. Charlie Baker — formed a working group to consider how and when to reopen the regional economy. Democratic New York Gov. Andrew Cuomo, who spearheaded the effort, said decisions will be based on both economic and health concerns.
"Let's be smart, and let's be cooperative," Cuomo said.
Washington Gov. Jay Inslee, California Gov. Gavin Newsom and Oregon Gov. Kate Brown, all Democrats, announced in a joint statement their agreement on how to reopen their economies and control COVID-19.
The governors, who have taken the lead on shutting down their states and securing medical supplies, refuted President Donald Trump's assertion that it was his decision on when and how to reopen the country.
"Seeing how we had the responsibility for closing it down, I think we have the primary responsibility for opening it up," said Pennsylvania Gov. Tom Wolf, a Democrat, in a joint news conference with the other East Coast governors.
The Western governors came up with four principles to guide their efforts:
Protect vulnerable populations;
Ready facilities to care for those who get sick;
Lessen the indirect impacts of the virus on disadvantaged communities;
And create a system for testing, tracking and isolating those with the disease.
"COVID-19 doesn't follow state or national boundaries," the Western governors said in their statement. "It will take every level of government, working together, and a full picture of what's happening on the ground."
New Jersey Gov. Phil Murphy said in a conference call with reporters that none of the efforts would be swift or easy, because the states are still fighting the virus even as they plan for the future.
"The house is still on fire," said Murphy, a Democrat. "We still have to put the fire out, but we do have to begin putting in the pieces of the puzzle that we know we're going to need ... to make sure this doesn't reignite."
Several governors on the East Coast noted that they share major roadways such as Interstate 95, as well as workforces, with residents of one state commonly commuting into another for jobs.
Rhode Island Gov. Gina Raimondo, another Democrat, said in announcing the agreement that she doesn't want to "keep people out of work one day longer than necessary. However, we need to do this safely."
"Governors are the ones who have been showing great leadership to keep our citizens safe," Raimondo said. "This virus doesn't care about state borders, and the response shouldn't either."
Testing, Critical to Reopening, Still Slow and Uneven Across States
President Donald Trump's push to reopen the economy will depend on widespread testing.
The administration's testing czar, U.S. Public Health Service Admiral Brett Giroir, said the country will be in the "ballpark" of having enough testing to reopen next month. But health experts say laboratories that already are stretched thin would have to process many times more tests than they're currently handling to safely lift restrictions.
Experts are looking ahead to antibody tests, which show who has immunity to the coronavirus, as a key tool to reopening society. But the availability and accuracy of those tests is a concern.
Meanwhile, testing for active infections remains a struggle. A testing site near Miami quickly reached capacity after age restrictions were lifted, while a luxury private island nearby has purchased thousands of its own tests. Elsewhere in Florida, the National Guard is visiting dozens of nursing homes to test residents and staff.
New York City is planning to buy 100,000 tests a week from local and Indiana contractors, the first "truly reliable major supply of testing," according to Democratic Mayor Bill de Blasio.
Meanwhile, Rite Aid is opening drive-thru testing sites in seven states.
Confronting Bleak Projections, States Ask Feds for $500B
State leaders are asking Congress for half a trillion dollars in additional funding to fight tax revenue declines as businesses shut their doors and workers lose jobs and income.
Without federal help, states may have to cut "critically important services," Maryland Gov. Larry Hogan, a Republican, and New York Gov. Andrew Cuomo, a Democrat, said in a National Governors Association statement.
The governors also asked Congress to let states use $150 billion in previously approved federal aid for states, cities and tribal governments to fill revenue gaps. The money was authorized to help governments fight the coronavirus pandemic.
Almost 200 unions, left-leaning groups and state representatives also sent Congress a letter calling for $500 billion in new federal funding for states, as well as other new spending.
The calls for additional federal aid come as congressional leaders negotiate a new economic rescue package. Democrats have called for including $150 billion in additional aid for state and local governments – a third of what governors have requested – while Republicans want to include only additional loan assistance for small businesses.
As federal lawmakers deliberate, states and cities face increasingly grim budget shortfalls.
New York state lawmakers expect tax revenue to drop by $10 billion. In Colorado, lawmakers anticipate a drop of up to $3 billion for 2020-21.
In Arizona, budget forecasters are estimating more than a $1 billion shortfall for the coming year, while in Pennsylvania they're estimating a drop of up to $3.7 billion over the next 15 months.
Energy-dependent states, such as Wyoming and Alaska, face an even bleaker outlook as oil prices plummet and the coal industry continues to struggle.
Wyoming revenue could fall between $555 million and $2.8 billion over the next two years, according to a memo to lawmakers obtained by WyoFile, a nonprofit news service. The worst-case scenario figure is comparable to all state government spending over that period, WyoFile reported.
State leaders already are dipping into rainy-day funds and budget reserves to balance their budgets. Some governors have announced hiring freezes and begun advising state agencies to rein in their spending.
And deeper budget cuts, the kind the typical resident will feel, may be on the way.
"I hope they don't feel it to the extent that it compromises public safety or vital safety net programs," Colorado state Sen. Bob Rankin, a Republican, told the Denver Post. "But I'm certainly concerned about education, how well we support our schools. I don't see additional general fund money going to transportation. Maybe we'll have a slowdown on new road construction."
Higher Education Braces for a Budget Crisis
Public colleges and universities also are facing a budget crisis as they stop in-person classes for the spring and brace for potential enrollment declines in the fall and state budget cuts.
Missouri Gov. Mike Parson, a Republican, already has announced about a $61.3 million cut in four-year college funding and a $11.6 million cut in community college funding for fiscal 2020.
Some institutions, such as Indiana University and the University of Alabama system, are borrowing money to prepare for budget shortfalls. Others, such as the University of Minnesota, Twin Cities, have announced hiring freezes.
And colleges, like states, are asking Congress for help. Last week the American Council on Education, a Washington, D.C.-based advocacy group, sent lawmakers letters requesting $46.6 billion in emergency aid for colleges and students.
The council and other higher education organizations that signed on to the letter said that enrollments for next year could drop by 15% and that colleges may need to spend more money on financial aid as job losses spike.
Many colleges shouldered additional costs this spring when they ceased in-person instruction and told students to go home. The University of Colorado system, for instance, has spent $44 million on student housing and dining refunds and pay for hourly and student workers.
Although state higher education funding has risen nationally in recent years, per-student funding still hasn't returned to pre-recession levels, according to the Boulder, Colorado-based State Higher Education Executive Officers Association.
Between 2008 and 2012, appropriations dropped by almost a quarter, the group has found. Many public colleges and universities responded by raising tuition and fees.
Stateline staff writers Alex Brown and Sophie Quinton contributed to this report.