Stateline
Nursing Home Coronavirus Rules Provoke Backlash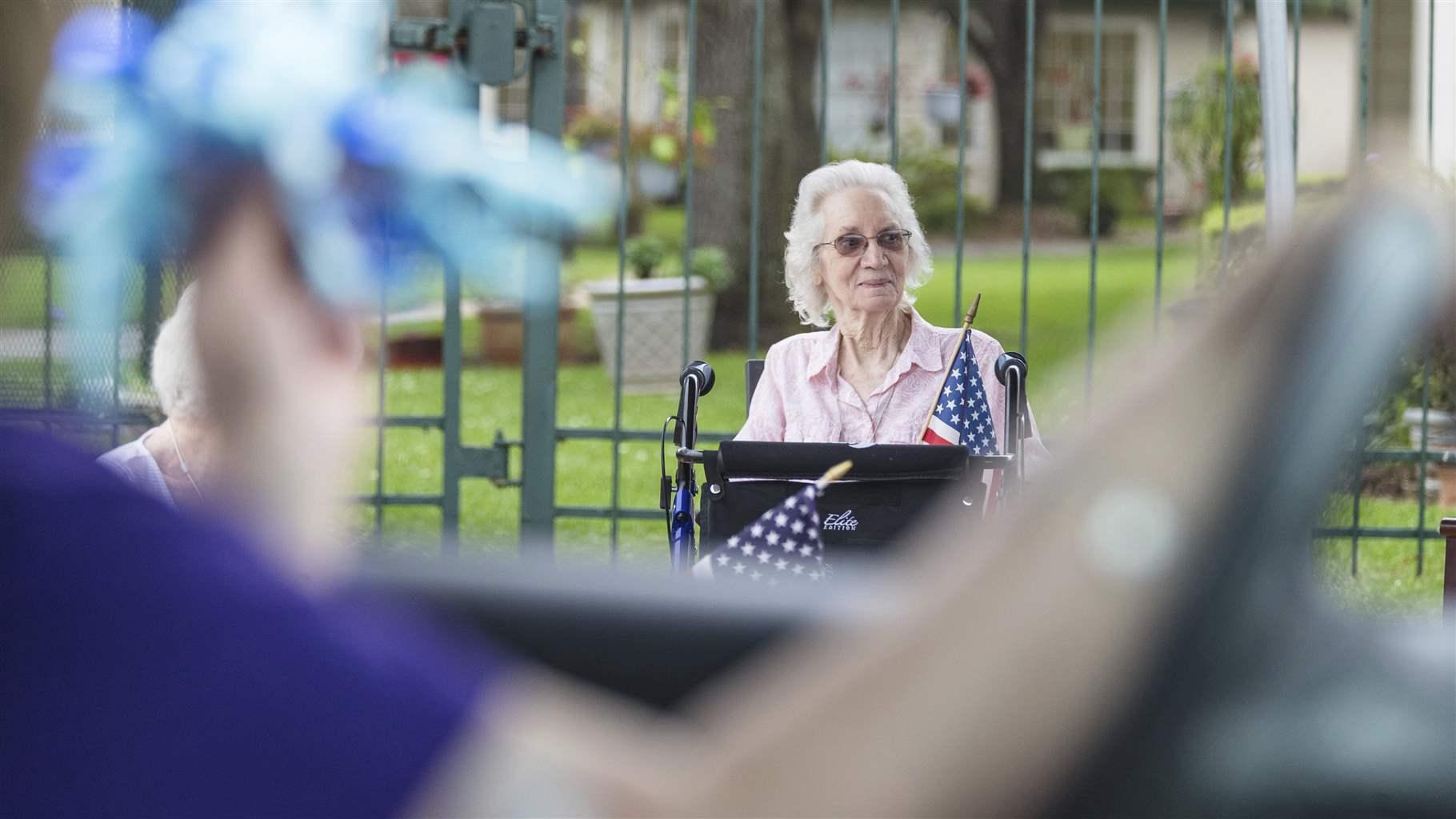 Read Stateline coverage of the latest state action on coronavirus.
The coronavirus death toll has been staggering at long-term care and senior housing facilities.
At least 37 people died when the virus spread at a Washington state long-term care facility for seniors. There have been dozens of cases and at least 18 deaths at one Maryland nursing home. And at least seven people died at a Vermont rehabilitation center, one of several such clusters in the state that forced officials to change their tactics.
"Initially we were being reactive," said Vermont Deputy Health Commissioner Tracy Dolan. "So if there was a case, we would talk to the nursing home, possibly go in, and help them think through how to prevent outbreaks."
Vermont public health officials soon began helping nursing homes to screen residents and staff, restrict visitors, isolate residents and create coronavirus-only units.
"Now we've got plans all over the state," Dolan added. "If we have a facility at risk like that we'll be ready."
As states have stepped in, they've adopted different strategies on releasing the names of affected facilities, restricting visitors and forcing facilities to take infected patients. Advocates worry that some of these new policies are harming the very patients they are intended to protect.
For example, states such as Massachusetts and Texas are citing patient health and safety in their refusal to release the names of facilities with positive cases.
And some advocates argue that early federal guidance from the Centers for Medicare and Medicaid Services (CMS) prompted some assisted-living facilities to limit transparency and visitor access. On March 13, CMS directed nursing homes to restrict group activities as well as visitors and nonessential workers.
As the coronavirus crisis continues, it's unclear how long policies intended to be temporary will stay in effect.
"What are we doing today that may be permanently abridging the rights of people in nursing home facilities?" said Elaine Ryan, AARP's vice president of state advocacy and strategy integration.
Long-term care facilities, including nursing homes, assisted-living facilities and other senior housing, are extremely vulnerable to virus transmission. Residents live in close quarters and are at high risk of developing complications from the coronavirus given their advanced age, weakened immune systems and increased likelihood of underlying conditions.
Nationwide, at least 450 nursing home residents have died from the coronavirus, according to an Associated Press analysis.
"Many of the challenges we're identifying right now are long-standing and COVID is adding to those challenges," said Kris Ehresmann, Minnesota infectious disease division director and head of the state operations branch of COVID-19 response.
Visitor Restrictions
Many states have restricted nursing home visitors, but advocates worry some rules may be too strict.
While assisted-living facilities are state regulated, they must follow some federal regulations, noted Cheryl Hennen, Minnesota state ombudsman for long-term care. CMS coronavirus guidelines say that "facilities should restrict visitation of all visitors and nonessential health care personnel, except for certain compassionate care situations, such as an end-of-life situation."
But some facilities are restricting visitation even at the end of life, a stance that is leading to devastating situations, Hennen said.
The family of a woman in hospice contacted Hennen's office because they were not allowed to visit her before she died, Hennen recalled. The family requested to view her body before it was sent to cremation. "That was denied, so this family did not get to see their mother at all," Hennen said.
"Sometimes what ends up happening is people respond in ways that aren't necessarily based on our guidance, but are based on the fear that exists for everyone," said Minnesota's Ehresmann.
Hennen recommended safety precautions like pre-screening visitors for symptoms of coronavirus at the entrance and limiting the spaces visitors occupy to allow for certain personal visits.
The restrictions raise concerns for the well-being of residents. This past winter, a man who was isolated during a flu outbreak at his facility attempted suicide, Hennen said.
"I think we need to be aware of how the human spirit is affected when you are strictly isolated," Hennen said.
At the other end of the spectrum, several advocacy organizations worry states will emulate an order from the New York Department of Health last month that requires nursing homes to admit clients even if they have a confirmed or suspected case of COVID-19.
Hospitals are under pressure to discharge recovering patients to free up beds for a surge in coronavirus cases, but some nursing homes don't want to take those patients out of fear they may spread the virus and because they're ill-equipped to provide adequate care.
"This is a short-term and short-sighted solution that will only add to the surge in COVID-19 patients that require hospital care," the American Health Care Association and others said in a statement.
Segregating Patients
Several long-term care and senior advocacy groups agree that staff and patients who test positive should be segregated from the general population. CMS and states have issued directives to designate COVID-19 floors and wings. Residents should be moved within nursing homes to create the isolated spaces and keep residents safe, regardless of COVID-19 status, the rules say.
Democratic Massachusetts Attorney General Maura Healey is launching an investigation into a deadly outbreak in Holyoke Soldiers' Home, where at least 32 veterans have died. Her office wants to "find out what went wrong at this facility and determine if legal action is warranted," Healey said.
The U.S. Attorney's Office for Massachusetts and the Department of Justice's Civil Rights Division opened an investigation into the home Friday.
In Massachusetts and some other states, people are being moved to new facilities based on their COVID-19 status, said Lori Smetanka, executive director of National Consumer Voice for Quality Long-Term Care.
"That can be traumatic," Smetanka said. "They are moving quickly. Their belongings may not go with them, they don't understand where they are going. Their families may not be informed."
Any moves should aim to minimize trauma, according to Smetanka and other advocates. People should understand why they're being transferred.
Those in secure dementia care units should be among the last to be moved, said Hennen, Minnesota's ombudsman.
"It is jarring enough to go from home to hospital to a nursing home," said AARP's Ryan, "but then being moved multiple times with no providers and different staff — that's debilitating to individuals as well."
While it's important to set up alternative sites to care for people who test positive, in Minnesota, some people are not being returned to their facilities once they recover, Hennen said. If a resident is asymptomatic, they should be readmitted to their facility if they can be safely quarantined, even if the facility isn't accepting new admissions, Hennen said.
"Keep in mind that there is law that prohibits anyone from being transferred or discharged for retaliatory reasons," Hennen said.
In response to concerns about readmission, Minnesota is considering a step-down facility, which can provide an intermediate level of care to recovering patients and assist with admissions, Ehresmann said.
In Vermont, it's too soon to say how facilities may allow recovered patients to re-enter their usual spaces, Dolan said. Common areas are shut down, and facilities are keeping people in their own zones.
Lack of Transparency
Some states, such as Texas and Massachusetts, aren't releasing the names of the facilities with positive cases. In Massachusetts, the superintendent of the Holyoke Soldiers' Home said he alerted state officials to clusters in March, and that early requests for National Guard medical support were denied.
"There's no transparency," Ryan said. "People have no idea whether or not the facility their loved one is in actually has any cases and there's no public requirement to make that information known."
After pushback from families and elder advocates, Minnesota released the names of facilities with more than 10 residents that have cases, but it's considering reversing its decision, Ehresmann said. At least 79 long-term care facilities in Minnesota have COVID-19 cases, including 156 resident cases and 53 health care workers, Ehresmann said.
Minnesota law prohibits the state from providing information that could identify specific people. Officials wanted facilities to remain focused on resident care. "We didn't want this to become a media show," Ehresmann said.
But releasing facility names sometimes has backfired. "Staff have quit from facilities because they were listed; we've had people harassed by the public," Ehresmann said. "We've had the Postal Service refuse to deliver mail."
As states continue to battle the spread, repeating public health messages has helped to radically change human behavior, said Vermont's Dolan. She hopes that when things get back to normal, this experience inspires systemic health care change.
"We're in a country where there's still a lot of haves and have-nots in terms of health access and equity," Dolan said. "I hope this makes people pause and say, 'You know what, health equity matters. We need a different kind of system.'"
Deploying the National Guard
At least 21 states have called up the National Guard to help deal with the coronavirus. Georgia, Massachusetts and Maryland are among the states where the Guard is helping to stop the spread of the virus in nursing homes.
Earlier this week, Maryland Gov. Larry Hogan, a Republican, announced statewide strike teams, coordinated efforts between the National Guard and state and local health workers, to bring triage, emergency care, supplies and equipment to overburdened nursing homes.
At least 90 nursing homes and long-term care facilities across the Old Line State have confirmed coronavirus cases or clusters. Nursing homes, local health departments and Maryland Department of Public Health experts can activate the strike teams, who tackle different angles.
Testing teams isolate confirmed and suspected cases. Assistance teams made up of National Guard members determine equipment and supply needs and triage patients. Clinical teams, including doctors and nurses from major hospital systems, provide on-site medical triage and stabilize residents to limit hospital transports.
"The goal here is not to replace a nursing home's medical and clinical team but to provide immediate support and assistance to help protect residents of these facilities," Hogan said this week. He touted the state's effort as a first.
"To my knowledge, this is a really unique approach," said Meagan Fitzpatrick, an assistant professor at the University of Maryland School of Medicine. "There's nobody better than the National Guard to handle the logistical side of it."
Stateline staff writer Michael Ollove contributed to this report.