Stateline
Many Small Businesses Cry for Help — Some Get It.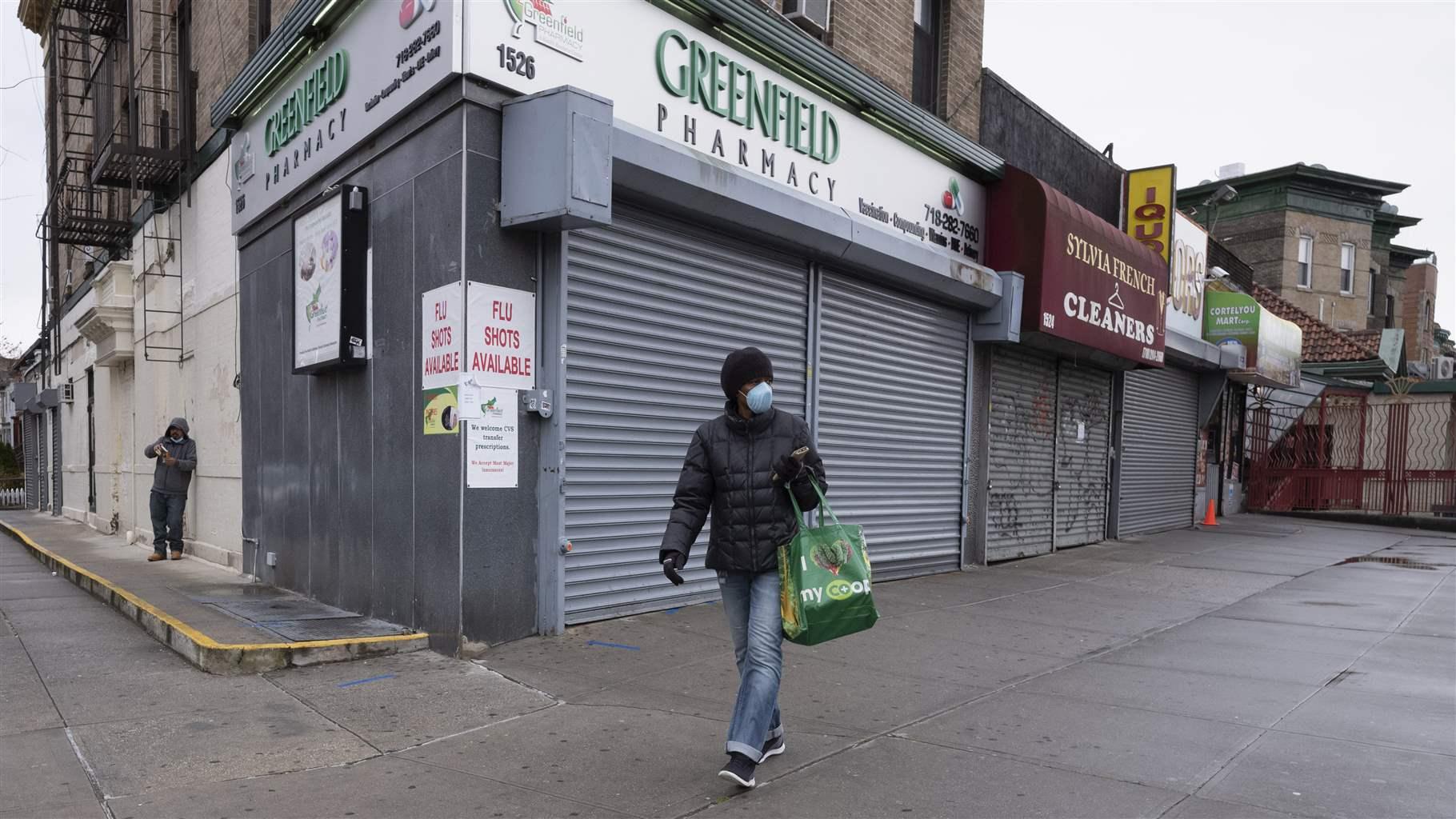 Read Stateline coverage of the latest state action on coronavirus.
Without an emergency loan from the city of Sacramento, Janie Ison's cafe likely would have closed.
"Our numbers were showing that we'd be closed by the end of April," Ison said. "And that scares the life out of a small business owner."
Ison's cafe, Steamers, has served coffee and pancakes, burgers and salads to tourists visiting Old Sacramento for over two decades. But county and state public health orders have restricted her 19-employee business to takeout and drained foot traffic in a once bustling area.
Ison was one of the lucky few. Despite an immediate flood of thousands of applicants, Sacramento could provide loans to only about a hundred employers.
Cities and states nationwide have launched loan and grant programs to help small-business owners who like Ison are struggling to keep their doors open amid a global pandemic. In many cases, state and local policymakers are trying to help the most vulnerable businesses stay afloat until they can access federal assistance.
But the money at their disposal is not enough to aid all the mom and pop shops, restaurants, salons and nonprofits that need help. And while Congress has approved $350 billion in forgivable U.S. Small Business Administration (SBA) loans for companies that retain their employees, that lifeline may reach some small businesses too late — and some not at all.
Small-business relief from cities, states, the private sector and the federal government has been met with a crush of applications, in a sign of small businesses in crisis.
Chicago last month launched a $100 million low-interest loan fund comprised of $25 million from the city and the rest from the private sector. On its first day, the fund received over 4,500 applications for a total of $150 million in loan assistance, according to Crain's Chicago Business, a business news service.
In Kansas City, Missouri, a privately funded $5 million low-interest loan program managed by AltCap, a community development financial institution, launched last week. It received more than 600 loan requests in 72 hours — a response that Ruben Alonso, president of AltCap, said was a little shocking.
"This is with the SBA programs having already been announced, and banks being able to lend," he said. "But we still got that type of response. And I think that's a reflection of how dire the situation is with these small businesses."
Economic development agencies in several states, including Connecticut, Michigan and Florida, also have freed up cash for small businesses hit hard by the pandemic.
Michigan's Economic Development Corporation, for instance, has created a $20 million fund that will be split between small grants (up to $10,000) and low-interest loans (between $50,000 and $200,000).
The Michigan fund can support some 1,100 companies, a fraction of the estimated 117,000 service businesses that Democratic Gov. Gretchen Whitmer has required to close to the public, said Josh Hundt, the corporation's chief business development officer and executive vice president.
His team knew the fund wouldn't reach everyone, he said, but wanted to get money out fast with the expectation that the federal government would later step in. "It was a first option, to be able to support some of our hardest-hit businesses," he said.
Federal Troubles
City leaders mostly set up relief funds to keep Main Street standbys afloat until they could get federal assistance, said Joseph Parilla, a fellow at the Metropolitan Policy Program at the Brookings Institution, a Washington, D.C.-based think tank.
"The funds were about stabilizing the businesses that couldn't go more than a month without some relief," he said.
Many small businesses were vulnerable even before the pandemic hit. About 29% of small businesses in a typical city are unprofitable and 47% have two weeks or less of cash on hand, according to a 2019 JPMorgan Chase & Co. study of Chase business banking clients.
And some businesses may not be able to take advantage of the huge new paycheck protection program the SBA launched last week.
"The paycheck protection program ... is far more generous, far more forward-leaning, than I've seen the federal government do in the past," said Sandy Baruah, president and CEO of the Detroit Regional Chamber of Commerce and a former SBA administrator under President George W. Bush. "But there are holes."
Some types of nonprofits, such as business leagues and social clubs, aren't eligible. Some small businesses don't bank with a Small Business Administration-approved lender, and banks appear to be putting their current clients first in line for the federal loans.
The Independent Restaurant Coalition, an advocacy group formed to help restaurants affected by the pandemic, has warned Congress that the loans won't work for its industry. And some small businesses have bad credit, incomplete financial records or other bookkeeping problems that may make it hard for them to qualify, lenders and business leaders say.
The $350 billion Congress approved for the program was parceled out rapidly. Banks and credit unions lent at least $5.4 billion on the program's first day, SBA Administrator Jovita Carranza tweeted. Members of Congress are mobilizing to authorize an additional $250 billion for the program this week.
Small-business owners also can apply for another SBA loan, an Economic Injury Disaster Loan advance of up to $10,000. The disaster loan advances don't have to be repaid, while the paycheck protection loans are forgiven if businesses keep their workers on their payroll for eight weeks and use the money to pay for payroll, rent, mortgage interest or utility bills.
Sacramento Struggles
Sacramento officials launched a $1 million zero-interest loan program March 18, a day before Democratic Gov. Gavin Newsom ordered Californians to stay at home. The response to the fund, like the response to others around the country, was immediate.
"Within the first half an hour, we had already received about 175 applications," said Leslie Fritzsche, senior economic development project manager for the city.
After two days and more than 1,400 applications (and thousands more drafts), Sacramento officials ended the application period.
The city announced the fund's 101 recipients, all businesses with 25 or fewer full-time employees, last week. They will receive loans of up to $25,000.
Ison's $12,160 loan will help her pay her bills and keep workers on the payroll until she gets federal assistance, she said. "We still have rent, we still have utilities, we still have vendors to pay."
Although it's thrown a lifeline to local small businesses, the city fund might not be replenished. There was initially talk of expanding the fund, Fritzsche said. "Then our fiscal situation became a little bit clearer, and that was money that was hard to allocate."
Cities and states will struggle to pay for new assistance as businesses stay closed and tax collections drop. Unlike the federal government, the vast majority of states have to balance their budgets, making it difficult for them to spend big on relief programs during an economic downturn.
Fritzsche noted that other sources of small-business aid have proliferated in the Sacramento area, from the federal loans to GoFundMe campaigns. And her team is referring applicants who didn't get a city loan to the Sacramento Asian Pacific Chamber of Commerce, which will connect those businesses with federal and state assistance.
The Sacramento Asian Pacific Chamber and the Sacramento Metro Chamber of Commerce also have launched a hotline for business owners speaking English, Spanish, Vietnamese or Mandarin.
The groups are trying to help business owners ensure they qualify for loans, said Amanda Blackwood, president and CEO of the metro chamber.
"If you don't have clean books, if you have tax problems, if you have credit issues — applying for a loan can be a challenging experience," she said.