Stateline
Border Checkpoints Discourage Travelers Between States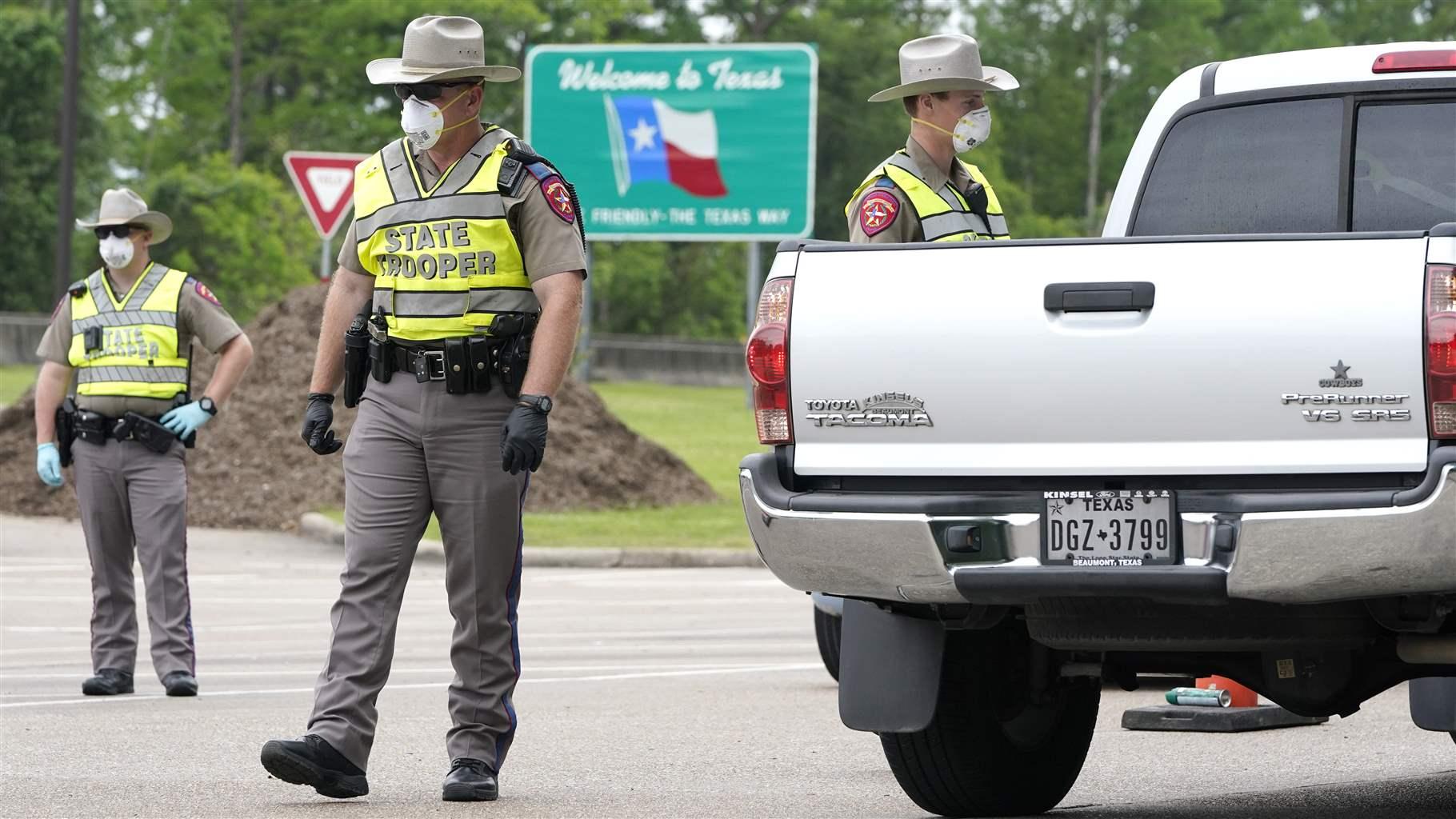 Read Stateline coverage of the latest state action on coronavirus.
Americans have long held the open road as integral to their freedom. But with the coronavirus pandemic, the once unthinkable has begun to happen: States have set up checkpoints to discourage other states' residents from crossing their borders.
Texas, Delaware, Florida and Rhode Island are stopping drivers with out-of-state license plates and ordering them to quarantine for two weeks, if they intend to stay in the state. Those entering the state for "essential" business reasons, such as commercial traffic, appear to be exempt.
Constitutionally, states cannot prohibit residents of another state from entering, but they can require quarantines or statements of purpose.
The coronavirus has prompted actions that were inconceivable mere weeks ago: States discouraging out-of-state tourists and the revenue they bring, governors warning their residents not to travel to neighboring states and law enforcement screening drivers at state borders.
Civil rights advocates have questioned the focus on travelers from other states.
"A two-week quarantine solely for the 'offense' of coming from out of state, and with no opportunity to contest this demand, is deeply troubling," Steven Brown, executive director of the ACLU in Rhode Island, said in a statement. "In addition, targeting out-of-staters like this can only promote a divisive 'us vs. them' mentality that encourages vilification of others."
Cam Winton, an attorney with the Minneapolis law firm Dorsey and Whitney who has been advising clients on dealing with state-imposed coronavirus rules, said stopping cars from other states at the border has constitutional problems. He speculated that there might not be legal challenges to the rules as the country fights the virus, but if the stoppages go on for many weeks, successful suits could be filed.
"If somebody wanted to challenge any of these state-by-state orders … they would go to court and say [the orders] run up against my federal constitutional rights by putting an undue burden on interstate commerce," he said in a phone interview. Another problem involves citizens of one state having the same rights and privileges as citizens of another state under Article IV, he said.
Delaware State Police officers have set up checkpoints near state borders (but not on Interstate highways) because, as a no-sales-tax state, residents of nearby Maryland and Pennsylvania like to shop there. But they are stopping drivers with license tags from other states. While many Delaware businesses are closed, groceries, liquor stories and home improvement stores are open.
"We are not looking to arrest people," said Delaware State Police spokesman Cpl. Michael Austin, who said officers' job is to advise people of the 14-day rule. "Pennsylvania has closed their liquor stores; ours have remained open. That is not essential — to come into Delaware to buy alcohol."
Austin said that after being advised of the quarantine rule, most drivers choose not to enter Delaware. But police are not tracking them down after advising them, so where they go is unknown.
Rhode Island Gov. Gina Raimondo, a Democrat, threatened to require New Yorkers attempting to come into her state to self-quarantine for 14 days, since New York has become the epicenter of the crisis. New York Gov. Andrew Cuomo, another Democrat, shot back instantly, threatening to sue her for singling out New Yorkers.
So Raimondo broadened the rule to require out-of-state residents entering the Ocean State to self-quarantine.
Texas also requires the 14-day quarantine, and state troopers are stopping cars from Louisiana to screen drivers, following an executive order from GOP Gov. Greg Abbott that targeted Louisiana but could include other states.
Florida instituted a two-week quarantine rule for all out-of-state visitors March 23 after New Yorkers began fleeing to Florida.
Along the Florida Keys, travelers with no legitimate business reason are prevented from entering the once welcoming islands.
Kentucky Gov. Andy Beshear, a Democrat, told state residents not to go to Tennessee, where less stringent initial steps were taken to fight the virus.
Constitutional law scholars differ over whether the federal government has the legal right to issue health and safety orders that supersede state directives involving travel or other policies. But President Donald Trump has declined to weigh in on the state actions or issue a national stay-at-home order.
"The 30,000 foot view of this is direct regulation of health and safety is primarily a state and local responsibility," said Ohio State University Law Professor Peter M. Shane. But he added that by declaring a national security emergency, Trump could invoke some broader powers that might have an impact on interstate travel.
Former U.S. Rep. Steve Israel, a New York Democrat who now heads Cornell University's Institute of Politics and Global Affairs, said "the federal government may not be able to entirely stop all movement between states but it could significantly reduce movement between states" by setting a tone that would discourage travel.
"There's a reason that pandemic has the root 'pan.' You can't control a pandemic within borders and within a state cap. For those who say that the states should respond uniquely to coronavirus conditions within their borders, they might as well say that every state should have its own policy on the wind; it's not going to work."
As of Wednesday afternoon, all but eight states had issued some kind of stay-at-home order. The governors of Arkansas, Iowa, Nebraska, North Dakota, Oklahoma, South Dakota, Utah and Wyoming were still holding out, despite pressure from in-state newspapers and politicians from other states.
At a news conference this week, Ohio Gov. Mike DeWine, a Republican, was asked about residents of Michigan and Kentucky crossing the Ohio border seeking medical help. The Detroit area has become a coronavirus hot spot.
DeWine and Dr. Amy Acton, director of the Ohio Department of Health, refused to fully address questions about whether residents from bordering Michigan would swarm Ohio hospitals.
"Ohio is not going to stop people from nearby states who usually get their health care at an Ohio clinic or medical practice from coming in," Acton told reporters, adding that she talked to Michigan officials who are aware that their state's surge may come first. "These are things that we are all taking into account."
Miriam Seifter, a professor at the University of Wisconsin Law School, said lack of coordination among states "undermines an effective response. But that doesn't mean we should trash federalism as a design."
"For all the limitations, it is enabling things to get done," she said in a FaceTime call from New Zealand where she is on a research leave.
And in some regions, bordering states have coordinated their efforts to the extent possible.
The Democratic governors of Washington and Oregon matched each other's policies, sometimes on the same day. On March 15, Washington Gov. Jay Inslee announced restrictions on eating at restaurants. The following day, Oregon Gov. Kate Brown announced a similar order. A week later, Inslee announced a stay-at-home order for Washingtonians. Brown did the same later that day.
The governors of New York, Connecticut and New Jersey, also Democrats, also synchronized their responses in some ways. In mid-March, they announced uniform rules to shrink crowd sizes and close some nonessential businesses. And they plan to coordinate the "restart" plans for their economies as the pandemic eases.
Winton, the attorney, said cooperation between states is "perfectly constitutional and an excellent way to do things. It achieves that goal of harmonization while working within the appropriate constitutional structure."