Stateline
Coronavirus and the States: Lawmakers OK Paid Leave; Online Senate Meeting Hacked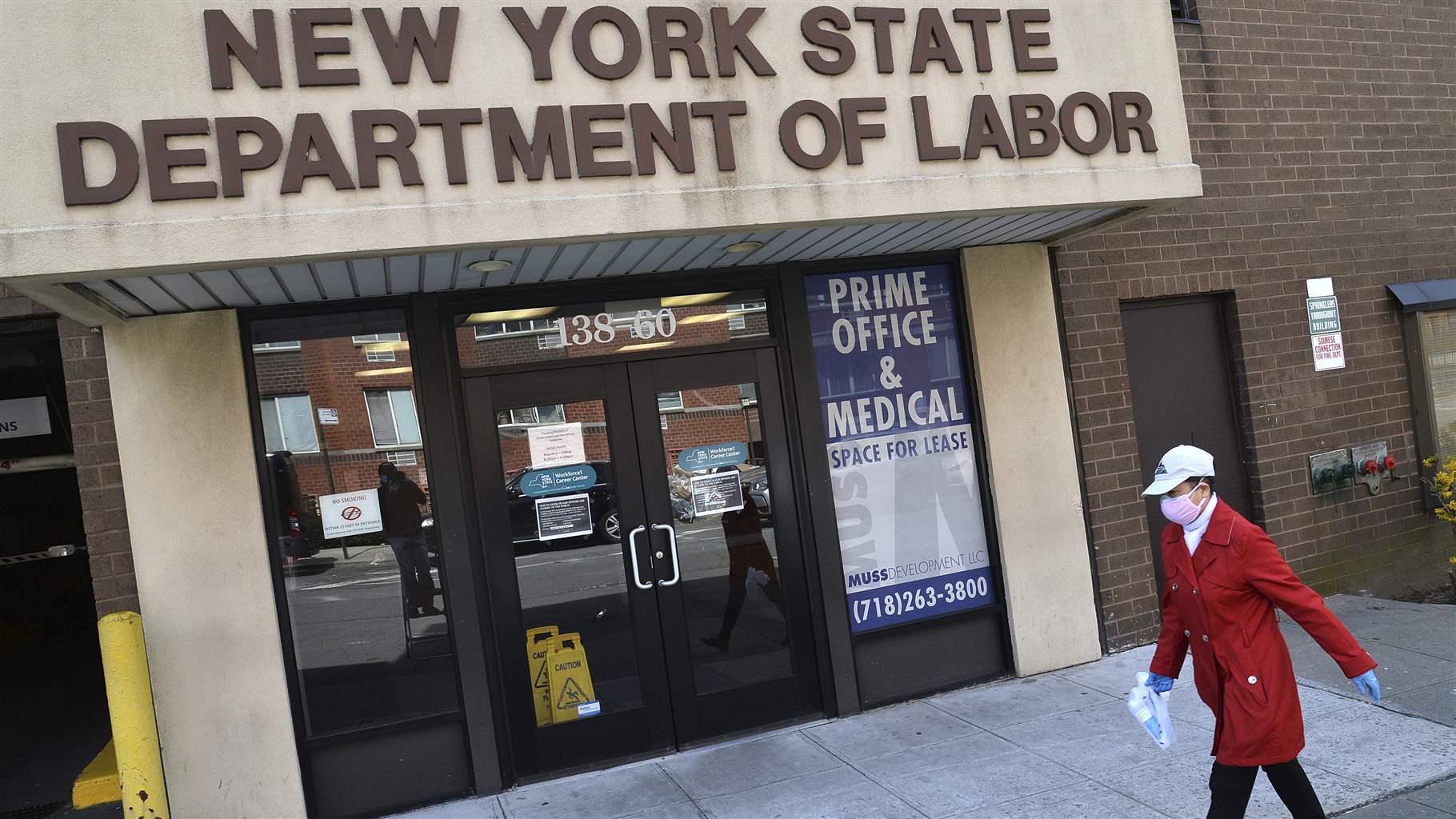 Read Stateline coverage of the latest state action on coronavirus.
In New York, after much deliberation, the legislature passed a $177 billion budget overnight. Because of the coronavirus, the measure authorizes a $10 billion spending cut to account for lost tax revenue.
While many of Democratic Gov. Andrew Cuomo's priorities were missing from the final bill, it did beef up a paid sick leave program, ban the sale of flavored e-cigarettes, cap insulin copayments at $100 a month and increase support for housing and services for the homeless.
It also creates a $3 billion bond act for environmental restoration and mitigation projects, closes a loophole to bar people who commit serious crimes in other states from getting a gun license in New York and prohibits gender-based pricing discrimination.
And it bans the distribution and use of Styrofoam single-use food containers and creates a new tax credit to foster the expansion of green economy businesses.
"It would have been very easy to say, 'Oh, this is an extraordinary year; let's just do the bare minimum and go home.' We did the opposite," Cuomo said in a statement. "We said there is a lot of need and there are a lot of issues that need to be addressed, and we stepped up to the plate and we got it done."
In Massachusetts, both legislative chambers passed a measure that extends state personal income tax filing until July 15, gives more flexibility to local governments to hold town meetings and finalize budgets, and allows restaurants to sell takeout beer and wine.
The two chambers are still moving through their own measures when it comes to other coronavirus-related issues.
House members passed a bill that would place a temporary moratorium on evictions and foreclosures for nonpayment until 30 days after the state of emergency ends. It also would prevent landlords from charging late fees or sending reports to credit rating agencies if tenants alert them within 30 days of a late payment.
The House also approved a measure that would temporarily prevent cities from shutting off essential utility services because of a resident's inability to pay and would redistribute money for the homeless to address their immediate needs.
"This public health emergency is a stark reminder that we must lift up the most vulnerable among us," Democratic House Speaker Bob DeLeo tweeted.
Senators passed a bill that would offer more unemployment insurance relief to low-income families and businesses. It would ensure that workers get 30 weeks of compensation if unemployment spikes and protect employers from higher contribution costs if their employees file claims.
"The Senate remains focused on taking quick action to help our workers, and this bipartisan bill is the latest in our series of efforts to do so," Democratic Senate President Karen Spilka said in a statement.
The Senate also advanced its own bill that would provide temporary protections for renters and homeowners.
And in Vermont, a Senate committee that was meeting remotely on Zoom and being livestreamed on YouTube was discussing school lunch access and the issues facing farmers during the pandemic when it was suddenly cut short after a hacker screenshared pornographic videos.
"We gotta stop, stop," Democratic state Sen. Chris Pearson, the committee's vice chairman, said. "We gotta abort the meeting."
Lack of Testing Data a Major Roadblock
While more coronavirus tests are being conducted by the day, the flow of data has emerged as a major roadblock.
The White House has data from only about half of the 1.3 million tests that have been conducted so far, according to Dr. Deborah Birx, a top official on the administration's coronavirus task force. But Birx said media reports saying that about 1 in 3 tests produce a false negative are not accurate, and testing has proven relatively reliable.
Health officials across the country say the patchwork testing system is yielding incomplete results. Large laboratories have withheld results from the digital databases used to coordinate care, Politico reported. Confirmed cases are sometimes sent back without contact information for the patient, and physicians are not always seeing results for their own patients.
One of the largest data gaps remains in California, where there are more pending tests than actual results. About 59,000 tests have not been processed, with some patients waiting 12 days for answers. Many people in Fresno have lacked access to tests or have had long wait times for results.
Gov. Gavin Newsom, a Democrat, said he is "hopeful" California's backlog will improve soon.
Scammers are further compromising the testing network. Louisville is investigating several unauthorized sites that collected patients' Social Security numbers and charged $200 for tests. It's unclear whether the marketing company running the sites was sending the test samples to labs and providing results for patients.
New point-of-care tests that provide quick results will be prioritized for the Indian Health Service and rural areas without access to laboratories, according to Birx.
Rapid-response tests deployed on Long Island for the first time drew long lines of cars.
Protocols are changing in some places as capacity expands. Rhode Island is now offering testing to all residents with COVID-19 symptoms, a change from the state's initial focus on priority patients. Pittsburgh has closed some of its stopgap drive-up sites as hospital testing capacity has expanded.
But capacity is still limited in many places. In Wyoming, the state laboratory will test samples only from patients in "priority categories," as concerns mount over the availability of supplies. Kentucky lags its neighbors in testing, though capacity at the state's labs is growing.
Stateline staff writer Alex Brown contributed to this report.