Stateline
Coronavirus and the States: Joblessness Slams the States that Responded Early; Testing Backlog Deprives States of Data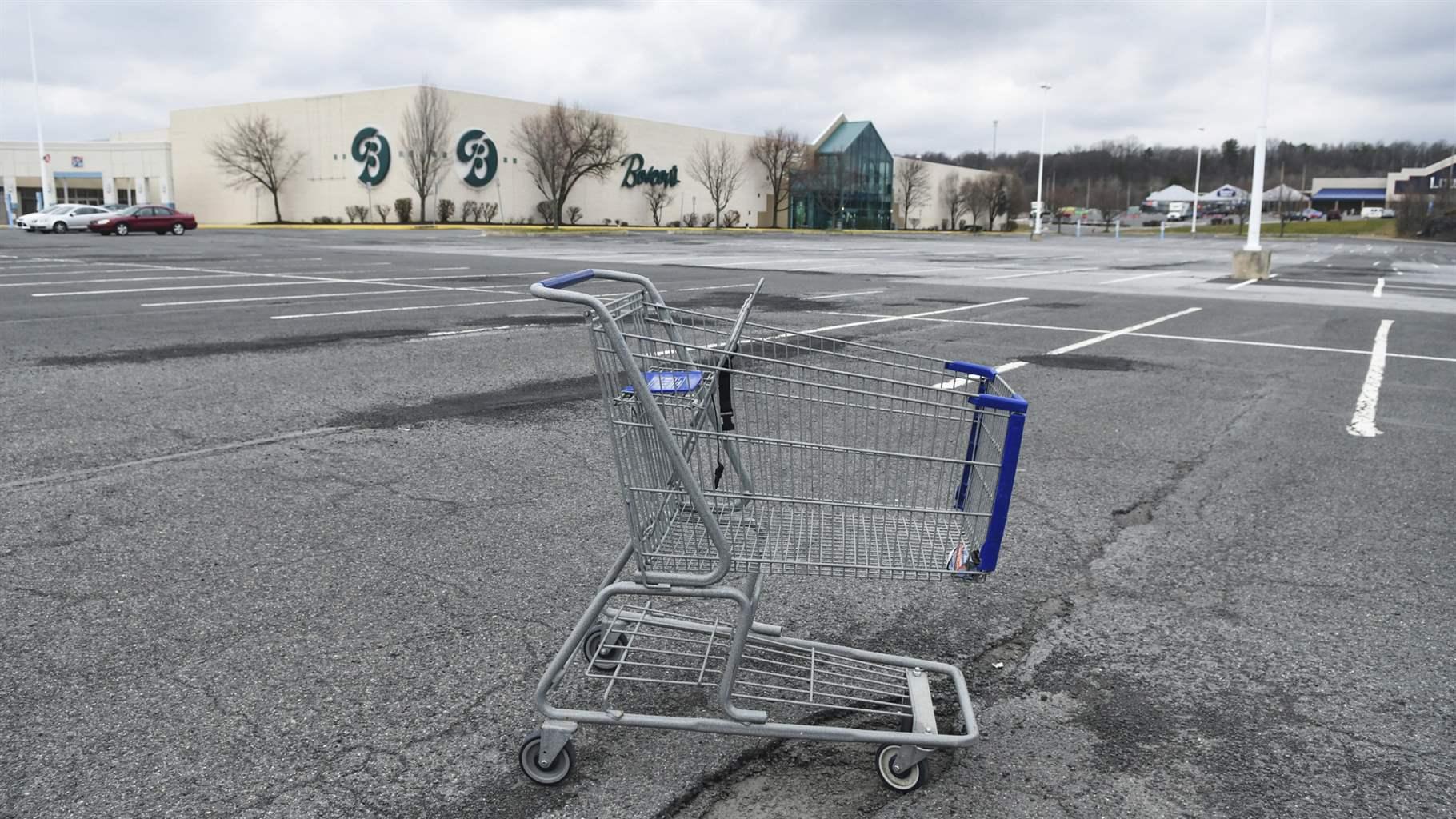 Read Stateline coverage of the latest state action on coronavirus.
The unemployment crisis that's left 10 million people newly jobless in the past two weeks is hitting the industrial Midwest and tourist meccas hardest, with more than 1 in 10 workers in Pennsylvania, Rhode Island and Nevada filing claims in the most recent late March results.
That was more than twice the rate of claims in New York and California, the original epicenters of the novel coronavirus, where there are more white-collar and tech jobs that can be done from home during the shutdown.
The least-affected states were mostly rural: West Virginia and South Dakota each saw about 2% of the workforce file jobless claims, though even that was a huge jump from hundreds to thousands of claims.
At least 10 million people across the country lost jobs in a two-week period, the biggest collapse of the job market ever, as economists predicted unemployment rates rivaling the Depression.
In Pennsylvania, almost 800,000 people filed jobless claims in the two weeks ending March 28, according to Department of Labor data released Thursday. That represented 13% of the state's 6.3 million workers, meaning an unemployment rate of at least 17% is possible, compared with 4.7% in February.
One reason Pennsylvania is taking bigger hits is that factory, construction, repair and other physical labor shuts down when stay-at-home orders paralyze much of the business.
"I do believe this is just about having a larger fraction of blue-collar workers," said Petra Todd, a labor economist at the University of Pennsylvania. "Tech workers in California are likely just working from home."
It's also about the timing of the shutdowns and the ability of states to process claims.
"Pennsylvania was one of the first and largest states to take action to save lives and stop the spread of COVID-19 with aggressive mitigation efforts," said Penny Ickes, communications director for the state Department of Labor & Industry. "Pennsylvania's claims system has not experienced any major system issues or outages."
The increase in jobless claims has been slower in Texas and Florida, both vulnerable because of blue-collar jobs and tourism, but both states resisted statewide stay-at-home policies until this week, which the data does not reflect. Both states saw about 3% of the workforce file claims in the most recent time period.
In a sign that the worst is yet to come, though, jobless claims overwhelmed Texas phone lines and websites after the stay-at-home order took effect.
According to a March Federal Reserve Bank of St. Louis study, almost half the nation's jobs are vulnerable to coronavirus shutdowns, especially blue-collar production and repair jobs, along with the service jobs that keep tourism states such as Nevada and Hawaii afloat.
Industrial states such as Ohio are seeing some hope in the businesses that are hiring, including "essential jobs, those we need for daily living — grocery stores, hospitals, gas stations, goods deliveries. We have seen advertisements from (those) businesses looking to hire workers," said Bret Crow, a spokesman for the Ohio Department of Job and Family Services. Ohio had one of the larger shares of layoffs since the crisis began, about 470,000 or 8% of the state's workforce.
California, while not seeing the biggest share of jobless, did have the largest number in the two- week period: more than 1 million. David Card, a labor economist at the University of California, Berkeley, said there's plenty of layoff pain there as well.
"Our area has a lot of tech workers who can work from home," Card said, "and a lot of service-related workers in restaurants and hotels that cannot."
States Vary in Approaches to Testing
While the U.S. is now testing 100,000 people a day for the novel coronavirus, experts say that isn't enough, as agencies turn people away and results trickle in. State and local public health laboratories have reached their capacity, and the backlog has led to problems in places like California, where two-thirds of those tested still don't know their results, according to USA Today.
A lab in New Jersey had a backlog of some 160,000 tests, with some patients waiting 10 days for results.
Officials disagreed about where to send the first batch of rapid-response tests produced by Abbott Laboratories. White House leaders hoped to send them to the South and rural states with few reported cases. Public health experts and leaders in struggling areas pleaded to bring them to hotspots.
Detroit became the first city to start using new 15-minute testing kits, offering quick results to the city's first responders and bus drivers.
Accuracy remains a worry: Public health experts said about 1 in 3 infected patients may get a false negative result.
A California company was under scrutiny from Congress and the Food and Drug Administration for claiming to offer at-home tests. The FDA says it has not approved any at-home tests.
While at-home tests aren't yet commercially available, Colorado's Summit County has partnered with an ambulance company to bring mobile testing to some residents. It's expected to reach about 15 people a day.
Meanwhile, medical centers in North Texas were among those that began testing antibodies, to determine whether patients may be immune.
More testing sites opened, including at Michigan State University and in South Florida, Houston, New Hampshire and Maryland.
Wisconsin Officials Sprint Toward Tuesday Primary
With five days until their presidential primary, Wisconsin election officials scrambled to fulfill more than 1 million absentee ballot requests and prepared for polling locations operated by the National Guard.
Contrary to other states across the country, Democratic Gov. Tony Evers and the Republican-backed state legislature have refused to delay Tuesday's election because of the COVID-19 outbreak — a decision that was lambasted by U.S. District Judge William Conley this week.
"The State of Wisconsin's Legislature and governor are not willing to step up and say there's a public health crisis and make it absolutely clear that we should not be allowing poll workers and voters to congregate on April 7," wrote Conley, who was nominated by President Barack Obama in 2009.
While Conley said he does not have the power to delay the primary, he may make certain changes to election law if he finds that many voters might have been disenfranchised. Instead of delaying the primary, Evers and Republican leaders have encouraged voters to cast absentee ballots.
The number of mail-in ballot requests far exceeds previous elections — in 2016, the state issued nearly 250,000. Election officials in the Badger State say they are encouraged by the number of mail-in ballot requests, seeing it as a sign that polling places will be less crowded and possibly prevent the spread of the novel coronavirus. However, a litany of concerns remain ahead of the April 7 primary.
Thursday was the last day for Wisconsinites to request an absentee ballot.
Meanwhile, election clerks are running out of envelopes and worry voters won't receive their ballots in time. Clerks must receive ballots by 8 p.m. Tuesday in order to legally count them.
Additionally, voters have had to contend with a state requirement to show valid identification before receiving the mail-in ballot.
Election officials still are preparing for in-person voting. Standing in their way, however, is a shortage of poll workers.
In Milwaukee, which needs 1,400 people to operate its polling locations, fewer than 400 have stepped up to serve during this election. Jurisdictions throughout the state have faced similar challenges. State officials hope the Wisconsin National Guard can help fill that gap. Members of the National Guard will wear civilian clothes at the polls.
Legislatures Pivot Quickly to Slimmer Budgets
State legislatures are struggling to deal with their budgets amid the economic havoc created by the pandemic.
Instead of approving a traditional two-year state budget, Kentucky lawmakers adopted a one-year, $11.4 billion plan that keeps spending essentially flat.
"We have no way to know how far this recession is going to go, how deep it will truly be and what it will mean to the coffers here in Frankfort," Republican House Budget Committee Chairman Steven Rudy said.
The budget, which had bipartisan support and now goes to Democratic Gov. Andy Beshear, does not increase school funding or give raises to teachers or state workers.
Most House members voted remotely by texting photos of their ballots on their phones. Many senators appeared in person, some wearing face masks, trying to distance themselves. Lawmakers intend to pass a new budget next year after the crisis is over.
In New York, legislators missed a deadline to pass their annual budget, but were trying to work out a tentative agreement that may end up cutting operating spending by about $10 billion to account for the expected tax revenue losses. Democratic Gov. Andrew Cuomo in January had asked for a $178 billion spending plan.
Lawmakers did agree to approve a $3 billion environmental bond act that voters would decide on in November and a ban on single-use polystyrene food containers. Most legislators voted remotely.
And in Utah, Republican Gov. Gary Herbert vetoed a series of bills, saying they "amend tax policy in a time of economic uncertainty."
Some of the measures created or extended tax credits for alternative fuels and energy systems and for special needs students.
"While the policy of those individual bills may be appropriate under normal circumstances, these are not normal circumstances," Herbert wrote to Senate President Stuart Adams and House Speaker Brad Wilson, both Republicans.
Stateline staff writers Alex Brown, Matt Vasilogambros and Jenni Bergal contributed to this report.