Stateline
Coronavirus and the States: Unaccompanied Minors Can Now Be Sent Home; Feds Relax Health Care Rules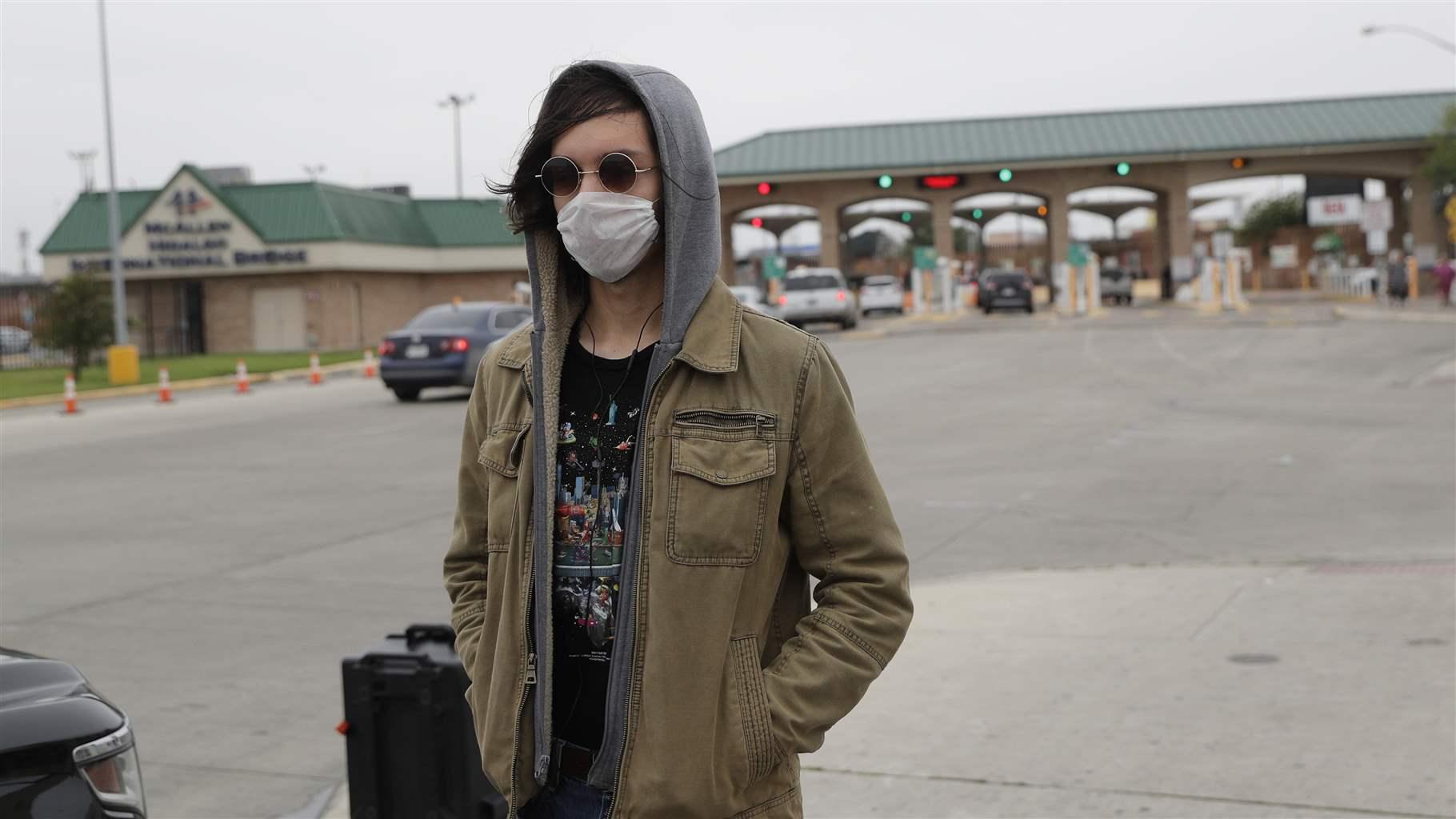 Read Stateline coverage of the latest state action on coronavirus.
As the COVID-19 crisis unfolds, the Trump administration has reversed long-established protections for children from Central America found alone at the border.
Unaccompanied children caught at the border may now be sent back to their home countries, despite a long-established policy that they be turned over to host families in the United States during court proceedings, according to U.S. Customs and Border Protection policy sent to Stateline.
The policy helped fuel a surge of Central American immigration dating back to the Obama administration as children fled gang violence in El Salvador, Guatemala and Honduras, often arriving alone to join mothers who had found work to support them in the United States. A 2008 law, enacted during the Bush administration, required that the children be transferred to U.S. homes to avoid putting them back into the hands of traffickers at the border.
Immigration advocates said the new policy, framed as a response to a March 20 order by the Centers for Disease Control and Prevention suspending travel from countries with coronavirus cases, is unfair to children seeking protection from violence.
"Sending back vulnerable children who are seeking refuge in the U.S. is not only a violation of the law, but inhumane," said Jennifer Anzardo Valdes, director of the children's legal program at Americans for Immigrant Justice, a Miami-based legal clinic.
Randy Capps, the director of research for U.S. programs at the nonpartisan Migration Policy Institute, said the new policy maintains that the CDC order invalidates protections under the 2008 law, a claim that will likely be settled in court.
The Center for Immigration Studies (CIS), which calls for lower levels of immigration, defended the border patrol policy.
"It's impossible for these illegal arrivals to be screened for infection by the coronavirus, so putting kids through the standard processing would risk transmission of the disease to agents, staff and other kids," said Jessica Vaughan, director of policy studies for CIS.
Federal Health Authorities Grant Greater Flexibility to States, Health Systems
Federal health authorities have given greater flexibility to states and health systems to meet the surge of COVID-19 patients, including allowing them to use non-hospital settings to treat cases, expanding the responsibilities of nurses and physician assistants and approving the use of telemedicine for dozens of medical services.
Previously, states had to apply for and receive permission from the Centers for Medicare and Medicaid Services to take such steps. The announcement relieves them of that administrative burden, enabling them to act immediately.
"This unprecedented temporary relaxation in regulation will help the healthcare system deal with patient surges by giving it tools and support to create non-traditional care sites and staff them quickly," CMS Administrator Seema Verma said in a statement announcing the policy change.
The announcement gives hospitals permission to use off-site facilities, such as ambulatory surgical centers, for medical services normally performed only in a hospital. It enables hospitals to use non-hospital facilities for both patient care and quarantine sites. It also enables hospitals to perform COVID-19 testing of patients in settings outside the hospital, including at drive-thru and other non-campus sites.
CMS also will allow reimbursement for ambulances to transport patients with acute medical needs to locations other than hospitals, including community health centers, doctor's offices, urgent care and ambulatory centers and facilities providing dialysis services.
CMS will allow hospitals to expand the responsibilities of non-physician medical providers to order tests and medications and perform other tasks that may have previously required a physician's orders.
The order also allows hospitals to increase support for their medical staffs such as by providing multiple daily meals, laundry for their personal clothing or childcare services.
Finally, CMS has approved an expanded list of telehealth medical services for which it would provide Medicare and Medicaid reimbursement at the same rate as in-person encounters, including visits with emergency rooms and remote monitoring of chronically ill patients in their homes.
Testing Companies Overwhelmed by Backlog
Although testing is now reaching about 100,000 people a day, results often are delayed, as the private companies that conduct most of the testing — particularly in California — are overwhelmed with a backlog of tests. The slow results are "delivering a heavily lagged view of the outbreak to decision makers," according to The Atlantic.
California has a backlog of more than 55,000 tests, and some counties have shown gaps in testing when compared with their counterparts.
Some hospitals in New York, the epicenter of the pandemic, still lack the capacity for reliable on-site testing, forcing them to send samples to labs and wait days for results.
More testing sites continue to open, including one at George Washington University Hospital in the nation's capital. National Guard personnel in Massachusetts will deploy seven mobile teams to provide on-site testing at nursing homes. California's Riverside County opened a third drive-thru site after a large jump in cases. Miami has dropped the age limit at one testing site to 45 after initially focusing on testing only seniors.
The private sector is quickly producing more testing options. The Food and Drug Administration gave emergency approval to a two-minute antibody test that can determine if someone has had the virus. Though it only identifies the virus in people who have been infected for several days, it is useful for finding those who have developed immunity.
This search for antibodies, known as serology testing, is "the root of almost every plan to restart society," according to a Washington Post report. But the deployment of millions of accurate blood-based tests will prove to be a major challenge.
Officials, Advocates Urge Pause in Grocery Shopping
City and state leaders, food security advocates and charity groups are urging people to pause their grocery shopping for the next few days so that low-income shoppers can get what they need.
It's the first of the month, which means the federal government is releasing funds for participants in the Special Supplemental Nutrition Program for Women, Infants, and Children (WIC). But the aisles of most grocery stores have been wiped clean of essentials such as infant formula, baby wipes, eggs, milk and bread.
There are restrictions on what WIC recipients can buy. If those products, which are typically identified with a sticker, are out of stock, WIC recipients can't swap them out for something else.
The National WIC Association, a nonprofit advocacy group, along with city and state officials in Florida, Minnesota, North Carolina, Texas and Washington are urging other shoppers to avoid grocery shopping from April 1-3, or at the very least, to refrain from purchasing items with a WIC-approved label.
Some states, such as New Jersey and Vermont, are expanding the list of items that can be substituted.
Legislators File Flood of Bills
Louisiana legislators introduced more than two dozen measures related to the outbreak when they reconvened at the Capitol for about an hour, before adjourning until a later date that hasn't been set.
About half of the lawmakers showed up, many wearing masks and gloves, and all practicing social distancing. They assembled because the state's Constitution requires that bills be read into the record by a certain date if they are to be considered during the session.
Among the bills they filed: providing workers' compensation to any essential workers disabled because they had coronavirus, temporarily prohibiting water and electric companies from disconnecting services for nonpayment and suspending standardized testing for students.
Other measures would require health insurance companies to cover COVID-19, give health care providers who render care to patients with the virus immunity from civil liability and temporarily suspend severance taxes on oil and natural gas industries and fees paid by operators of video poker draw operations.
The night before they met, lawmakers learned that one of their colleagues, Democratic state Rep. Ted James, had been hospitalized with coronavirus and pneumonia.
"I hope my constituents and the people of Louisiana look at my experience and understand that this virus does not know age, race, health or socioeconomic status," James, a 38-year-old African American from Baton Rouge, wrote in a statement to the public.
In Massachusetts, the House passed a measure that would extend the state personal income tax filing deadline to July 15, give more flexibility to local governments to conduct town meetings and finalize budgets, and allow restaurants to sell takeout beer and wine.
Another bill filed in the House would require insurance companies to pay restaurants that have policies that cover business interruptions.
In the Senate, a committee approved a measure that would temporarily stop evictions and foreclosures for renters and homeowners for nonpayment during the crisis.
Massachusetts legislators also have filed bills that would temporarily allow attorneys or paralegals in the state to notarize documents by video chat, expand unemployment insurance benefits and appropriate $23 million in relief payments to families, seniors and people with disabilities who are in deep poverty and struggling financially because of the epidemic.
And in Vermont, House Speaker Mitzi Johnson and Senate President Pro Tempore Tim Ashe, both Democrats, announced the creation of a Joint Small Business Solutions Task Force made up of legislators that would focus on "maximizing" assistance and resources for small businesses and contractors during the pandemic, according to VTDigger.
Stateline staff writers Alex Brown, Jenni Bergal, Michael Ollove and Teresa Wiltz contributed to this report.