Stateline
Coronavirus and the States: Plastic Bag Bans on Hold; Nuclear Plants Running Low on Gloves, Masks and Wipes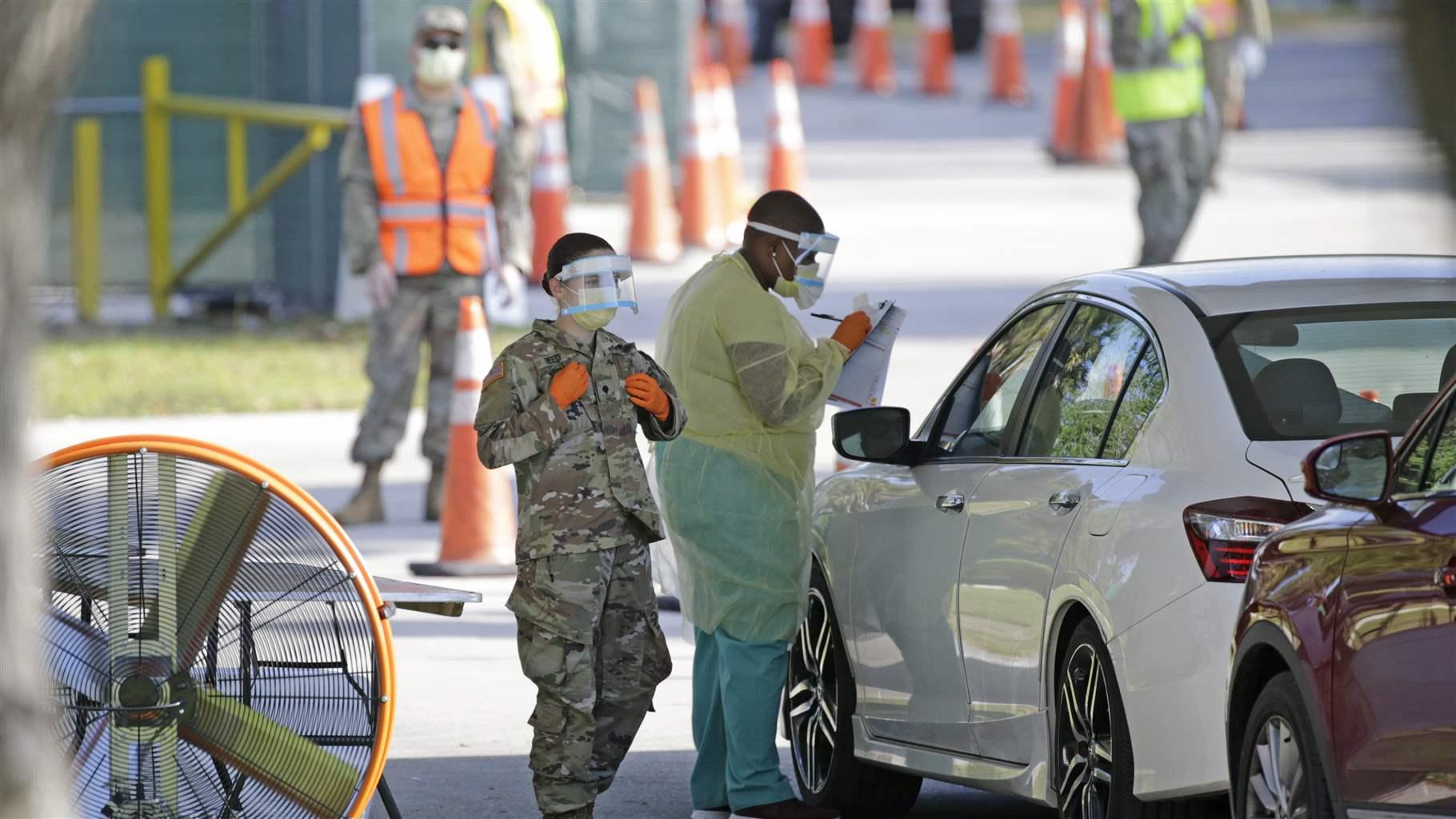 Read Stateline coverage of the latest state action on coronavirus.
Several states have put their plastic bag bans on hold or banned the use of reusable bags to stem the spread of the novel coronavirus.
The Plastic Industry Association has called state and city plastic bag bans "a public safety risk." Reusable bags, industry leaders claim, can spread the virus.
Scientific evidence of this is uncertain, however, as studies that link bacteria to reusable bags were funded by plastic and chemical manufacturers. Greenpeace USA called this recent effort by the plastic industry "cynical, selfish and opportunistic."
Eight states ban the use of single-use plastic bags — a growing trend in the United States. At least two of those states have now delayed their plastic bag bans out of caution.
New York's ban, signed by Democratic Gov. Andrew Cuomo last year, was supposed to go into effect March 1. That was pushed until May 15. In Maine, which last year banned single-used plastic bags, state lawmakers pushed their ban from April to next January.
New Hampshire and Massachusetts, which do not ban plastic bags, have banned reusable bags instead.
More Testing Sites Open
More testing sites opened throughout the nation, but many people still found it difficult to get tested.
Florida had serious concerns about its testing capacity. The state conducted 27,000 tests so far, just more than New York is testing each day. Health officials say that's not enough, especially given the state's high population of seniors.
Another mobile testing site is being built in Miami-Dade County, but it will be limited to patients 65 and older who are showing symptoms.
A woman in Florida who is in a medically induced coma with pneumonia in both lungs has waited 11 days without test results. Her story is likely one of many in Palm Beach County, which is conducting the fewest tests per capita of any major Florida county.
"It's completely unacceptable," Democratic state Rep. Emily Slosberg told the South Florida Sun Sentinel. "It's March 26, and Palm Beach County has no testing sites."
Drive-thru testing sites in Hillsborough County on Florida's Gulf Coast were overwhelmed with requests and stopped taking appointments.
Mississippi opened a pair of one-day-only tests sites Friday in areas with limited other testing options. In New Jersey, Burlington County opened a testing site but could see only 160 patients.
In California, Google has 1,000 volunteers working on sister company Verily's testing platform. Three more mobile testing sites opened in San Francisco, reserved for frontline workers and at-risk people.
Meanwhile, one pathologist warned states to expect a 10% to 15% rate of false negatives in their test results.
Nuclear Sites Could Run Out of Critical Supplies
Nuclear sites across the country might soon run out of gloves, masks and wipes. The U.S. Energy Department said the priority was to supply those items to health care workers and others on the frontline of the coronavirus epidemic.
That means thousands of nuclear power plant workers across the country may not have the protection needed to do their jobs. Nuclear Energy Institute CEO Maria Korsnick anticipated the shortage as early as last week, when she asked U.S. Energy Secretary Dan Brouillette for supplies and testing kits.
To be sure, not every plant expects to run out of masks. The Tennessee Valley Authority this week donated more than 50,000 masks to state emergency responders, according to spokeswoman Melinda Hunter.
Still, the TVA has worked to adapt to the crisis, including reducing power at some plants. One of its plants, Sequoyah, downsized its refueling crew from 1,000 to 800. No TVA worker had tested positive for COVID-19 as of Thursday.
Regulators also have been scrambling to adapt. The U.S. Nuclear Regulatory Commission will allow plants to operate with fewer workers on duty for longer hours, said Scott Burnell, a spokesman for the agency, in an email.
Environmental activists say now is not the time to cut corners and risk a nuclear accident. "An accident with a major release of radiation or the threat of it during this time of pandemic and social isolation would be a double whammy," said Don Safer, a member of the board of the Tennessee Environmental Council, which advocates for renewable energy. "A major evacuation now would be chaos."
Nuclear power plants operate in 35 states, and nearly two-thirds of Americans live within 50 miles of nuclear waste.
Waste Control Specialists, the company that operates a nuclear waste site in Andrews, Texas, employs more than a hundred people, according to spokesman Thomas Graham. "Our company is crucial to the local economy," Graham said, "especially when the regional economy already is hurting because of what's happening in the oil and gas industry."
State Legislators Pass Aid Measures
Using private conference calls to protect lawmakers' health, the Minnesota legislature approved a massive $330 million package in one day and sent it to Democratic Gov. Tim Walz.
The biggest chunk is $200 million for state agencies. The measure also includes $30 million in grants to child care centers, $40 million in grants and loan guarantees for small businesses, and money for food banks, veterans, homeless shelters and Native American tribes.
Legislators also temporarily waived the one-week waiting period for unemployment benefits.
"Today's vote is another legislative step to address this public health crisis, but we know there are more issues we will need to address in the coming days, weeks, and months," Democratic House Majority Leader Ryan Winkler said in a statement.
In Kentucky, both chambers unanimously approved an emergency package aimed at helping workers and businesses. Among its provisions: Removing the waiting period to collect unemployment benefits and expanding eligibility to include the self-employed and those working fewer hours.
It also would let restaurants sell food items such as bread, milk and groceries and allow administrative licensing fees to be suspended or waived for businesses that have been ordered to close.
In addition, the measure extends the deadline for filing state income taxes, lifts restrictions on telehealth and gives health care providers who render care "in good faith" to patients with the virus immunity from civil liability.
In Rhode Island, the state's Disaster Emergency Funding Board — comprised of House and Senate leaders — approved a plan for the state to borrow up to $300 million from the federal government and other sources. Democratic Gov. Gina Raimondo appeared before the board, urging it to pass the plan.
In Massachusetts, the Senate approved a measure that would expand the scope of practice for certain health care professionals during the pandemic. It would allow a variety of advanced practice nurses to treat patients without a doctor's supervision.
And in Alaska, Republican Gov. Mike Dunleavy signed into law bills that would expand unemployment benefits and double minimum internet speeds at the state's schools.
Drivers Get a Reprieve in Many States
People with expiring driver's licenses, vehicle registrations or with deadlines to check vehicle emissions were given a reprieve.
Most states have extended deadlines by 30, 60 or 90 days past the expiration date, according to a running tally kept by the American Association of Motor Vehicle Administrators. More states are adding grace periods every day, the association said.
In Illinois, for example, Secretary of State Jesse White closed Driver Service offices statewide through at least April 7, and extended expiration dates for driver's licenses, identification cards, vehicle registrations and other transactions for the "duration of the disaster," as proclaimed by Democratic Gov. J.B. Pritzker, and "30 days after the disaster ends."
And several states are asking law enforcement to lighten up. In California, Ohio and Oregon, for example, the state motor vehicle departments have requested that "law enforcement use discretion and adjust enforcement" of driver's license and registration violations, the association reported.
Stateline staff writers Alex Brown, Jenni Bergal, Ben Streeter and Elaine S. Povich contributed to this report.