Stateline
Coronavirus and the States: Congress to Send States Money; Layoffs Hit Midwest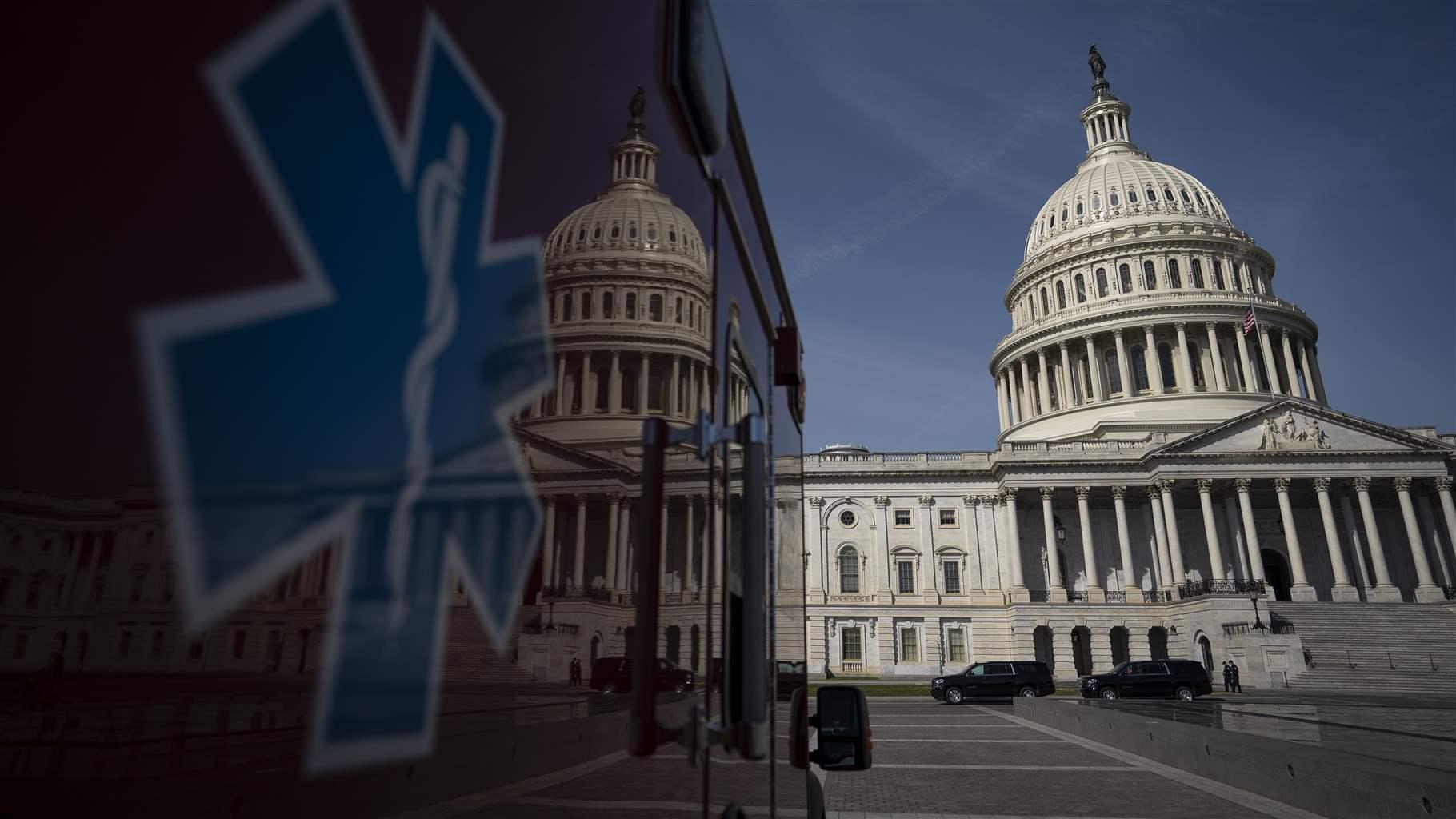 Read Stateline coverage of the latest state action on coronavirus.
The $2 trillion stimulus package moving through Congress would provide $150 billion to states, territories, local and tribal governments. It appears to allow some flexibility in how states could spend the money but does not address state revenue shortfalls brought on by stunted economic activity.
For example, it would allocate $5 billion for the Community Development Block Grant program, including expansion of community health facilities, child care centers, food banks and senior services. That leaves room for local governments to decide which programs get how much money, within existing guidelines.
However, the package does not address diminished tax collections created by the slowing of state revenues during the crisis, according to the Federal Funds Information for States organization.
Money in the overall package would be distributed based on population, but no state would get less than $1.25 billion, and 45% of a state's money would be set aside for local governments in places with over half-a-million residents.
If a state doesn't use up its 45% for localities, the money would revert to the states, according to the National Conference of State Legislatures.
There is $3 billion in total for the District of Columbia, Puerto Rico, Virgin Islands, Guam, the Northern Mariana Islands and American Samoa. Tribal governments would get $8 billion.
Here are some highlights:
The package includes $400 million for states to prepare for a likely uptick in mail-in and early voting in November's presidential election. There are no requirements, however, for increased early voting periods or expanded access to absentee ballots, which Democrats had hoped would be included.
That amount is well below what election experts have said is needed. The Brennan Center for Justice at New York University's School of Law estimates that states need $2 billion to implement vote-by-mail options for all voters, which includes ballot printing, postage costs, added security measures and improved processing efforts. That estimate includes improved voter registration systems and public education efforts.
The package would provide $140.4 billion for the Department of Health and Human Services. Of that, the lion's share, $127 billion, is designated for reimbursing hospitals, suppliers and other health care providers for lost revenue as a result of COVID-19. Another $16 billion would go to the Strategic National Stockpile for personal protective equipment and other medical supplies.
The U.S. Centers for Disease Control and Prevention is slated to receive $4.3 billion for public health preparedness and response. And the Substance Abuse and Mental Health Services Administration would receive $425 million, with $50 million designated for suicide prevention and $100 million in flexible funding for mental health, substance abuse and youth homelessness during the crisis.
The bill also would require that all tests will be conducted free of charge.
The package would provide $25 billion for the nation's transit systems, which have been hard hit by the lack of riders. The industry is facing billions of dollars in lost fare revenue, as well as in sales tax and parking fees, according to the American Public Transportation Association.
In New York City, ridership has fallen about 60% on subways and 49% on buses, according to a letter from the Metropolitan Transportation Authority to its congressional delegation.
States also would receive a portion of the approximately $1 billion that will go to Amtrak, to help meet their match obligations on state-supported routes.
Under the stimulus package, the Administration for Children and Families would get $6.3 billion to fund social services programs, including $3.5 billion for child care providers as part of the Child Care and Development Block Grant. State child welfare agencies would get $45 million in grants, including money for family violence prevention.
Programs that provide services and housing to homeless and runaway youth programs would receive $25 million, while $955 million would go to programs serving the elderly and the disabled. Meanwhile, another $1 billion would go to the Community Services Block Grant, which funds community-based, anti-poverty programs around the country.
Another $900 million would go to the Low Income Home Energy Assistance Program, which helps low-income families pay for energy bills, such as cooling, weatherization, and/or energy-related low-cost home repairs or replacements.
The package includes $8 billion in emergency relief to tribal governments. It also would provide $1 billion to the Indian Health Service, at least $450 million of which would flow to urban health clinics, which serve many of the 70% of Native Americans who live outside reservations.
Another $100 million would help tribes with food distribution, while $454 million is set aside for public safety and law enforcement. Separate allocations of more than $300 million will bolster funding for tribal education and housing, according to a fact sheet distributed by U.S. Sen. John Hoeven, a North Dakota Republican.
Agriculture and Rural Areas
The package includes nearly $70 billion for programs intended to shore up rural economies.
It would replenish the Commodity Credit Corporation (CCC) by $14 billion, which paves the way for more aid to farmers.
In addition, $9.5 billion would go to livestock, specialty crop and dairy producers, as well as producers supportive of farmers markets and other local food systems, according to NCSL.
Other funding includes $25 million to a U.S. Department of Agriculture program focused on improving telecommunications technologies that sustain distance learning and telemedicine. Another $100 million would go to a program that helps rural communities access broadband.
Testing Uncertainty
Confusion over testing continued in many states. Doctors in Hawaii are calling for an aggressive testing approach to track the virus's spread and keep it in check, while the state health department is rationing tests for frontline workers and vulnerable patients, following guidance from the CDC.

"You cannot allow a wave of COVID-19 cases to sweep over the state all at once because we'll have massive fatalities if we do," said Democratic Lt. Gov. Josh Green, who disagrees with the health agency's approach.
In California, the state more than doubled its testing, ramping up to 67,000 tests. But there's still uncertainty over who should get tested, and the San Francisco police union has requested that its officers be "fast-tracked" for testing.
More than 300 police officers in New York City have tested positive.
The former Michigan State Fairgrounds in Detroit has become a testing site, serving 500 people a day in one of the nation's hardest-hit cities. Michigan has quickly surpassed 2,000 cases and is "nowhere even near the apex," according to Democratic Gov. Gretchen Whitmer.
South Korea has pledged to provide testing kits to the United States, even after President Donald Trump boasted erroneously that "we're doing more now than South Korea, by a lot."
Health officials are already looking ahead at producing a test that identifies those who have had the virus and recovered, which will be crucial for determining who can safely return to work, especially in health care.
Blue-Collar Midwest Takes Brunt of Layoff Pain
Blue-collar workers in the Midwest may be the biggest victims of last week's historic wave of layoffs, jobless numbers released Thursday suggest.
Some of the largest jumps were in industrial states including Pennsylvania, Ohio, Michigan and Minnesota. Blue-collar bastions North Carolina and Louisiana also were among those with jobless increases of 25-fold or more.
That's likely because blue-collar workers often can't work at home, unlike tech and knowledge workers on the coasts where COVID-19 outbreaks have been more severe.
Pennsylvania had the largest number of claims for any state, 378,908, with Ohio next at 187,784, both about 25 times higher than the previous week. The numbers compare first-time jobless claims for the week ending March 21, when many businesses closed under local or state government orders.
Recent layoffs in Pennsylvania include everything from restaurant and theater workers in Philadelphia to employees of popular resorts in the Poconos and small-town factories like the Keystone Powdered Metal Company in St. Mary's, a tool maker that laid off 339 workers March 20.
As bad as last week was, Pennsylvania expects even worse this week.
Ohio's layoffs included workers in factories that are suspending some operations because of the crisis, especially parts makers facing a slowdown in orders from other manufacturers.
Other Midwest states had large losses as well: Michigan's total of 129,298 was 24 times more than the week before and Minnesota was up 29-fold to 116,438.
State Lawmakers Approve Sweeping Aid
Pennsylvania legislators, many voting remotely, speedily passed a series of bills that would help the unemployed, health care workers and schools, and sent them to Democratic Gov. Tom Wolf.
One measure would provide up to $50 million to health care facilities to buy medical equipment and supplies. Another would ease eligibility requirements and access to unemployment benefits.
Legislators also approved bills that would ensure teachers get paid throughout the crisis and waive the requirement that public schools be open at least 180 days during the school year.
And lawmakers extended the deadline for residents to pay state income tax and approved a plan to move the state's presidential primary from April 28 to June 2.
In New Jersey, for the first time in state history, Assembly members approved bills by phone. One measure would ensure that residents who have coronavirus or are exposed to it can qualify for temporary disability insurance, and those caring for a sick loved one can get family leave insurance. The bill, which already had passed the state Senate, was signed into law a few hours later by Democratic Gov. Phil Murphy.
"No one should have to decide between taking care of themselves or a sick family member and going to work during the #COVID19 pandemic," Murphy tweeted.
The Assembly passed other bills that would allow municipalities to give grace periods for property tax bill payments and authorize state regulators to reactivate professional licenses for retired people in good standing if their profession is considered "necessary to protect the public health, safety and welfare."
In Nebraska, the legislature unanimously approved an $83 million emergency spending bill in one day, and within hours sent it to Republican Gov. Pete Ricketts, who signed it.
The money will go into a new governor's program housed within the state's Military Department and will be used to fund protective gear and supplies for health departments, lab equipment, staffing at veterans' homes and other services.
Liquor Stores Stay Open for Public Health
Pennsylvania is the only state that has not designated liquor stores essential businesses that must remain open. On March 16, the state's liquor control board ordered roughly 600 wine and spirits stores to close.
But Gov. Tom Wolf, a Democrat, said last week that he was reconsidering that decision because of health considerations. And Pennsylvania Senate Majority Leader Jake Corman, a Republican, said that the Pennsylvania Liquor Control Board is looking into a "soft reopening" of state-owned wine and liquor stores with a delivery or curbside pickup model, according to the Associated Press.
Nationwide, nearly all governors and mayors decided to allow liquor, beer and wine stores to remain open, with some justifying the measure as largely economic.
But some experts say the most compelling reason to keep alcoholic beverage sales flowing is that some 15 million Americans with an alcohol use disorder could end up in dangerous withdrawal, which can require hospitalization and result in death.
The American Society of Addiction Medicine is warning states against shutting down liquor stores, explaining that the measure could put many at risk for alcohol withdrawal syndrome. "At its most severe alcohol withdrawal can cause seizures, delirium, and even death," the medical organization cautioned.
Some states have called for safety measures in stores that sell alcoholic beverages to cut down on crowding and curtail the spread of the virus.
California Gov. Gavin Newsom halted all wine and beer tasting. Alabama limited the number of people in stores to 10 and temporarily allowed curbside delivery. Virginia limited store hours to allow for additional cleaning and to address store staffing issues. And New York is allowing restaurants to serve takeout alcoholic beverages provided they accompany food.
Denver Mayor Michael Hancock, a Democrat, announced that he would order liquor stores to close. But after residents swarmed local stores, presenting an even greater public health hazard, he reversed his decision within three hours.
Marijuana Businesses Deemed 'Essential'
Some governors and mayors are labeling marijuana dispensaries "essential services," allowing them to stay open. And customers appear to be stocking up on pot.
About 20 states have declared marijuana dispensaries to be essential, according to the Marijuana Policy Project, a Washington, D.C.-based advocate for legalization. Thirty-three states allow medical marijuana sales and 11 allow recreational marijuana sales.
"Medical marijuana plays a role in the treatment regimens of hundreds of thousands of Americans right now," said Violet Cavendish, the organization's social media and communications coordinator, including cancer patients and others with compromised immune systems. "It's extremely important that they're able to access [cannabis] in a safe way."
Cannabis advocates have urged state officials to keep all dispensaries open, however, noting that many people use recreational marijuana for pain relief or to help them sleep.
Only Colorado Gov. Jared Polis and Illinois Gov. J.B. Pritzker, both Democrats, have labeled recreational pot sales "essential" so far, Cavendish said. In Massachusetts, Republican Gov. Charlie Baker declared medical marijuana businesses essential but ordered recreational businesses to close.
Many states that are allowing weed sales are requiring stores to promote social distancing, such as by encouraging curbside pickup or online orders. In Nevada, Democratic Gov. Steve Sisolak is requiring restricting dispensary sales to only deliveries.
Companies that track the cannabis industry have noted an uptick in marijuana sales — particularly in the days before city and state stay-at-home orders kicked in — and share prices for publicly traded cannabis companies are on the rise.
"Adult use or recreational cannabis sales are very atypically high right now," said Liz Connors, director of analytics at Headset, a Seattle-based cannabis data research company. Edible pot product sales are booming, she said.
In California, pot sales spiked March 16, the day seven Bay Area jurisdictions announced a three-week shelter-at-home order, said Roy Bingham, CEO and co-founder of BDS analytics, a Boulder, Colorado-based cannabis market research company.
"We're talking like the largest sales day ever," he said.
So many Denverites lined up outside dispensaries to panic-buy weed Monday, after Mayor Michael Hancock announced a stay-at-home order for the city, that within hours city officials announced that liquor stores and dispensaries would be allowed to stay open.
Stateline staff writers Alex Brown, Jenni Bergal, Christine Vestal, Sophie Quinton, Ben Streeter, Matt Vasilogambros, Teresa Wiltz and April Simpson contributed to this report.