Stateline
Coronavirus and the States: Gun Shops vs. Governors; Chloroquine Restrictions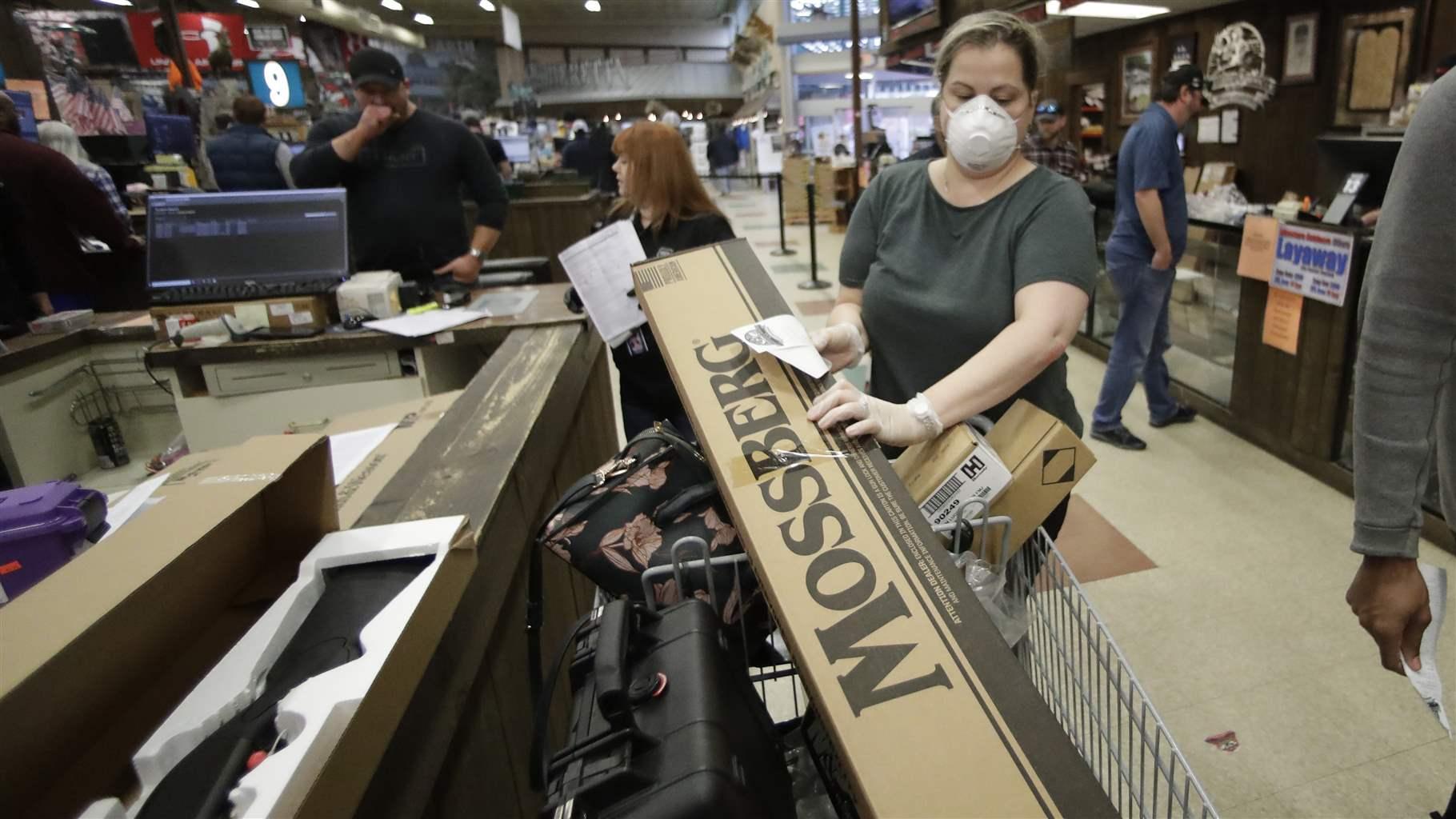 Read Stateline coverage of the latest state action on coronavirus.
Gun shops are clashing with governors and other civic leaders around the country — from Pennsylvania to California — over whether they are "essential" and can remain open during the coronavirus pandemic. Under pressure from gun rights groups, officials in several states have reversed course and allowed gun stores to remain open.
"California gun stores provide the only access to people accessing their constitutional rights," said Sam Paredes, executive director of Gun Owners of California, which successfully urged Los Angeles County to reverse course and leave gun shops open. "Constitutional rights don't go away in a crisis; that's when they are most important."
The Los Angeles County sheriff reversed his own decision to close gun shops after the county's top lawyer said the shops could be open, the Associated Press reported. Sheriff Alex Villanueva initially said gun stores were not essential businesses and must close.
But an executive order from Gov. Gavin Newsom, a Democrat, did not specifically mention the gun stores, and the Los Angeles County counsel's office said in a statement to the AP that they did qualify as essential.
Pennsylvania Gov. Tom Wolf, a Democrat, initially closed gun shops along with most other small businesses in an executive order, but after a lawsuit challenged the order, he relented and issued a new list of "life sustaining" businesses that can remain open, which included firearm shops.
The order specified that gun shops could remain open because state laws require firearm purchases to be made in person. The governor called for the shops to limit the number of buyers in them at one time.
That directive has become more important as gun shops in many states are reporting a big uptick in gun sales.
In New Jersey, Gov. Phil Murphy, a Democrat, signed the executive order that closed nonessential businesses, with some exemptions including groceries and pharmacies. Gun shops did not make the list, prompting a federal lawsuit from a man who recently decided to buy a gun because of worries about the coronavirus pandemic, but who was shut out when the shops closed.
"Plaintiff Robert Kashinsky does not own any firearms. When the novel coronavirus began to spread in the United States, he became concerned about his ability to protect himself and his wife in the event that the situation developed such that emergency services were unavailable or were not reliably available," the lawsuit said. "He decided that it had now become an appropriate time to purchase a firearm."
9 States Restrict Chloroquine to Prevent Shortages
Ever since President Donald Trump said last week that he believes an anti-malaria drug, chloroquine, could cure COVID-19, doctors around the country have started stockpiling it.
In response, pharmacy boards in at least nine states — Idaho, Kentucky, Louisiana, North Carolina, Nevada, Ohio, Oklahoma, Texas and West Virginia — have either restricted prescriptions of chloroquine and related drugs or warned doctors and other prescribers not to hoard the drug or any other potential COVID-19 treatment medications.
Chloroquine orders spiked 3,000% in March, according to data from the group purchasing organization Premier reported by the trade magazine Modern Healthcare.
The U.S. Food and Drug Administration is investigating whether chloroquine and a related drug, hydroxychloroquine, sold under the brand name Plaquenil and approved to treat lupus and rheumatoid arthritis, can treat COVID-19 symptoms and limit its spread, FDA Director Dr. Stephen Hahn said March 19 at a White House briefing.
In limited investigations, doctors in China and researchers in France found that some patients with COVID-19 were more likely to recover when given chloroquine along with other antiviral drugs and antibiotics.
"Tens of thousands of Americans currently are prescribed hydroxychloroquine and chloroquine for lupus and rheumatoid arthritis, particularly when a patient's symptoms do not respond to other treatments," according to a joint letter to the White House and members of Congress from the Lupus Foundation of America, American College of Rheumatology and other medical groups.
"Therefore, we urge you to work with us and the broader health care community to help ensure continued availability of these drugs for the patients who are maintained on them to avoid disability, illness and even early death."
Some Have Died Before Getting Tested
U.S. Surgeon General Dr. Jerome Adams said the country has "turned the corner" on testing, but examples from around the country show that testing opportunities remain far short.
The Centers for Disease Control and Prevention continues to advise that testing should be reserved for health care workers and high-risk individuals, while others who fall ill should simply quarantine as if they have the virus.
In New York City, even doctors who have been exposed to the virus have been told not to get tested unless they show symptoms. In Louisiana, which has one of the highest growth rates of cases, some people have died before getting test results. North Carolina's Wake County, home to the state capital of Raleigh, also announced it will scale back testing to only frontline workers and the elderly.
Six San Francisco Bay Area counties have demanded that all labs testing for the virus report their results to health authorities.
"[W]ithout clear information about how many people have been tested through commercial labs, ... officials lag far behind in basic data," the San Jose Mercury News reported.

Meanwhile, in Florida, the National Guard has set up drive-thru testing for elderly residents at Marlins Park, an MLB stadium in Miami. The site will test about 750 people a day. Another 600 people were screened in the parking lot of the Pittsburgh Zoo, with half of them being tested.
Quest Diagnostics, after receiving permission to run its own tests, now has nearly a dozen laboratories on both coasts conducting 25,000 tests a day.
Abortion Services 'Nonessential' in 3 States
Mississippi Gov. Tate Reeves, a Republican, has joined two other conservative states in announcing that he considers abortion an elective and unnecessary procedure. He promised to "take action" against the state's only abortion clinic if it continues to provide the health procedure during the coronavirus pandemic.
That makes three states, including Ohio and Texas, where abortion has been called a nonessential procedure that must be postponed until after the coronavirus crisis.
At least 25 states have ordered hospitals and other medical facilities to postpone nonessential surgeries to ease demand for medical supplies during the coronavirus crisis, according to the Ambulatory Surgery Center Association.
The American College of Obstetricians Gynecologists and other medical groups issued a statement last week pointing out that abortion services are time-sensitive and that delays can bring increased risks. "Abortion is an essential component of comprehensive health care," the statement said. "The consequences of being unable to obtain an abortion profoundly impact a person's life, health, and well-being."
State Lawmakers Support Unemployment, Consumer Protection Bills
In Vermont, the Senate returned and quickly passed a package that includes a bill that would make anyone who is laid off because of the pandemic or leaves to care for someone ill eligible for unemployment benefits.
Another measure would expand telemedicine and allow retired and out-of-state health care providers to temporarily practice in the state. It also would let pharmacists extend prescriptions without a doctor's approval if the provider can't be reached.
Vermont senators also approved changes that would give residents extra time to renew their driver's licenses and register their vehicles, allow state and local elections to be held later in the year and temporarily modify the state's open meeting laws so towns and other municipalities can hold meetings and vote remotely.
In Alaska, both chambers unanimously approved a bill that would expand unemployment benefits. It would waive a mandatory waiting period before benefits could begin and exempt people from being required to seek employment during a period of up to 90 days. The measure was sent to Republican Gov. Mike Dunleavy, who has said he supports it.
In Ohio, senators who returned to the Capitol promptly passed a package that included waiving testing requirements for students and temporarily prohibiting evictions and utility shutoffs.
The measure also would extend mail-in voting for the presidential primary through April 28. Ohio's March 17 primary was called off at the last minute, though some people did vote early or by mail.
And in New York — the epicenter of the pandemic in the United States — Assembly members introduced nearly a dozen bills in one day.
One New York measure would suspend all rent payments for residential and small business commercial tenants for 90 days if they have been laid off or forced to close their business. Another would prohibit negative credit reporting on consumers who have suffered financial harm as a result of the crisis. A third would extend the renewal of driver's licenses and motor vehicle inspections for three months.
The state's legislators also will consider a bill that would require that voting in the April 28 presidential primary be conducted by absentee ballot.
Child Welfare Courts Take Cases Online
Around the country, some child welfare courts are adapting to the coronavirus pandemic by handling cases online.
Judges in some states remotely issue emergency protection orders removing children from their homes when it's unsafe. They hold "fact-finding" trials to determine whether abuse has occurred. And they conduct hearings to decide whether a parent's rights should be permanently terminated.
"It's very important we keep the virtual doors to the court open," said Judge David Gooding of the 4th Circuit Court in Florida. "We haven't changed anything. It's just the means with which we're doing it has changed."
Other child welfare courts, such as in Fairfax County, Virginia, and Memphis, Tennessee, are practicing a form of quasi-social distancing, staggering court times and alternating judges to minimize contact with the public.
"The idea is if we're hit by the virus, it doesn't wipe out the entire judiciary," said Gayl Branum Carr, a judge with the Fairfax County Juvenile and Domestic Relations District Court in Virginia.
In New Mexico, judges are now required to conduct everything remotely, through audio or video teleconferencing. Meanwhile, state supreme courts in Alabama and Arkansas suspended all in-person proceedings, with a few exceptions.
But some courts have remained open, and not everyone has access to a computer. Some parents must call in.
And not every court is ready for virtual reality, said Judge Dan H. Michael, president-elect of the National Council of Juvenile and Family Court Judges, and a judge in the Memphis and Shelby County Juvenile Court. Some courts, such as his, can use videoconferencing only within the courts for proprietary reasons, he said.
Still, as Gooding sees it, trials will be much simpler to conduct online; he can virtually sequester witnesses so they can't discuss the case among themselves.
So far, he said, things are working out.
"I've only had one crash," Gooding said.
Stateline staff writers Christine Vestal, Alex Brown, Jenni Bergal and Teresa Wiltz contributed to this report.