Stateline
Coronavirus and the States: Governors Keep Away Vacationers; Some States Bar Abortions as 'Nonessential'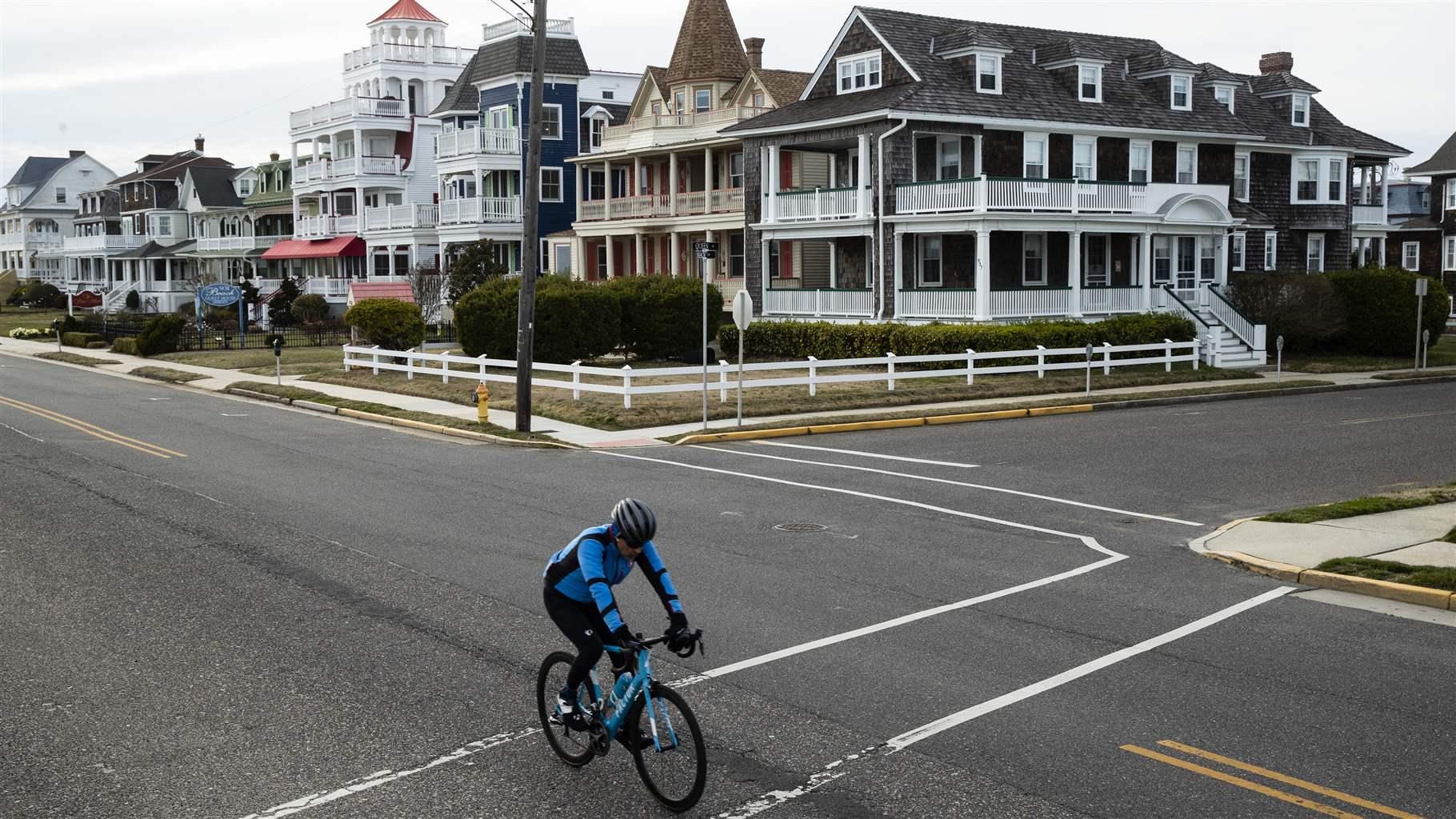 Read Stateline coverage of the latest state action on coronavirus.
Governors trying to reassure their state residents have words for second homeowners in resort towns and tourists: Stay home, lest you bring disease in and overwhelm our small, local health care systems.
The governors of Massachusetts and New Jersey are calling on those with summer homes on the islands of Cape Cod and at the Jersey Shore to stay out. South Lake Tahoe's mayor says he knows his California town is beautiful and soothing, but he'd rather you not come right now, thanks.
And Florida's Gov. Ron DeSantis, a Republican, is asking anyone from New York, Connecticut or New Jersey who is coming to Florida (sometimes known as New York City's sixth borough) to self-quarantine for 14 days.
Amy Liu, director of the Brookings Institution's Metropolitan Policy project, said competition for scarce resources is driving the governors' actions.
"They are making decisions based on scarcity," she said in a telephone interview. "They are trying to figure out how to allocate very limited resources."
Liu said warning visitors away is emblematic of a much larger challenge: lack of federal coordination in aid to the states. "If they had a direct aid package … this competition between the states would lessen," she said.
Speaking to reporters in Boston, Gov. Charlie Baker, a Republican, addressed vacationers and those with second homes on Nantucket and Martha's Vineyard.
"We would prefer they not do that and that they stay on the mainland and don't create additional issues for both of those islands at a point in time when they don't have the level of service capacity in place they typically would have in the summer," Baker said.
New Jersey Gov. Phil Murphy, a Democrat, said during a news briefing that there's "absolutely no excuse for a party at the beach. Please stay at your primary residences." The local health care infrastructure is not prepared for a ramp-up of part-time residents, Murphy said.
DeSantis, who earlier had resisted closing beaches and other outdoor gathering spots, before finally relenting, said he was issuing an executive order that anyone flying to the Sunshine State from New York, Connecticut or New Jersey quarantine for 14 days.
"That's the only way that we can be sure that that virus is not going to be reintroduced in the state of Florida and then spread," he said.
In Bar Harbor, Maine, a town nearly totally dependent on tourism for its economy, the Town Council issued a directive to visitors to stay away. Despite unusually warm weather lately, the town is still in its winter mode, with limited facilities.
"The Bar Harbor Town Council appreciates our visitor and tourist-based businesses," it said on its webpage. "But at this time we recommend that everyone stay home and avoid unnecessary travel. The town's tourist services such as food and bathroom facilities are very limited."
Abortion Included in Elective Surgery Bans in Some States
At least 25 states have ordered hospitals and other medical facilities to postpone nonessential surgeries to ease demand for medical supplies during the coronavirus crisis. In some states, that includes abortions.
Most state directives follow recommendations from the U.S. Surgeon General and the Centers for Medicare and Medicaid Services, which do not include abortions as an elective procedure.
Several obstetrics and gynecology medical groups issued a statement last week asking states not to categorize abortion as nonessential. "Abortion is an essential component of comprehensive health care," the statement said.
But in Texas, Republican Attorney General Ken Paxton made clear that his state's ban includes "any type of abortion that is not medically necessary to preserve the life or health of the mother."
In Ohio, the question of whether a ban on essential surgeries applies to abortions remains unclear, according to the Columbus Dispatch, which reported that it has become "a political hot potato as Gov. Mike DeWine and Attorney General David Yost (both Republicans) seem to have conflicting views on whose role it is to settle the issue."
On March 20, Deputy Attorney General Jonathan Fulkerson wrote a letter to two Planned Parenthood clinics in the state clarifying that nonessential surgical abortions were included in the state health director's March 17 ban on elective surgeries.
Fulkerson wrote: "You and your facility are ordered to immediately stop performing non-essential and elective surgical abortions. Non-essential surgical abortions are those that can be delayed without undue risk to the current or future health of a patient."
Planned Parenthood argued that all abortions are essential, adding that the abortion provider was complying with the state's orders to conserve medical supplies.
"We are complying with the Ohio Department of Health's order regarding personal protective equipment, which requires hospitals and surgical facilities to stop providing non-essential surgeries and procedures and take other steps to reduce the use of equipment in short supply," wrote Iris E. Harvey, head of Planned Parenthood of Greater Ohio, and Kersha Deibel, head of Planned Parenthood Southwest Ohio Region.
Disability Groups in Washington State Object to Medical Rationing Plans
Disability rights groups in Washington have filed a complaint against the state and its hospitals, charging that a health care rationing strategy they are considering "places the lives of disabled people at serious risk."
Disability Rights Washington and other groups representing people with disabilities filed the complaint with the Office for Civil Rights of the U.S. Department of Health and Human Services. They are asking HHS to intervene to ensure that hospitals and medical providers don't discriminate against disabled people when making choices about who gets life-saving treatment.
The complaint is directed at an ongoing effort by health officials and hospitals in Washington, the first state to be hard hit by COVID-19, to devise strategies for determining who gets life-saving treatments if, as hospital and public officials have warned, hospitals become overwhelmed.
The groups charge that the criteria Washington authorities are considering would give priority to younger and healthier patients over those who are older, sicker or disabled.
They note that state health authorities distributed guidance to hospitals last week that recommends that triage units consider transferring patients with "loss of reserves in energy, physical ability, cognition and general health" to outpatient or palliative care facilities to make way for others.
Washington state may be the first to face a challenge over how it might ration health care, but Nancy Berlinger, research scholar at the Hastings Center, a bioethics research institute in New York, said it's a subject hospitals and public officials everywhere are urgently addressing as the likelihood of shortages of medical providers, equipment and treatments looms in the face of the coronavirus outbreak.
Disability Rights Washington and the other groups caution that medical providers may consider disabled people as having a lower quality of life because of their disabilities, and use that assumption to justify "denying, withdrawing, or giving lower priority for treatment with scarce medical resources."
They also expressed concerns that doctors will assume that an underlying condition, such as cystic fibrosis, lessens the chances of recovery and on the basis of that condition alone, withhold life-saving treatments.
Despite Expansion, Widespread Testing Could Be Months Away
California now has at least 22 state laboratories, seven hospitals and two private firms conducting tests, the Los Angeles Times reported, a system that has produced "a confusing, incomplete picture of the virus." Los Angeles announced a deal with a South Korean manufacturer for 20,000 new tests, all dedicated for first responders and medical professionals.
Two startups offering at-home specimen kits were forced to suspend sales after their unauthorized actions were called out by the U.S. Food and Drug Administration. Meanwhile, the CEO of Roche, a global pharmaceutical company, said widespread testing is "weeks, if not months" away in the United States.
In Michigan, one woman has been waiting 10 days since an emergency room visit to get the results of a test. Washington, D.C., and Maryland have asked residents to join the Medical Reserve Corps and volunteer at drive-thru testing sites. Maryland hopes to get the testing sites it's promised at vehicle inspection centers running by midweek. Virginia has upped its capacity to 1,000 tests a day, which health officials say is still insufficient.
In New Jersey, the largest testing center reaches capacity within an hour of opening every day. Another testing site run by the Illinois National Guard, and reserved for first responders and health care workers, reached capacity in just four hours Monday.
At a massive retirement community in Florida, officials are testing residents whether or not they have symptoms, part of research into how many people may have the virus but be asymptomatic.
State Lawmakers Rush Through More Aid
State legislatures continue to act quickly to provide funding and other assistance.
In Arizona, the House approved a $50 million emergency relief package, with more than a dozen legislators voting remotely because of the pandemic. The appropriation already has been approved by the Senate, so the package heads to Republican Gov. Doug Ducey, who is expected to sign it. Both chambers adjourned for at least three weeks.
The package includes funding to prevent evictions and foreclosures, help small businesses, pay for food bank operations and provide services for the homeless.
Nebraska legislators unanimously advanced an $83 million emergency appropriations bill, after senators were called back into session. A final vote is scheduled for Wednesday. The measure would provide funding for protective gear and supplies for health departments, lab equipment, staffing at veterans' homes and other services.
In Massachusetts, a bill giving cities and towns the power to postpone and reschedule municipal elections whisked through the House and Senate in one day and was sent to Republican Gov. Charlie Baker, who signed it.
And in Ohio, where lawmakers headed back to the Capitol, House members introduced nearly two dozen bills related to the crisis. Among them were measures that would temporarily suspend tax foreclosure proceedings and extend filing and payment dates for state, municipal and school district income taxes.
Another bill would appropriate $20 million to support homeless shelters and provide emergency rental assistance. Other measures would require health insurers to cover telemedicine services and testing and treatment while prohibiting balance billing.
Feds Delay REAL ID requirement
The federal government has decided to delay requirements for Americans to obtain REAL ID, after several states called for postponement. President Donald Trump said the Oct. 1, 2020, deadline would be scrapped, and a new deadline would be set.
"At a time when we're asking Americans to maintain social distancing, we do not want to require people to go with their local DMV," Trump said. "We will be announcing the new deadline very soon."
No new deadline had been announced Tuesday on the Department of Homeland Security website.
With state motor vehicle offices shut across the country, several governors last week asked the department to delay requirements that travelers have new driver's licenses that have enhanced identification markings.
Airplane travelers will be required to have the new licenses for identification before boarding flights. They also can present passports or a few other specific forms of government ID, but most U.S. travelers use driver's licenses to pass through security.
The new IDs also will be required to enter some federal buildings or gain access to American nuclear plants. Even before the coronavirus attack, states were having trouble getting all license-holders up to date on the new requirements.
Alex Brown, Christine Vestal, Jenni Bergal and Michael Ollove contributed to this report.