Stateline
Coronavirus and the States: Governors Plan Field Hospitals; Heartland Unemployment Spikes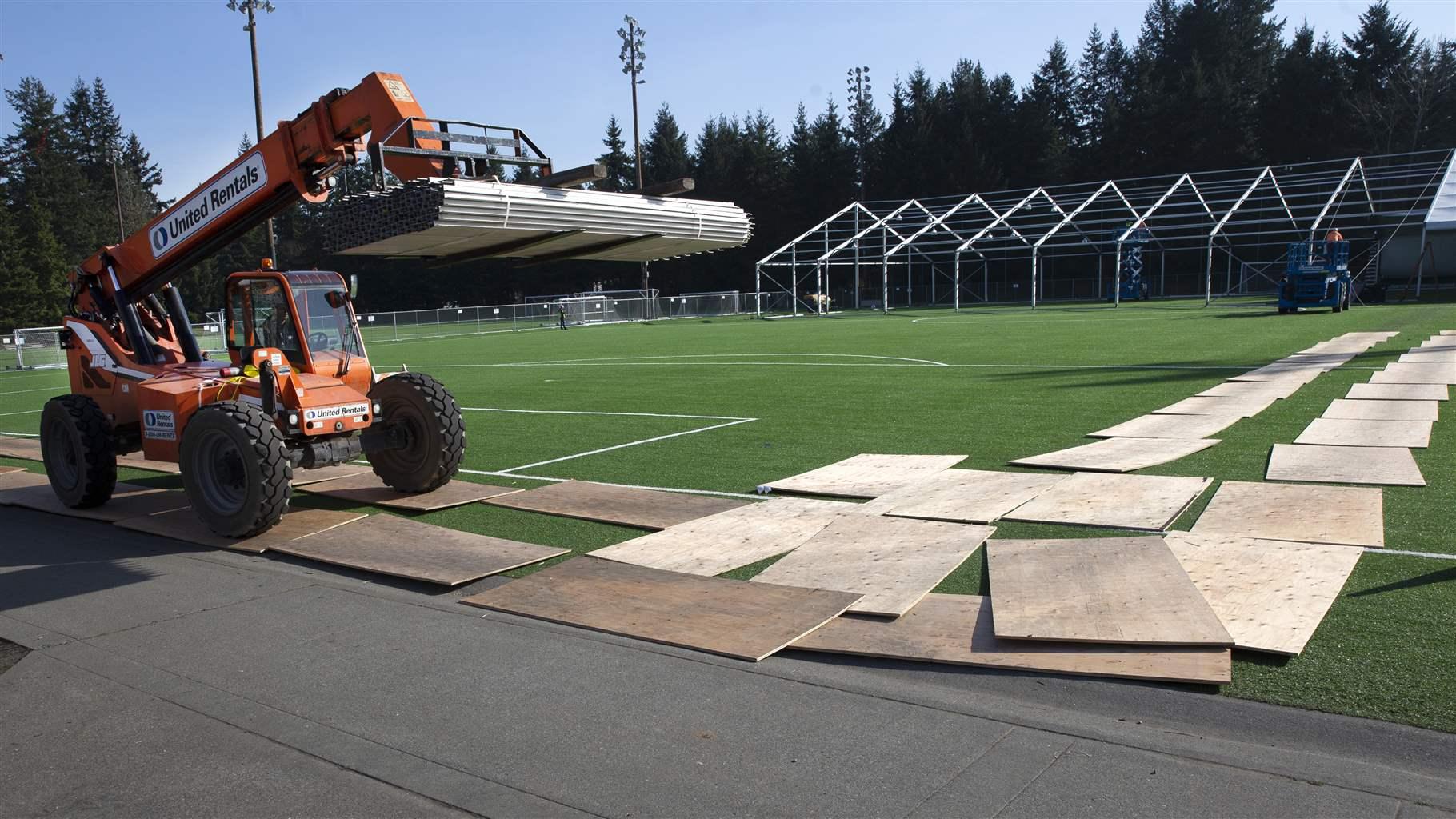 Read Stateline coverage of the latest state action on coronavirus.
Over the weekend, the Trump administration approved requests from governors in California, New York and Washington to declare their states major disaster areas. With that, the federal government said it would set up field hospitals in those states as soon as possible.
New York Democratic Gov. Andrew Cuomo announced that the Army Corps of Engineers had recommended locating four temporary hospitals in the state at the Jacob K. Javits Convention Center in New York City, and locations at SUNY Stony Brook, SUNY Old Westbury and the Westchester Convention Center.
In addition, the Navy hospital ship the USNS Comfort — a converted supertanker featuring 1,000 beds, 12 fully equipped operating rooms and up to 1,200 doctors and other medical professionals — will be deployed from its home dock in Norfolk, Virginia, to New York Harbor by mid-April, Cuomo has said.
In California, the USNS Mercy will be deployed to Los Angeles from its home dock in San Diego. The ship will provide trauma and other non-coronavirus services to take pressure off local hospitals, according to Federal Emergency Management Agency Administrator Peter Gaynor.
In the meantime, Democratic California Gov. Gavin Newsom announced the state was procuring hotels and motels and opening previously shuttered hospitals.
In Washington state, FEMA said it would supply three large federal medical stations and four small federal medical stations with 1,000 beds. Earlier in the month, workers started building a 200-bed field hospital on a Seattle-area soccer field.
King County, home to Seattle, plans to build additional field hospitals for isolation and quarantine of coronavirus patients who either cannot isolate and recover at home or do not have a home, according to Sherry Hamilton, communications director for the King County Department of Community and Human Services.
Oregon Gov. Kate Brown, a Democrat, announced that a 250-bed hospital on the state fairgrounds in Salem would open soon to treat COVID-19 patients.
And in New Jersey, state Health Commissioner Judith Persichilli directed Inspira Medical Center Woodbury in the southern part of the state to reopen as a fully functioning hospital after it closed acute care operations in December. Renovations involving everything from HVAC repairs to installing a nurse call-light system could add another 300 beds in three to four weeks.
Governors Call for More Tests
Coronavirus testing remains a struggle in many states.
A drive-thru testing center in New Jersey reached capacity Monday before it even opened. In Michigan, Democratic Gov. Gretchen Whitmer called on the federal government to provide more test kits. In some areas facing the most severe spread of the virus, testing has been limited to health care workers and the most seriously ill.

"Not every single person in the U.S. needs to get tested," said Dr. Anthony Fauci, director of the National Institute of Allergy and Infectious Diseases. "When you go in and get tested, you are consuming personal protective equipment, masks and gowns — those are high priority for the health care workers who are taking care of people who have coronavirus disease."
In Washington, a drive-thru site near Olympia was testing only those most at risk.
More than 250,000 Americans now have been tested for the coronavirus, Vice President Mike Pence said Sunday, with more than 30,000 positive cases. Millions more tests are now available, the Washington Post reported, and the Food and Drug Administration has approved the first coronavirus test that can deliver results in 45 minutes.
Arizona's largest health system has launched four drive-thru testing sites, and sites such as the Mississippi state fairgrounds and an area near the Jacksonville Jaguars stadium also have become testing locations. But the Associated Press reported that drive-thru testing throughout the country has "been marked by inconsistencies, delays, and shortages."
Unemployment Spikes Spread to Midwest
Heartland states with fewer coronavirus cases began to report unprecedented spikes in jobless claims as potentially millions of people were idled by business closings and stay-at-home orders. Many states added bans on evictions and utility shutoffs to emergency unemployment rules as they awaited federal help with claims.
The Trump administration asked states to stop making such real-time estimates to avoid financial panic, but predictions of last week's jobless toll, officially due Thursday, ranged from 800,000 to 3 million. Either figure would dwarf previous highs.
Montana saw 2,830 new jobless claims Wednesday, compared to 57 the previous Wednesday, following mandatory bar and restaurant closings in three urban counties. It was the first time the state had more than 100 claims in a day.
Iowa did not release specific numbers but called the new jobless claims "pretty staggering," with each day bringing as many claims as the state expects in a busy month. In response, Republican Gov. Kim Reynolds suspended evictions and utility shutoffs. Before the pandemic, the state's monthly new claims ranged from about 7,000 in fall 2018 to about 52,000 in late 2008, during the last recession.
Michigan reported more than 108,000 new claims, up nearly 22-fold from the typical 5,000.
Elsewhere, Connecticut reported 72,000 claims for the week and New Jersey saw 15,000 claims in one day, Democratic Gov. Phil Murphy said on CNN. Hawaii reverted to paper unemployment forms when new claims jammed the state's online system, even after a tripling of staff to handle claims.
Despite the unprecedented spike in unemployment, heartland and rural areas may be in the best position to weather the crisis, according to Adam Kamins, an economist and director at Moody's, speaking at a webinar Friday.
The most affected areas are large cities on the coasts with international ties and high density. Because virus cases may be slower to spread in inland areas, this may be their chance to shine.
Estimates of this week's unemployment claims, based on incomplete state reports, range from 800,000 by Moody's to 2.4 million by Goldman Sachs to 3 million by Bank of America, compared to 281,000 the week before.
The unemployment rate could peak at 6% to 9%, according to Moody's and Goldman Sachs respectively, assuming large stimulus packages take effect. Without them Treasury Secretary Steve Mnuchin has said it could reach 20%.
State Legislators Move Unemployment, Election, Grocery Measures
While at least 29 state legislatures have postponed or adjourned their sessions, others are continuing to tackle issues related to the pandemic.
In Alaska, the Senate unanimously passed a measure that would provide retroactive unemployment insurance for affected workers.
Lawmakers in Pennsylvania are expected to quickly move a bill that would delay the state's April 28 primary until June 2. Legislators already have reached an agreement with Democratic Gov. Tom Wolf to postpone the primary, and the measure is expected to get to his desk by week's end.
Pennsylvania legislators also are drafting consumer and worker protection bills. One would exempt people who are unemployed or laid off from being evicted if the governor has declared a state of emergency. Another would guarantee emergency paid sick leave for employees not covered under a proposed federal bill and require employers to reinstate workers returning from leave.
In New Jersey, the Assembly and Senate passed a measure that would prohibit retail food stores from accepting groceries returned by consumers during and for 30 days after a state of emergency declared in response to the pandemic. The Assembly members who sponsored the bill said they acted after the U.S. Centers for Disease Control and Prevention advised the public that the virus may remain viable on contaminated surfaces for hours or days.
The Assembly and Senate also approved a bill that would require school districts to provide meals or vouchers to students eligible for free and reduced school meals.
Relaxed Rules Boost Telemedicine Use; Some Restrictions Remain
States and the federal government rushed to lift restrictions to enable expanded use of telemedicine during the coronavirus pandemic, but barriers remain.
In both Medicare and Medicaid, some limits continue on which settings — such as doctor's offices versus homes — can receive reimbursement for telemedicine visits, the types of medical providers and services covered and the sorts of technology that can be used.
"There's no reasoning to it," said Mary Zelazny, CEO of Finger Lakes Community Health, a health system in upstate New York comprising eight health clinics.
With telemedicine, patients can be seen, referred and treated remotely by medical providers without the danger of exposing either to the virus. Proponents have said telemedicine could be a vital tool in limiting the spread of COVID-19, and according to news reports, its use soared in the early days of the outbreak.
In emergency COVID-19 legislation earlier this month, Congress suspended a Medicare policy that allowed telemedicine reimbursement only for patients living in "physician shortage areas," which are largely rural regions.
In addition, Congress said Medicare patients could be in their homes for telemedicine visits, not just in medical settings. Lawmakers also expanded the allowable types of technology to include smartphones.
But Congress did not remove a significant restriction, which doesn't permit Medicare reimbursement to Federally Qualified Health Centers and rural health centers for using telemedicine to treat patients remotely.
"With the coronavirus where you mean to keep people out of the clinic, that just doesn't make sense," said Mei Wa Kwong, executive director of the Center for Connected Health Policy, a Sacramento-based organization that advocates for policies that promotes the use of telehealth.
The coronavirus bill now being considered in the Senate would lift that restriction.
At least 36 states have taken steps to expand the use of telemedicine in their Medicaid programs during the coronavirus crisis, according to Jared Augenstein, a director at the consulting and legal firm Manatt Health.
Michigan, for example, is allowing telemedicine visits from a patient's home. Missouri is waiving a requirement that a patient and provider have had a previous, in-person visit.
Massachusetts required the same payment rate for telemedicine visits as in-person ones. West Virginia, which previously allowed only limited use of telemedicine, has approved its use for virtually all non-emergency care.
And numerous states, including California, Florida, Louisiana and Tennessee, are setting aside licensing requirements to approve residents having telemedicine visits with out-of-state medical providers.
Stimulus Package Opens Door for More Aid to Farmers
The massive stimulus package Congress is considering to stem the economic fallout from the coronavirus outbreak may pave the way for more aid to farmers.
The Senate bill includes three provisions to shore up the agriculture economy. It would replenish $30 billion in the U.S. Department of Agriculture's Commodity Credit Corporation, which functions to stabilize farm income and prices.
It also would increase the CCC borrowing authority by $20 billion. And it would enable the USDA to use CCC money to assist livestock producers, who've seen cattle prices plummet.
"Our producers are really up against it right now, and the coronavirus pandemic is only compounding the challenges in farm country," GOP North Dakota Sen. John Hoeven, chairman of the Senate Agriculture Appropriations Committee, said in a statement.
Over the past two years, the USDA has used the CCC to fund programs created to aid farmers hurt by the trade war with China. The bulk has gone to the Market Facilitation Program (MFP), which made direct payments to producers of eligible commodities. Between the MFP and two additional programs, the Trump administration has authorized roughly $28 billion since 2018.
President Donald Trump has teased the possibility of another MFP payment, but USDA Secretary Sonny Perdue has insisted another tranche is unlikely.
The trade war eased in January when Trump and Chinese officials signed a "phase one" deal. The United States lightened some tariffs on Chinese goods, and in return, China promised to increase purchases of U.S. goods and services. This year, the USDA has reported exports to China of sorghum, corn and hard red winter wheat.
On a call with reporters, American Farm Bureau President Zippy Duvall said despite the phase 1 deal, trade has not picked up as fast as expected. Farmers are "getting real close" to needing another MFP payment, Duvall said.
Stateline staff writers Alex Brown, Tim Henderson, Jenni Bergal, Michael Ollove and April Simpson contributed to this report.