Stateline
Coronavirus and the States: NY Ramps Up Testing; Idaho Patients Wait for Days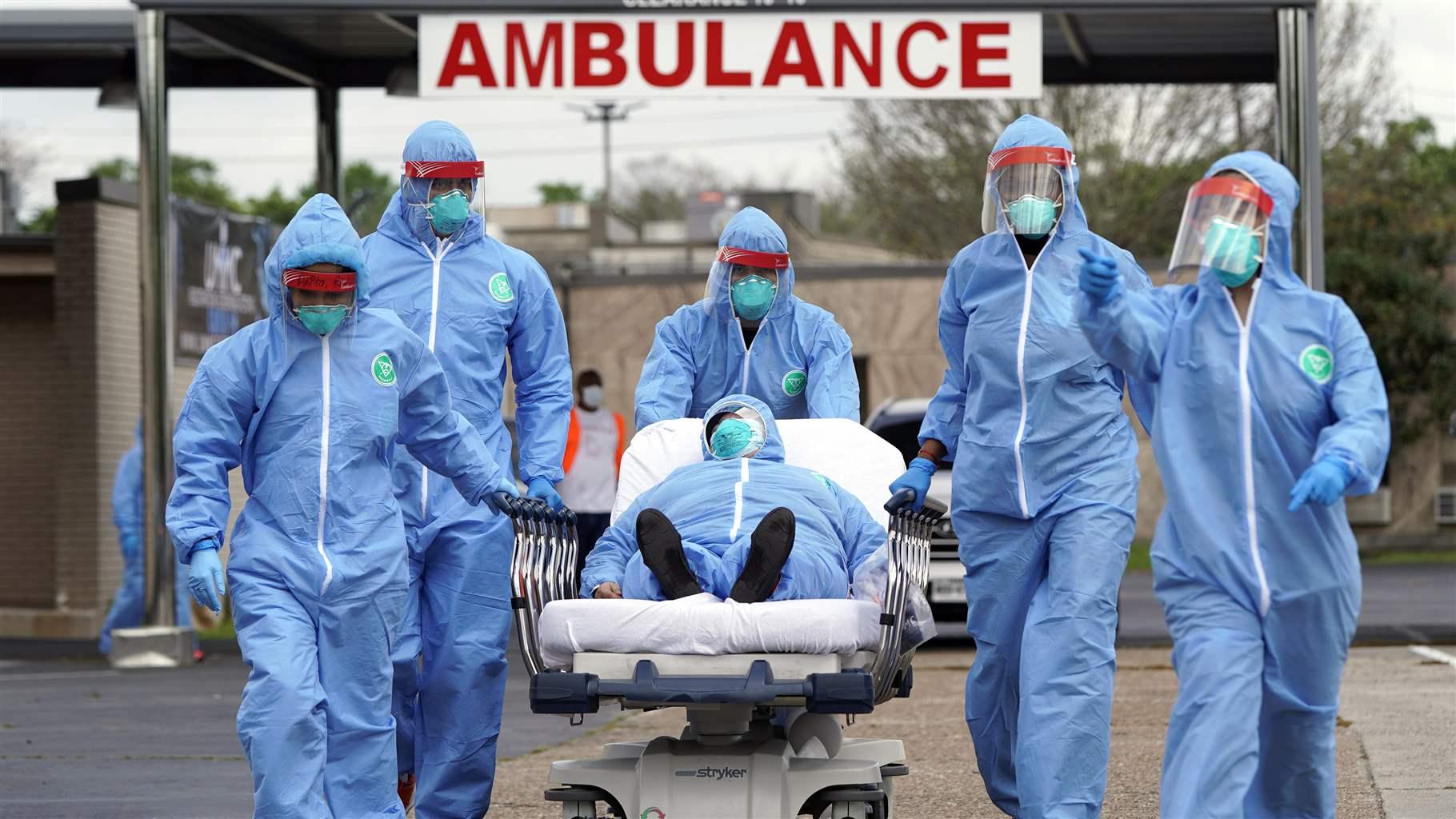 Read Stateline coverage of the latest state action on coronavirus.
In New York, where positive tests discovered 2,300 new cases after testing 8,000 people in a day, Democratic Gov. Andrew Cuomo said the state's testing is now at the level of South Korea or China.
California has upped its capacity as well, increasing its test numbers by 20% in one day. Gov. Gavin Newsom, a Democrat, said a shortage of specimen swabs is stalling further expansion.
Some states still lag in testing. Idaho patients are having to wait days for results, as samples are sent to labs in Washington or Colorado. One Idaho lab will now run only tests for patients who are hospitalized or deemed "high priority."
West Virginia, the last state to report a coronavirus case, has tested only 224 people but has opened five new drive-thru testing sites.
In Maryland, the National Guard began setting up a testing site in the parking lot of FedEx Field, the home of the Washington Redskins professional football team, while a church in Alabama said it was conducting more than 1,000 tests at a drive-thru site in its parking lot. Retailers such as Walmart and Walgreens are working to host testing sites in their parking lots.
Many Native American health clinics have little testing capacity, with some reporting they've received fewer than a dozen tests from the federal government.
Vice President Mike Pence said tests now are available in all 50 states.
States, Cities Set Up Temporary Hospitals
Some states and cities have begun setting up their own temporary hospital units.
In Washington state, where COVID-19 was first detected in the United States, the city of Shoreline announced it was setting up a 200-bed temporary hospital on a soccer field for people exposed to or recovering from the novel coronavirus.
Florida's Republican Gov. Ron DeSantis called for the construction of three field hospitals, one in Broward County, home to Fort Lauderdale, another in Orlando and a third in nearby Ocala.
New York City is working with the hospitality industry to possibly convert vacant hotels into temporary hospitals for patients who do not have the coronavirus.
In addition, a New York University student affairs official told dorm residents to pack and store their belongings, because it might be used for overflow patients.
Tufts University in Massachusetts and Middlebury College in Vermont are offering dorms to be used for health care workers and patients who need to be isolated with mild symptoms of the coronavirus.
Middlebury College President Laurie Patton said the school has drained its hockey rink to provide additional space, if needed.
George Washington University Hospital in Washington, D.C., opened a tent near the hospital to treat coronavirus patients. And in Texas, Anderson Cancer Center in Houston said the hospital was building a temporary structure in an ambulance bay to serve as a triage center.
The Trump administration has promised to deploy two Navy hospital ships — one docked somewhere in California and another in New York Harbor — to provide overflow hospital capacity for people not infected with the coronavirus.
And the Army Corps of Engineers is preparing to help states set up so-called MASH (Mobile Army Surgical Hospital) units or field hospitals to alleviate the strain on existing hospitals.
Although some governors, as well as federal officials, have suggested opening previously shuttered hospitals to provide more beds for coronavirus patients, an official with the American Hospital Association said that's not a feasible option in most cases.
National Guard Deployed in Most States
At least 27 governors have called up the National Guard to provide medical testing, transportation and other services.
There are 2,050 members on state active duty, Air Force Gen. Joseph L. Lengyel, the National Guard chief, said at a news conference.
Lengyel expects the number to double by this weekend and continue to rise as coronavirus response efforts ramp up.
"I'm expecting tens of thousands to be used inside the states as this grows," Lengyel said.
In Tennessee, members of the National Guard have delivered COVID-19 testing swabs, while in south Florida, they've helped collect samples for drive-thru testing sites in Broward County.
In Colorado, New York and Rhode Island, the guard has been used to administer coronavirus tests, Lengyel said.
Coronavirus response is unlike any event the guard has faced in recent years, Lengyel said.
"With COVID-19, it's like we have 54 separate hurricanes in every state, territory and the District of Columbia," he said.
President Donald Trump has the authority to federalize the guard. But Lengyel stressed that the best use of the National Guard is under the command of state governors, who can deploy troops where they're most needed.
"Once you start federalizing the guard, now you make it a less efficient system to be used in the states," Lengyel said.
States Delay Tax Deadline
About half a dozen states delayed the deadline to file state income taxes, and more are likely to follow the federal Internal Revenue Service, which this week moved the filing date from April 15 to July 15.
California, Indiana and Maryland all had set the new date at July 15 prior to the IRS' action. Oregon, Connecticut and Alabama issued statements that they would "follow the IRS," according to the Tax Foundation, a conservative think tank that is keeping a running tally. Iowa shifted its filing date to July 31, the foundation said, and South Carolina set June 1 as its date.
"Expect more to follow," the Tax Foundation's Jared Walczak, director of state tax policy, said in a direct message on Twitter.
In normal times, all but five of the 43 states with an income tax follow the same deadlines as the federal. Hawaii uses April 22, Delaware and Iowa have an April 30 filing deadline, Virginia gives taxpayers until May 1, and in Louisiana, taxes are not due until May 15.
In Oklahoma, the regular filing deadline is April 15, as for most states, but those filing electronically have until April 20 to do so, the Tax Foundation reported.
Legislators Hastily Pass Funding Measures
State lawmakers are continuing to pump money into aid efforts.
In South Carolina, the House unanimously approved a bill to provide the state's health agency $45 million, two days after the Senate adopted the same measure. It will be used to pay for protective equipment for health care workers, more staffers to do lab testing, the quarantine and support of indigent patients and other services.
Just after the House vote, the Senate president and House speaker walked the legislation over to Republican Gov. Henry McMaster's office, and he signed it immediately.
In Tennessee, before legislators temporarily recessed because of the pandemic, they had a marathon 14-hour day, passing a budget that included $150 million to address health and safety issues related to the outbreak. They also approved a bill that cancels student testing and teacher evaluations for the current school year and waives a law requiring 180 days of annual classroom instruction.
In Alaska, the legislature appropriated $15 million for public health emergency services that include purchasing medical equipment and providing housing for quarantined people. It also approved $8.5 million in grants to help communities visited by cruise ships.
And in some states, lawmakers are considering sports-related legislation.
In Massachusetts, Republican Gov. Charlie Baker asked the legislature to pass a bill designating Sept. 14, 2020, a legal holiday. The Boston Marathon, which is always a legal holiday in the state, has been postponed from April 20 to the September date.
And in Florida, the Senate adopted a resolution declaring the Florida State University Seminoles basketball team the 2020 National College Athletic Association champions by default after the March Madness tournament was canceled.
Stateline staff writers Christine Vestal, April Simpson, Elaine S. Povich and Jenni Bergal contributed to this report.