Stateline
Coronavirus and the States: Expanded Testing Means More Cases, Public Housing Authorities Struggle and More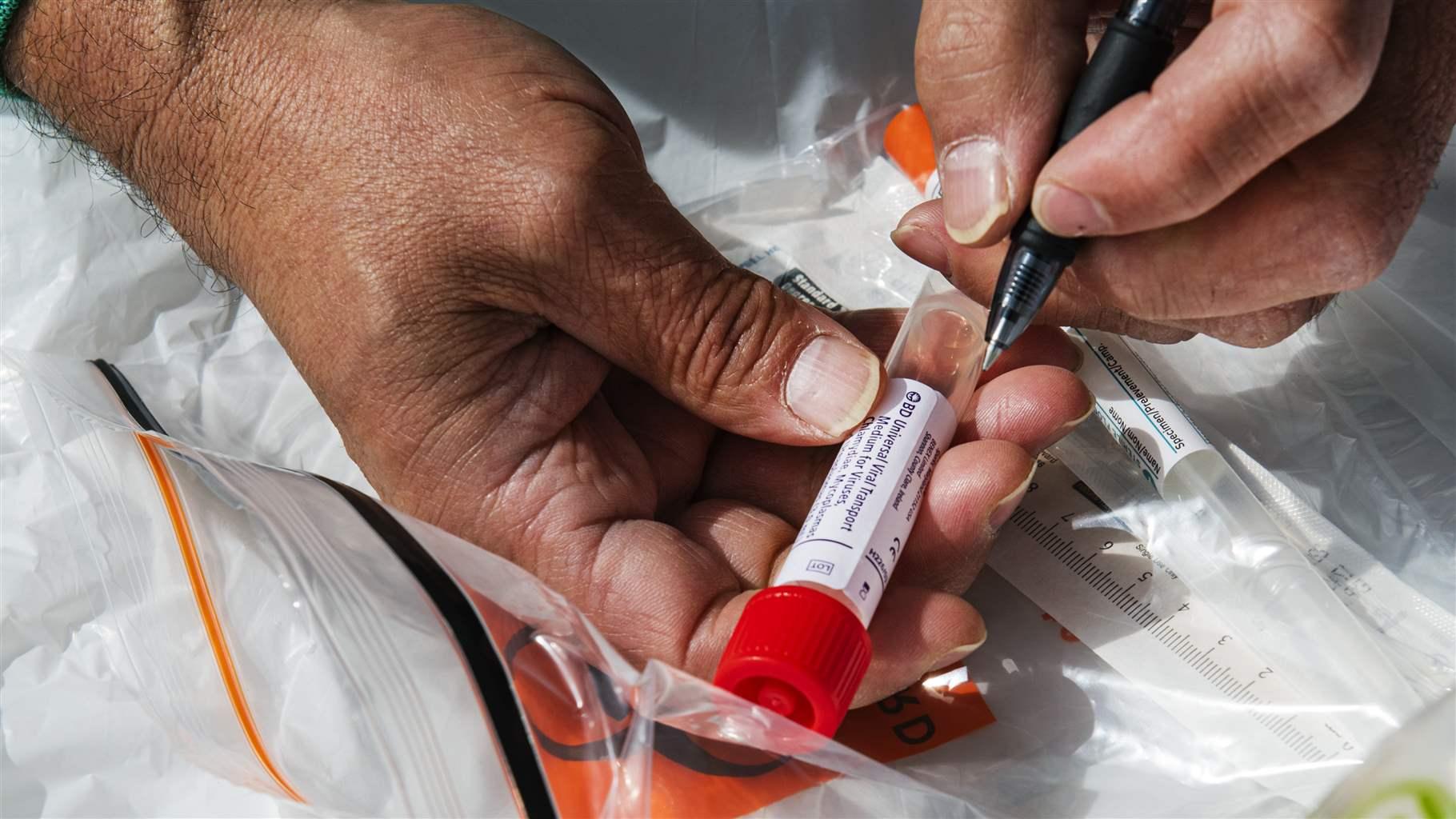 Read Stateline coverage of the latest state action on coronavirus.
As testing has improved in some places, it's also led to a spike in confirmed cases. Nearly 1,800 more New Yorkers tested positive Wednesday, Democratic Gov. Andrew Cuomo tweeted, bringing the total above 4,000.
Cuomo said 7,500 residents were tested that day, leading to the surge in results. As the nationwide tally for coronavirus cases climbed past 10,000, federal health officials warned that numbers would continue to climb as testing ramps up.
President Donald Trump has signed a relief package that includes free testing.
While many states have set up their own testing sites, the federal government plans to establish 47 drive-thru testing sites in 12 states.
Colorado has said it can process 250 tests a day but may need as many as five days to confirm results. Minnesota imposed limits on its testing, offering it only to health care workers, inpatients at hospitals and people at group living facilities, the Wall Street Journal reported. And South Dakota state labs ran out of supplies and stopped running tests.
Meanwhile, some wonder how politicians, celebrities and NBA teams have been able to quickly access the tests that seem to be in short supply for the rest of America.
Public Housing Authorities Hit Hard by the Pandemic
Public housing authorities around the country say they are bracing for a "tidal wave" of tenants who've lost their income because of the pandemic and are in serious need of rent relief.
A "significant reduction" in rental income is just one of the many quandaries that already cash-strapped public housing authorities are facing, said Sunia Zaterman, executive director of the Council of Large Public Housing Authorities, based in Washington, D.C.
They're also dealing with a dramatically reduced workforce and with employees who lack child care, are quarantined or are in high-risk categories. They're rushing to get homeless people housed quickly with Section 8 housing vouchers.
Most have a large population of elderly or disabled tenants, who need special care, from meals delivered to medical assistance.
"I'm worried," said Emilio Salas, acting executive director of the Los Angeles County Development Authority. "Tremendously."
Renovation projects and major repairs for the nation's seriously dilapidated public housing stock will be put on hold. And authorities have shuttered their on-site offices, coming up with creative ways to communicate with tenants who may not have access to the internet, from mass calling everyone to sliding fliers under doors.
And they're grappling with the massive expense of cleaning and disinfecting their properties, which requires special equipment, Zaterman said. The pandemic will cost public housing authorities an estimated $5 billion nationwide, she said.
The challenges public housing authorities face differ dramatically from other large landlords. Public housing authorities also serve as de facto social service agencies, offering everything from on-site health care to educational programs.
The Housing Authority of Cook County, Illinois, now has a strict "no visitor" policy, with no outsiders allowed, except for medical professionals, staff and emergency responders.
In the Los Angeles area, public housing authorities already are dealing with another epidemic: homelessness.
Both the Housing Authority of the City of Los Angeles and the Los Angeles County Development Authority are scrambling to get people housed quickly with housing vouchers.
That means bypassing federal regulations from the U.S. Department of Housing and Urban Development and speeding up inspections for Section 8 units, said Douglas Guthrie, president and CEO of the Housing Authority of the City of Los Angeles.
"We can't wait for waivers from HUD to do what needs to be done today," Guthrie said. "Shelter is the most important thing right now."
Public housing authorities are gearing up for an anticipated flood of residents who test positive for COVID-19.
"It's just a matter of time," said Andrew Lofton, executive director of the Seattle Housing Authority.
Jobless Claims Spike in Western States, D.C.
Initial numbers released Thursday show jobless claims more than doubled in Nevada and Washington state, as well as the District of Columbia, for the week ending March 14.
Nevada jumped from 2,300 claims to 6,500, and Washington from 6,600 to 14,800.
Claims also grew more than 50% in Nebraska, Rhode Island and Massachusetts for the week, according to a Stateline analysis of the release.
Some states said layoffs, especially in the hard-hit restaurant and bar industry that employs the largest group of American workers, had skyrocketed in recent days.
California announced a doubling of unemployment claims in recent days and an NPR/Marist poll showed that nearly 1 in 5 Americans has lost hours or been laid off in the crisis.
State Lawmakers Pass Worker Protections
As other state legislatures have done this week, Maryland lawmakers hurried through voting so they could adjourn early to protect their own members' safety, approving emergency spending and worker protection bills.
Legislators authorized Republican Gov. Larry Hogan to use up to $100 million from the state's rainy-day fund. They also allowed the state to extend temporary unemployment benefits to workers who are quarantined, improved access to telehealth services and prohibited price gouging.
In New York, the legislature passed a bill signed on the same day by Democratic Gov. Andrew Cuomo that guarantees job protection and pay for residents who have been quarantined. It also includes a comprehensive paid sick leave policy.
The District of Columbia Council also approved an emergency bill that would extend unemployment compensation, prohibit evictions of residents and utility shut offs for nonpayment, create a small business grant program and delay retail sales tax payments to the government by stores, restaurants and other businesses.
In Maine, Democratic Gov. Janet Mills signed into law an $11 million funding measure and approved a $1 million appropriation for the Maine Centers for Disease Control and Prevention to support public health nurses and pay for lab tests.
In some state legislatures, one chamber has approved virus-related bills but is waiting for the other to act.
In Missouri, the Republican-controlled House approved a measure that would allocate $33 million in emergency funding expected from the federal government and $7 million from the state. It voted down three amendments from Democratic legislators that would have set aside more state money. The measure now goes to the state Senate, which took the week off for safety concerns.
In New Jersey, the Assembly passed measures that include creating an unemployment program for residents who lost pay during the outbreak, setting up an emergency food distribution fund, extending the deadline for income and business taxes by one month and spending up to $20 million to clean and sanitize schools. The Senate postponed its hearings this week because of the outbreak and won't be meeting until next week.
Stateline staff writers Teresa Wiltz, Tim Henderson and Jenni Bergal contributed to this report.