Stateline
Coronavirus Pandemic Prompts Lawmakers to Push Paid Leave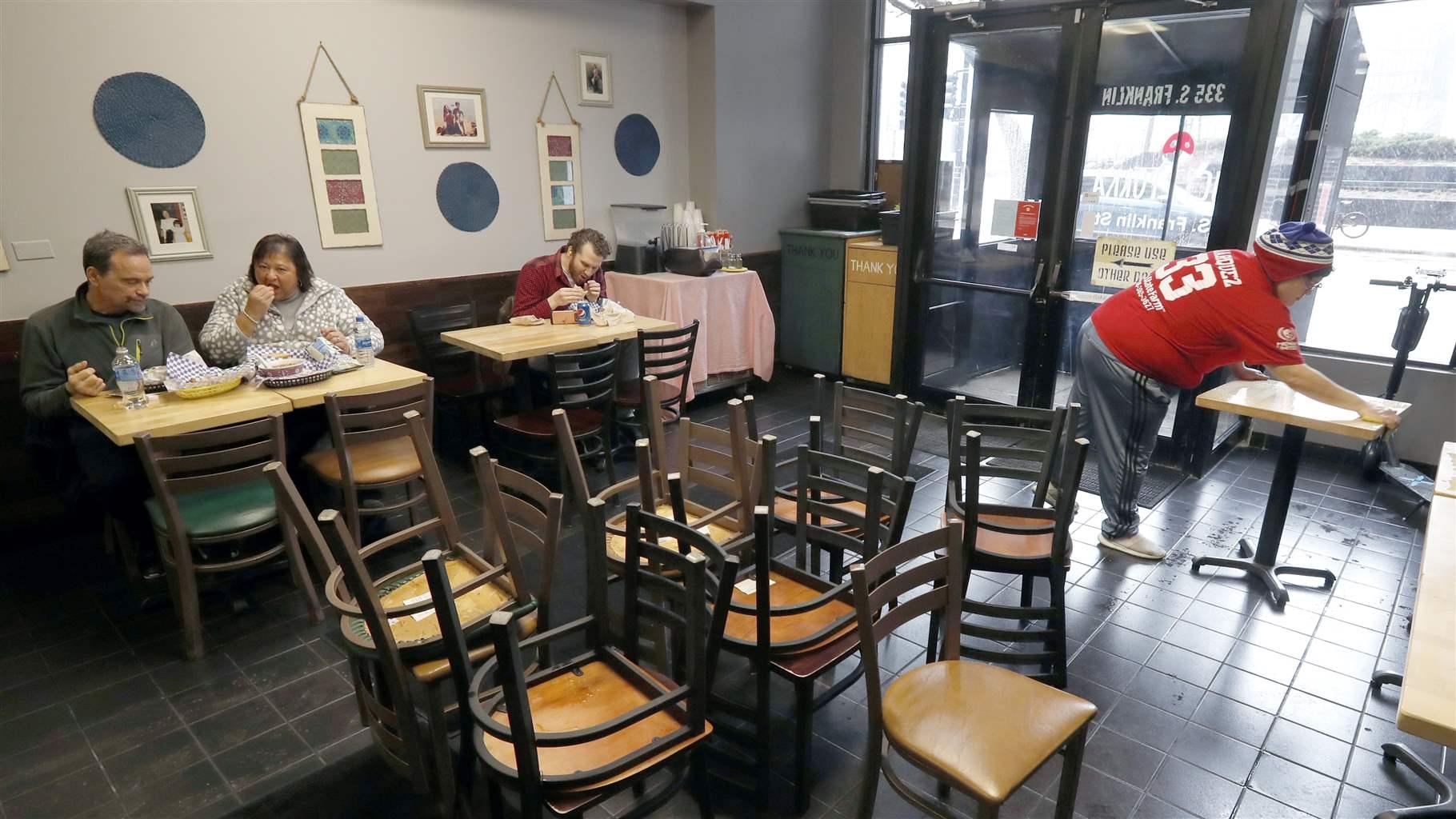 Read Stateline coverage of the latest state action on coronavirus.
Some Democratic state lawmakers, like their congressional counterparts, are redoubling their efforts to pass paid leave legislation, arguing that the spread of the novel coronavirus proves that workers must be able to stay home without losing pay when they're sick, quarantined or caring for a family member.
"The policy of paid sick time is an important policy anytime. It's particularly important when we're trying to stop the spread of a global pandemic," said state Sen. Morgan McGarvey, a Kentucky Democrat who has put forward a bill that would require employers to give workers accrued sick days.
Yet efforts to pass comprehensive paid leave legislation in states such as Kentucky, Colorado and New York face challenges. Lawmakers are grappling with a volatile economy, uncertain budgets, tight calendars and long-standing divisions over whether employers should be required to offer paid leave and who should pay for it.
Business groups remain resistant to sick pay mandates. "The bottom line for us in all these debates is flexibility," said Karen Harned, executive director of the National Federation of Independent Business Small Business Legal Center. Most small businesses offer some sort of paid time off, she said, even if they don't offer sick days or family leave specifically.
As governors ban people from congregating in restaurants, bars, gyms and concert venues, and people who can stay home do so, mass layoffs are already being announced in customer-facing jobs.
Such job loss makes the paid sick leave debate irrelevant, said Michael Saltsman, managing director for the Employment Policies Institute, a free-market nonprofit based in Washington, D.C. "If you're shut down, or you have no customers, it's kind of a moot point," he said.
While waiting for state and congressional lawmakers to act, some governors have used their emergency powers to require some paid leave.
COVID-19 mostly is spread by person-to-person contact, so public health experts are urging people to stay home if they're sick, vulnerable to a serious infection or have been exposed to an infected person. Governors and mayors nationwide have banned large gatherings to slow the spread of the virus.
But about 30% of workers in the private sector don't have paid sick days and 84% don't have paid family leave, according to the federal Bureau of Labor Statistics. That makes it difficult for those workers to stay home if they're contagious.
Eleven states, 21 localities and Washington, D.C., already require employers to offer accrued paid sick leave, according to A Better Balance, a New York City-based nonprofit legal advocacy group. Many of those laws specifically cover public health emergencies.
They typically guarantee about two days of leave a year, however — too little to cover the 14 days of quarantine public health officials recommend after coronavirus exposure, said Sherry Leiwant, co-founder and co-president of the nonprofit.
"It's a good moment for states to pass paid sick time laws that would cover workers even beyond the need caused by this pandemic," Leiwant said.
Paid leave supporters say the pandemic demonstrates the importance of allowing workers to take time off when they or a family member is sick. In Colorado, for instance, a paid leave proposal that seemed doomed a few weeks ago may face new consideration.
"House and Senate Democrats are committed to passing a paid family and medical leave program," said Colorado House Speaker KC Becker, a Democrat, in an email to Stateline. "This has been a priority for several years, and the spread of COVID-19 has only increased our commitment and the urgency to get something done."
The Colorado legislature has adjourned for two weeks, however, and its schedule for the rest of the year is unclear. When it does reconvene, it's likely to focus on a response to the coronavirus, said state Sen. Faith Winter, a Democrat who has pushed for paid family and medical leave for years.
"Paid leave is part of that response," she said.
Economic disruption caused by the pandemic may make it more difficult to pass paid leave legislation, said state Sen. Paul Lundeen, a Republican. He said that when the legislature reconvenes, lawmakers are more likely to focus on putting money into the hands of businesses and workers. "The idea of 'Hey, I've got this idea for a big new program,' I think that's definitely going to end up on the backburner, if even on the stove," he said.
In California, state Assemblyman Ash Kalra, a Democrat, has put forward legislation that would expand the state's existing paid leave laws to address the coronavirus crisis, including potentially requiring all employers to offer two weeks paid leave. "We want to relieve economic stress, as much as we can, on Californian families," Kalra said.
His bill, filed in late February, is still being tweaked and most California lawmakers haven't vetted it yet, Kalra said. There seems to be support for it so far, he said.
In the meantime, some governors are requiring employers to help people unable to work because of the coronavirus.
Washington Gov. Jay Inslee, a Democrat, last week announced emergency changes to the state unemployment insurance program, such as allowing workers to receive benefits if they're quarantined.
Ohio Gov. Mike DeWine, a Republican, has announced similar changes.
An executive order from Colorado Gov. Jared Polis, a Democrat, resulted last week in emergency rules requiring some employers, such as the food service industry and child care providers, to provide up to four days of sick leave to people being tested for the virus.
Colorado's new requirement makes some business groups uneasy, however. "Essentially putting an unfunded benefit on businesses across the state — you're going to see some of the most vulnerable businesses, your local mom and pop shops, really struggle with this," said Hunter Railey, director of Colorado outreach for Small Business Majority Colorado, a small business advocacy organization.
Some Republican governors, such as Idaho Gov. Brad Little, have encouraged businesses to offer paid leave but stopped short of calling for policies that would require them to do so.
At the federal level, the Republican-led White House and Democratic-led U.S. House have struck a coronavirus aid deal that includes paid leave provisions.
The legislation would require businesses with fewer than 500 workers to give sick or quarantined employees 14 fully paid sick days, and give workers caring for an infected family member or a child whose school is closed up to three months of partially paid family leave. The federal government would reimburse employers for the cost of offering leave.
The Senate has yet to vote on the bill, and it may change as it moves through Congress.
The bill is unlikely to pass the Senate in its current form, U.S. Sen. Tom Cotton, an Arkansas Republican, told Fox News this week. He pointed to the paid leave provisions as one of the sticking points.
"We worry that the bill setting up a new and complicated system relying on businesses giving paid sick leave and then getting a refundable tax credit won't move quickly enough and could put pressure on those businesses to lay workers off," he said.
Some studies show that when workers have paid sick leave, they're more likely to stay home when they're unwell.
"When states mandate paid sick leave, at least the transmission rates for the flu are significantly decreased," said Nicolas Ziebarth, an associate professor at the Cornell University College of Human Ecology who has studied how paid leave policy affects the spread of flu-like illnesses.
A recent study, which has yet to be peer-reviewed, used U.S. Centers for Disease Control and Prevention data to show that U.S. states saw rates of flu-like illnesses fall by about 11% the year after they adopted sick leave mandates.
Ziebarth cautioned that the coronavirus is not the flu, and that it's unclear how his finding applies to the current pandemic. But, he said, paid leave policies can only help in an outbreak.
Saltsman, of the Employment Policies Institute, said paid leave isn't likely to combat the coronavirus because some infected people develop no symptoms. And businesses that are in crisis won't be able to offer the benefit, even with a federal reimbursement.
"In a sense, sick leave isn't built for a pandemic," he said.